Cities Skylines Xbox One Review: A generally superb console port
Indulging your inner urban planner has rarely been as much fun.
We're reader-supported and may be paid when you visit links to partner sites. We don't compare all products in the market, but we're working on it!
It was a significant number of years ago that a friend introduced me to Will Wright's seminal Sim City. To give you a rough idea of the kind of timescale we're talking about here, I was introduced to it on a Macintosh SE with a monochrome display.
Or in other words, city building simulators have been around for a long time indeed. As have I.
Will's no longer in the city building game... erm... game, but the 2015 release of Cities: Skylines on Steam gave the genre a nice little kick in the pants, especially when you consider how badly botched EA's own release of SimCity 4 was.
That's in the PC world, though. Many folks see simulation style games as a natural fit for PC but not consoles, and it's not hard to see why. Outside of a few rare gems of conversions, such as the classic Super Nintendo port of
SimCity
, there really haven't been many ports of mouse and keyboard simulation titles over to gamepads that have been worth much more than a passing mention. For the longest time it was an issue of both inputs and screen resolution. While we're beyond the worst of that in terms of screen resolution, switching input from mouse and keyboard over to a controller is a significant challenge for many developers.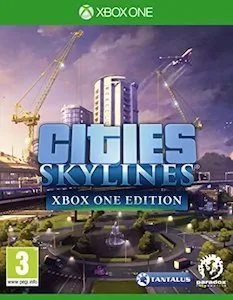 Cities Skylines Xbox One Game
from ozgameshop.com
Order the game from OzGameShop today.
View details
Thankfully if you're a fan of laying down residential zones, sewerage pipes and managing city budgets, the Xbox One port of Cities: Skylines does an admirable job of keeping the gameplay flowing smoothly with just a regular Xbox One pad. With one notable exception, which I'll get to shortly, I never felt as though I was fighting intransigent controls, or even left thinking about how much quicker tasks would be with a swipe of a mouse. Now, don't get me wrong; they still very much would be, but when you're busily sorting out a city electrical grid, you're going to be too engrossed to really think about that.
Cities: Skylines very much presents you with a blank slate of landscape choices to plunk your new city down onto at the start, in the manner of all the best city builders, and then you're struck by choices. You can opt to unlock every building type and give yourself unlimited cash if you just want to play houses or rebuild your local neighbourhood, and there is some fun in that approach.
Still, the real depth in this game comes without a doubt when you throw yourself into building an entire city from scratch with limited resources to hand. Cities Skylines has a lot of depth that you can slowly uncover as you play along and grow your bustling metropolis. While the debt to Sim City is an obvious one, Cities Skylines is very much its own take on the concept, and there's still plenty of learning you'll have to do even if you're a long-term strategic game player.
Which is not to say that everything is perfect and peachy in its Xbox One port. There are a few town planning mistakes along the way, not the least of which is the exclusion of a fast forward scheme. You can pause at any time to consider your zoning and building choices, but once you've laid down a plan, all you can do is wait for it to succeed or fail. This is a slow process, and while that's somewhat realistic, there were plenty of times where I simply had to walk away from Cities Skylines because it wouldn't move as fast as I wanted it to.
Cities Skylines uses most of the classical systems of city building games laid down all those decades ago, but it's not exactly well laid out in terms of a tutorial either. You'd be well advised to opt for unlimited money and buildings for your first few outings, simply because you're likely to get some small, poorly explained esoteric function wrong the first time you try it in the full game. I certainly did, leading to more than a little frustration as I tried to work out what was going wrong with roads, electrical outlets and sewerage farms. A little tutorial polish would go a long way.
It's also not quite as well equipped when it comes to DLC as its PC counterpart, which still clearly remains the pre-eminent way to play this particular game. That being said, Cities Skylines is a fine achievement and definitely a worthwhile purchase if you're a fan of strategic simulations who finds themselves gaming exclusively on Microsoft's console these days.
We reviewed Cities Skylines Xbox One Edition on Xbox One with a copy provided by the publisher.
Cities Skylines Xbox One Edition
7.0 VERY GOOD
What we liked...
In-depth strategy
Works well on gamepad
Mucking around with unlimited funds is fun
Better than actual politics
What we didn't like...
No fast forward option
Less DLC available than the PC version
Tutorials need clarity
VERDICT
Simulation games that come across from PC to console often struggle with the switch away from mouse control. Cities Skylines neatly sidesteps this with a logical and easy to use controller-based interface.
Hopefully the issues around fast forward availability and DLC will get patched in time, but nonetheless, if you like the challenge of proper urban planning, this is a fine conversion of an excellent game..
Available for
For more information on how finder scores games, check our review guidelines.
More guides on Finder
Handypay Green Loan

A Green Loan from Handypay could help you make your home more energy-efficient. Handypay green loans are available up to $75,000 on terms of up to 10 years.