Cheapest cars compared
We compare the top ten cheapest cars to find out which one is the most fuel-efficient to run day in, day out.
We're reader-supported and may be paid when you visit links to partner sites. We don't compare all products in the market, but we're working on it!
If you're shopping around for a cheap car, the purchase price isn't the only factor you need to consider. If your new set of wheels guzzles fuel like a thirsty camel does water, any saving you made when buying the car will quickly be lost at the petrol bowser.
With this in mind, it pays to compare the fuel consumption figures of different makes and models before you buy. Doing so is the best way to ensure that running your car every day won't blow your weekly budget and will allow you to save a whole lot of money in the long run.
To help budget-conscious car buyers find a vehicle that is cheap to buy and run, we took the 10 cheapest models on sale (as of 10 December 2015) and compared their average weekly fuel costs, before ranking them in order from most to least fuel-efficient. The results reveal the real top 10 cheapest cars in Australia.
Weekly fuel expenses taken from the NRMA's 2013-14 Car Operating Costs. Figures based on privately owned vehicles in NSW, based on an annual distance travelled of 15,000km over five years.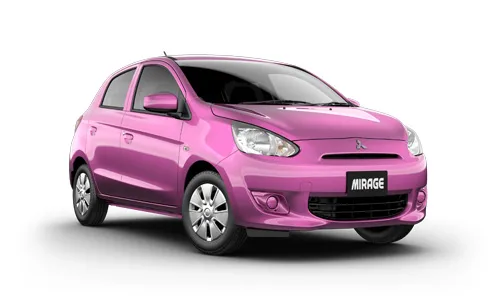 Number 1: Mitsubishi Mirage
The most fuel-efficient car on this list is also one of the cheapest in the country to buy – only two other cars on the list are cheaper than the Mitsubishi Mirage. In addition to its impressive fuel consumption figure of 4.6L/100km, the Mirage has plenty more to offer potential buyers.
The three-cylinder engine is a solid performer, producing 57kW of power and 100Nm of torque. Five seats, Bluetooth and a user-friendly audio system are all bonuses. Eight airbags and a five-star ANCAP safety rating are the icing on the cake.
---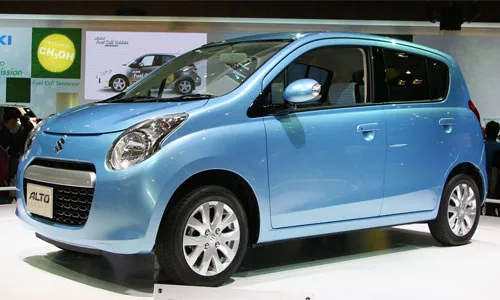 Number 2: Suzuki Alto
As the cheapest car available in Australia, the pint-sized Alto costs less than a dollar more per week at the pump than the Mirage. While its 1.0-litre three-cylinder engine may be small, it still churns out 50kW and 90Nm of torque, while its official fuel consumption figure of 4.7L/100km shows that it prefers to sip fuel rather than guzzle it.
Bluetooth, six airbags and a six-speaker stereo feature on the list of standard inclusions, but one downside of the Alto is that it can only seat four people. It also has a four-star ANCAP safety rating instead of the highest available score of five.
---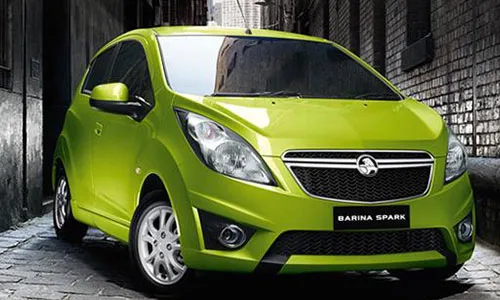 Number 3: Holden Barina Spark
If you scroll down the page, you'll see the regular Barina also makes it into the top ten, but the Spark is specifically targeted at younger buyers.
Small and zippy, it's been designed with city driving in mind and packs a 1.2-litre four-cylinder engine under the bonnet. Although it produces reasonable figures for an engine of its size – 59kW of power and 107Nm of torque – it's still quite frugal on the fuel, going through 5.2L/100km.
It seats five (at a bit of a squeeze in the back) features eight airbags and has a four-star ANCAP safety rating.
---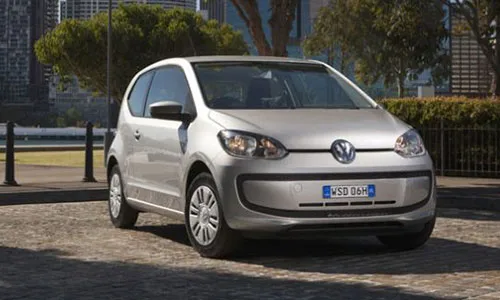 Number 4: Volkswagen Up!
Another small car that treats every litre of fuel as a precious commodity, the Volkswagen Up! boasts excellent fuel mileage and has been a popular addition to the micro-car segment. Its small stature does mean it can only seat four people, but industry experts have praised this little car for the enjoyment it offers to keen drivers.
The Up! also gets a five-star ANCAP safety rating, while its standard list of inclusions outperforms most other vehicles in this list – crash avoidance technology, for example, is not something many micro cars can offer.
On the downside, the Up! is only available in Australia with a manual transmission, although an automatic version will arrive with a new model in 2017.
---
Number 5: Kia Rio
It's the most expensive car in terms of upfront costs on this list, but the Rio nonetheless outperforms several rivals when it comes to fuel consumption, using 5.7L/100km. With 79kW of power and 135Nm of torque, the Rio also produces decent get-up-and-go for a small car, and its five-star ANCAP safety rating is a big plus.
Where the Rio falls slightly short is in terms of standard inclusions. There's no cruise control, no reversing camera and the audio system only has four speakers instead of six, which is a little disappointing when compared with some of the other options available.
---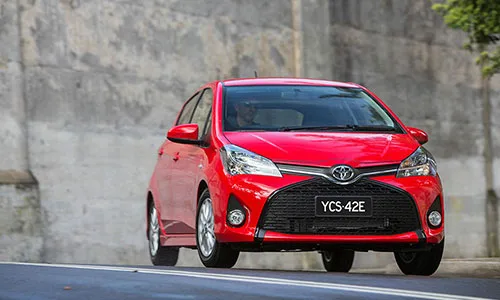 Number 6: Toyota Yaris
Combine Toyota's famous reliability with an entry-level price tag and you get the Toyota Yaris, a proven performer in the micro-car class. It's also been a big seller: In September 2015, it became the first car in its class to surpass the 200,000-sale milestone.
Easy to drive and as dependable as they come, the Yaris offers impressive standard inclusions (Bluetooth, voice recognition and a trip computer) and comfortably seats five. Nine airbags helped it achieve a five-star ANCAP rating, but it is one of the pricier cars on this list.
---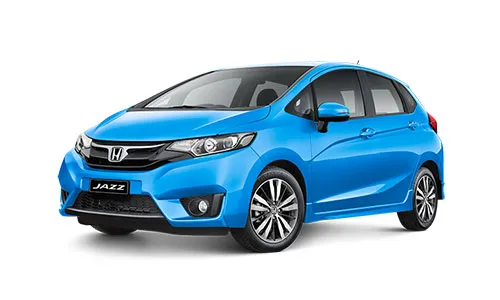 Number 7: Honda Jazz
The Honda Jazz is of the more expensive cars to buy on this list, and its fuel consumption of 6.2L/100km isn't as frugal as some, but this car is still worth a closer look for a number of reasons. It's roomy – more so than any others in its class – and the 1.5-litre four-cylinder engine produces an impressive 88kW of power and 145Nm of torque.
It also offers wonderfully practical and flexible features, including fold-down rear seats and a touchscreen computer, plus (to our eyes) stylish good looks. A five-star ANCAP safety rating completes a very tidy package.
---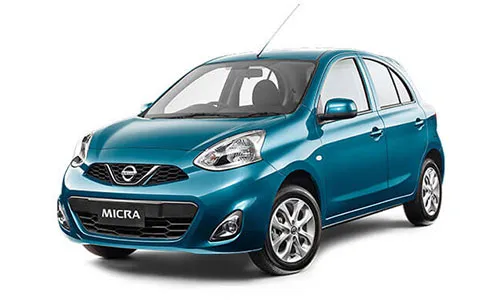 Number 8: Nissan Micra
Nissan's entry in the micro-car segment offers a pleasing balance between fuel efficiency and an affordable purchase price.
It also comes very well equipped, with features such as Bluetooth, keyless entry and stability and traction control all contributing to its appeal. Eight airbags offer protection in the event of a crash, but the Micra could only manage a four-star ANCAP safety rating.
Despite that disappointing result, it's still a worthy entry in any list of the top ten cheapest cars. It's well worth a look, particularly for inner-city drivers.
---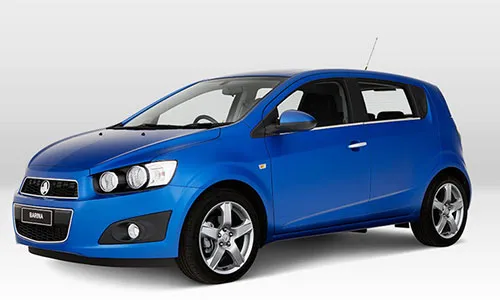 Number 9: Holden Barina
Thousands of Australians have grown up with a Barina as their first car, and this popular small car continues to deliver plenty of positives.
The reliable 1.6-litre engine produces 85kW of power and 155Nm of torque, while there's comfortable seating for five people inside. These practical features are perfectly complemented by a long list of standard inclusions and a five-star ANCAP safety rating.
The one major drawback is the Barina's fuel consumption of 6.8L/100km. When you consider that it costs in excess of $2,220 more at the petrol bowser over five years than the most fuel-efficient car on this list, the Barina's entry-level price tag starts to look a little more expensive.
---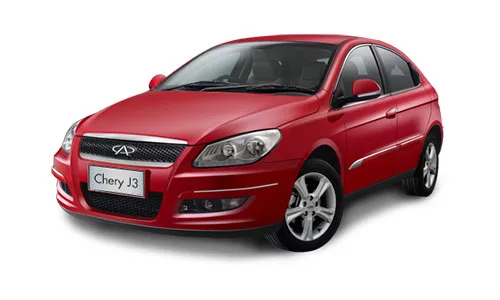 Number 10: Chery J3
Although Chery's J3 was not included in NRMA's Car Operating Costs survey, its official fuel consumption figure of 8.3L/100km is the highest of all cars featured here, putting it last on the list.
The Chinese manufacturer is a relatively new player on the Australian automotive scene, and the J3 is the largest model featured on this list. It's also the most powerful, thanks to the 93kW of power and 160Nm of torque produced by its 1.6-litre four-cylinder engine, but poor ANCAP safety ratings for the marque ¦– the J3 has not yet been tested – may be a sticking point for some potential buyers.
As you can see, while a small difference in fuel consumption might not seem like all that much, it equates to a significant amount of money when you consider the cost of running your vehicle over several years. The Mitsubishi Mirage takes home the mantle of Australia's cheapest car in this comparison, and it's definitely worth considering if you're in the market for a vehicle that won't break the bank.
Car loans comparison
Data courtesy of NRMA | Images courtesy of respective manufacturer
More guides on Finder