Best ceiling fans: We can help you find the perfect fan to meet your needs
We've done the research to find the 7 best ceiling fans for a variety of budgets and spaces including outdoors, bedrooms and more.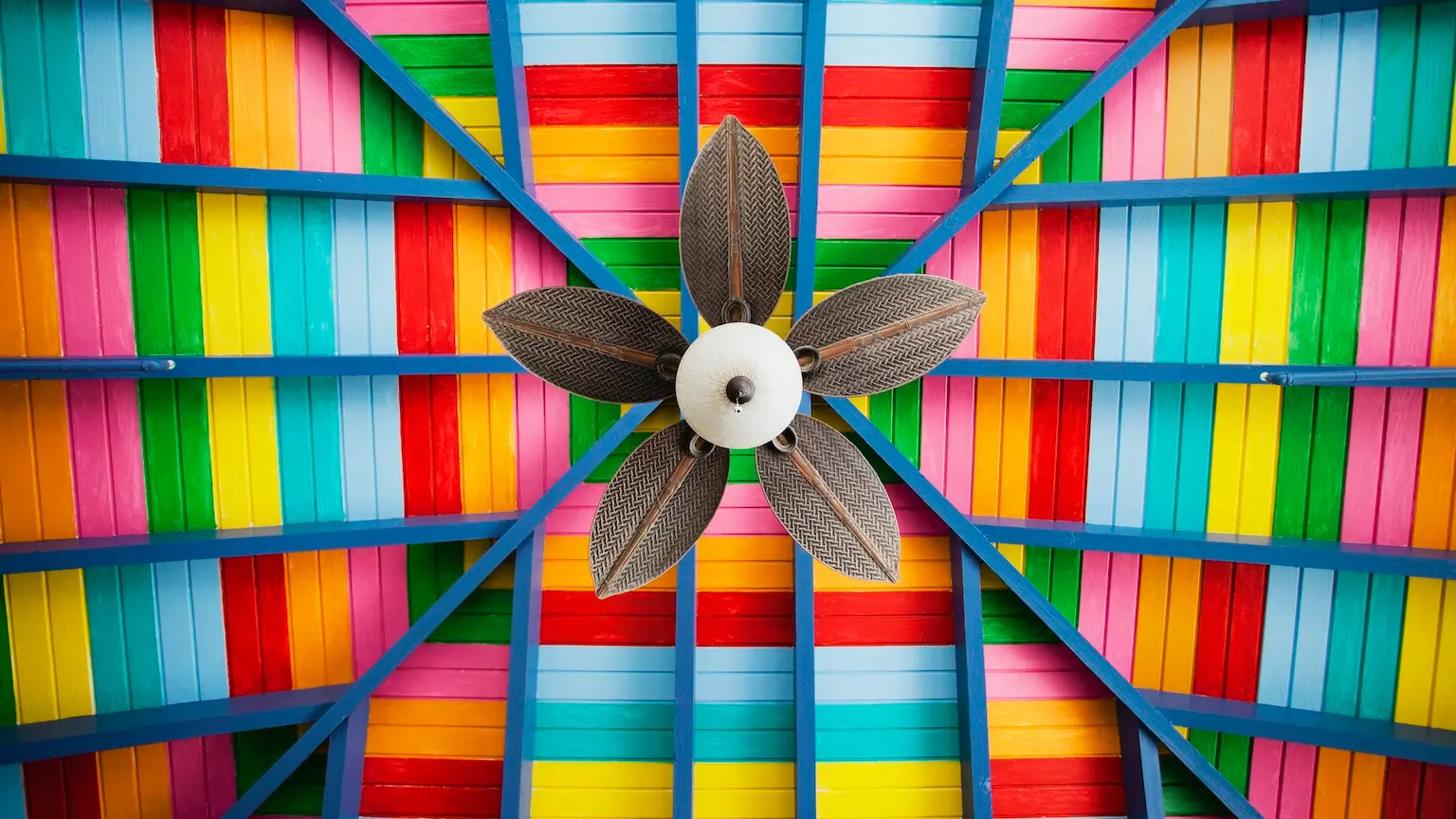 We're committed to our readers and editorial independence. We don't compare all products in the market and may receive compensation when we refer you to our partners, but this does not influence our opinions or reviews. Learn more about Finder .
The cost of a ceiling fan can range from $70 to $2,000 or more. When choosing a ceiling fan, you need to know the size of your room and the height of the ceiling. Then you can consider how many blades you want, what material you prefer, how many speeds you need and other important features.
We've narrowed down the seven best choices for budget buyers, high-end fanatics, outdoor spaces, bedrooms, low ceilings and those interested in environmental sustainability. If you're not sure exactly what you're looking for, we'll walk you through the steps to make the right choice to meet your needs.
Best ceiling fans
Disclaimer: Data obtained January 2019. Prices are subject to change and should be used as a general guide only.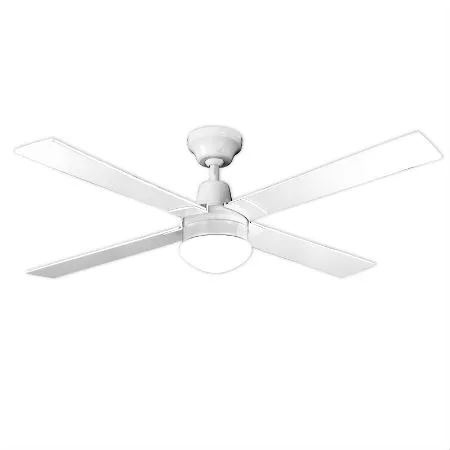 Best budget ceiling fan: Arlec Classic 4 Blade
The Arlec Classic 4 Blade is one of the most affordable fans available in Australia that still offers quality, reliability and reversible airflow.
In-built light
Reversible motor
3 speeds
Price: $70 (RRP)
Where to buy: Bunnings, eBay
Our budget pick is the Arlec 120cm White 4 Blade Ceiling Fan with Oyster Light. The Arlec Classic 4 Blade fan retails from Bunnings for only $70 and is accessible all across Australia. This basic model offers reversible airflow so you can use it to circulate air in any season. The Arlec Classic 4 Blade also includes an in-built oyster light. Keep in mind, the light is not dimmable and bulbs are not included with the fan. While the fan doesn't come with a remote control, you can add one later if you decide it's worth the additional cost or if your budget increases. You can also book your ceiling fan installation at Bunnings. The store offers regular deals on installation for Arlec-brand fans, so make sure you check if there are any upcoming specials before you buy.
Buy the Arlec Classic 4 Blade at Bunnings for $70.
Buy the Arlec Classic 4 blade at eBay for $97.45
---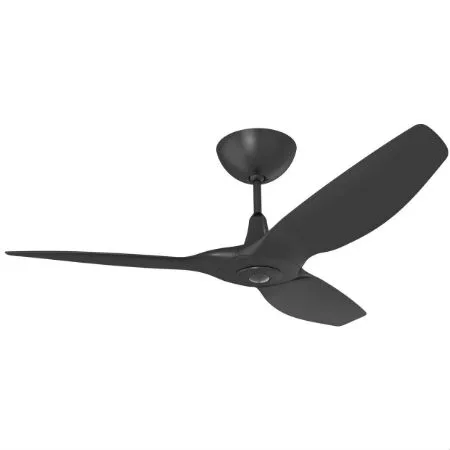 Best high-end ceiling fan: Big Ass Fans Haiku Series 52
The Big Ass Fans Haiku Series 52 is a modern smart fan with all the bells and whistles you could ask for.
Smart technology integration allows for custom fan settings
Indoor and outdoor use
7 speeds
Price: from $1,095 (RRP)
Where to buy: Big Ass Fans
Our pick for the best high-end fan is the Big Ass Fans Haiku Series 52. Haiku Series 52 fans come with SenseME technology, which uses sensors to automatically adjust to one of seven different speeds based on environmental conditions. SenseME technology also allows you to customise and save your favourite settings. Haiku Series 52 fans shut off when you leave the room, helping to lower your energy costs, which is just one of the reasons we also chose the Haiku Series 52 as our pick for the best fan for sustainability.
The modern three-blade design has an optional LED light and comes in a range of materials and finishes including bamboo, white and black resin, nickel, aluminium and gold. Fans can be purchased with low-profile mounts or tall-ceiling mounting kits if your ceiling is not within a standard range. Haiku Series 52 fans are suitable for indoor and outdoor use, though bamboo models can only be used indoors. As you would expect from a high-end fan, a remote control is included. You can also control your fan using an app for Android and iOS devices, via voice control with a smart speaker or with an optional wall-mounted control.
Buy the Haiku Series 52 from Big Ass Fans for $1,095.
---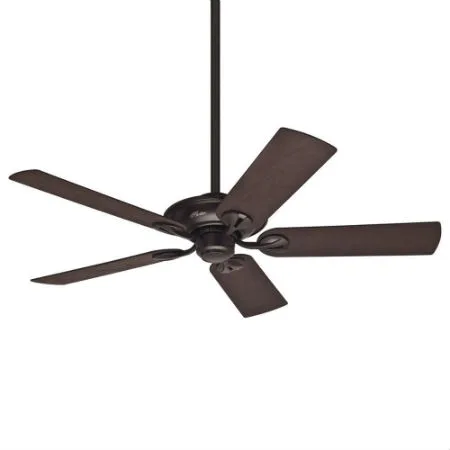 Best for outdoors: Hunter Maribel
The Hunter Maribel is wet-rated to withstand even the harshest weather conditions.
Waterproof plastic blades
Reversible motor
3 speeds
Price: $349 (RRP)
Where to buy: eBay, JD Lighting, Lighting Illusions, Universal Fans
Our pick for the best outdoor fan is the Hunter Maribel. The fan comes with five UV-resistant, waterproof plastic blades that can handle direct contact with water and rust-proof aluminium and stainless steel finishings built to withstand humid and tropical environments. With three speeds and a reversible motor, the Hunter Maribel can be used all year round.
The Hunter Maribel is suitable for medium to large spaces and can be controlled using a pull cord. Optional remote control and wall-mounted control are also available for an additional cost. While the fan does not come with a built-in light, it is compatible with several Hunter light kits. The specific cost and style of light will depend on whether the fan is installed indoors or outdoors.
Buy the Hunter Maribel at eBay for $359
---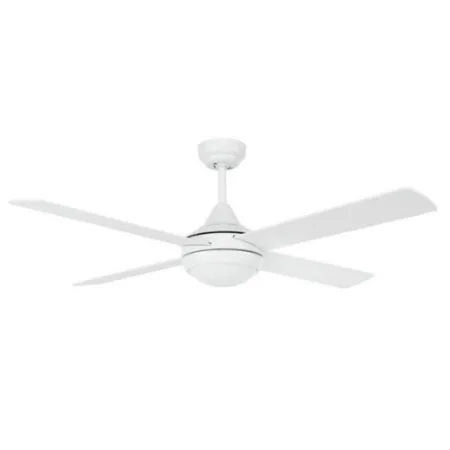 Best for bedrooms: Fanco Eco Silent DC
The Fanco Eco Silent DC features a quiet motor designed specifically for bedroom use.
Reversible DC motor
5 speeds
Integrated light
Price: $299 (RRP)
Where to buy: eBay, Fansonline, Ceiling Fans Warehouse
Our pick for the best fan for bedrooms is the Fanco Eco Silent DC, which is specifically designed to be used in the bedroom. The fan features a quiet and energy-efficient DC motor and comes with a balance kit to ensure there is no wobbling or noise while you are trying to sleep at night. The Fanco Eco Silent DC has an integrated LED light and five speed settings that are reversible so you can cool down in summer and warm up in winter.
An included remote control allows you to easily adjust the fan speeds and turn the light on and off from the comfort of your bed. The 4-blade fan is available in 2 sizes, 48" and 52", to suit a range of bedrooms. You can also purchase an extension rod if your ceiling is higher than the standard range.
Buy the Fanco Eco Silent at Ebay for $269
---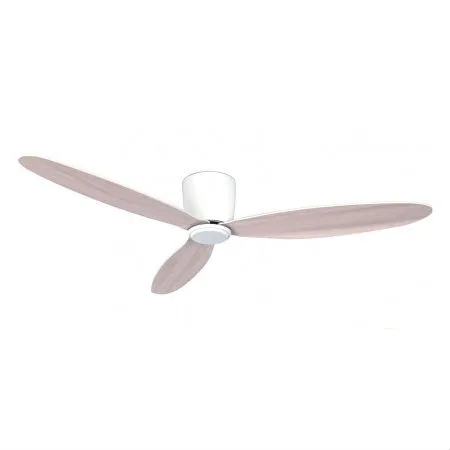 Best for low ceilings: Lucci Airfusion Radar
The Lucci Airfusion Radar has one of the lowest profiles of any ceiling fan on the market.
Suitable for ceilings 1.9 metres high
6 speeds
Reversible motor
Price: $379 (RRP)
Where to buy: Beacon Lighting, Amazon
With a short drop of only 195mm, the Lucci Airfusion Radar is our pick for the best ceiling fan for low ceilings. As we mentioned, this is one of the lowest profiles, if not the lowest profile, of any available ceiling fan and can suit ceilings as low as 1.9 metres. The 3-blade 132cm fan is available in either natural teak or white oak and features 6 speeds. A reversible motor allows you to use the fan year-round and a remote control makes it easy to adjust the fan no matter where you are. The Lucci Airfusion is rated for indoor use only and is quiet enough to be used in bedrooms. While this model does not include a light, a compatible light can be purchased separately.
Buy the Lucci Airfusion Radar at eBay for $826.72
---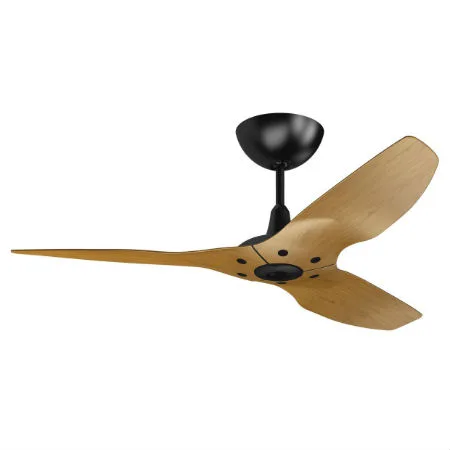 Best for sustainability: Big Ass Fans Haiku Series 52 in Bamboo
The Big Ass Fans Haiku Series 52 uses smart technology to help you save on cooling your home.
Made from sustainable Moso bamboo
Smart technology and integrated sensors reduce energy use
Price: $1,295 (RRP)
Where to buy: Big Ass Fans
Our choice for the best ceiling fan for sustainability is the Big Ass Fans Haiku Series 52 in Bamboo. SenseME technology allows the fan to adjust in response to temperature, humidity and environmental conditions which helps reduce your energy bill. At its highest setting, the fan has a power consumption of 31.94 watts, which is lower than many incandescent light bulbs.
If you leave the room, the fan will shut off automatically to save energy. The Big Ass Fans Haiku Series 52 is listed as one of Energy Star's most energy-efficient fans for 2019, a rating that awards products using the latest technological innovations to increase energy efficiency.
Big Ass Fans uses sustainably sourced Moso bamboo in two different finishes. Bamboo models are suitable for indoor use only and come with a universal mount for ceilings three metres or higher.
Buy the Haiku Series 52 in Bamboo from Big Ass Fans for $1,295.
---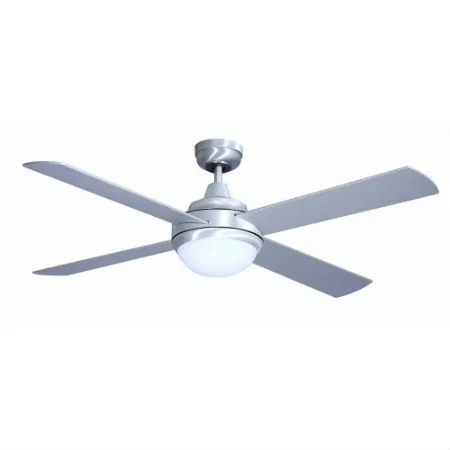 Most popular ceiling fan: Mercator Grange 1300mm Ceiling Fan with Light
The Mercator Grange 1300mm Ceiling Fan with Light is the most searched for fan in Australia.
Reversible motor
Integrated LED light
3 speeds
Where to buy: eBay, Amazon, Bunnings, The Good Guys
The current most searched for ceiling fan in Australia is the Mercator Grange 1300mm Ceiling Fan with Light. This four-blade plywood fan features a reversible DC motor with three speed settings. The Mercator Grange has a built-in LED light and can be installed on most standard high ceilings. The fan comes with a remote control with an LCD display screen that allows you to save your favourite fan settings. Though it is tropically rated for humid environments, the Mercator Grange is suited to indoor use only.
Buy the Mercator Grange 1300mm Ceiling Fan with Light at eBay for $148.99
How do ceiling fans work?
Ceiling fans cool you by moving air around your body and making sweat evaporate. Unlike air conditioners, fans don't affect the temperature of a room. Instead, they affect how the temperature feels to your body.
You can use your ceiling fan year round to circulate air by reversing the direction of the fan when the seasons change. In warmer months, a counter-clockwise spinning fan will feel like a pleasant breeze. In cooler months, a clockwise spinning fan will rotate the warm air trapped at the ceiling back down to the floor and make the room feel warmer.
AC vs DC
Alternating current (AC) motors are the most common type of motor in ceiling fans but direct current (DC) motors are becoming more and more popular.
Current type
Pros
Cons
AC (Alternating current)

More options and styles
Less expensive

Less energy-efficient
Louder

DC (Direct current)

New technology
Quieter
More energy-efficient
Motors are smaller and lighter

More expensive
Fewer available styles
How to choose the best ceiling fan
The price of ceiling fans generally ranges from $70 to $2,000 and depends on size, material, finish and brand.
When looking for a ceiling fan, the first thing you need to do is measure the room where you're going to install the fan.
Additional features to consider:
Reversible rotation. We mentioned earlier that fans can help move warm air around a room in winter, but this is only the case for fans with reversible motors. If you experience cold winters and want this handy feature, look for fans that offer reversible rotation.
Remote control. Older fans are often operated by pull-cords or wall switches. With modern fans, remote controls are often included with a fan but can sometimes be an optional extra. Remote controls give you the convenience and ease-of-use of wall switches, without requiring professional installation. There are also some smart fans that automatically turn on and off based on temperature and can be controlled by an app installed on a smart device or connected to a smart speaker.
Light. Many ceiling fans come with options for integrated lights. If you want ceiling lighting for a room with a ceiling fan, look for fans with built-in lights. Installing ceiling lights separately can sometimes make the light look like it's flashing.
Weatherproofing. If you want to install your ceiling fan in an outdoor area, make sure to get one with waterproofing and protection. However, even a weather-resistant fan cannot be exposed directly to water and needs at least two walls to shield the fan from wind and other elements.
Ceiling fans vs air conditioners
We all know air conditioners can be expensive to use, but the fact remains that they can cool down a room very efficiently. Whether you choose a ceiling fan or an air conditioner will depend on what you expect from your cooling device and how much you want to spend on an ongoing basis.
Pros and cons
Device
Pros
Cons
Ceiling fan

Less expensive to run
More environmentally friendly
Requires little maintenance

Doesn't actually lower temperature
Has limited reach in large rooms
Can be noisy

Air conditioner

Effectively lowers the temperature of a room or home
Good for extreme temperatures and heatwaves
Can make you feel cooler much quicker

Significantly more expensive to run
Requires regular maintenance
Can dry out air
Not as effective in open spaces
Many people find using both a ceiling fan and air conditioner in tandem works well. Once the air conditioner cools the room, a ceiling fan can help circulate the colder air. You can then turn your air conditioner to a lower setting or turn it off entirely. You can also save money by using the air conditioner only on really hot days and use the fan on warm days where you just want a nice breeze.
4 things to consider
Ceiling fans can be loud. If you want a quiet fan, see if you can see the fan in motion before you make a purchase. You can also read user reviews to see if anyone mentions the noise level of the fan. If your fan is noisy due to excess wobbling, a fan balancing kit could help.
It's important to maintain your ceiling fan. If you want your ceiling fan to last a long time, you need to care for it and clean it regularly. Dust collected on the top of ceiling fan blades can spread around the room and worsen allergies, asthma and other conditions.
You will need to have your fan installed. Australian regulations require ceiling fans to be installed by a qualified electrician. The cost of installation will depend on the structure and architecture of the room and home. You might want to contact an electrician to get a quote for installation before you buy a fan so that you can have a better sense of the total cost before making a purchase.
Remember to turn off your fan. Your ceiling fan will only work while you are in the room since fans don't actually lower room temperature. When you leave a room, turn off your ceiling fan to help reduce energy consumption.
If you're interested in buying a ceiling fan, start browsing today.
Compare some of the best ceiling fans
Data obtained September 2018. Prices are subject to change and should be used as a general guide only.
More guides on Finder