20 motivational movies to watch when you're in dire need of career inspiration
Experiencing a career slump? These flicks will teach you all the valuable lessons you need to get back on top.
We're reader-supported and may be paid when you visit links to partner sites. We don't compare all products in the market, but we're working on it!
Let's face it: no one loves their job 24/7.
It doesn't matter if you work for a corporation, a startup or your own business, we all have those moments when we're fed up with everyone and everything. Co-workers get on your nerves, your boss misspells your name in an email, a client is particularly difficult.
These are the times when you fantasise about quitting your job in favour of lounging on a beach all day. You can probably make ends meet by selling your organs on the black market anyway, right?
Sound familiar? If that's you right now, watching an inspirational flick might be just the thing you need to get out of your funk.
Movies are great. They entertain us, they give us something to talk about during awkward dinner dates, and sometimes, they provide us with solid role models that we can emulate to better our lives. Here are some awesome movies that you can watch right now for a quick dose of career inspiration.
---
1. Parasite
---
Year: 2019
Cast: Song Kang-ho, Lee Sun-kyun, Cho Yeo-jeong, Choi Woo-shik, Park So-dam
---
Parasite is an acclaimed dark comedy thriller that centres around two families of different backgrounds who end up forming a symbiotic relationship.
While the movie is more about class and greed than how to advance your career, the poor family's scheme to become employed by the wealthy folk is worthy of attention. Plus, Parasite is absolutely stunning from start to finish, offering thrills and laughter every step of the way.
Valuable lessons: Connections can go a long way. Put those networking skills to good use.
---
2. Once Upon a Time… in Hollywood
---
Year: 2019
Cast: Leonardo DiCaprio, Brad Pitt, Margot Robbie
---
A masterful and bloody fairytale, this Quentin Tarantino movie centres around a washed-up actor and his stunt double. The two are struggling to recapture fame and success in 1960s Los Angeles, as times are changing and Hollywood is becoming more unrecognisable with each day.
Once Upon a Time… in Hollywood is immersive and visually stunning, while also offering a comprehensive look back at the film business at the end of an eventful decade. Not to mention the fact that watching the former star of a western TV series expand his horizons can be quite motivational.
Valuable lessons: Sometimes you have to reinvent yourself to push your career to new heights.
WATCH NOW

SUBSCRIBE

Sorry, we've found no streaming options for this title.

RENT/BUY

Sorry, we've found no buying or renting options for this title.

CURRENT OFFERS
---
3. Queen of Katwe
---
Year: 2016
Cast: David Oyelowo, Lupita Nyong'o, Madina Nalwanga
---
This heartwarming movie follows Phiona Mutesi, a girl living a slum of Kampala, the capital of Uganda. Her life turns around when she meets a man who teaches her how to play chess and helps her become a top player and escape a life of poverty.
Queen of Katwe has all the ingredients of a crowd-pleaser, making it inspirational viewing for kids and adults alike. If you're looking for a movie that will remind you much underdogs can achieve, you can't go wrong with this one.
Valuable lessons: You don't need to come from privilege to succeed.
---
4. Legally Blonde
---
Year: 2001
Cast: Reese Witherspoon, Luke Wilson, Selma Blair, Matthew Davis
---
After her boyfriend breaks up with her, a sorority girl decides to go to Harvard Law School to win him back. In the process, she discovers she's actually good at this whole lawyering thing.
A bona fide classic, Legally Blonde stands the test of time as a movie that proves that stereotypes are a sham and anyone can achieve their potential if they're willing to work hard enough. Even better, it showcases how important it is to stay true to who you really are, especially when unexpected opportunity comes knocking.
Valuable lessons: Never trust people who put you in a box and tell you what you can't do.
---
5. The Devil Wears Prada
---
Year: 2006
Cast: Anne Hathaway, Meryl Streep, Emily Blunt, Stanley Tucci
---
The Devil Wears Prada follows a journalism graduate who becomes an assistant to one of the city's biggest magazine editors, the ruthless Miranda Priestly. But is putting up with her egomaniacal boss really worth it?
Endlessly quotable and fun from beginning to end, The Devil Wears Prada works both as a cautionary tale for those entering the workforce and brilliant satire of the fashion world. Side note: Meryl Streep offers an iconic performance, which is always a plus.
Valuable lessons: Regardless of how many people would kill for your job, it's not worth it if you have to compromise who you are.
---
6. La La Land
---
Year: 2016
Cast: Emma Stone, Ryan Gosling, John Legend
---
La La Land is a musical dramedy that's about so much more than romance. The acclaimed movie stars Ryan Gosling as a jazz pianist and Emma Stone as an aspiring actress. They meet and fall in love in Los Angeles while struggling to achieve their professional dreams.
Needless to say, they hit more than a few bumps along the way.
Gorgeous and heartbreaking, the movie will inspire you to finally make a move toward reaching your goals. At the same time, it will make you think about the sacrifices you're willing to make along the way.
Valuable lessons: "Here's to the ones who dream, foolish as they may seem." Enough said.
WATCH NOW

SUBSCRIBE

Sorry, we've found no streaming options for this title.

CURRENT OFFERS
---
7. The Secret Life of Walter Mitty
---
Year: 2013
Cast: Ben Stiller, Kristen Wiig, Sean Penn, Adam Scott
---
The Secret Life of Walter Mitty is an inspiring seize-the-day tale with sensational special effects and a go-big-or-go-home message. To say it's motivational would be an understatement.
The movie follows Walter Mitty, a negative assets manager who daydreams of big and exciting adventures. When his job is threatened, he takes action in the real world by embarking on a global journey that turns into an experience more epic than anything he could have ever imagined.
Valuable lessons: Stop dreaming and start doing. Get outside your comfort zone, since courage is the biggest step to happiness. There's no time like the present to embrace a new opportunity or start working on things you're truly passionate about.
---
8. A Beautiful Mind
---
Year: 2001
Cast: Russell Crowe, Jennifer Connelly, Ed Harris
---
This acclaimed movie was inspired by real-life mathematical genius John Nash, played by Russell Crowe. Nash makes an astonishing discovery early in life, but finds himself on a painful and harrowing journey of self-discovery once he is diagnosed with schizophrenia. The movie follows his many years of struggle as he learns to live with his diagnosis and eventually triumphs over this tragedy.
A revealing look at mental illness, A Beautiful Mind never fails to amaze, mainly thanks to compelling writing and stellar performances from the entire cast.
Valuable lessons: Nash is a stunning example of hope and perseverance. Always look for ways to overcome your limitations, whatever they may be.
---
9. Rocky
---
Year: 1976
Cast: Sylvester Stallone, Talia Shire, Burt Young
---
One of the best sports movies of all time, this classic tells the story of Rocky Balboa, an uneducated but kind-hearted boxer working as a debt collector for a loan shark. We follow Rocky from when he starts out as a small-time club fighter to when he eventually gets a shot at the world heavyweight championship.
The movie boasts a heartwarming script and an amazing performance from Sylvester Stallone. But what really makes it stand out from the crowd is the message: little guys can accomplish the impossible if they work hard enough. Since we're at it, this entire franchise is ridiculously motivational, so you might want to schedule a movie marathon.
Valuable lessons: You make your own destiny. Never give up. And the big one: winning isn't everything.
---
10. Yes Man
---
Year: 2008
Cast: Jim Carrey, Zooey Deschanel, Bradley Cooper
---
What would happen if you said "Yes" more often? Exciting stuff.
This hilarious, silly comedy stars Jim Carrey as a bank loan officer with a negative outlook on life. Everything changes when he signs up for a self-help program based on one simple covenant: say "Yes!" to everything. As a result, his life is transformed in unexpected ways. Thanks to an exciting premise, this self-help movie will teach you a valuable lesson, while also treating you to funny gags and Carrey's trademark physical comedy.
Valuable lessons: Umm, stop making excuses and say "Yes!" to stuff that really excites you – work-related or otherwise. Just don't over-do it.
---
11. Baby Boom
---
Year: 1987
Cast: Diane Keaton, Sam Shepard, Harold Ramis, James Spader
---
One of the most underrated movies of the 80s, Baby Boom follows a driven Manhattan career woman who "inherits" a 14-month-old baby girl from recently-deceased relatives. She intends to put her up for adoption, but soon discovers that she likes the kid. As a result, her life begins to go through some massive changes.
Delightfully funny and honest, the movie highlights the cruel choices people are forced to make in life and may offer a new perspective on how to make the most of a tricky situation. Moreover, Diane Keaton is as charming as ever in the lead role, delivering a nuanced and fabulous performance.
Valuable lessons: Just because your career seems to be going downhill doesn't mean you can't embark on a new path. Adaptability is a great strength. Cultivate it often.
---
12. The Social Network
---
Year: 2010
Cast: Jesse Eisenberg, Justin Timberlake, Andrew Garfield, Armie Hammer
---
The Social Network tells the story of how Facebook came into existence.
It stars Jesse Eisenberg as Mark Zuckerberg, the driven entrepreneur who founded probably the most revolutionary social phenomena of the new century. Instead of delivering a strictly biographical tale, the movie focuses on the way that founding Facebook both pulled a group of young revolutionaries together and then split them apart. The fantastic performances and compelling story will draw you in from the first scene.
Valuable lessons: Where should we even start with this one? Sometimes there are more important things in life than school. You can end up making a lot of enemies on your way to the top. Believe in your vision. It's not about who has an idea, but about who has the drive to execute it. We could go on and on.
---
13. Jerry Maguire
---
Year: 1996
Cast: Tom Cruise, Renée Zellweger
---
As a top agent at Sports Management International, Jerry seems to have it all. But when he's unceremoniously fired, he is forced to start from scratch, joined solely by a second-tier wide receiver and a wistful single mother who is willing to bet on an uncertain future with her new boss.
One of the most quotable movies of all time, Jerry Maguire is charming, well-written and inspiring. You'll marvel at Jerry's reinvention and root for the romance. All while laughing out loud.
Valuable lessons: Don't rest on your laurels; you never know what's around the corner. Every bad situation can turn into an opportunity. More importantly, don't sacrifice your personal life in favour of your professional one. You can have both.
---
14. The Wolf of Wall Street
---
Year: 2013
Cast: Leonardo DiCaprio, Margot Robbie, Jonah Hill
---
From the American dream to corporate greed, Jordan Belfort goes from penny stocks and righteousness to IPOs and a life of corruption in the late 80s. And this movie tells the story beautifully.
Directed by Martin Scorsese and starring Leonardo DiCaprio, The Wolf of Wall Street is filthy, funny and savage. A dark comedy for the ages, it highlights the best and worst in people, teaching viewers some great tips for achieving success along the way.
Valuable lessons: Perseverance is crucial. Don't forget to dress and act the part. Be careful about what you are sacrificing for the sake of money or success.
---
15. Up in the Air
---
Year: 2009
Cast: George Clooney, Anna Kendrick, Vera Farmiga
---
Hilarious and tragic, Up in the Air centres around corporate "downsizer" Ryan Bingham and his travels. Bingham works for a human resources consultancy firm that specialises in termination assistance. That means he basically makes his living by travelling to workplaces across the United States and firing people on behalf of employers. When he is tasked with showing a young and ambitious new hire the ropes, he starts to re-evaluate his lifestyle.
The movie perfectly balances comedy and drama, delivering both sharp dialogue and touching moments. More importantly, Up in the Air will make you think about how you define yourself on the job.
Valuable lessons: A healthy work/life balance is everything. Plus, face-to-face meetings are important, especially when you're letting someone go.
---
16. Nightcrawler
---
Year: 2014
Cast: Jake Gyllenhaal, Rene Russo, Riz Ahmed, Bill Paxton
---
Lou Bloom is a man desperate for work who discovers the high-speed world of Los Angeles crime journalism. He starts to record violent events late at night and sells the footage to a local television news station.
He becomes driven. He becomes successful. He becomes a monster.
Jake Gyllenhaal's performance is nothing short of legendary, while the movie will be a real treat for those who enjoy their career inspiration with a side of thrills.
Valuable lessons: Believe in yourself. Fake it til you make it. "If you want to win the lottery, you have to make the money to buy a ticket."
WATCH NOW

SUBSCRIBE

Sorry, we've found no streaming options for this title.

CURRENT OFFERS
---
17. The Shawshank Redemption
---
Year: 1994
Cast: Morgan Freeman, Tim Robbins, Bob Gunton
---
This iconic flick tells the story of banker Andy Dufresne, who is sentenced to life in Shawshank State Penitentiary, despite his claims of innocence. Over the following two decades, he becomes instrumental in a money-laundering operation led by the prison warden.
Gritty but moving, The Shawshank Redemption is a tale of friendship and perseverance. Thanks to amazing performances from Tim Robbins and Morgan Freeman, the movie never gets sappy. Instead, it remains uplifting and inspiring. If you don't love it, chances are you are beyond redemption.
Valuable lessons: Build your personal brand from day one. Make friends. Take chances. And always remember the bigger picture.
WATCH NOW

SUBSCRIBE

Sorry, we've found no streaming options for this title.

CURRENT OFFERS
---
18. The Pursuit of Happyness
---
Year: 2006
Cast: Will Smith, Jaden Smith, Thandie Newton
---
The Pursuit of Happyness is the kind of movie that will leave you both inspired and emotionally drained. Based on entrepreneur Chris Gardner's one-year struggles with being homeless, the movie follows him as he deals with financial and personal hardship.
Struggling to pay rent, Gardner lands an unpaid internship at a prestigious stock brokerage firm, but he and his son endure a lot of misery in pursuit of a better life. All in all, Gardner is a guy who gets knocked down again and again, but refuses to give up. You can't help but root for him.
Valuable lessons: When it comes to building a successful career, nothing beats hard work, confidence and a dash of networking. Also, life is crap sometimes. You still have to deal with it.
---
19. Moneyball
---
Year: 2011
Cast: Brad Pitt, Johan Hill, Chriss Pratt, Philip Hoffman
---
This memorable sports drama portrays the Oakland Athletics' 2002 season and their general manager Billy Beane's attempts to assemble a competitive team.
Faced with the franchise's limited budget for players, Beane and Ivy League grad Peter Brand build a team of undervalued talent by taking a sophisticated sabermetric approach towards scouting and analysing players.
The movie is funny, fresh, and will give you a new perspective on money. It also benefits from a strong performance from Brad Pitt. Prior baseball knowledge not required.
Valuable lessons: Anything worth doing is hard. It's important to think beyond your job description. Always be ready to learn and improve.
---
20. Almost Famous
---
Year: 2000
Cast: Kate Hudson, Patrick Fugit, Billy Curdup
---
This endearing movie follows a (very) young journalist writing for Rolling Stone in the early 1970s while covering the fictitious rock band Stillwater. He joins the band on tour, befriends a beautiful groupie and eventually struggles to get the real story published.
A rare treat for music lovers, Almost Famous was inspired by director Cameron Crowe's own experiences as a teenage rock journalist. It's a powerful coming-of-age story that will urge you to immediately do something creative and meaningful with life.
Valuable lessons: Follow your goals, no matter how big. Don't give up just because other people mock you for your lack of experience. Laugh a little every step of the way.
---
This week's streaming deals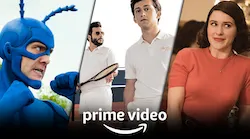 FREE TRIAL: 30 days of Prime Video's premium TV shows and movies for free
from Prime Video
Prime Video's free 30-day trial will give you instant access to thousands of premium TV shows and movies.
View details
Latest streaming headlines
More guides on Finder
Stream the best and save