What happens if I can't make a life insurance payment?
If your life insurance premiums are becoming too high, you have options.
We're reader-supported and may be paid when you visit links to partner sites. We don't compare all products in the market, but we're working on it!
You never know when you'll need to make a life insurance claim, so it's important to maintain active cover whenever possible. Unfortunately, circumstances change, new expenses arise and it's not always possible to keep up with premium payments.
Three readily available options to consider include:
What is a premium freeze?
A premium freeze is only available with stepped premium life insurance policies, where the cost rises with age. Applying for a premium freeze is generally as easy as filling out a form and sending it to your insurer.
Things to consider
Not all policies will include this option. If you're interested, check whether your current policy includes it or if it's available with new policies.
Limited window to activate option. If your premiums have recently gone up, you may have a limited window in which to activate a premium freeze. Typically a premium freeze must be activated within 30 days of policy renewal.
How does a premium freeze work?
When frozen, your premiums will stop rising with age, for a set period of time. Typically it can last until you choose to cancel it, or make a claim or adjust your level of cover in some other way. You will still have to pay premiums but the price won't increase with time, as long as it's active.
What's the downside?
The main catch is that your cover won't increase either, and you may become underinsured.
Policies are often indexed for inflation, but typically won't be for as long as your premiums are frozen.
You might lose benefits like guaranteed future insurability depending on the policy terms and conditions.
Can I 'unfreeze' my policy later?
Yes. You can generally unfreeze your policy whenever you are ready, but certain conditions might unfreeze it sooner, depending on your policy. It may unfreeze when you make a claim, reach the next policy renewal date, change your sum insured or otherwise adjust your cover.
Should I freeze my premiums?
It might be the right option if your premiums are becoming unaffordable. However, there are downsides, so it's a good idea to consider the other alternatives first.
---
Which insurers offer premium freezes?
Here are some of the brands on finder that offer premium freezes.
Note that premium freeze options will reduce your sum insured amount and might not be available in super policies. Data taken from brand product disclosure statements on May 2017. Benefits, conditions and amounts are subject to change at anytime.
How do I temporarily suspend my cover?
Functionally, suspending your cover is a lot like temporarily cancelling your policy, with the advantage of not actually needing to cancel it. Not all life insurance policies will include a suspended cover benefit, and where they do it may be variously known as a premium holiday, premium pause or other variation.
Key conditions to consider
Suspended cover works differently between insurers and policies. Some may require you to provide evidence of financial hardship while others might let anyone suspend cover without condition.
Length of suspension. Some insurers might let you suspend cover for a full year, while others will limit you to only a few months.
Terms and conditions will apply. For example, you might be limited to only one premium suspension over the policy lifespan, and it might be restricted to no more than three months. Make sure you are familiar with all conditions before committing to this option.
How does suspended cover work?
Unlike a premium freeze which merely stops premiums from increasing, this option means you stop paying premiums entirely. The downsides are also more severe. You will typically lose all your cover, and cannot make claims for anything that occurs while your cover is suspended.
Should I suspend my cover?
This will depend on your personal circumstances. Some examples where suspending cover might be a sensible cost-saving measure include:
If you're between jobs
If you're on long-term leave
When you're otherwise not earning your typical income
Note: You may be left without any cover if you suspend your premiums. This step should not be undertaken lightly, and it's a good idea to consider the alternatives first.
---
Other ways to reduce costs
Life insurance policies are often more complex and multifaceted than others. This can make it more difficult to navigate, but also means there are many ways to reduce costs.
Share a policy. You can get a "bulk discount" with joint life insurance policies.
For more details on ways to lower your premiums, and other options to consider, try going over our guide to reducing life insurance premiums.
---
An adviser can help you find cover from trusted life insurance brands.
Get competitive quotes from multiple brands

Lower rate of declined claims (according to ASIC)

Save time and effort
---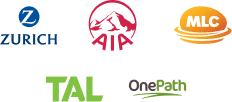 Compare quotes from these brands
More guides on Finder