Best Canberra accommodation you can book in 2022
Find and compare hotels, hostels and other accommodation options for your upcoming stay in Australia's capital city.
We're reader-supported and may be paid when you visit links to partner sites. We don't compare all products in the market, but we're working on it!
Canberra features some of the country's best museums, exhibitions and monuments. Perfect for a long weekend getaway or school holiday visit, in this list you will find everything from 5-star luxury accommodation to pet-friendly hotels and holiday homes.
If you're thinking of exploring this cool cultural city, check out these conveniently located accommodation options where you can hit the hay after a long day of exploring.
Today's best hotel deals available in Canberra
Where to stay in Canberra
If you're staying in Canberra for the first time, get a glimpse of everything there is to explore by staying in the city centre. This is the place to be if you want to fit history, culture and food into your itinerary.
A short distance away, you'll find the emerging area of Braddon, known as the shopping and food precinct of Canberra. In recent years, pop-up stores and buzzing restaurants have transformed the oldest suburb in Canberra.
If you're looking to save a few pennies, consider booking accommodation in Acton. The Australian National University is located here, so expect to see a lot of university students around. You can limit cost of accommodation and crowds by booking outside of the university semester. If you want to avoid the city atmosphere, head to Woden Valley, where you'll find great spots to hike and enjoy nature.
Our picks of hotels to book in Canberra
Best cheap accommodation in Canberra
You don't have to fork out big bucks to stay in comfortable and stylish accommodation in Canberra. When choosing these accommodation options, we weighed up what would get you the best value for money. These properties are all centrally located, have a wide variety of dining options in close proximity and are a short distance from popular attractions including the War Memorial, National Art Gallery and Parliament House.
Our top picks for cheap accommodation in Canberra: ibis budget Canberra, Mercure Canberra and Garden City Hotel.
Best pet-friendly accommodation in Canberra
You're not short on choice for places to take your furry friends in Canberra. You'll find that many cafes in the area are pup-friendly and open spaces including the National Arboretum Canberra and fenced dog parks allow you to bring your pets along for the adventure. All pets have different needs, so we have selected three properties that offer different facilities to make them feel right at home. You do need to take into consideration that bringing a pet along is likely to incur an additional cost, but some properties, such as Ovolo Nishi, offer exclusive packages specifically for pets that include a dog bed, food bowl and a "Doggy Bag" with toys and treats.
Our top picks for pet-friendly accommodation in Canberra: Abode Narrabundah, Ovolo Nishi and ibis Styles Canberra Tall Trees.
Best self-contained accommodation in Canberra
Self-contained accommodation is a great option for families and people who plan to stay for an extended period of time. You will have everything you need, from a kitchen to laundry facilities. When choosing these accommodation options, we looked at the amenities and features that each property offers. In Canberra, you will be able to find self-contained apartments directly in the city centre and a little bit further out if you don't have a desire for central accommodation.
Our top picks for self-contained accommodation in Canberra: Quest Canberra City Walk, Pacific Suites Canberra and Pinnacle Apartments.
Alternative Canberra accommodation options
If you want to make your visit to Canberra feel more homely, it's good to keep in mind hotels and tourist parks aren't your only option. Consider looking for accommodation on Airbnb or Stayz for shared accommodation and cheaper prices. If you're travelling with a large group of people or you want to stick to a budget, consider these options below.
How did we pick these Canberra hotels?
Our editorial team selected the Canberra hotels on this list based on price, location and real customer feedback from hotel booking sites and review platforms. Where applicable, we used our own personal experiences to make recommendations.
Where to book Canberra hotels
Our Canberra accommodation reviews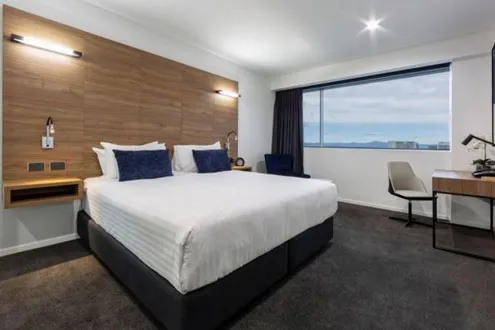 The Sebel Canberra Civic
from Finder Hotels
Reviewed by: Angus Kidman, Editor-in-chief
I scored a bargain on my visit to this ultra-central Canberra motel – normally rooms are $300 and up, but I paid under $200 a night. The rooms are modern and the studio kitchen facilities were excellent, and everything in Civic is right on your doorstep.
Budget: High
Pros: Central, quiet, spacious
Cons: Can be expensive during peak periods
Would I stay there again? Yes
Check availability
Where in Canberra are these hotels?
Frequently asked questions about Canberra hotels
Which hotels in Canberra have an indoor pool?
If you're visiting Canberra in the colder months, you can expect low temperatures and snowfall. This won't stop you from dipping your toes in the water at your hotel's indoor pool.Canberra Rex Hotel, Adina Serviced Apartments and Canberra Parklands Central are just a few of the hotels in Canberra that have indoor pool facilities.
Which sites let me book Canberra accommodation with free cancellation?
These sites let you make a refundable booking for your trip to Canberra, so there's less risk of losing the cost of your stay or deposit. Some sites only offer free cancellation on select Canberra hotels or at a slightly higher rate, so it's best to check the terms on your booking before confirming your stay.
Most sites, like Wotif or Expedia, will clearly state whether each Canberra hotel is non-refundable.
Which sites let me use a coupon code to book Canberra accommodation?
Using one of our coupon codes at these sites will save you money on your Canberra stay. Some may ask you to pay for your stay upfront rather than on arrival in order to apply the code to your Canberra booking, but the same cancellation policy does apply so if you are able to cancel, you'll be able to get refunded.
Which sites let me book Canberra accommodation without a credit card?
compare credit cards that offer hotel rewards here
.
Which Canberra hotel booking sites have rewards programs?
Get access to cheaper prices, collect points toward free stays and get extra perks like Wi-Fi or breakfast if you book your Canberra accommodation on sites like these: