Can my landlord increase my rent?
We've all heard of mean-spirited landlords who snap their fingers and demand higher rent in the blink of an eye, and without giving adequate notice.
We're reader-supported and may be paid when you visit links to partner sites. We don't compare all products in the market, but we're working on it!
So, as a tenant, how can you protect yourself from unreasonable rent increases?
A rent increase could disrupt your once smooth-sailing landlord-tenant relationship, so in the event that your landlord decides to up the ante, make sure you know your rights.
Can my landlord increase my rent?
A landlord or their respective agent has the right to increase your rental amount. However, in order to do so, they must abide by regulations as stipulated by your relevant state legislation.
| State | Frequency in which rent can be increased on a periodic lease | Notice period |
| --- | --- | --- |
| NSW | No limit | 60 days |
| QLD, TAS, VIC, WA & NT | Once every 6 months | 60 days or 30 days (NT) |
| ACT and SA | Once every 12 months | 60 days |
How to survive your next inspection
By how much can my landlord increase my rent?
There is no hard and fast rule to determine the amount a landlord can increase rent, but if you feel an increase is excessive, there are steps you can take to seek redress. You can take your case to your state or territory's relevant tribunal, which will decide whether or not the proposed increase is excessive.
When assessing whether a rent increase is excessive, a tribunal will generally take into account both the rise in the consumer price index (CPI) and asking rents for similar properties in the same area. You can find your tribunal here:
Miranda asks for more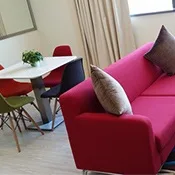 Miranda owns a three-bedroom apartment in Kensington, NSW where she leases out the property to three students who attend the University of New South Wales (UNSW) nearby.
Due to greater demand in the area and a higher inflation rate, Miranda notices that the median weekly rent in Kensington has increased from $540 to $550. As a result, Miranda believes she has the grounds to request a new weekly rental amount of $550 from her existing tenants.
Setting out to do the right thing, Miranda reviews their current tenancy agreement to confirm that it contains a clause that permits her to increase the rent. With the help from her agent, she drafts her notice that outlines the new rental amount of $550, and the date in which this will come into effect – 60 days from the date that she provides the notice.
Soon after she's provided the notice, Miranda learns that her tenants aren't impressed and they've lodged a complaint with the NSW Civil and Administrative Tribunal.
After reviewing their case, the Tribunal decides that the requested rent of $550 isn't excessive by market standards.
However, because the tenants have been reliable in the past, Miranda decides to meet them halfway – she'll increase the rent, but by a lesser amount.
Written notice of rental increase
If the fixed term of your agreement has expired and you're on an ongoing and periodic tenancy, that is, a tenancy arrangement from month to month, your landlord can increase the rental amount, but they must provide you with at least 60 days notice in writing prior to the date in which the new increased rent becomes due.
This written notice should:
Identify the new rental amount in exact and unambiguous terms, and
Identify the date from which the new rental amount becomes payable
However, if you've entered into a tenancy arrangement without having signed a written agreement or contract, then the rent can't be increased during the first 6 months of your arrangement.
During a fixed lease period
If you're currently in a fixed lease arrangement of a period less than two years, the rent can't be increased unless a unique clause has been included in the current rental agreement, outlining how, and if, a rent increase can take place.
If disclosed, this clause must identify the amount of the increase and the way in which the increase will be calculated (i.e. an exact dollar amount or a fixed percentage). These terms can't be ambiguous, for instance, it shouldn't state "in line with market conditions" or "by the inflation rate", although these requirements will differ from state to state.
In the event that you've agreed to the new rental amount within the agreement, you still need to be given 60 days written notice before it can come into force.
On the other hand, if you're in a fixed term arrangement of two years or more, the rent can be increased at any time, provided that 60 days written notice is given. However, the rent cannot be increased more than once within any given 12 month period throughout the lease term.
What if I want to negotiate the increased rent?
If you've received a rental increase notice from your landlord, you have the right to negotiate this with either your landlord or their representative agent if you believe it is unfair. If you've been a reliable and loyal tenant, you can build a case to justify why your landlord should reduce the amount of the rent increase.
If the landlord is willing to meet you halfway, you don't have to be given another 60 days notice. The lower and agreed-upon rent increase comes into effect from the date as outlined in the initial notice statement.
However, to protect yourself, ensure that the agreed upon rental amount is put in writing and signed by both you and your landlord.
Challenging or disputing a rental increase
If you believe a rental increase is excessive or unfair, you can apply to the relevant state authority within 30 days of receiving the rental increase notice.
You can supply them with information detailing why you believe the increase is unjust.
Once you've lodged your application, the tribunal will review it with the following factors, among others, in mind;
Rental amounts for similar properties within the area/market
Conditions of the property
Any prior work you've paid for to improve the property
When the last rent increase took place (if applicable)
In the event that the Tribunal agrees that the rent increase is unreasonable, they can require that the rent is either not increased, or increased by a lesser amount.
Additionally, they can arrange for the maximum rental amount to be set for a period of up to 12 months, to lock the amount for a reasonable amount of time.
What happens if the rent increase comes into effect before the state authority has reviewed my application?
If the new rent increase comes into force before the Tribunal has had time to review your application, you should pay the increased amount until the Tribunal has made their decision. If the Tribunal decides in your favour, they'll organise a refund on your behalf.
What support is out there?
When challenging a rental increase, you can contact your local authority as listed below, who can provide you with support and information regarding the evidence or documentation you'll need to support your view that the rental increase is excessive.
State local authorities and support services
Western Australia (WA)
Northern Territory (NT)
Australian Capital Territory (ACT)
Tasmania (TAS)
Need a home loan? Start comparing
Image: Shutterstock
More guides on Finder