How to choose a camping chair: Buyer's guide
From weight, material, features and frame to denier, recline, padding and comfort, there's plenty to think about when buying a camping chair.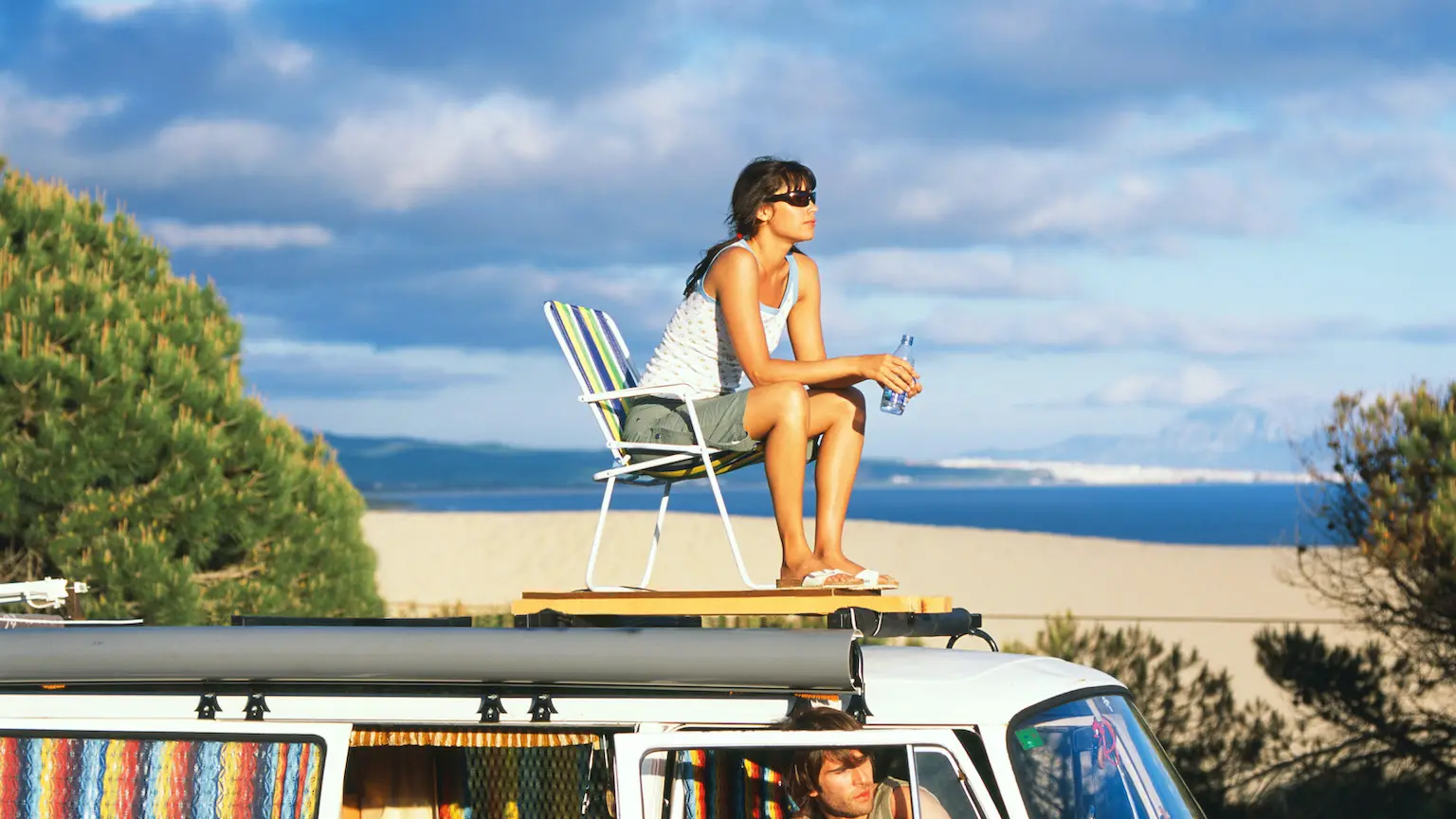 We're reader-supported and may be paid when you visit links to partner sites. We don't compare all products in the market, but we're working on it!
There are few moments as glorious as feeling your butt nestle down into a camping chair after a long day of driving, unpacking the 4WD and setting up a tent in the dirt and heat. The promise of being able to fold out that chair, plant it near the fire and take in that view is what it's all about.
You can feel it now, can't you? Your back settling into that familiar canvas. The crackle of flame on wood. The release of gas as you crack open that first cold one. The best.
If this moment speaks to you too, then choosing the right camping chair isn't a decision to take lightly. Just like choosing a camping fridge, gazebo or mattress, you need to get it right. And with such a vast array of prices and options, it can be tough to determine what features are gimmicks and what will actually enhance your camping experience.
So, let's dive in. How do you choose the best camping chair for you? And once you are done, why not check out our picks for the best camping chairs in Australia.
Different uses for camping chairs
Being an outdoor nation, there's no shortage of options when it comes to choosing the best camping chair. You need to start at the most likely use-case for the chair itself: when will you need it and how will you use it?
Hiking, backpacking or flying
If you want to have a sitting solution when you've got very limited space or weight concerns, then you've got to go ultra-portable. In this regard little fold-up stools, low-profile event seats or compact foldout chairs are going to be the most practical in this instance. Even if they're not the most luxurious. These camping chairs are often small and light, and able to pack up with a very small footprint so they can be easily strapped to the side of a backpack.
Camping, caravanning, four-wheel driving, work and household back-up
The vast majority of us will use our camping chair while… you guessed it… camping, be that in a tent, a trailer, campervan or motorhome. And as a result, the majority of chairs in the market serve this audience. They're often affordable, rugged and utilitarian.
At the cheaper end of the scale you can expect just the bare minimum of features, such as a drink holder, but little else. However, as the price increases, so do the features. Lumbar support, anti-sink feet, pockets, insulated cup holders, side tables, headrests and coolers are the most likely features you will come across.
These kinds of chairs often come in two main forms: quad-chairs and director's chairs. While the former can also come in high back and low back variations, as well as being great for camping, they are a good backup for other, non-camping endeavours: at work when out in the field, or at home when big gatherings supersede home furniture stocks, for example.
Fishing
While similar to your standard camping chair, there is a sub-category purpose built for those who have the fishing bug. Caught hook, line and sinker. Makers of these chairs are aware that they will often be used away from campsites and often on sand. They provide wider feet as a result and offer features such bait pockets, side-tables and even rod holders.
Family trips
Another sub-category spinoff from your standard camping chair is Family. Here you'll find kid-sized seats and highchairs, often coloured or even branded in a "cool" way that appeals to kids. There's also Scoop and Moon chairs that mother and child can curl up in. You'll also find multi-person camping chairs that can hold a few humans at once and even suspending camping chairs that can act like hammocks.
Glamping
There's a growing range of luxury camping chair options for those with some money to spend. These include recliners, which are able to hold your weight at various angles set by the user. There are also chairs made with premium materials, particularly in the headrest and back support; strong carry bags and all the trimmings. You can even get yourself a rocking camping chair if you so desire.
10 things to consider when buying a camping chair
How will it be used? Does it need to be highly portable or can it be big and ungainly? Do you care if it gets wet or do you want to clean it after use? Will it be used at the beach or on soft surfaces? Do you intend to use it every now and again when eating, or luxuriate in it all day?
What is the weight capacity? If you're a big-boned human, you may need to look into the weight capacity to ensure it's going to last the distance and give you good value for money.
What material is it made of? Good quality materials cost more, but they often make for camping chairs that are more comfortable, last longer and are lighter.
Where will you store it when travelling and when at home? Do you need a good carry bag? Does this impact the size of the camping chair you can buy?
How heavy is it? Depending on the material being used and the number of included accessories, some camp chairs can get quite heavy and be challenging to both move and store.
Height. Some chairs have higher backs with a place to rest your head. These offer more comfort if you intend to spend long hours in the chair by the fire. However, chairs with smaller backs offer more body support, which is good for those feeling their age, or when sitting at tables.
What features does it have? Does it have drink holders, a phone pouch or a side table? What about a head pillow or lumbar cushions? Does it come with a carry bag? Is there a footrest or a reclining option? What about mesh walls to let that cool breeze through on a hot day?
Setting up. Most camping chairs can be opened one-handed and set up in seconds. But others require you to think a bit and even implement some latent engineering capabilities.
Do you have any health or body considerations? Tall people need high chairs, big people need wide chairs. Those with bad backs need stiff chairs or seats with good support. If you have bad knees they need to be high off the ground. You get the idea.
Price. Yep, that old chestnut. You can get a really solid chair for around $50, a comfortable chair with some nice features for between $50 and $120, and luxury chairs with all the trimmings between $120 and $200.
The parts of a camping chair explained
Frame
The bones of the camping chair, its frame, plays a significant role in defining its weight, durability, capacity and shape. Aluminium frames are lighter than steel frames, but they're not as strong. Steel is much stronger, but heavier. Powder-coated steel is more weatherproof than standard steel. Frames that cross-brace are generally stronger too.
Material
Potentially this is the most important component in your camping chair as it plays a large role in defining comfort. Nylon is cheaper and lighter than polyester, plus it's quicker to dry after rain or condensation. However, it has a lower weight capacity, can tear easier and is more impacted by weather, especially sunlight.
Thickness is measured in denier (D), with a lower number indicating a thinner material. Thinner is lighter, but thicker is stronger. Some chairs may opt to add more padding on top of the base fabric for added comfort. You may also want to consider a chair with a mix of materials, such as Neoprene padding or mesh to allow for airflow.
And remember, dark colours may be less offensive, but they absorb heat.
Storage
What can your camping chair hold so you don't have to? Drink holders are the base requirement for many consumers, but some now come with insulation to keep your beverage cool. Pockets that can store phones, sunscreen, keys and insect repellent are very handy. Little side bags can do the same but are potentially big enough to hold a book or a magazine as well. Fishermen will be particularly enamoured by cooler bags built into the fabric that can store bait.
Side Table
A super handy addition to any camping chair is a side table. These can be used to hold food and other items for easy access. Side tables can be a cheaper and lighter plastic or a sturdier material. Be wary of the material they are made of as cheaper surfaces will bubble and blemish under heat and rain. Also remember that side tables do make packing (and thus storing) your chair more of a challenge and add to its overall weight.
Comfort
There are two types of comfort features you'll find in a camping chair. The first is the rests: headrest, footrest and armrest. The bigger backed chairs offer somewhere for you to rest your head. Chairs with plastic or otherwise solid armrests give you a strong place to support your limbs. While footrests, especially those that can be adjusted, seal the deal when it comes to "kicking back", especially on recliner chairs.
The second is padding. Premium chairs will also offer padding in these areas, as well as additional, even adjustable, lumbar support. Just note that padding usually takes longer to dry.
How to keep your kids off your camping chair
We've been unable to determine an answer to this. Years of experience in the field hasn't yielded a consistent and sustainable methodology for keeping "those bloody kids" off our camping chair. The only sure-fire strategy is to simply not get up. Alternatively, get a matching chair for them.
More guides on Finder