We're reader-supported and may be paid when you visit links to partner sites. We don't compare all products in the market, but we're working on it!
Delve deep into the Blue Mountains, take on the Grand Pacific Drive, explore the age-old Hunter Valley wine region or head north along the picture-perfect East Coast; there's so much opportunity for a campervanning adventure if you set off from Sydney.
From budget-friendly options to looking to avoid young-driver fees, we've narrowed down the top places to hire a campervan in Sydney for you.
Best campervan hire in Sydney
From cosy two-berth to family friendly six-berth options, Britz has you covered when it comes to road tripping in luxury. Each vehicle contains everything you need for your trip including kitchen essentials and bed linen.
Where can I pick up the campervan from? Banksmeadow
Discounts: Up to 25% off Australian hires
Unique inclusions and features: Fleet is younger than four years old, pet-friendly campervan hire available and indoor kitchens and bathrooms
---
Family-owned and family-run, Cruisin' prides itself on its personalised service and high-quality campervans. Perfect for the mid-range or luxury camper, you'll find a selection of two, four and six-berth campervans to pick from.
Where can I pick up the campervan from? Caringbah
Discounts: Long term hire discount of 10% daily for trips over 21 days
Unique inclusions and features: Equipped with linen, cutlery, crockery and bedding, all of the campervans are a maximum of four years old and several branches along the East Coast for convenient pick-up and drop-off points
---
Established in 1993, Travellers Autobarn has decades of experience providing road trippers with everything from spacious station wagons to three-berth camper vans, all at rock bottom prices.
Where can I pick up the campervan from? Banksmeadow
Discounts: Access to free campgrounds and discounted caravan parks.
Unique inclusions and features: No young driver fees or exclusions and option to buy campervan or car for longer trips
---
Recognised for their out-of-this-world looking vehicles, Spaceships offer compact campers without skimping on the amenities. All of the campervans include cooking and sleeping gear, as well as a fridge.
Where can I pick up the campervan from? Botany
Discounts: No one-way fee and 5% off selected hires
Unique inclusions and features: Free cancellation up to seven days before your trip, no extra fees for 18 to 21-year-olds, smaller vehicles for easier driving and no one-way fee
---
With more than 35 years of experience in the campervan world, Apollo Campers offers a huge range of road-tripping companions including 4WD campers, spacious six-berth motorhomes, and compact campervans.
Where can I pick up the campervan from? Taren Point
Discounts: 5% off early bird discounts
Unique inclusions and features: Modern 4WD campervans are available for thrill-seekers, Apollo Connect App is the perfect buddy on your adventure, unlimited kilometre allowance and a fleet of modern vehicles manufactured by Winnebago Australia
---
An Australian-born company, Mighty Campers knows what it takes to tackle those long stretches of road down under. They also cater for all budgets, which means a Mighty Camper may be within reach.
Where can I pick up the campervan from? Banksmeadow
Discounts: N/A
Unique inclusions and features: Huge range of vehicles to choose from including ensuite options, round the clock phone support and roadside assistance and pet-friendly campervans available
---
Hippie Camper's fleet of vehicles are loud and proud and cater to a young adventurous audience. While its fleet may be slightly dated compared to other companies on the market, its budget-friendly pricing is very attractive.
Where can I pick up the campervan from? Taren Point
Discounts: 5% off early bird discounts
Unique inclusions and features: Compact vehicles that sleep between two and three people, rents to young drivers (18+) with a valid driving licence and affordable one-way campervan rentals with no one-way fee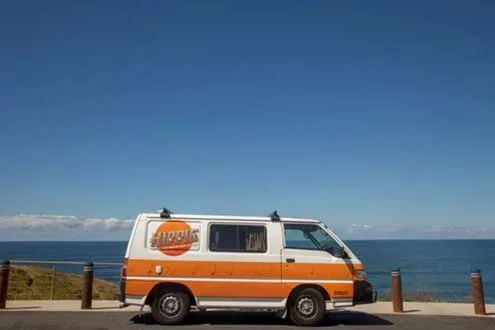 2-Berth Hippie Drift Campervan
from Motorhome Republic
Check rates
---
If you're looking for a spot of luxury while you're on the road, consider checking out Maui. With a fleet of young campervans to choose from, complete with all of the mod cons you'll need, this is the glamorous home away from home you've been dreaming of.
Where can I pick up the campervan from? Banksmeadow
Discounts: Up to 25% off Australian hires
Unique inclusions and features: Almost all vehicles are guaranteed to be under two years old, full bathroom and kitchen facilities and linen exchange and valet services for those on longer trips
---
Perfect for those hoping to hit the road with all of their creature comforts, Let's Go has a large fleet of modern and luxury campervans waiting to take you on the adventure of a lifetime.
Where can I pick up the campervan from? Botany
Discounts: 20% off hire fee + 7.5% off early bird discounts
Unique inclusions and features: 24-hour roadside assistance by Jayco's Dealer Service and Repairer Network, Let's Go receives new Jayco motorhomes every month and all vehicles come with kitchen equipment, linen as well as outdoor table and chairs
---
10. Awesome Campers: Best for budget-friendly campers
Awesome Campers claims that there is no cheaper way to travel around Australia, than in one of its budget campers. Choose one of its tour packages to enjoy discounted rates on tourist hotspots on your road trip too.
Where can I pick up the campervan from? Caringbah
Discounts: Mystery deals
Unique inclusions and features: Unlimited kilometres for your adventures, Relaxed cancellation policies with a 'book now, pay later' option and 24/7 roadside assistance
---
11. Kangaroo Campers: Best for low-cost travellers
With the budget-conscious in mind, Kangaroo Campers has a slightly older fleet of motorhomes that sleep between two to six people at affordable daily rates.
Where can I pick up the campervan from? Kingsgrove
Discounts: N/A
Unique inclusions and features: 'All in one service' with linen, kitchenware, outdoor furniture all included, plenty of depots and service contacts along the East Coast in case of an emergency and basic insurance included in all quotes
---
12. Autosleepers: Best for no hassle vehicles
Along with six-berth deluxe motorhomes with all of the added extras, Autosleepers caters to travellers on-a-shoe-string with its mini camper two-berth and hi-top camper models.
Where can I pick up the campervan from? Caringbah
Discounts: N/A
Unique inclusions and features: Six different models of campervan to choose from including hi-tops, small, well-behaved dogs are welcome, national 24 hour breakdown service and campervans accommodate between two and six people
How did we pick these campervan companies in Sydney?
Our editorial team selected the Sydney campervan companies and vehicles on this list based on price, pick-up locations and vehicle features.
Compare campervan hire companies in Sydney
Search for your campervan in Sydney
Powered by: Motorhome Republic
Looking for a specific type of campervan? Check out these companies:
TL;DR: Sydney campervan hire
What to know before renting a campervan in Sydney
How much is campervan hire in Sydney?
Renting a campervan for a week in Sydney starts at $227, according to Motorhome Republic. At the lower end of the scale, you'll get a compact older model of camper that can accommodate up to two people.
The cost of your camper depends on:
Length of your trip
Number of travellers
Time of year
Inclusions and extras
When is the best time to hire a campervan in Sydney?
The best time to visit Sydney falls from September to November or March to May. These are the shoulder months on either end of Sydney's peak and low seasons. As a result, travellers get comfortable temperatures, fewer crowds and cheaper travel.
What license do I need to drive a motorhome in Sydney?
The majority of rental companies in Sydney only rent to drivers with a non-provisional drivers license who are 21 or above. Some companies will hire out to those who are 18 and above but may add a young driver's fee or increase the insurance premium.
Are there any age restrictions to driving a campervan in Sydney?
You must be at least 18 years old to drive a caravan in Sydney. However, many companies will only rent to those ages between 21 and 75.
If you're a young driver, aged between 18 and 21, you should be able to rent a campervan from companies such as Travellers Autobarn and Hippie Camper.
Can you park a campervan anywhere in Sydney?
No, parking your motorhome just anywhere can result in a fine. There are plenty of low-cost camping options around the city and free overnight stops beyond the Sydney basin.
How long do I need to travel around Sydney by campervan?
New South Wales offers a plethora of awe-inspiring sights and attractions. Those looking to spend some time in the state starting in Sydney should put aside around 5-7 days. This allows you to head out into the Blue Mountains, north to the central coast and beyond. Our favourite itineraries include:
Do I need special campervan insurance?
When you rent a campervan your service provider will offer a number of different insurance options ranging from basic to comprehensive cover. This won't be caravan insurance specifically but will cover the vehicle that you've chosen to rent. You also have the option to cover yourself with excess rental car insurance.
Campervan hire locations in Sydney
Campervan depots in Sydney are located in Banksmeadow, Botany, Caringbah, Taren Point and Kingsgrove.
Which companies offer campervan pick-up from airports in Sydney?
Although there aren't any depots directly at the airport, campervan companies such as Spaceships are only 10 minutes away in Botany.
Can I access free campervan stops in Sydney?
Old Ford Reserve: Ideal for visits to Blue Mountains and Katoomba
Gordon VC Rest Area: Ideal for visits to the Southern Highlands
Grey Gum Cafe: Ideal for visits to Wollemi National Park
Karuah National Park Tattersall's Camping Area: Ideal for visits to Nelson Bay
McNamara Park: Ideal for visits to Pokolbin
Tips for driving a campervan in Sydney
There's a skill in tackling the busy streets of Sydney in a campervan. Luckily, once you're out of the city, there's just open roads and winding coastal routes to think about. Here are a few tips to nailing those first moments in your campervan:
Time your rental pick-up: Try to time the collection of your campervan with off-peak traffic hours. Driving in Sydney can be nerve-racking enough without having to contend with city traffic.
Know the toll roads: Sydney's infamous toll roads are almost impossible to miss. Before you set off, make sure you know where each one is and how to pay the toll charge. To pass over Sydney Harbour Bridge, you'll need an electronic pass, but most companies will already have this installed in their rentals. Some companies do charge administrative fees for using toll roads, so you may want to read the fine print to see whether it's worth changing up your route to avoid tolls.
Play it safe with a GPS: Hiring a GPS through your rental company can make navigating the city's winding roads a little easier. Plus it may remind you of the speed limits and any hazards to look out for.
Watch out for wildlife: Once you hit the country and outback, keep a lookout for wandering 'roos, wallabies, wombats and deer. Species are especially active at night and are attracted to headlights. Some rental companies won't insure you at night because of this. Make sure to check your insurance before you head off.
Ensure you have the appropriate vehicle: Avoid dirt roads unless you have the right 4WD campervan, skills and relevant insurance to do so.
Latest campervan hire deals for Sydney