We're reader-supported and may be paid when you visit links to partner sites. We don't compare all products in the market, but we're working on it!
From tall forests and mountain peaks to remote beaches and friendly townships, a campervan trip through Victoria is a truly memorable adventure.
Our guide has you covered on the best prices around, flexible booking policies, tips on getting started and where to book the ideal camper for your trip.
Best campervan hire in Melbourne
Started by a group of backpackers in Sydney, Travellers Autobarn focuses on providing quality service for the budget conscious. All campervans contain the essentials needed for a no-fuss road tripping adventure.
Discounts: Access to free campgrounds and discounted caravan parks.
Unique inclusions and features: The Travellers Autobarn App provides lots of free road trip information.
Where can I pick the campervan up from? Tullamarine.
---
Established in 2001, JUCY offers 1000s of cars and campervans across Australia and New Zealand. This no-frills company provides safe and sturdy rentals for almost every adventure.
Discounts: Nothing over $99 a day
Unique inclusions and features: Kitchen amenities, unlimited kilometres and free 24 hour roadside assistance
Where can I pick the campervan up from? St Kilda and Tullamarine
---
Offering slick, cruisy campers, Spaceships has a fleet of fully equipped and comfortable vehicles for your journey at affordable prices.
Discounts: No one-way fee.
Unique inclusions and features: Sleeping and cooking gear all included, anyone aged 18 and over can hire and drive a Spaceship camper with standard insurance included.
Where can I pick the campervan up from? Williamstown.
---
For a little something different on your next road trip, hire a privately owned campervan for a true home-on-wheels feeling. Camptoo offers vehicles of various sizes, styles and prices with 24/7 support available.
Discounts: Save up to 40% compared to other hire companies.
Unique inclusions and features: Pet-friendly vehicles available, fleet is in large supply and motorhomes are properly insured.
Where can I pick the campervan up from? Pick up from various locations around the city, not just retail locations.
---
With a suite of top-grade campervans at the ready, Apollo can set you up for a road trip in comfort and style. Choose from a compact camper for two to luxurious 6-berth motorhomes – all beautifully decked-out.
Discounts: The ApolloConnect App helps you access campsites and find discount deals on local attractions.
Unique inclusions and features: Unlimited kilometre allowance and 4WD campers available for off-road adventures.
Where can I pick the campervan up from? Somerton.
---
With a focus on luxurious design and home-style comforts, Maui takes pride in offering top-notch campervans in a range of sizes. Campers are designed to offer more space with all the essentials including apartment-style kitchens and comfortable seating.
Discounts: Discounts on Broome itineraries.
Unique inclusions and features: Full bathroom and kitchen facilities, almost all vehicles are under two years old and apartment-style campervans.
Where can I pick the campervan up from? Braybrook.
---
With Mighty Campers you'll find robust campervans ready to hit any kind of road, from dusty and bumpy trails to long stretches of highway. The Australian-born company has campers fit for Aussie adventures at reasonable prices.
Discounts: N/A
Unique inclusions and features: Pet-friendly campervans are available, support available with helpful videos and 24/7 phone service, and large range of campers to suit all travellers.
Where can I pick the campervan up from? Braybrook.
---
If you're looking for a no-fuss, chilled vibe for your road trip, Hippie Campers is the way to go. Its fleet of campervans contains all the essentials for a relaxed journey that's easy on the budget.
Discounts: Campervan rental as low as $22.50 per day.
Unique inclusions and features: Rental available for young drivers (18+) with a valid driver's licence and value pack includes insurance, gas bottle and camp gear.
Where can I pick the campervan up from? Somerton.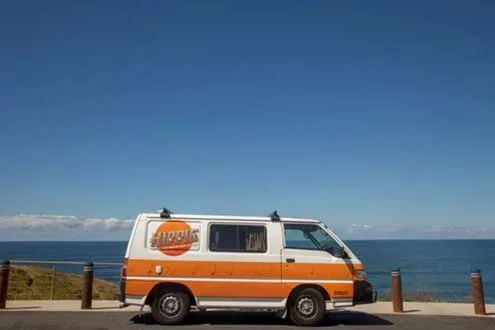 2-Berth Hippie Drift Campervan
from Motorhome Republic
Check rates
---
You can feel right at home with a campervan from Let's Go. The company has a range of vehicles that come with all the creature comforts including modern kitchens and comfy bedding.
Discounts: 7.5% off early bookings made 180+ days in advance.
Unique inclusions and features: Handy travel companion with the Let's Go Australia App, 24/7 roadside assistance by Jayco's Dealer and Repairer Network and new fleet of rentals all under three years old.
Where can I pick the campervan up from? Tullamarine.
---
For couples, friends and families large and small, Britz has a camper for every kind of traveller. Hit the road in a cosy 2-berth hi-top or kick back in a spacious motorhome for six.
Discounts: Reduced prices on destinations such Broome and Hobart.
Unique inclusions and features: Pet-friendly options available, indoor kitchens and bathrooms, kitchen essentials and linen included as well as supported travel with navigational tools and 24/7 phone support.
Where can I pick the campervan up from? Braybrook.
---
Family-owned hire company Cruisin started small in Tasmania in 1999 and now has a large fleet of luxurious campervans on offer. Choose from a selection of 2-, 4- and 6-berth campervans, all fully equipped with kitchen essentials and bedding.
Discounts: Early bird and long hire discounts.
Unique inclusions and features: Luxury interiors with comfortable bedding and 24 hours roadside assistance.
Where can I pick the campervan up from? Tullamarine.
How did we pick these campervan companies on the Melbourne?
Our editorial team selected the Melbourne campervan companies and vehicles on this list based on price, pick-up locations and vehicle features.
Compare campervan hire companies in Melbourne
Search for your campervan in Melbourne
Powered by: Motorhome Republic
Looking for a specific type of campervan? Check out these companies:
TL;DR: Melbourne campervan hire
What to know before renting a campervan in Melbourne
How much is campervan hire in Melbourne?
Data provided by Motorhome Republic shows campervan hire in Melbourne during the winter costs around $204 per day. Hires during summer average $259 per day. These figures are based on an average 2-berth rental.
Keep in mind that these rates do vary and are based on:
How many seats are available (2-seaters versus 6-seaters)
Amenities such as kitchens and bathrooms
The age of the model
Extras including security, technology and Bluetooth
When is the best time to hire a campervan in Melbourne?
The best time to visit Melbourne is between March and May. This time of year offers the most comfortable temperatures and misses those scorching summer temperatures. There's also less chance of rainfall during the autumn months.
In terms of cost, Motorhome Republic finds spring to be the cheapest time to book a campervan, sitting at the $172 a day mark. Overall, it's also the cheapest time to visit the city as there are fewer events going on.
What licence do I need to drive a motorhome in Melbourne?
To drive a motorhome in Australia you will need a full driver's licence which must be printed in English. If yours is not in English, you need an accredited English translation or an International Driver Permit.
Are there any age restrictions to driving a campervan in Melbourne?
Can you park a campervan anywhere in Melbourne?
You can't park your campervan just anywhere for the night in Melbourne. It is illegal to stay overnight in a national park without the correct permits. Illegal parking can result in fines so be sure to check what's required for each leg of your itinerary.
How long do I need to travel around Melbourne by campervan?
You want to have between 2 and 4 days if you have one particular loop in mind. However, if you hope to cover more bases it's probably safest to lock in a week so you can see what Melbourne has on offer. These are a few of our favourite road trips.
Do I need special campervan insurance?
Most campervan rentals come with a basic level of insurance, but having a look into car hire excess insurance could be worth it just in case.
Campervan hire locations in Melbourne
Melbourne is home to two major airports, Tullamarine and Avalon. However, Tullamarine is the only destination offering campervan pick-up and drop-off. Booking via Camptoo offers the potential to find a vehicle owner near Avalon if you're travelling that way.
Which companies offer campervan pick-up from airports in Melbourne?
These are the companies that offer pick-up from the airport:
Can I access free campervan stops in Melbourne?
Fairhaven Campsite: Ideal for access to French Island
Loch Valley Campground: Ideal for access to Yarra Ranges
Slaty Creek Campground: Ideal for access to Ballarat
Aire Crossing Campground: Ideal for Great Otway National Park
Sharp Camping Area: Ideal for the Great Ocean Road
Tips for driving a campervan in Melbourne
Campervanning through the busy streets of Melbourne can feel a little overwhelming at first. But there's plenty of adventure to be had once you're out of the city and on the open roads of Victoria. Here are a few tips to tackle the start of your trip and what to expect on the journey ahead.
Avoid traffic jams: Peak traffic in Melbourne can really slow you down. To avoid traffic jams on the way out of the city or on return, try to time the collection of your campervan with off-peak hours.
Check for toll roads: There's plenty of toll roads in Melbourne so make sure to check where they are before you set off and set up an online pass to pay. If necessary, you can buy a casual pass for toll roads on linkt.com.au. Toll fees can be paid within 48 hours by phone or via the website at tollpass.com.au.
Close all compartments: Before heading off each day, remember to secure all cupboards and drawers and close the roof skylight.
Drive cautiously: Motorhomes are larger and heavier than the average car so it's best to drive slower than usual and take extra care on narrow and windy roads. Road conditions can vary greatly in Australian rural areas. If you're planning on taking some backroads, make sure to take caution and adjust your driving based on the conditions.
Be wary of height indicators: Campervans can be double the height and length of regular vehicles. Make sure to watch for height indicator signs at low level crossings or car parks.
Watch out for wildlife: As you head into rural areas, there's a good chance you'll encounter wildlife such as kangaroos, wallabies and wombats. Try not to swerve if an animal jumps on your path and instead just slow down and stay on track.
Know the vehicle's limits: Avoid dirt roads unless you have the right 4WD campervan and necessary experience.
Latest campervan hire deals for Melbourne