We're reader-supported and may be paid when you visit links to partner sites. We don't compare all products in the market, but we're working on it!
Adventuring around the Apple Isle in a campervan gives you more freedom to soak in every ounce of beauty Tasmania has to offer.
To help you make the right decision for your travel style and budget, we've put together a list of the best rental companies in Hobart.
Best campervan hire in Hobart
With a fleet of budget-friendly campers to choose from, you can enjoy the sights of Tasmania without breaking the bank. In spite of the rock-bottom prices, the campers still include all of the comforts you'll need to enjoy your trip.
Where can I pick up the campervan from? Cambridge
Discounts: 5% off early bird discount or 10% off for hires over 21 days
Unique inclusions and features: Price match promise on hires; selection of 2- to 6-berth campervans and motorhomes; bedding plus kitchen utensils included
---
Operating across Europe, the USA, New Zealand and Australia, Britz is an international name you can rely on. Take your pick from its high-end campervans and luxe added extras.
Where can I pick up the campervan from? Hobart Airport
Discounts: Up to 25% off Australian hires
Unique inclusions and features: 24-hour phone support and roadside assistance; selection of pet-friendly campers; newer fleet of campervans with modern amenities
---
Experts in campervans since 1999, Cruisin' remains a family-run and service-centric operation. It offers a modern road-tripping experience at competitive prices.
Where can I pick up the campervan from? Cambridge
Discounts: 10% daily long term hire discount for trips over 21 days
Unique inclusions and features: All vehicles equipped with linen, cutlery, crockery and bedding; young fleet of campers, no older than 4 years; campers accommodate between 2 and 6 people, and children's car seats and bumper chairs available for a fee
How did we pick these campervan companies in Hobart?
Our editorial team selected the Hobart campervan companies and vehicles on this list based on price, pick-up locations and vehicle features.
---
Make unforgettable memories in a campervan from Leisure Rent. With multiple depots across Tasmania, you can pick up your vehicle from Hobart, trip along the east coast and drop it off in Launceston or Devonport at no extra charge.
Where can I pick up the campervan from? Hobart Airport
Discounts: 5% off daily for hires of 21-34 days and 10% for those over 35 days
Unique inclusions and features: Vehicles are regularly serviced for peace of mind; Toyota-made, reliable campervans; depots at Devonport Airport, Launceston Airport, Hobart Airport and Spirit of Tasmania Ferry Terminal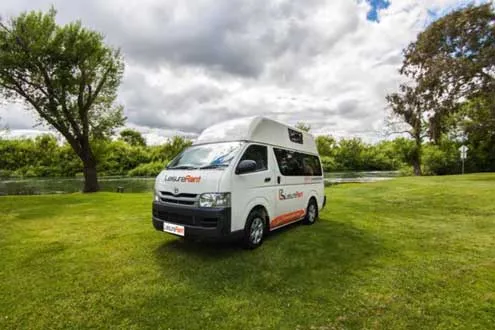 4-Berth Hi-Top Campervan
from Motorhome Republic
Check rates
---
If you love adventure but don't want to leave your creature comforts at home, try Apollo. All of its luxe motorhomes come with fully-equipped kitchens, in-vehicle bathrooms and air conditioning.
Where can I pick up the campervan from? Hobart Airport
Discounts: 5% off early bird discounts
Unique inclusions and features: Unlimited kilometre allowance and 24/7 support; vehicles manufactured and serviced by Winnebago Australia; access to the Apollo Connect app, which is great for hunting down a nearby campsite
---
This all-encompassing company caters to budget-seekers and luxury campers seeking that unforgettable road tripping experience.
Where can I pick up the campervan from? Hobart Airport
Discounts: N/A
Unique inclusions and features: 24/7 roadside assistance and phone support; huge fleet with budget 2-berth campers to luxe 6-berth motorhomes; pet-friendly campers available; flexible booking options with free cancellation up to 7 days before your trip
---
Maui is synonymous with luxury in the world of motorhomes. Enjoy a young, modern and spacious motorhome with extra touches like wine glasses and china plates.
Where can I pick up the campervan from? Hobart Airport
Discounts: Up to 25% off Australian hires
Unique inclusions and features: All vehicles are under 2 years old and regularly serviced; fully-equipped kitchen; in-vehicle bathrooms; linen exchange and valet service available for longer trips
---
8. Bargain Car Rentals: Best for unsealed road itineraries
Bargain Car Rentals not only provides some of the lowest rental rates in Tasmania, it's also home to one of the most varied fleets of vehicles on the island. This includes campervans, motorhomes, cars and 4WDs.
Where can I pick up the campervan from? Hobart
Discounts: N/A
Unique inclusions and features: Choose from 2-, 3-, 4- or 6-berth campervans, some with the 4WD capability; many vehicles are permitted to drive on unsealed roads; pet-friendly units are available
---
Compare campervan hire companies in Hobart
---
Search for your campervan in Hobart
Powered by: Motorhome Republic
If you're looking for a specific type of campervan, check out these companies
TL;DR: Hobart campervan hire
What to know before renting a campervan in Hobart
How much is campervan hire in Hobart?
According to Motorhome Republic, campervan hire in Hobart during the summer months averages $266 a night, whereas winter comes in at $223. This is based on a 2-berth rental.
The cost of the campervan comes down to:
The length of your trip
How many people are included
Age of the vehicle
Extras and inclusions
Time of year
When is the best time to hire a campervan in Hobart?
Weatherwise, the best time to visit Hobart falls during the summer months. December to March offers warm temperatures, outdoor activities and lower chance of rainfall to ruin your trip.
For the cheapest time of year, you want to book between April and November. The cold winter months provide fewer crowds so prices for flights and accommodation are cheaper.
What licence do I need to drive a motorhome in Hobart?
You will need a full driver's licence to drive a motorhome in Hobart. For rentals, most companies only rent to drivers aged 21+.
A select few companies will rent motorhomes to drivers aged 18-21 years old, but are likely to add a surcharge to your booking.
Are there any age restrictions on driving a campervan in Hobart?
You need to be at least 18 to drive a campervan in Hobart and over 21 to rent a campervan with most companies.
Some companies rent to younger drivers, though they tend to add a young driver surcharge.
Can you park a campervan anywhere in Hobart?
No, parking at any given place in Hobart can result in a fine. There are plenty of low-cost or free campgrounds where you can stop to take a rest.
How long do I need to travel around Hobart by campervan?
A good 14 days in our most southern state allows you to see absolutely everything Tasmania has on offer. For those of you with less time on your hands, we recommend allowing 3-5 days to be able to tick off some of the must-sees.
Do I need special campervan insurance?
You don't need specific campervan insurance to drive a campervan around Hobart. However, you may wish to take out car hire rental excess insurance to cover accidents or third-party damage.
Campervan hire locations in Hobart
You can pick up your perfect travel mate at the following locations in and around Hobart.
Hobart City Centre
Hobart Airport
Cambridge
Which companies offer campervan pick-up from airports in Hobart?
Can I access free campervan stops in Hobart?
The Blue Place: Ideal for visits to Alpha Pinnacle Conservation Area
Dunalley Hotel: Ideal for visits to Tasman National Park and Port Arthur
Bethune Park: Ideal for visits to Meadowbank Lake
The Pines Camp Area: Ideal for visits to South Bruny
Tips for driving a campervan in Hobart
While Tasmanian roads are generally a lot quieter than those on the mainland, it can be a tricky island to navigate in a camper.
Here are a few tips and tricks for setting off like a pro.
Book your parking. Although there are plenty of caravan parks to go around, Tasmania becomes extremely busy during the holiday seasons (December, January and February). You can't pull up on the side of the road in Tassie, so make sure you book a spot in a park well in advance.
Take extra care on the road. Unlike most of the Australian outback, roads in Tasmania are windy and narrow. Take the driving times on your GPS with a pinch of salt and give yourself extra time.
Check to see if you need a 4WD. While the east coast of Tasmania is relatively well-developed, the west coast is quite unruly. The road between Derwent Bridge and Queenstown has an incredible 99 bends to conquer and the unsealed Western Explorer Highway should only be tackled by experienced drivers in a 4WD.
Drive during the day. Where possible, avoid driving at night. Kangaroos, wallabies, wombats and other creatures of the night are prone to jumping in front of headlights and not all insurance companies will cover you for this kind of damage.
Latest campervan hire deals for Hobart