Call of Duty: Black Ops 4 review: Give it a shot
Black Ops 4's lack of a single-player campaign means squat with multiplayer modes as good as these.
We're reader-supported and may be paid when you visit links to partner sites. We don't compare all products in the market, but we're working on it!
The best Call of Duty game in years and it doesn't have a solo campaign included. That's a sentence I never thought I'd type, but there's no arguing against the fact. Of the three developers who run this franchise, via a tag-team system, Treyarch is known to be the risk-taker, the deliverer of highest quality. Call of Duty Black Ops 4 is their boldest gamble yet but it pays off big time. You should absolutely dig your wallet out and bet on Black.
The semi-good news for lovers of narrative is that it can still be found in dribs and drabs in the greatly expanded Zombies mode. This is still very much a four-player co-op affair, but measures have been taken to personalise the participants to be more talkative and interesting than usual, plus the backstories and arenas in this time-hopping "fundead" nightmare are filled with just as much lore as there is gore.
---
---
Better yet, you're getting three different storylines. I'll not spoil too much of these tales here, suffice to say one is set in ancient Rome (IX), the other aboard the RMS Titanic (Voyage of the Damned) and then there's the delightfully nuts Blood of the Dead. Along with this triple-feature of plots, longevity is enhanced by the extensive gameplay mechanics tinkering offered in "mutations". In addition, players are just as customisable as they were in CoD: WWII's zombies and you can also chase after time-centric challenges known as "Callings".
My crew and I are pretty much hooked on Zombies again after a week or so of smashing it. A particular highlight is the new Rush mode that allows the more competitive folk (read: all of us) to see who can rack up the most kills and multipliers. As you can imagine, this sort of "co-adversarial" makes for many a sly backstabbing. Providing that mode doesn't ruin the friendships in my group, Treyarch already has some cool content coming down the pipeline that will keep us at it for ages. As it stands, though, the base Zombies is quite a solid effort as is. Co-op aficionados should answer the Call without delay.
Conversely, people who love nothing better than killing their fellow man will find a lot to get excited about with Black Ops 4's multiplayer. For starters, the traditional PvP has been completely rethought. The way-too-futuristic antics of Infinite Warfare have been toned right back down (to boots-on-the-ground level) but Treyarch also hasn't made the mistake of keeping the mechanics too basic, like last year's WWII. What we have here is essentially something of a Call of Duty Black Ops 2.5. Wall-running, boost jumps and other twizzling about nonsense isn't completely extinct, just incredibly rare.
The Specialists system is back with six old faces and four new. Everybody has had a rework to fit a certain class and purpose in TDM, however, which means new unique traits and special abilities to turn the tide of battle in weird ways. At a glance, there's Firebreak, a radium-obsessed area denier; Nomad, a lone wolf type; Seraph, a team spawn-shifter; Battery, a shield-buffing tank; and Prophet, a teleporter. They're flanked by Ruin, a berserking crowd-controller; Recon, a revealer of enemy positions; Ajax, team human shield; Torque, an area-denying objective taker; and Crash, a support provider. No matter your preferred method of murder, there's surely an archetype here to suit you and at the time of writing, no one Specialist feels OP.
Much like a game of Overwatch, it's incredibly gratifying to play this with any tightly communicating team that knows how to stick to the role and play the objective. This is the best the PvP has been in ages and a lot of that comes down to simple tweaks to the formula, like ditching auto-regen health, adding predictive recoil and increasing time-to-kill by giving players a larger default health pool. This certainly "feels" like the same CoD we know and love – it's just that the pew-pew has been polished to a high sheen and the old frustrations from Black Ops III been sensibly stripped away.
I'm all about the new modes, too. Control is a three-round affair that asks one team to defend two capture points from an attacking team (the catch: each team is allowed 25 respawns). Heist is more or less Counter-Strike – you start with a pistol, $500 cash and a means to earn and buy better gear. Your objective is to secure (or protect) a cash bag that needs to reach an extraction zone. It's one-life-per-round stuff that's just as intense as any round of CS: GO I've ever played.
Speaking of shamelessly ripping things off whilst making them better, Black Ops 4 represents CoD's first foray into the genre-of-the-moment – battle royale. Blackout is Treyarch's answer to PUBG and Fortnite, and I'll be damned if this brash newcomer doesn't parachute right in and take both of those established franchises to school. Starting with a colossal map that is effectively an anachronistic collage of all of the greatest MP moments in this series, Treyarch then sprinkles in vehicles (which don't handle the best) and a bunch of other new accoutrements that ensure Blackout is its own thing.
Case in point: the AI zombies that spawn if you venture too near the spookier sections of a map (the risk being balanced by OP loot rewards). Plus there are a bunch of modes on offer that change conditions to push players into certain play-styles. Beyond that, it's royale business as usual. You skydive in with bugger all -- either by yourself, with a pal, or in a quad – and then it's loot, equip and do the Thunderdome thing until one person wins The Hunger Games. Blackout won't win any awards for originality, but few can deny that mixing PUBG with the razor-sharp gunplay and speed of CoD PvP makes for a potent mix.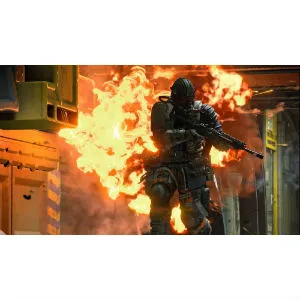 Click to buy Call of Duty: Black Ops 4
from Amazon
View details
I also like that there's a reason to keep leaping out of that plane. It's possible to level up your character via repeated wins, downs and kills in Blackout. This, in turn, will earn you skins and calling cards to attach to your profile. Being purely cosmetic, it's nothing that'll give you an unfair edge. It's just nice that there's something to shoot for. Literally. Speaking of, you can unlock some fan fave characters from Treyarch's rich CoD-verse by nailing Specialist Missions, a solo-centric training/challenge mode of sorts.
In terms of franchise fatigue, Blackout is the best thing to happen to CoD in decades and I can see myself playing it for months and months. The soloist in me still missed the campaign, but so long as we get a decent, big-budget yarn next year, I'm happy to let that slide. Let's be honest, for the overwhelming majority of its fanbase, CoD is all about the MP anyway. Treyarch has embraced this and delivered an Ops-timal experience that's sure to win disgruntled fans back and keep them hooked for ages.
Call of Duty: Black Ops 4 was reviewed on PlayStation 4 with a copy provided by the publisher.
Call of Duty: Black Ops 4
9.0 AMAZING
What we liked...
Zombies mode stronger than ever
Blackout rivals PUBG and Fortnite for addiction
PvP has been pulled right back from super sci-fi silliness
Fan-service unlocks for OG fans
What we didn't like...
Vehicles handle iffy in Blackout
Some spawns in PvP need rejigging
Not a game for offline soloists
VERDICT
If you're a hardline solo player, best approach this with caution. Otherwise, co-op fans and PvP folk will be in heaven with Zombies and Blackout, a battle royale mode that's about as addictive as heroin pancakes. Best CoD in ages. Give it a shot.
Available for PS4, Xbox One and PC
For more information on how finder.com.au scores games, check our review guidelines.
---