Best Cairns Hotels | Where to stay close to the reef and rainforest
Our picks of the best Cairns and Tropical North Queensland accommodation in all the must-stay areas.
We're reader-supported and may be paid when you visit links to partner sites. We don't compare all products in the market, but we're working on it!
If Cairns and Tropical North Queensland are your next escape then you can't look past these hotels. Chosen based on their proximity to popular attractions, prices and locations, we're confident you'll find your ideal stay.
The hard work has been done for you so all you have to do is put your feet up and enjoy the pristine waters and the endless sunny days that Cairns has to offer.
Today's deals and coupon codes for Cairns hotels
How did we pick these Cairns hotels?
Our editorial team selected the Cairns hotels on this list based on price, location and real customer feedback from hotel booking sites and review platforms. Where applicable, we used our own personal experiences to make recommendations.
Where are the best places to stay in and around Cairns?
Our recommended hotels in Cairns
Best cheap accommodation in Cairns
Crystal clear waters and sunny days don't need to break the bank in Cairns. With an array of cheap hotels on offer, you can spend your money where it matters. You'll want to be close to the main Reef Fleet Terminal, which takes you to Green Island as well as Fitzroy Island. The Mad Monkey Backpackers Waterfront and the Cairns Waterfront Backpackers are both centrally located on the Esplanade, which happens to be about seven minutes away by foot.
For those who are up for some town exploration, then the Cairns Art Gallery and the Museum are within a couple minutes walking distance of the Hides Hotel.
We also recommend Freedom Hostels, Bounce Cairns and Gilligans Backpackers Hotel and Resort for cheap accommodation that is ideally located in the city centre and offers a slice of paradise.
See more cheap Cairns accommodation
Best 5-star hotels in Cairns
If your perfect holiday stay includes a bit of luxury, then these 5-star hotels are sure to tick your boxes. From jacuzzis and saunas to rooftop terraces and pillow menus, Cairns brings 5-star options to the coast. The Shangri-La Hotel, the Pullman Cairns International and The Hilton Cairns are all perfectly situated a few minutes away by foot from the Reef Fleet Terminal, which takes you to the pristine waters of Fitzroy Island and Green Island. Alongside immaculate views of Tropical North Queensland's horizons, you'll also be centrally located to the city centre where you can find the Cairns Aquarium, the ZOOM and Wildlife Dome, the night markets and Skydive Cairns within a half hour walk. The 5-star options don't stop there either, with the Pullman Reef Hotel Casino also providing uninterrupted waterfront views.
Best accommodation at Trinity Beach
Trinity Beach hosts an array of activities, from lazy days on the coastline to hiking through the hills. We recommend staying in the main city area where you'll find the Coral Sands Beachfront Resort, Amaroo at Trinity and the Blue Lagoon Resort. The Coral Sands Beachfront and Amaroo at Trinity are located right on Trinity Beach and the Blue Lagoon Resort surrounds the large pond, which is just five minutes down the road from the main beach.
For those of you after some time with Mother Nature, then the Earl Hill Summit Track is merely five minutes via car from the hotels. The track provides a great opportunity for hiking and is in close proximity to Trinity Park Foreshore. This is a great spot for young families, as the water is calm and shallow. There aren't many stays in close proximity to this part of Trinity Beach but we do recommend the Palm Whispers Bed and Breakfast, Marlin Cove Holiday Resort and Sea Change Beachfront Apartments, as they are all within a five-minute drive of the hiking track.
See more Trinity Beach accommodation
Best accommodation at Palm Cove
The Mantra Amphora, Reef Retreat Palm Cove and Peppers Beach Club Spa are all ideally located on Palm Cove Beach. As the main attraction, you'll only be two minutes away from the water by foot. At the northern end of the beach there's the Palm Cove Jetty, which boasts views of the beautiful horizon. We highly recommend taking the short 10-minute walk to catch the sunrise or the sunset. For a day out amongst the treetops, you'll only be a 15-minute drive from the hotels to the Skyrail Rainforest Cableway.
Other accommodation that will have you close to the beach and moments from the main strip of restaurants on Williams Esplanade include the Melaleuca Resort, Paradise on the Beach Resort and the Marlin Waters Beachfront Apartments.
See more Palm Cove accommodation
Alternate Cairns accommodation options
For those of you who are after more personalised accommodation, we suggest checking out Airbnb, Stayz and Homestay. These provide a home away from home feel, with most of them being lived-in family houses. Or, if you're looking to save a few extra dollars while you're away, these are usually cheaper than regular hotel chains.
Where to book a hotel in Cairns?
Where in Cairns can we find these hotels?
Our Cairns accommodation reviews
Here are our reviews on where we've recently stayed in Cairns to help you make a better decision for your upcoming trip: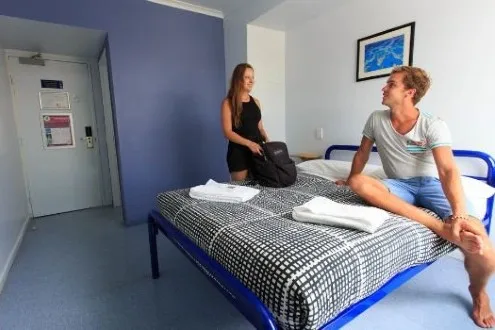 Cairns Central YHA
from Finder Hotels
Reviewed by: Alex Keshen, Travel Publisher
If you're looking for a cheap place to base yourself in the city, the Cairns Central YHA was a great option. While it may have been quiet due to Covid-19 restrictions, it was a more relaxed stay than most hostels I've stayed at and the rate for a private room with an ensuite was hard to beat at less than $40 per night.
Budget: Low
Pros: Spotless rooms, friendly staff, near transport options, ensuite in private rooms
Cons: Set back further from the waterfront than I'd like
Our rating: 3/5
Check availability
Frequently asked questions about Cairns hotels
Which sites let me book Cairns accommodation with free cancellation?
These sites let you make a refundable booking for your trip to Cairns, so there's less risk of losing the cost of your stay or deposit. Some sites only offer free cancellation on select Cairns hotels or at a slightly higher rate, so it's best to check the terms on your booking before confirming your stay.
Most sites, like Wotif or Expedia, will clearly state whether each Cairns hotel is non-refundable.
Which sites let me use a coupon code to book Cairns accommodation?
Using one of our coupon codes at these sites will save you money on your Cairns stay. Some may ask you to pay for your stay upfront rather than on arrival in order to apply the code to your Cairns booking, but the same cancellation policy does apply so if you are able to cancel, you'll be able to get refunded.
Which sites let me book Cairns accommodation without a credit card?
compare credit cards that offer hotel rewards here
.
Which Cairns hotel booking sites have rewards programs?
Get access to cheaper prices, collect points toward free stays and get extra perks like Wi-Fi or breakfast if you book your Cairns accommodation on sites like these:
Which hotels are near Cairns airport?
Although Cairns Airport doesn't have any on-site hotels, these stays are just a few minutes away by car.
Which Rydges hotels are in Cairns?
You'll find the Rydges Esplanade Resort available to book in Cairns.
Which accommodation options are located along the Cairns Esplanade?
On the Cairns Esplanade you'll find the following hotels:
---