Where and how to buy Amazon gift cards online
With an Amazon gift card, you or your gift card recipient will have thousands of products at your fingertips!
We're committed to our readers and editorial independence. We don't compare all products in the market and may receive compensation when we refer you to our partners, but this does not influence our opinions or reviews. Learn more about Finder.
An Amazon gift card is available as a physical card or an online 'code' that is redeemable towards literally millions of products at Amazon. These flexible gift cards are the ideal gift as they attract no features to purchase or redeem and, unlike most traditional gift cards, they never, ever expire.
Amazon gift cards can be purchased in almost any amount - from as little as $0.15 to as much as $2,000. Your gift recipient can spend the value of their gift card immediately upon receiving it, or can deposit it into their Amazon account and wait for that bargain sale of a lifetime.
Best of all, any unspent gift card credit can be rolled over for another shopping experience. Upon using an Amazon gift card, if any balance remains unspent, it will simply be kept in the recipient's Amazon account for future use.
Amazon.com deals for October 2020
Popular Amazon - merchant coupon codes
| Last checked | Code description | Code |
| --- | --- | --- |
| 14 Oct 2020 | Up to 70% off masks, sanitizers and PPEs | ******** |
---
Does your business belong on this list?
---
Top Amazon Email Gift Cards
What is next?
---
Frequently asked questions about Amazon gift cards
How does an Amazon gift card work?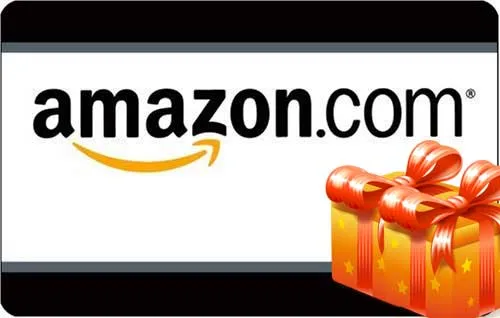 Whether it's a birthday, employee reward, Christmas, or other special event, finding the perfect present isn't always easy. That's where an Amazon gift card becomes the solution to all your needs.
Easy to buy and easy to use, Amazon gift cards allow you to shop the millions of items available at Amazon. They can be redeemed toward any purchase the gift recipient wishes to make on Amazon. This could be of a book or DVD, clothing or shoes, home appliances or phone, or even a computer.
Amazon gift cards work by simply inputting the gift card 'code' during the checkout process. There are no fees when you purchase using the gift card, and you can use the credit over several purchases. For instance, if you have a $50 Amazon gift card and you make a $30 purchase, the remaining gift card balance of $20 will stay in your account for future use.
When buying Amazon gift cards, you can purchase one card on its own, or a number of cards in a 'multi-pack'.
---
How to buy an Amazon gift card
You can purchase an Amazon gift card via Amazon.
Visit Amazon and sign into your account. If you do not have an Amazon account yet, registration is free and only takes a few minutes to set up.
Once inside your account, click the 'Gift Card' link from the top of the menu list to access the gift card store.
Decide on the format of gift card you want to purchase. Amazon gift cards are available in three formats: electronic, printable, and mailable. They can therefore be delivered via email or Facebook, for printing at home, or via post to your recipient in a card or gift box. Note: Physical gift cards and gift boxes can only be sent to US addresses. If you're in Australia and wish to purchase a physical card, you can use Shopmate, a service that provides you with a US postal address and then forwards your items to you in Australia. Alternatively, all electronic versions can be sent to any email address worldwide. Select your delivery method to proceed.
Now, select your type of gift card. On the next screen, select your design and occasion. You can personalise your gift card by adding a photo and/or a personalised message. You can also customise it to reflect the celebration, such as a birthday or wedding.
Enter your gift card value (it can be any amount between $0.15 and $2,000) and fill in the rest of the required information, such as recipient's name, email addresses, or mailing address. When you've filled out all the required fields, click 'purchase'.
Select a payment method, enter your payment details and authorise the transaction. That's it, you have now purchased an Amazon gift card. Congratulations!
---
Where to find Amazon gift cards
The simplest, safest and easiest way to buy Amazon gift cards in Australia is to find and purchase them directly through the website. Simply visit the Amazon website and log into your account. Then, choose from any of the methods below to buy and access your gift card.
You can purchase and send Amazon gifts cards by:
Email – this is ideal when you only have the recipient's email address
Facebook – perfect for sharing a gift with someone on their birthday or other special occasion
Printing at home – so you can personally deliver the gift
Mail – Note that shipping fees apply
Animated gift card
Selecting a funny Someecards
Creating a video gift card featuring you and your friends
Regardless of how you purchase your Amazon gift card, no fees are payable (other than shipping fees, where relevant) and the same terms and conditions apply for redemption.
One important note: be wary when buying a gift card from a third-party outside of Amazon, as there is the possibility that the gift card may have been stolen or forged.
---
How to compare Amazon gift cards
Amazon gift cards are available to purchase and deliver in six different ways, allowing you to choose the most suitable gift card for the intended recipient. You can compare the benefits and drawbacks of each style of Amazon gift card by considering the recipient's location, and the type of gift you'd like to give.
The easiest and most flexible option is to purchase an electronic, online gift card. This can be sent via email with a code, as an animated gift card, or via Facebook, all of which mean it can be delivered anywhere in the world, free of charge.
For those who wish to give a 'tangible' gift, purchasing an Amazon gift card as a printable voucher, greeting card or in a gift box, is the ideal choice. As with the electronic versions, these gift cards can be crafted in a multitude of customisable designs to suit your needs.
Note that for buyers in Australia, the cost of delivering a gift card or gift box needs to be taken into consideration. Depending on your location and the amount of gift cards you purchase, this can vary from a few dollars to as much as $15 or $20.
---
Things to consider when buying Amazon gift cards
Amazon gift cards are one of the most flexible gifts you can purchase online. Regardless of where you are and your recipient is in the world, an Amazon gift card can be purchased and redeemed with ease using a credit card in virtually any currency.
When the only information you have of your recipient's information is an email address, consider choosing an electronic format for your gift card. Emailing your Amazon gift card, or delivering it via Facebook, ensures speedy delivery and reduces the risk of the card getting lost.
Physical Amazon gift cards cannot be shipped to Australia direct from Amazon. You will have to use a mail forwarding service like Shopmate if you'd like to purchase a physical gift card.
Both the Amazon gift card purchaser and the gift card recipient will need to register an account with Amazon. Registration is free and takes only a few minutes.
Amazon gift cards purchased from the Amazon US website can only be redeemed from the US site. You can't redeem your card through Amazon Australia.
[/fin_tab][/fin_tabs]
More guides on Finder