A quick guide to business loans and your credit file
Seize control of your credit rating and take the first steps towards getting the working capital your business needs.
We're reader-supported and may be paid when you visit links to partner sites. We don't compare all products in the market, but we're working on it!
Business loans can be a stepping stone to financial growth. The key to being approved for one is understanding your credit file.
If you're a small business owner, you're probably familiar with the long wait before you find the outcome of a loan application. Being denied access to credit is frustrating when you're looking to get your business started or take it to the next level. Learn how your credit file works and improve your chances of being approved.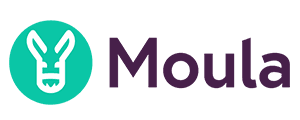 Moula Business Loan
Borrow up to $250,000
Flexible lending criteria
No hidden fees

100% confidential application
Moula Business Loan
An unsecured business loan with online application and no upfront or early repayment fees.
Interest rate type: Fixed
Loan security: Unsecured
Upfront fee: 2% Establishment fee
Minimum loan amount: $5,000
Maximum loan amount: $250,000
Maximum loan term: 2 years
Business lenders you can compare
What is a credit file?
A credit file is a comprehensive document which is created for any business or individual who has made an application for credit, whether that credit has been approved or not. Activities included in your credit file can be interactions with a traditional credit provider such as a bank or lender, or with a utility provider.
What's the difference between a personal and company credit file?
Your personal credit file contains a record of applications you've personally made for credit, as well as accounts you've held in your name. It helps credit providers determine your risk as a borrower.
A company credit file contains information on a company and helps other businesses determine the risk they take doing business with that company. information held on a company credit file can be used to assess the business' suitability for finance. The personal credit file of directors may also be checked if a business applies for a loan.
What's included in my company credit file?
Your company credit file includes both positive and negative information about your business and its activities:
Company details. Relevant information such as the company structure and shareholders.
Credit information. This includes any applications you've made for credit, accounts you've defaulted on, court judgements and external administration.
Business events. Any relevant business events that have been lodged with ASIC will be included. This can include credit enquiries, shareholder data and company information.
Personal Property Securities Register (PPSR). Any details from the PPSR held on the business will be included.
A score. The credit file will summarise your business with a single-figure score. This score should be based on statistical best practice. It will often determine whether or not the business is approved. Company credit ratings are grade-based and range from a D-grade, where your company is classified as an extremely high risk and as being in severe financial distress, to a AAA-grade, where the company has a negligible risk level and an extremely strong financial capacity. There are 21 grades in all.
Can I improve my company's rating?
Your credit score isn't set in stone. You can take control of your income and outgoings and dramatically improve your credit score over time. Keep the following in mind for a good credit score:
Pay your bills early or on time. This may sound obvious, but many businesses underestimate the impact this can have on a credit rating. It can also affect your relationship with suppliers and partners.
Maintain a low balance on company cards. As with overdue payments, high totals on multiple credit cards will do little to instill trust with potential lenders.
Communicate with your creditors. Don't be afraid to negotiate with suppliers if you feel that modified, flexible terms regarding your repayments could help your company better manage your finances. Ultimately it will benefit them as well.
Don't delay improving your finances. Improving your credit rating takes time and it is unlikely that you will see real change for at least a few months. However, the sooner you get your payments current, the sooner the process can begin.
My file is back on track. Now what?
With your finance in order, it's up to you to secure the right business loan for your firm. Keep the following tips in mind before you submit your next business loan application:
Look through your credit history. You can check your credit history for free once a year, or if you've been denied credit in the previous 90 days. Credit reporting bureaus will also offer quick access to your credit file for a fee. Knowing this information puts you in a strong position to negotiate and answer difficult questions about any negative listings.
Be honest. Lenders can view your credit file and will be able to find out if you have been rejected for a business loan. They can also see how many lenders you've applied for in the last two years. Being dishonest with this information will only hold your application back.
Do your research. There are many loan options, from prominent lenders such as banks to services specialising in small businesses. Not only will knowing the options available save you time, it also gives you the power to bargain for exactly the kind of loan you want.
Have your paperwork ready. Before you step through the door of your chosen lender, make sure you have a complete set of documents to support your application. Bank statements, invoices and projections will all add weight and help convince the lender that you can be trusted with their money.
Picture: Shutterstock
More guides on Finder