How to understand business loan interest rates
Before applying for a business loan, make sure you know and understand the business loan interest rate you'll be paying.
We're reader-supported and may be paid when you visit links to partner sites. We don't compare all products in the market, but we're working on it!
Applying for a business loan can do a lot to help your business out of a tight financial spot. Alternative and traditional lenders offer a range of loan products suited to most types of businesses and their financial needs.
There's more to a business loan than just having money deposited into your account and paying it back. Besides possible establishment and monthly fees, lenders will also charge you interest in exchange for providing the loan.
This guide will take you through the different types of interest possible charges when taking out a business loan.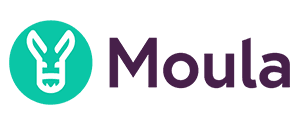 Moula Business Loan
Borrow up to $250,000
Flexible lending criteria
No hidden fees

100% confidential application
Moula Business Loan
An unsecured business loan with online application and no upfront or early repayment fees.
Interest rate type: Fixed
Interest rate: from 8.3% p.a. to 29.22% p.a.
Comparison rate: from 15.64% p.a. to 52.14% p.a.
Establishment Fee: 2% Establishment fee
Minimum loan amount: $5,000
Maximum loan amount: $250,000
Compare business loan interest rates
What is interest?
Interest is expressed as a percentage of the principal loan amount and is the additional money you pay to be able to borrow. For example, if you borrow $12,000 with an interest rate of 5.5% p.a. over a period of one year, you will repay $1,030 per month. This means you will pay $30 per month in interest or $360 interest in total. You will repay the lender a total of $12,360, which includes principal and interest, by the end of the loan period.
How does my business profile affect the interest I pay?
The loans terms offered, including the interest you pay, are based on how much of a risk you represent. If your business is new with few valuable assets and a small turnover, you may be paying a higher interest rate than an established business with a bigger profit margin.
Interest rates vary depending on the lender, the lending criteria and the loan type, but in most cases the following factors are taken into account:
Your business profile
Annual turnover
Valuable assets
Loan type and purpose
Whether the loan is secured or unsecured
What interest is charged on business loans?
Here are some of the terms used to express the different forms of interest charged on various business loan types.
Annualised percentage rate (APR).
Besides interest, the lender charges various fees for setting up and providing a business loan. The APR includes all of these fees and the interest you'll be charged and is expressed as a percentage, therefore giving you a more realistic idea of what the loan actually costs.
Invoice factoring companies charge this rate, which is a percentage of the invoice amount being financed. For example, if your invoice value is $3,000 and the discount rate percentage is 5%, you pay the lender $150.
Invoice factoring, a part of invoice financing, involves the finance company having the full invoice ledger and collecting all the debts when they're due.
Compare the invoice financing products below.
This is a multiplier applied to the amount loaned on unsecured fixed-term loans. A factor rate is expressed as a figure, such as 1.2 or 1.5. For example, if the loan amount is $10,000 and the factor rate is 1.2, you will repay $12,000 ($10,000 x 1.2).
Repaying a loan before the end of the loan term means you stop paying the lender interest. Some lenders charge a fee to compensate for the interest they would've received had you continued to the end of the loan term.
Fixed versus variable interest rates
When you apply for a business loan from a traditional lender, you'll have the option of a fixed or variable interest rate, or a combination of the two, for larger amounts borrowed over longer loan periods.
Fixed interest rate. The interest you pay on the principal is fixed for the loan term. This means that fluctuations in the cash rate won't affect your repayments. A fixed rate allows for peace of mind, as you can budget for the same repayment amount each month.
Variable interest rate. This rate can fluctuate during the loan term. When the interest rate fluctuates, so do your repayments. If the cash rate drops, business loan rates tend to drop as well, thereby lowering your repayments. However, rates can be raised as well.
Combination. This is often offered as an introductory or honeymoon loan period. Lenders offer a fixed rate for the first year or two of the loan, after which the interest rate reverts to the standard variable rate for the rest of the loan period.
When calculating the cost of a business loan, it's important to make sure that the loan product is suited to your business profile and objectives. For example, if you plan to repay the loan quickly, choose a lender that won't charge early repayment fees.
The loan should also suit your business's budget. Besides the interest payments, lenders also charge a series of one-off and monthly fees for providing the loan, all of which can take a chunk out of your budget over the loan period. Make sure you take the interest rate into account when comparing your business loan options.
Picture: Shutterstock
More guides on Finder