Commercial Marine Insurance
Does your business need commercial marine insurance?
We're reader-supported and may be paid when you visit links to partner sites. We don't compare all products in the market, but we're working on it!
Commercial marine insurance is designed for variety of Australian businesses, from freight companies to fishermen. It covers everything from the loss of or damage to ships and cargo to liability for causing injury or property damage to a third party.
What types of marine insurance are there?
A typical marine insurance policy can usually be split up into four sections
Marine cargo insurance. Marine cargo insurance is designed to cover a business against the damage or theft of goods being transported by sea, road or air.
Hull insurance. Hull insurance offers protection against the loss of ships, as well as any damage to the ship itself.
Loss of income. Loss of income covers a shipowner when damage to or loss of their ship results in a loss of business income.
Liability. While marine liability insurance covers a business for accidents that cause bodily injury or property damage to a third party.
If you are ready to speak with a consultant about different business insurance options available, simply enter your details in the form. Keep reading if you want to learn more about the different types of cover available.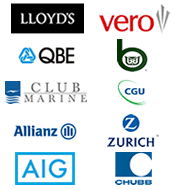 For many businesses, going without commercial boat insurance is simply not worth the risk. When you think about the many risks businesses are exposed to, whether they are transporting cargo or operating a ship out of a busy port, it quickly becomes clear that there is a huge potential for a disaster that could wreck your business' bottom line. common risks include:
Damages and losses to stock. A container could be washed overboard and lost during a heavy storm
Damages and losses to cargo. Your vessel could be damaged by bad weather, or even hijacked by pirates.
Loss of income. Damaged could result in lost income of not being able to sell the goods.
Liability. If you're cargo business causes damage or injury to third parties, you could be liable.
In such scenarios, without any insurance cover in place you could be looking at a disastrous blow to the financial position of your business. The lost stock may mean that you are unable to run your business at full capacity. What then?
---
Who may consider commercial marine cover?
As mentioned, business marine insurance offers cover against a huge range of risks. If your business transports goods—whether they are imported, exported or moved within Australia—marine cargo insurance is essential.
However, commercial marine insurance also covers damage to ships and terminals, as well as legal liability. This type of insurance cover can be highly useful for:
companies that import or export goods, plus companies who transport goods within Australia
shipowners
ship charter companies
ship repairers
marina and port operators
tourist craft operators
road transport companies
logistics businesses
yacht clubs.
What the benefits of each type of commercial marine insurance?
A commercial marine insurance policy can be tailored to offer protection against a diverse range of marine risks.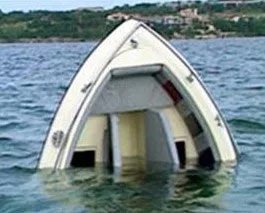 1. Marine Cargo Insurance
Despite its name, this provides cover for goods being transported by sea, air or land. The goods can be moved internationally or simply within Australia, and they're also covered while in storage anywhere between their point of origin and final destination.
2. Marine hull insurance
This type of policy provides cover for vessels and their machinery when they are operating anywhere in the world. Similar to a comprehensive car insurance policy, marine hull insurance provides cover against damage to or loss of a boat. If, for example, your vessel is damaged in an accidental collision or sinks in a storm, your policy will provide you with cover. Policies cover the hull, motors and machinery, equipment and accessories, sails and masts, trailers, and even a dinghy or tender.
3. Marine liability cover
In some cases, your business marine activities may result in a third party suffering a bodily injury or property damage. If a claim is brought against you in an effort to seek compensation, this policy will cover the cost of your legal defence and any damages you are legally required to pay.
4. Loss of income cover
Your policy may also cover you for loss of business income resulting from the damage to or loss of a vessel, which is also known as freight insurance for cargo vessels.
There are many advantages to having this type of cover in place. While most shipments of cargo and goods do arrive safe and sound, unexpected events and accidents do occur and can have a significant financial impact on your business. Marine insurance is designed to protect you against the many marine risks your business is exposed to, providing crucial financial cover in case something goes wrong.
---
Am I covered for transport that's not out at sea?
Yes you are. Marine Cargo Insurance can cover damage that occurs in the air and on land. For instance if you're a logistics company who's main channel is air transport and your stock is damaged in the air, marine cargo insurance will cover the cost of replacing the goods. Depending on the policy may also be entitled to liability cover and loss of income cover.
---
How to I make a claim for marine insurance?
If you suffer a loss which is covered under your marine insurance policy, you'll need to go through the claims process to ensure you are compensated for your loss. Most insurance providers who offer this type of cover will offer an expert claims team that specialises in managing complex marine insurance claims. Marine insurance is an intricate and multifaceted sector which deals with an array of risks, so claim examiners need to have specialised knowledge to efficiently process claims.
Each insurance provider will have their own unique process for handling claims, but typically you'll be able to find a claims form online. You'll need to fill out this form with all the details of your claim, and make sure to provide all relevant information your insurer asks for.
In some cases your insurance provider will request more information in order to process your claim, which could include anything from photographic evidence to police reports, so ensure you supply this as soon as possible. Doing so is the best way to ensure the prompt resolution of your claim.
---
What are the exclusions of commercial marine insurance?
Just like with any other insurance policy, commercial marine insurance policies also feature a range of exclusions. These can differ between policies but will typically include:
if you fail to take due care to prevent yourself suffering a loss, for example failing to lock a vehicle that is transporting goods
deliberate acts that result in your business suffering a loss
loss or damage caused by the financial insolvency of any agent or transport services provider where you should have been aware of the circumstances
normal losses caused by things like inherent vice, mould, mildew, insects, ordinary leakage, wear and tear
claims related to the inoculation of livestock or livestock kept in an unhealthy condition
vehicles and machines being driven under their own power, except when being loaded or unloaded
pre-existing damage to goods
failure to exercise due care in the handling, storage, protection and security of goods
fraudulent or dishonest acts
failure of your refrigeration equipment
war or warlike activities when not in transit
vessels may only be covered in certain geographical areas
when your hull is undergoing major hull repair.
---
Marine risk management tips for commercial businesses
A crucial part of any business insurance plan is minimising the risks your business is exposed to. When any disruption to your regular operation could lead to a financial loss, it's essential that you develop a risk management plan to help limit your exposure. Managing risks now can prevent losses in the future.
To develop a risk management plan, ask yourself what marine risks your business faces. How likely are those risks of occurring? What would be the financial consequences if they did occur? Common risks that you'll want to consider include:
natural disasters
epidemic or pandemic
technology
OH&S
economical and financial
suppliers
regulatory or governmental changes.
Once you understand the risks, you can put plans in place to reduce them. This could mean increased security at certain storage sites, upgrading the machinery on a certain vessel, or a whole range of other possible courses of action.
Commercial marine insurance is a critical form of insurance cover for many Australian businesses. In order to find the right policy to suit your business, compare a range of policy options and don't hesitate to seek expert advice from an experienced insurance broker.
More guides on Finder