Equipment finance loans vs leases for your business
Loan or lease; find out which is right for your business.
We're reader-supported and may be paid when you visit links to partner sites. We don't compare all products in the market, but we're working on it!
Instead of buying equipment as a single expense, many companies choose to make smaller payments over a period of time. This means either gradually taking ownership of a piece of equipment in the case of a loan, or using the equipment for a limited period of time with a lease agreement. If you don't have the revenue or the need to purchase expensive equipment outright, both of these methods could boost efficiency and income.
Equipment finance loans
Like business loans, equipment loans are financed by banks and lenders. This means that your credit file and that of the company will both be scrutinized before any offer is made. A bad credit score will make an equipment loan more difficult to get, as the lender will want assurances that you will meet the repayments.
What will I pay?
A deposit. Often as much as 50% of the equipment value will be taken as an initial down payment.
Collateral. Depending on your credit score and what the equipment is worth, the lender may want to secure the loan with other assets.
Regular repayments. Repayments will usually be charged monthly at a pre-agreed interest rate.
Equipment finance loans you can consider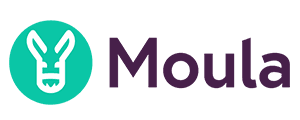 Moula Business Loan
Borrow up to $250,000
Flexible lending criteria
No hidden fees

100% confidential application
Moula Business Loan
An unsecured business loan with online application and no upfront or early repayment fees.
Interest rate type: Fixed
Loan security: Unsecured
Upfront fee: 2% Establishment fee
Minimum loan amount: $5,000
Maximum loan amount: $250,000
Maximum loan term: 2 years
Business lenders you can compare
Equipment finance leases
Instead of dealing with a bank or lending service, leases are instead organised directly with the equipment provider. This often means there is less emphasis on your credit file and no secured assets.
What will I pay?
No deposit. As you are not taking ownership of the equipment, there will usually be no deposit and just a minimal registration cost.
Regular repayments. As with a loan, repayments will normally be made monthly.
Residual repayments. At the end of the lease term you will be required to pay whatever the equipment is deemed to be worth in its current state, or you can choose to buy the equipment outright.
How do they compare?
| | Loan | Lease |
| --- | --- | --- |
| Convenience | A loan relies on the lender's willingness to provide funding, with negotiations needed to establish rates, deposits and secured assets. | With no need to bother the banks, leases can be extremely convenient. If you know what you want and where to find it, agreements can be reached quickly. |
| Control | During the process of buying the equipment the borrower has complete control over how and where it is used. | The company providing the lease keeps ownership of the equipment. This may allow them to impose restrictions on its usage. |
| Flexibility | Should you discover that you no longer need the equipment, you will still need to make repayments until you pay off the loan. | You may be given the opportunity to pay the outstanding amount to buy the equipment at the end of the lease period. Alternatively, you might choose to pay the total value of the equipment in order to finance a separate lease. |
Which is better value?
If the equipment will be used for a long time and you have access to consistent cash flow, lending could be the way forward. Leasing might be better suited to companies with lower revenue and those seeking equipment that has a shorter life span. Short-term leases allow for expensive equipment to be changed every few years, with some agreements requiring that the lease provider update products regularly within the lease period.
Have more questions about equipment finance?
How long do equipment loans and leases last?
Both loans and leases last for usually between three and five years, although loans can be longer and leases much shorter.
What happens if I can't pay?
In both cases there will be costs, but the consequences of defaulting on your loan will likely be far graver. Secured assets may be seized as collateral and your credit score will be damaged.
What if the equipment breaks?
Be it a loan or a lease, you are primarily responsible for ensuring the equipment is maintained. A lease provider will likely ask you to pay the costs of repairing or replacing the equipment, while you would be required to continue making repayments on your loan.
Picture: Shutterstock
More guides on Finder