Local cemetery takes on Sydney's burial plot shortage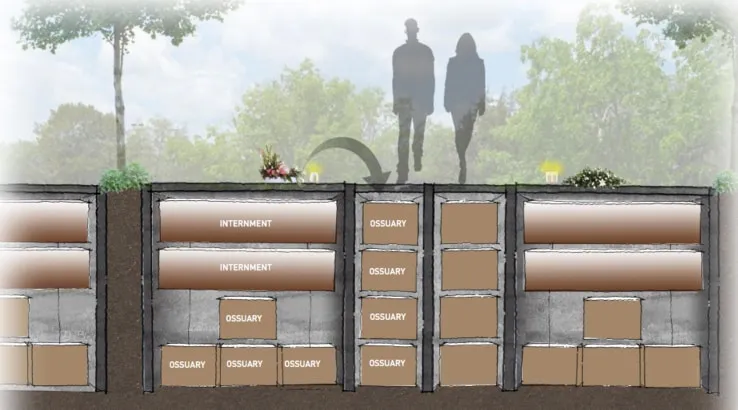 A new development at Eastern Suburbs Memorial Park could expand burial capacity by a factor of six.
A novel interment site being built at Eastern Suburbs Memorial Park (ESMP) will do more than just alleviate Sydney's burial plot shortage. It will also provide families with a unique and charming environment in which to honour their deceased.
They call it the "catacomb with ossuary option" and if all goes according to plan, ESMP will be able to accommodate 23,400 interments compared to the 3,600 they can accommodate now.
The biggest difference-maker is the "ossuary option" which alone has the potential to add 19,800 ground-level interments.
The term ossuary refers to any container where skeletal remains are stored – anything from a small box to a large underground chamber. Ossuaries have been used for centuries when burial plots were scarce, with the Paris Catacombs being perhaps the most notable example.
The interment site at ESMP will be the first of its kind in Australia and will be much more modern and tasteful than the one in Paris. It is the brainchild of Graham Boyd, CEO of Southern Metropolitan Cemeteries Trust (SMCT), the organisation that operates ESMP.
"We are designing our catacombs the right way from the ground 'down'. Not to mention, ours will be well-ventilated, have natural light, and contain aesthetically pleasing elements like atriums, vertical gardens and water features," Boyd told finder.com.au.
The sketch below comes from Sydney architectural firm i2C, who are designing and engineering the project at ESMP. It shows just one cross-section of the site, but offers a glimpse into how these natural elements will be incorporated.
How the ossuary option works
As part of the ossuary option, families will purchase single plots that will initially hold three separate interments. But each plot can be modified and expanded over time to hold up to 11 family members in total.
When a family member dies, the coffin and remains are buried as normal in the plot's main triple-depth compartment. After the body decomposes, the remains are transferred to a smaller container and placed into a second compartment known as the ossuary. The original coffin is then cremated.
The first compartment can now accommodate future burials.

When asked whether people will be reluctant to embrace this concept, Boyd didn't seem concerned.
With most people opting for cremation nowadays, the ones who opt for burial are more likely to come from centuries' old religious traditions like Roman Catholic and Greek Orthodox.
These communities are no strangers to ossuaries.
"I've spoken to some senior clergy in the Greek Orthodox church and they liken this concept to Christ's tomb. A Roman Catholic funeral director I spoke to thinks it will conjure up images of the Catacombs of Rome. And the Jewish community has an ancient connection with cave burial. Although it won't sway everyone, I think this idea will be very popular within those communities," Boyd said.
ESMP will kick things off later this year by opening a trial site consisting of 105 triple-depth graves with ossuaries. If it is successful, the architect and engineer will finalise the unique catacomb structure.
It comes none too soon, as a recent study by Cemeteries and Crematoria NSW warns that all available burial plots in Sydney will be exhausted by 2051 (sooner in some areas). Other major urban centres in Australia face similar shortages.
Compare your life insurance options online
Latest life insurance news
Pictures: All design concepts copyright i2c 2017