How to save money with budgeting software
We're reader-supported and may be paid when you visit links to partner sites. We don't compare all products in the market, but we're working on it!
Budgeting software makes tracking your spending quicker and easier. You can use budgeting software to better understand your personal finances and adjust your habits to put more money aside for things you need. Businesses can also implement budgeting software to more accurately forecast future expenses and focus on company growth.
To choose the best program for you, you'll need to decide the following:
Whether you need personal or business budgeting
How much you're willing to spend on budgeting software
Features you might need
This guide will help you compare budgeting software and make the right choice to maximise your savings.
Compare some of the best budgeting software
Data obtained September 2018. Prices are subject to change and should be used only as a general guide.
What is budgeting software?
Budgeting software is a program or app used to perform financial tasks such as bookkeeping, forecasting and financial analysis. While most budgeting software offers the same basic features, the biggest difference is in how you'll use it.
The first step in choosing budgeting software is to ask yourself if you need software for personal or business use.
Personal vs business budgeting
Personal and business or corporate budgeting share the same basic principles. An effective budget will track your income and expenses and project what your finances will look like in the future. However, business budgeting is usually more complex than personal budgeting. Business budgeting software offers additional features to help you apply budgeting tools across multiple employees, teams and departments.
Why should I consider budgeting software?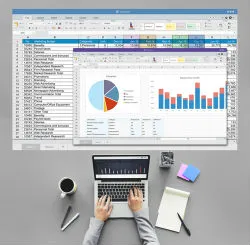 Whether you're running a business or trying to get your personal finances in order, budgeting software can help make the process smoother and quicker.
Benefits of budgeting software include:
Convenience. Many users find the biggest benefit of budgeting software is convenience. Technically, you could do just about everything your software can do by hand, but it would take a lot more time.
Forecasting. One of the most useful features of budgeting software is accurate forecasting of future expenses and income. Forecasting can help you achieve more financial goals in your personal life and more growth for your business.
Collaboration. If you own a business, budgeting software can help different teams or departments work together within one budget. With budgeting software, it will be easier to standardize financial processes and improve coordination. Budgeting software can also improve collaboration in your personal life. You can share the software with your partner, roommate, parent or child to keep track of all your expenses in one place.
Accuracy. You can reduce human error and increase the accuracy of calculations by using budgeting software. This will enable you to create a more effective budget.
Time-saving. With the right budgeting software, you can manage your personal or corporate finances with the fraction of the effort you are using now. Save time on menial day-to-day tasks and focus your energy on more important activities.
What to look for when choosing budgeting software
When trying to decide which budgeting software would be best for you, consider what you need from the software and how much you are willing to pay. If you want to use an app to track your spending and help save more towards a deposit on a home, you don't need to pay for additional features such as business forecasting. On the other hand, if you're looking for corporate budgeting software, the cheapest option might not offer everything you need.
Consider the following features when buying budgeting software:
Free trial. Look for vendors that offer a free trial so you can test the software before you commit to a subscription.
Manual vs automatic input. Once you have chosen your software, you'll need to input your financial data. You can spend time entering all of your data manually, or choose budgeting software that can automate processes. Many budgeting software vendors have file import or bank syncing tools that allow you to quickly import your bank statements or sync directly with your bank account.
Multi-platform. Most budgeting software programs are compatible across multiple platforms and can be available on multiple devices. Look for software offering desktop and mobile options. If you need budgeting software for your business, make sure to buy software that can be used on many devices at once and is compatible with any systems your business uses.
3 things to consider
Security. Any financial information you trust to third-party software or store online is vulnerable to cyber threats and identity theft. To help protect your money, only give your financial information to reputable vendors.
Update your budget. After using your budgeting software for a few weeks you can measure your anticipated spending against reality and adjust your budget accordingly.
Change your spending habits. Whether you're using budgeting software for personal or business use, it's up to you to stick to the budget. Your software will track your spending and send you notifications if you are over budget. You may have to adjust your spending habits to stick to your budget.
Summary
Budgeting software is available for individuals and businesses to track spending. With the right program, you can make accurate predictions about the future and reach your financial targets. If you're interested in budgeting software, start browsing today.
Check out our guide to accounting software
More guides on Finder