Budget Direct Car Insurance Discounts and Promotions
Save money on your insurance and have peace of mind with Budget Direct, using our active links for discounts.

Budget Direct offers great discounts on car insurance when you buy online - and you can save even more through the offers listed below. Getting insurance that suits your needs without stretching your finances means you don't need to stress when it comes to protecting your family.
Budget Direct discounts for September 2020
How do I receive my Budget Direct Car Insurance discount?
For discounts to apply to your Budget Direct insurance quote, you will need to click on the offer you want to access above. You'll then be safely redirected to the Budget Direct homepage where you can fill in the information that's relevant to your application.
What are the requirements of this offer?
Cover must be purchased online
Offer is available for Comprehensive, Third Property Only and Third Property, Fire & Theft Policies
When you've landed onto the Budget Direct page, click 'get a quote'.

You need to fill in all the information that is asked of you in order to get an accurate quote. After you entered all the details plus the type of cover you're looking for, click 'get a quote'.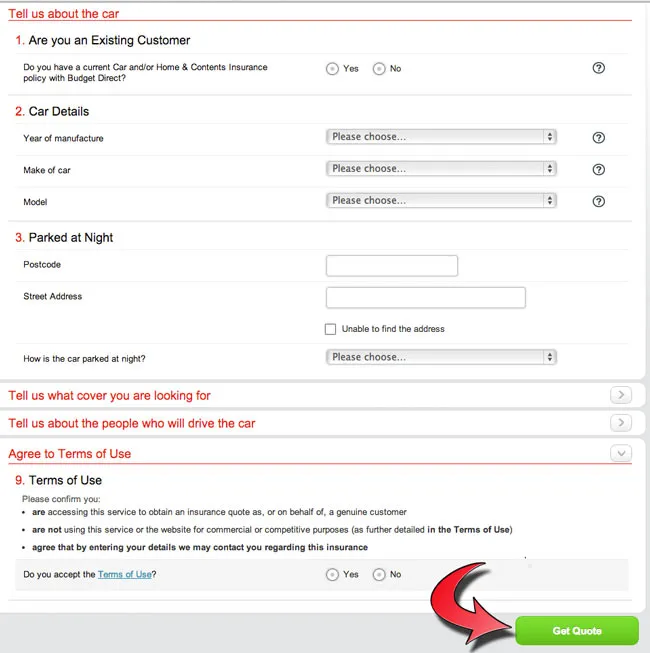 Budget Direct will then present you with a quote which will includes the discount.

Congratulations! You've successfully used the discount to save on your insurance.
Pros and cons of Budget Direct
Pros
Online claims. Budget Direct has an online claims notification system where you can make your claims at anytime of the day, 24/7.
Flexible payments. You can make your policy payments fortnightly, monthly or as one lump sum. You can also use direct debit with your Visa or MasterCard.
Money back guarantee. If you've changed your mind or want to cancel your policy within 21 days from your purchase, you can get a full refund.
Cons
Discounts only apply online. These great discounts are only valid for quotes that are obtained online.
Claims process for Budget Direct
Depending on the type of insurance you have, there is a different phone number to make a claim, these numbers can be found on the Budget Direct website. There is also an online claims notification system that you can use available 24/7 to lodge your claims.
About Budget Direct and its history
Budget Direct is one of Australia's leading general insurance providers and their policies are underwritten by Auto & General Insurance Company Ltd, an Australian insurance company regulated by APRA and a member of the Insurance Council of Australia. Employing 900 people, they are also part of the BGL Group which means they provide insurance solutions for people around the world with the largest lines in South Africa and the United Kingdom.
With call centres based in Australia and assessment centres in Brisbane, Sydney and Melbourne - you can call or visit Budget Direct to enquire about car insurance today.
What types of insurance does Budget Direct offer??
Car insurance. Car, comprehensive, third party
Home insurance. Home and contents, home, contents, landlord.
Health insurance. Health, hospitals, extras.
Travel insurance. Cover for travel to Asia, Europe, Pacific, Worldwide and Australia
Life insurance. Budget Direct are currently updating their Life Insurance policy information
So if you are looking to save on your next Budget Direct policy, click here to access the discount and save yourself some cash!
---
Related Posts