Bose Sleepbuds review: Good noise masking at a high price
Bose brings its substantial audio experience to the arena of dreams, but there are some rough edges to the experience, and it's ultimately very hard to tell if they're helping or not.
Quick Verdict
The Bose Sleepbuds are stylish, and they're great for blocking out ambient noise that may interrupt your sleep. A good night's rest can be more than that, however, and there are some definite first-generation quirks at play here too.
The good
Good audio quality
Range of sleep sounds to drift away to
Good battery life
Nice carrying case
The bad
Expensive
Sometimes uncomfortable
Intermittent disconnection issues
---
I'm going to come right out and say it.
I'm a terrible sleeper. You might think that with more than four decades of sleeping experience under my belt I should have some expertise in the field, but it all too often ends up being the elusive goal of the midnight hours, spent staring at the cracks in my ceiling, or simply noticing every tiny little sound keeping me awake.
That's precisely the problem that the Bose Sleepbuds are meant to combat, because they're a pair of noise masking buds with a particular focus on helping you relax through the night, waking just as fresh and bubbly as those folks in the stock photos who always seem to have those impossibly crisp sheets and delicately brushed hair, even though they've only just woken up.
Okay, Bose isn't actually promising that the Sleepbuds will do your hair for you – not that this would do me any good anyway – but you get the idea.
Bose Sleepbuds: Design
Very light weight
Choosing the right sleep tip is vital
Classy battery case
For what is a premium pair of noise-baffling buds, the actual Bose Sleepbuds don't really amount to much in terms of weight or size. That's quite deliberate, of course, because heavy buds would drag on your ears and keep you awake. Each bud weighs in at a scant 1.4 grams, and they connect magnetically to their carrying case, which also doubles as a 16-hour charge battery for the two buds.
You get a selection of what Bose calls StayHear+ Sleep tips to attach to each bud for size. It's quite an important step, because if you choose tips that are too small, you'll let noise in, while tips that are too large will quickly become uncomfortable. My own ears suited the medium tips best, so that's what I used for the purposes of review.
Back to top
Bose Sleepbuds: Performance
Easy to pair to the app
Some sounds are sweeter than others
Some comfort issues
Dropout issues with Android phones
Alarms work very well
I've been working as a technology reviewer for multiple decades now, but I can confidently say that I've never had a test experience quite like testing out the Bose Sleepbuds. That's because, logically speaking, the best way to test them was to sleep, which is usually not what I do when I'm working on a review. Sadly for me, my boss wouldn't hear my pleas to sleep at my desk "for review purposes", and neither would he let me count my sleeping hours against my weekly work clock.
Setting up the Bose Sleepbuds is done via the Bose Sleep app for Android or iOS. I initially started testing with the Android app on a Samsung Galaxy S9+, before switching to the iOS version.
That was mostly because I experienced a couple of nights where the Sleepbuds lost connectivity to the Galaxy S9+, and with it, the audio stream that was meant to be keeping me relaxed and isolated from the nasty world that exists outside of bed. You know, that place where you have to go outside and deal with other people. Anyway, while the Sleepbuds are meant to keep the audio stored on each bud in case they do lose connectivity to their paired handset, for some reason the audio cuts out anyway. It didn't happen all the time, and for what it's worth, it didn't happen at all with the iOS app.
The Bose Sleep app is quite minimalistic, and that's entirely deliberate. You can name your particular Sleepbuds, and in deference to classic 70s comedy trio The Goodies, mine were quickly named "Sleepy Bo-Bose".
While these are technically stereo Bluetooth headphones, they're not designed to feed you podcasts, teach you Japanese or, indeed, subliminally train you as a Ninja. I'm sure I would have noticed that in the fine print somewhere.
Instead, all you get is the choice to set an alarm, and then a choice of different audio patterns to act as your white noise to block the world out. I'm a sucker for the sound of rain on a roof, and there are a couple of water patterns that I found highly relaxing. Your own tastes may vary, and the sharper sounds of rustling leaves or the dull roar of a plane engine might be enough to send you off to the land of dreams. You can set the number of hours you want your tones to play, or you can leave them on all night, set your volume and try to get some serious shut-eye.
This is the point where my review has to get incredibly subjective. Any review (of anything) will have a degree of subjectivity, but typically I'd prefer to test headphones with specific music at volumes, or smartphones against benchmarks and camera quality objectives.
Sleep is different because anyone buying a pair of Bose Sleepbuds will undoubtedly be doing so in order to improve their sleeping experience.
Sleep quality on any given night is the result of a wide number of variables, and I'm not even going to pretend that I locked myself into a routine so that I'd be identically tired each and every night at exactly the same time. Neither did I have a "control" clone of myself standing by to sleep at the same time without the Bose Sleepbuds on. All I can do is relate what the Bose Sleepbuds did to my sleep patterns, for both better and worse.
If what you want is noise isolation – bearing in mind that this potentially means you might not hear the full detail of things like fire alarms – then the Bose Sleepbuds do that quite well.
You can adjust the volume of your chosen sleep pattern and turn it up quite loud, and the noise never leaks out to anyone else you might be sharing your bed with. I found that the higher levels were too loud to allow me to easily drift off to sleep, but your tolerances may vary.
The alarm function works superbly, as long as the earbuds stay paired to your phone. You don't get many choices of alarm tones, but having them bleat into your ears – and your ears only – is a great way to wake up without disturbing anyone else at all. I used them to get up early for the iPhone XS launch at 2am without disturbing anyone in my home at all.
No, I didn't sleep well that night, because 2am starts are like that, but I'm blaming Apple, not Bose for that.
However, I did have some issues. As noted, the sound sometimes cut out overnight, which meant that I was sometimes awoken by noises that I shouldn't have been hearing, or I would wake to realise that there was no sound coming from the Bose Sleepbuds at all.
Comfort was also an issue, and one that was irritating to pin down. On a couple of nights I woke up with one ear or another notably sore. I can't say whether I'd knocked the buds in my sleep, or if they'd somehow shifted as I turned, or any other factor.
All I knew was that I was awake in the wee hours very much feeling like I wanted to remove the Sleepbuds. This wasn't every night, though, and again, your experience may vary.
This also makes it all but impossible to say one way or the other if the Bose Sleepbuds truly did help me get more sleep than I would have otherwise. They do work for their stated noise blocking functions, and if that's something that you know could help you sleep better because you have noisy neighbours, a snoring partner or nearby traffic, they could be a good buy.
Back to top
Bose Sleepbuds: Battery life
Easy all-night battery life
Bose claims up to 18 hours inbetween charges for the Bose Sleepbuds, and my own tracking via the Bose Sleep app backs that up.
You're not likely to sleep for 18 hours straight – and if you regularly do, then you probably don't need the Bose Sleepbuds – but the battery endurance, combined with the fact that the carrying case acts as its own battery charger for the buds when you're travelling, gives them plenty of power to keep going.
Back to top
Bose Sleepbuds: Should you buy them?
Expensive for a product that only might help you sleep
Feels like a version one product
I love the promise of the Bose Sleepbuds, and I love what Bose is trying to do here. However, at the asking price, they're anything but inexpensive, and I can't claim that they suddenly turned my sleep world around.
They did block out a few noises that might have otherwise woken me, but at the same time, I did wake up with a sore ear more than once while wearing them.
Your experience may vary, but I'd definitely suggest you keep the receipt so that you can test out if they work for you. Just like your dreams are personal, so too is your sleep, and the reality of whether the Bose Sleepbuds are likely to work for you.
Back to top
Bose Sleepbuds: Pricing and availability
The Bose Sleepbuds sell in Australia for $379 outright.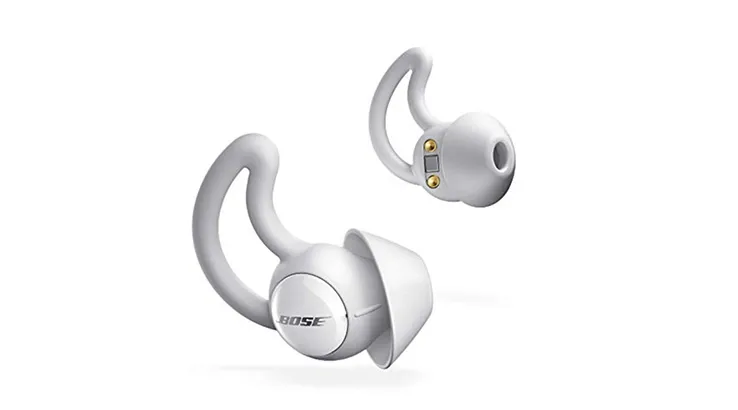 Buy Bose Sleepbuds
from Amazon
Improve your sleep with the comfortable and noise masking Bose Sleepbuds that provide comforting sounds to help you sleep and alarms to get you going in the morning.
View details
Specifications
Bose Sleepbuds Specifications
Product Name

Bose Sleepbuds
Connectivity

Bluetooth
Battery life

Up to 16 hours

Price

$379
Back to top
---
---