Blood pressure monitor buying guide
Compare automatic and manual blood pressure cuffs to find the best product to use at home.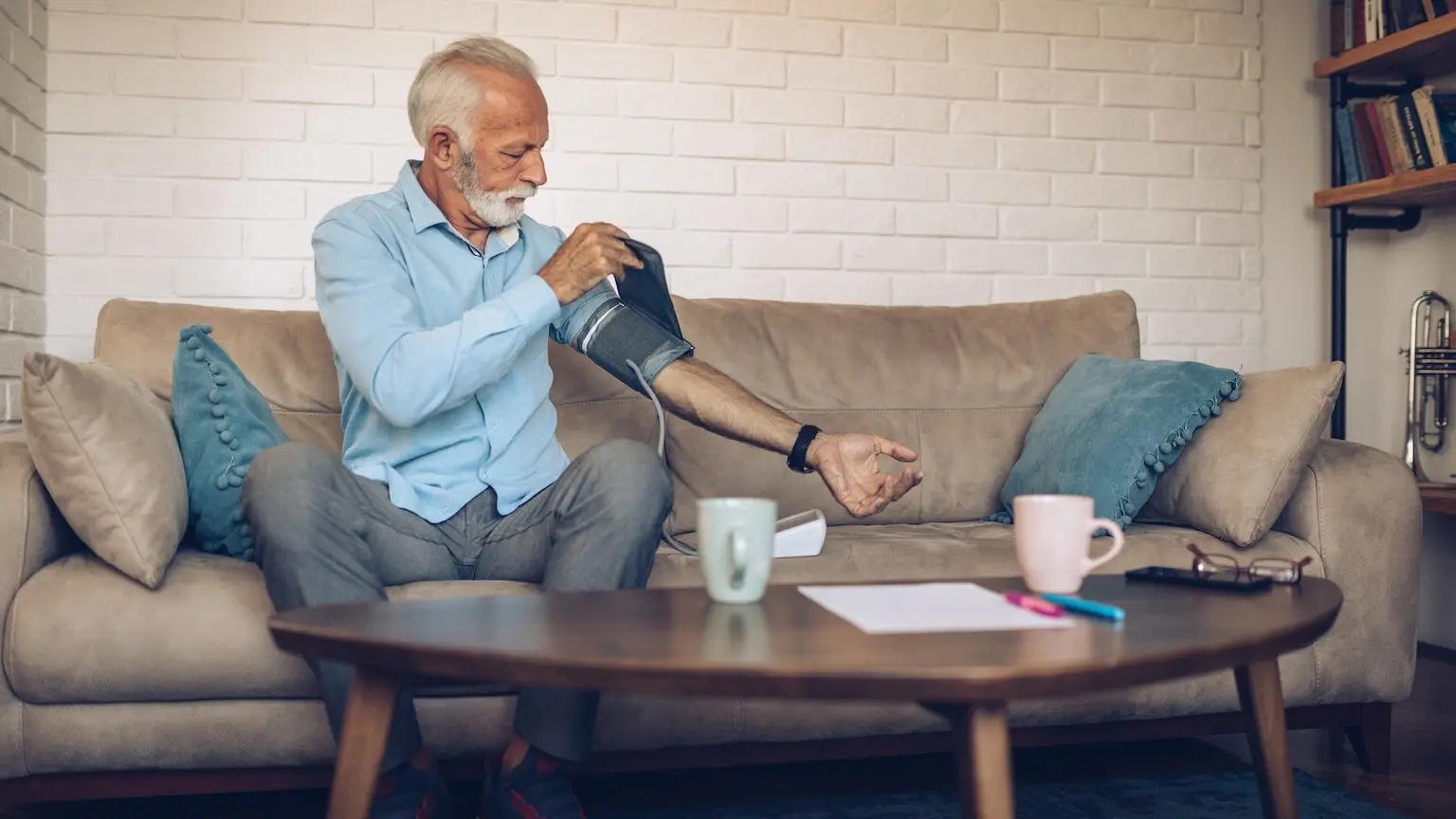 We're reader-supported and may be paid when you visit links to partner sites. We don't compare all products in the market, but we're working on it!
Quick facts about blood pressure monitors:
A home blood pressure monitor can help you regularly monitor your blood pressure without the hassle of going into the doctor's office.
Blood pressure monitors generally cost from $40 for basic models to $200 for models with automatic pumps and additional features.
What is a blood pressure monitor?
A blood pressure monitor is a device used to measure the pressure of the blood in your blood vessels, aka your blood pressure. Your blood pressure will vary depending on the time of day, your activity level, your salt and liquid intake and any medications you may be taking.
Blood pressure is measured as systolic pressure over diastolic pressure. Systolic pressure is the pressure of your heartbeat and diastolic pressure is the pressure in between your heartbeats. According to the Heart Foundation, optimal blood pressure is 120/80 mmHg. A regular blood pressure reading of 139/89 mmHg or more is considered to be high blood pressure or hypertension. Uncontrolled high blood pressure is one of the biggest risk factors for heart disease and can lead to a stroke, heart attack or cardiovascular disease.
With regular monitoring, you can get a better understanding of what affects your blood pressure and be alert to changes before they lead to greater problems. Your doctor or another medical professional can tell you how regularly you should be monitoring your blood pressure.
Who should use a home blood pressure monitor?
While anyone can benefit from tracking their blood pressure, doctors typically recommend regular monitoring for the following groups:
People who have been diagnosed with hypertension
People who have high blood pressure
People who have risk factors for high blood pressure
Pregnant women with hypertension or preeclampsia
Anyone who is taking blood pressure medication
Those whose nerves cause their blood pressure to rise while at the doctor's office, making it difficult to get an accurate reading
If you are unsure if you should be monitoring your blood pressure regularly at home, ask your GP or another medical practitioner.
Types of blood pressure monitors
Blood pressure monitors are available in both automatic and manual models and are designed to be placed on the upper arm, wrist or finger.
Automatic vs manual
Automatic blood pressure monitors are generally easier to use than manual models as they inflate with just the touch of a button. Manual models require the user to inflate them by hand pumping a rubber bulb. Most people without medical training find the automatic models easier to use, but neither type is considered more accurate than the other, so choose whichever type you prefer.
Upper arm vs wrist vs finger cuffs
Pros
Cons
Upper arm cuff

Can be difficult to put on one-handed

Wrist cuff

Easy to put on without help
Smaller and more portable than arm cuffs

Not recommended by the Heart Foundation
Generally considered to be less accurate than upper arm cuffs
Difficult to keep the cuff at heart level

Finger cuff

Very easy to put on
Small enough to fit in your pocket

Not recommended by the Heart Foundation
Difficult to get accurate readings
Not widely available in Australia
There are also a few companies who have developed apps to read blood pressure. They work by picking up your heartbeat when you place your smartphone near your heart, but they are widely considered to be inaccurate.
How to compare blood pressure monitors
Look for a device that is easy for you to use and fits comfortably on your arm. While cuffs are adjustable within a certain range, you should still check that it fits properly to make sure you can get accurate readings.
When looking for a blood pressure monitor, consider the following:
Reading time
The reading time of blood pressure monitors ranges from around 20 seconds to over a minute. Generally, the shorter the reading time, the better — especially if you have to check your blood pressure multiple times per day.
Calibration
Blood pressure monitors need to be calibrated in order to give you accurate results. Monitors are typically calibrated before they are sold, but it might be a good idea to bring your new monitor to your doctor to compare it against their device and ensure it is accurate. Your monitor will need to be calibrated every year or two depending on the manufacturer's instructions.
Storage
Some models allow you to store your results on the device, while others don't. A few models allow storage for multiple users.
Connectivity
Many modern blood pressure monitors have apps that you can download to your smartphone or tablet. These apps typically store your blood pressure readings and allow you to track them and share them with your doctor more easily. The main downside to smart capable blood pressure monitors is that they typically do not have a display, which means you will always need to use a smart device to get your results.
Display
Look for a display that is large enough for you to read. If you have visual difficulties, look for a model that reads your results out loud.
Warranty
Warranties for blood pressure monitors typically range from one to three years.
Are blood pressure monitors covered by health insurance?
It depends on the health insurance provider. Generally, blood pressure monitors are only covered under comprehensive extras policies. For more information, check out our comparison of health insurers who cover blood pressure monitors.
8 tips to help you get accurate blood pressure readings
Make sure you know exactly how to use your device. If you are unsure if you are using it correctly, bring it to your doctor and ask them to watch your technique.
Consistency is key. Try to measure your blood pressure at the same time and in the same conditions each day.
Try to be relaxed and undistracted when taking a reading.
If you are taking a seated reading, make sure to sit still with your legs uncrossed, your feet flat on the floor and your back supported.
If you are taking a standing blood pressure reading, wait at least two minutes after you stand up before taking the reading.
Don't use your blood pressure cuff on top of your clothing.
No matter what type of cuff you are using, the cuff should remain at heart level for the duration of the reading.
Remember to write down the readings if they are not automatically stored in your device. If anything of note happened prior to a reading, write it down so you can mention it to your doctor.
---
*Source: Australian Bureau of Statistics, National Health Survey 2014/15
**Source: Finder, Coronary Heart Disease Report 2017
More guides on Finder