Blood glucose meters buying guide
We'll help you find the right meter to measure your blood glucose levels.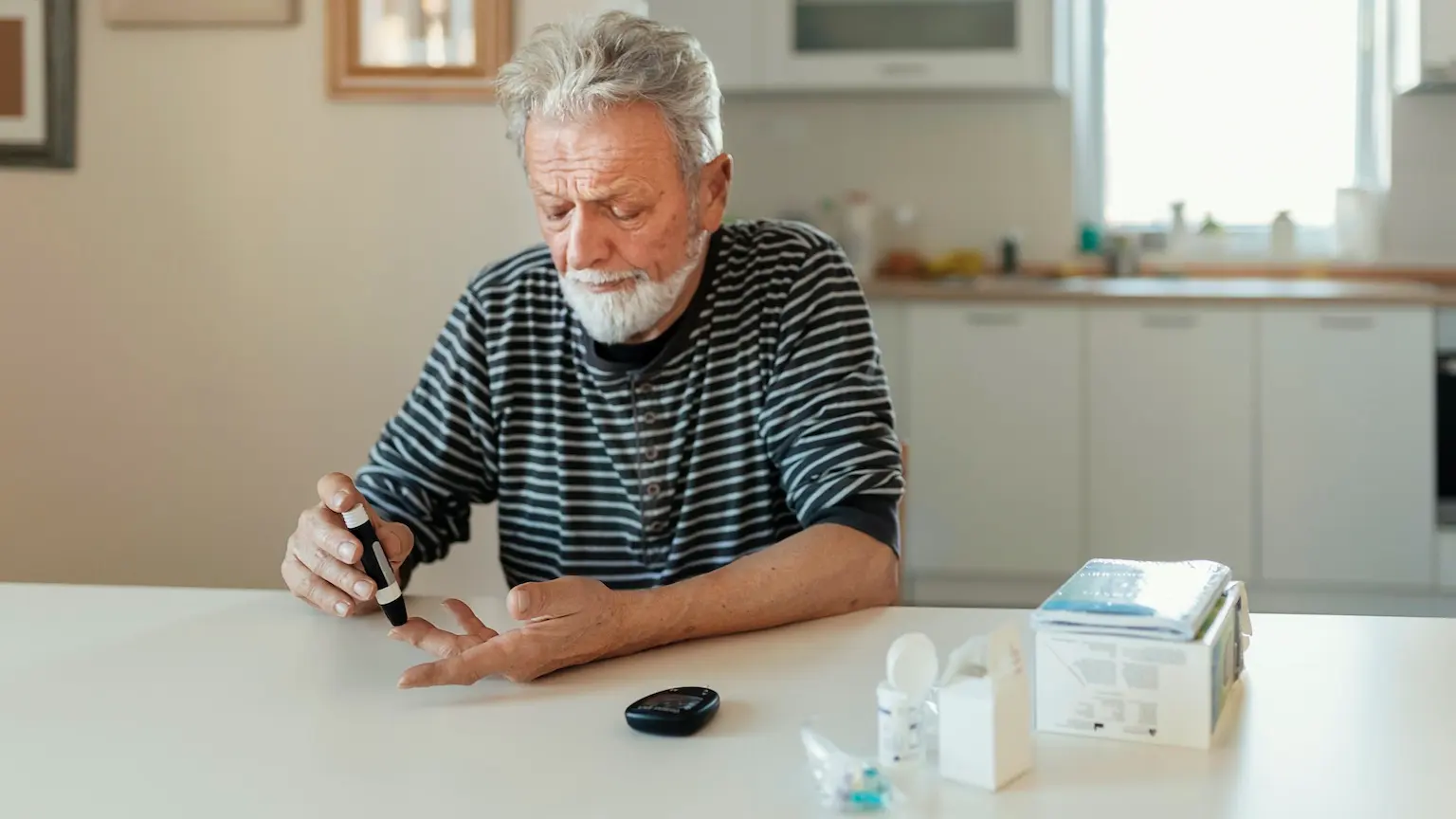 We're reader-supported and may be paid when you visit links to partner sites. We don't compare all products in the market, but we're working on it!
Quick facts about blood glucose meters:
If you have diabetes or another condition that requires you to keep track of your blood glucose levels, you'll need a blood glucose meter.
Taking regular readings of your blood glucose levels can help you better manage your health. Your doctor or diabetes specialist should be able to tell you if a specific type of blood glucose meter would be best for you.
Glucose meters can be purchased from chemists, medical centres and online retailers and generally cost between $10 and $75.
What is a blood glucose meter?
A blood glucose meter is a device used to test the concentration of glucose within your blood, also known as your blood sugar level or glycemia. Blood glucose monitors are primarily used to help treat diabetes and hypoglycemia. They work by pricking your finger to take a blood sample, which is then put on a test strip to give you a reading. You can use this reading to make sure your blood glucose levels are within the recommended range. Regularly using a blood glucose meter can help you balance your food intake, exercise and insulin levels.
Costs
Blood glucose meters are often sold in kits that include test strips and anything else you may need to use the monitor. Kits are typically available from chemists, diabetes centres and online retailers. The price of these kits generally ranges from $10 to $75 per kit. Some providers offer free blood glucose meters, or a first free meter as a sample, and then charge for subsequent kits. Additional test strips can cost from $25 to $60 for sets of 50 strips.
You can also receive six months of subsidised test strips by registering with the National Diabetes Services Scheme (NDSS).
National Diabetes Services Scheme
The NDSS is an Australian Government initiative that aims to help people with diabetes manage their illness by providing support.
To be eligible to register with the NDSS, you must:
Have been diagnosed by an eligible medical practitioner as having diabetes or another condition that requires regular blood glucose monitoring
Be a resident of Australia or a country with a Reciprocal Health Care Agreement
Have a Medicare card or Department of Veterans' Affairs card
If you have pre-diabetes or an impaired glucose tolerance, you will not be eligible to register.
Did you know?
Eligible people who are registered with the NDSS can access subsidised blood glucose test strips for a six-month period. Through the NDSS, a pack of 100 test strips can cost as little as $1.70 for pension card holders, $2.70 for Commonwealth concession card holder and $17 for those without a concession card. After the initial six-month period, you may be able to continue to receive the discounted test strips if an eligible medical practitioner claims that it is clinically necessary for you to monitor your blood glucose levels.
What to look for in a blood glucose meter
Your doctor will be able to tell you which glucose meter is most appropriate for you. Glucose monitors are generally pretty similar to each other, but some have extra features to make them easier to use. When comparing glucose meters, look for the following features:
Size
Some meters are small enough to slip easily into a pocket, while others are large enough to hold several test strips at once. The right size for you depends on your needs and how often you will be testing your glucose levels.
Test strips
Test strips should be easy to remove from their container. They should be stored in a dry location and used before their expiration date.
Device compatibility
Some glucose meters can connect to smart devices to make it easier to track your readings on your phone or computer. These smart meters also make it easy to share your results with your doctor.
Storage capacity
Generally, glucose meters can store 99 to 1,500 readings. Some meters track average levels and patterns across a time period, whereas others only show your test results.
Test length
Many meters can give you test results in less than five seconds. If you need to measure your glucose levels multiple times a day, look for a meter with a short test time.
Display screen
If you have vision difficulties, look for a model with a large enough screen to display your readings in a large font. Some models also have an audio feature and can read results out loud for those with vision impairments.
How to use a blood glucose meter
When you are preparing to measure your blood glucose levels, make sure you have the following items:
Your glucose meter
Test strips that have not expired
A lancet device and a lancet
An alcohol swab
A needle-safe container to hold the used lancet
To use your blood glucose meter, follow the included instructions. Generally, the instructions will require you to calibrate the meter, insert the test strip and enter a code key from the box of test strips. Once your meter is set up, you should wash and dry your hands and use the alcohol swab to clean the finger you will be taking a sample from.
Your lancet device will have specific instructions to follow for you to safely insert the lancet or needle, and prick your finger. After you have pricked your finger, you may need to squeeze the finger to gather a drop of blood. Press this droplet into your test strip and wait for your results. When you are finished, remember to store the lancet in a needle-safe container.
More guides on Finder