Blind cleaning services
Blind cleaning services can prolong the life of your blinds: but what are they and is it worth it? 
We're reader-supported and may be paid when you visit links to partner sites. We don't compare all products in the market, but we're working on it!
Cleaning your window blinds is important if you want to maintain a healthy living or work environment. You can take the time to clean your blinds yourself or use a blind cleaning service. Professional cleaning services will often use industry standard tools to help clean blinds fast and efficiently. This article takes a deeper look into blind cleaning services, including the benefits and issues you need to watch out for.
What are blind cleaning services?
Blind cleaning services are designed to help you clean blinds in your office and home environment. They'll often use the latest techniques such as ultrasonic cleaning to ensure that all of your blinds are fully cleaned quickly without spreading any dust, germs or grime. Hiring an external service for the cleaning process is likely to be more efficient and simple than if you were to spend time and money dusting them yourself.
What does a blind cleaning service do?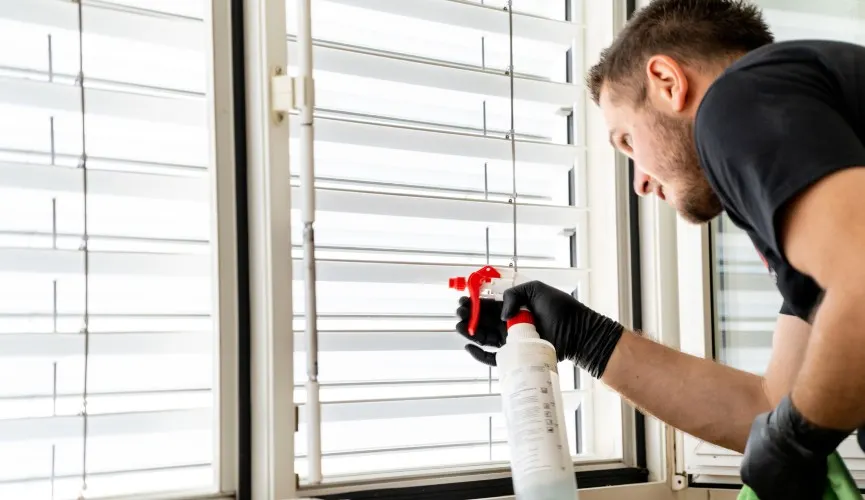 As time goes by, blinds can accumulate a lot of dust, dirt or grime and that looks unpleasant and can even lead to illnesses. It's no secret that office and home environments are prone to bacteria and viruses, so by cleaning blinds properly, you can also help to reduce possible health and safety concerns naturally. Cleaning services can normally cater to all types of blinds such as venetian, vertical, roman, duette or cellular blinds. You may also save money over time as cleaning your blinds is cheaper than having to replace them.
How do I hire a blind cleaning service?
It's as simple as exploring blind cleaning services in your local area and requesting a quote. If you agree to their price you can hire them and then pay once the job is done.
How much does a blind cleaning service cost?
The average cost of cleaning a blind is around $20 and for seven blinds this would equate to a total of $170. However, the price will differ from one service to another and it will also depend on the number of blinds you wish to have cleaned. Services that use ultrasonic cleaning may cost slightly more.
How do I compare blind cleaning services?
The best way to compare blind cleaning services is to contact a number of different companies and ask for a no-obligation quote. Then focus on factors like pricing, efficiency, time required, the products they use and how fast they can start. On top of that, you also want to compare their customer reviews, as it will make it easy to ensure a company delivers the best value and experience.
Compare cleaning services
Does your company belong in this list?
How should I prepare for a blind cleaning service?
Once you've selected a cleaning service, the cleaning team will come to you and clean the blinds directly and they'll aim to make the process seamless. You don't have to take the blinds down, but you may want to move any furniture or fragile items away from the blinds to protect them from any potential accidental damage.
What to consider when hiring blind cleaning services
You could save time and money by considering the following options:if you think aboutIt's crucial to think about all the options listed below:
How many people will come to clean your blinds?
How much does it cost?
Will there be any hidden fees?
Will chemical or natural cleaning solutions be used?
How long will the cleaning take?
Do I need to be at home for blind cleaning services?
Yes, most likely you'll need to be at home or at the office in order to provide access to your premises. However, you'll probably not be required to be with the cleaning team during the actual cleaning process.
Pros and cons of hiring a blind cleaning service
Pros
It can potentially prolong the life of your blinds
Saves time
Enjoy a cleaner room and improve morale in your work environment
Professional services often support all types of window blinds
Cons
There can be different price tiers based on blind types
Some window blinds can be very sensitive and require special treatment
Traditional dusting can make air quality worse as it only moves dust around the room hence why many choose to hire a professional services company instead
More expensive than cleaning your own blinds
Bottom line
Cleaning window blinds is important if you want to maintain a healthy and visually appealing home or office environment. Blind cleaning services can help keep your office or home free of any dust and bacteria so you can concentrate on work and living.
Frequently asked questions about blind cleaning services
How often should you clean your blinds?
You may want to clean your blinds at least once every 4-5 months, however this will likely vary depending on your circumstances.
Will my blinds be taken down while cleaned?
That depends on the situation. Usually, blinds are cleaned without taking them down. But in some situations, the cleaning team may be forced to take them down accordingly.
Can blind cleaning services remove nicotine stains?
Yes. Blind cleaning services are generally able to tackle various stains including that of nicotine.
How long will it take to clean my blinds?
This will vary depending on the number of blinds that need to be cleaned and the size of the team cleaning them, but it may take around 3-4 hours for an average job.
What types of blinds can be cleaned?
All types of blinds can be cleaned including roman to duette, pleated, honeycomb, vertical, venetian, and cellular blinds as well as many others.
Back to top
More guides on Finder