Blender Finder: Stick vs benchtop blenders and how to choose
We'll show you what to look for when buying a new blender for your kitchen.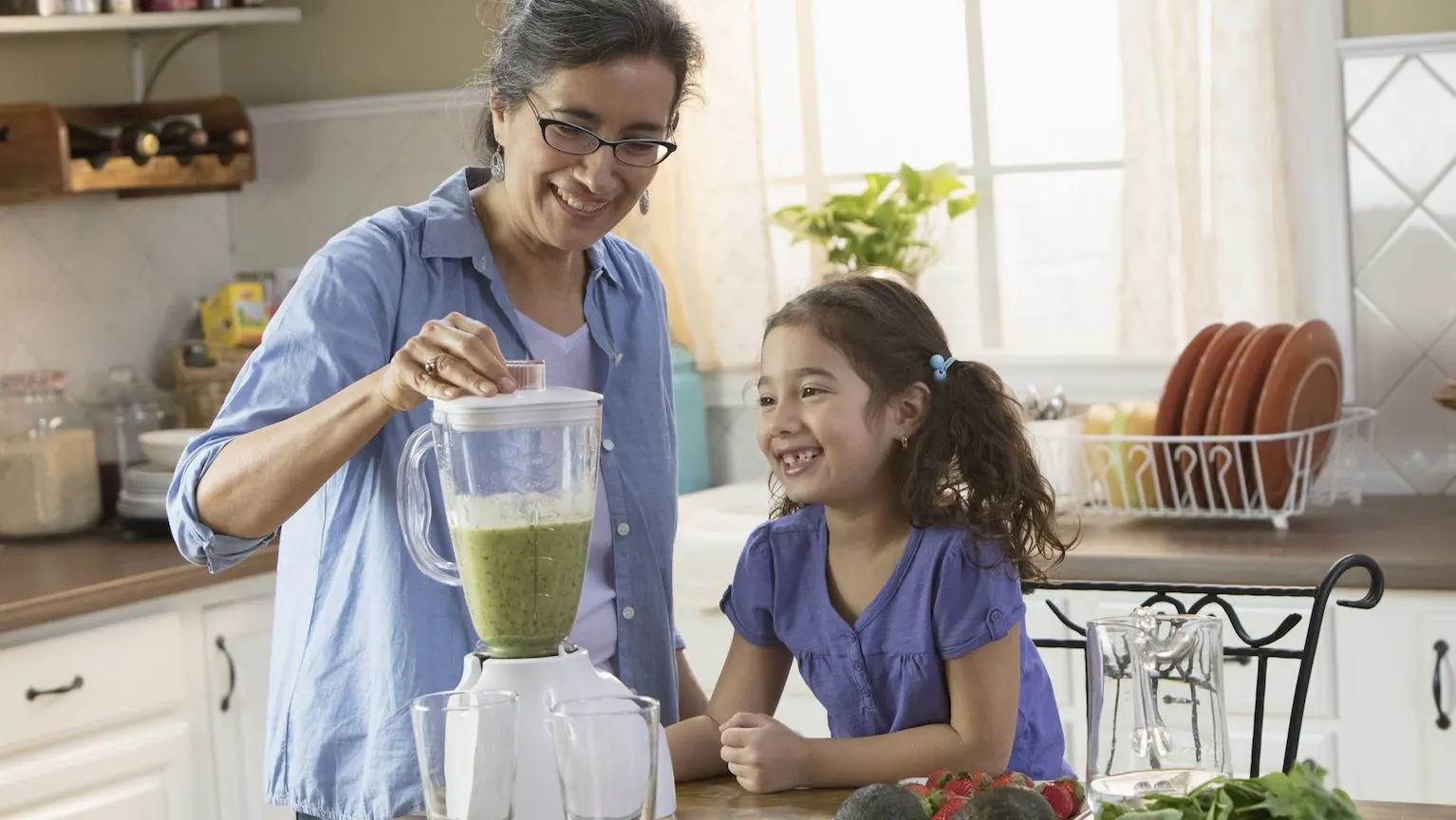 We're reader-supported and may be paid when you visit links to partner sites. We don't compare all products in the market, but we're working on it!
Best Rated Blender Brand: KitchenAid
Consumers ranked KitchenAid blenders highest for their range of features and functions, beating other well-known brands such as the NutriBullet and Nutri Ninja.
Quick facts about comparing blenders
Blenders usually cost between $50 and $1,000.
Cost is determined by functions, wattage, size and materials.
You can choose either a benchtop blender or a stick blender.
Compare blenders
Benchtop blenders
Benchtop blenders sit on the bench while in use and plug into the wall socket. They have a base, jug and lid, and sometimes a spout where you can feed in ingredients without having to open the lid.
The range of available functions varies across different brands and price points, so if you are going to be using one regularly for preparing meals for your family, you should look for a model that can not only blend but can also chop and dice like a food processor.
Personal blenders. Also known as a single-use blender, a personal blender is suitable for making juices or smoothies. They also double as a container that you can drink out of. Some models have a one-touch operation while others have more setting options. If you like making refreshing drinks, cocktails or slushies in the summer months, look for one that's able to crush ice.
Super blenders. A super blender is more powerful than a personal benchtop model and can do a lot more tasks. While they are more expensive, they are an all-in-one machine that can make cooking and preparing meals a breeze. Super blenders can make nut butter, dough, spice pastes and hot soup from fresh ingredients as well as mill flour and crush ice.
Stick blenders
Rather than a unit that sits on your bench, a stick blender features a handheld device that you use to mix ingredients in a pot or bowl. Some stick models come with versatile accessories so you can knead bread or whisk cream with ease. It's an alternative to a benchtop model if you only need to use it on occasion and for smaller blending tasks.
It is worthwhile spending a little extra money for comfort. An ergonomic handle makes a stick blender more comfortable to use, especially over long periods of time.
To avoid ingredients splashing out of the bowl or saucepan, look for a stick models with an open-foot design.
Like the sound of fresh juice every morning? Check out our juicer buying guide.
How to compare blenders
When shopping for a blender, consider the following factors to help you compare models and make the right decision. Also, take a look at our round-up of the best blenders.
Cost
There is a big difference between the lower end models and the higher end. You can find budget blenders for as little as $50, with more expensive models reaching well over $1,000. The more you pay, the higher the wattage, the more functions and the more advanced technology you'll get.
Storage
If you are using a blender all the time, it may be practical to keep it out on the benchtop. But if you are only going to be using it from time to time, look for a compact model suitable for easy storage. It should also be lightweight so you can easily lift and carry it.
Jug capacity
The jug capacity determines how much you can blend. If you are a single-person household, a smaller 600ml jug may suffice, whereas someone who cooks a lot for the family will do better with a larger 1.5- or 2-litre pitcher.
Controls and speed settings
Some blenders are more complicated than others, so if you are looking for ease of use, it's better to stick to a model that has an on/off switch and speed settings of low, high and pulse for when you want to mix in short bursts. Those that are more advanced in the kitchen may prefer one that has up to 16 speed settings to cover a multitude of ingredients and dishes.
Wattage and blades
The higher the wattage that a blender has, the more powerful it is. Most blenders fall in the range of 100 to 2,500 watts. Models that sit around 500-800 are suitable for blending soft foods and soups, while higher wattages models can crush ice and hard foods. However, just because it has a high wattage, doesn't mean that it's the best. The number of blades and setting options, also determine the overall performance.
Material
Plastic jugs are lighter to carry but are susceptible to staining. If you prefer to have plastic, make sure it's BPA-free. Choosing a glass jug means no stains, but it adds extra weight to the blender and also breaks easily if you happen to drop it.
Cleaning
If you have a dishwasher, look for a dishwasher-safe jug that can fit inside the racks. If you prefer to wash by hand, a jug that has removable blades will make the cleaning process much easier. Some models have an automatic cleaning function.
Measurements
Having measurement markers on the side of the jug helps when pouring out liquids rather than having to use a separate measuring jug.
Cooking function
Some high-end models come with a heating element, so you can prepare meals such as soup from start to finish.
Best rated blender brand award breakdown
| | Total Score | Value for Money | Overall rating | Ease of use | Features & functions | Performance |
| --- | --- | --- | --- | --- | --- | --- |
| KitchenAid | 8.00 | 4.30 | 4.35 | 4.40 | 4.45 | 4.25 |
| NutriBullet | 8.00 | 4.27 | 4.35 | 4.31 | 4.20 | 4.37 |
| Breville | 7.94 | 4.12 | 4.35 | 4.29 | 4.29 | 4.29 |
| Nutri Ninja | 7.84 | 4.16 | 4.24 | 4.32 | 4.24 | 4.24 |
| ALDI | 7.82 | 4.26 | 4.24 | 4.11 | 4.16 | 4.00 |
| Sunbeam | 7.82 | 4.14 | 4.27 | 4.41 | 4.24 | 4.16 |
| Kmart | 7.77 | 4.37 | 4.18 | 4.33 | 4.02 | 4.22 |
| Kenwood | 7.69 | 4.30 | 4.18 | 4.24 | 4.06 | 4.21 |
| Kambrook | 7.33 | 4.02 | 3.91 | 4.14 | 3.79 | 3.93 |
| Panasonic | 7.33 | 3.71 | 4.00 | 3.92 | 3.92 | 3.88 |
| Vitamix | 7.33 | 4.00 | 4.00 | 4.08 | 4.00 | 4.17 |
| Other | 7.26 | 4.05 | 3.86 | 4.27 | 4.05 | 4.14 |
| Tefal | 6.74 | 3.55 | 3.45 | 4.09 | 3.64 | 3.91 |
Data: Finder Retail Brand Survey, 2020, Kantar. Metric out of 5 stars unless indicated. Methodology and more info.
Previous Retail Awards
More guides on Finder