Biotech stocks hunting for the coronavirus COVID-19 cure

Could one of these biotechs be the gold mine of the decade?
It probably comes as no surprise that some of the best performing (albeit volatile) stocks of the last few weeks are companies that claim to be hunting for the COVID-19 cure.
The reason for this is two-fold. First, biotechs and health companies are among the sectors that will always be needed, even during a recession. This means they're likely to be less impacted than other sectors in the long term.
The other side is that investors know that finding a COVID-19 cure is akin to hitting a gold mine.
Just to be clear, no-one knows whether a cure will be found any time soon. No cure has been found for either MERS or SARS to date, although it has been several years since their outbreak.
Yet COVID-19 is a threat unlike any we've faced, and the global rallying effort to find a solution could prove to be more successful than previous ventures.
Below is a list of some of the listed companies searching for the COVID-19 cure. Among those, the first four US stocks have been hand-picked by the founder of US trading platform Stake, Matt Leibowitz, as his key stocks to watch as the pandemic unfolds.
Australian researchers on the case are largely part of unlisted organisations, although there are a few listed small-caps that are working on the treatment of COVID-19 symptoms.
1. Gilead Sciences, Inc. (NASDAQ: GILD)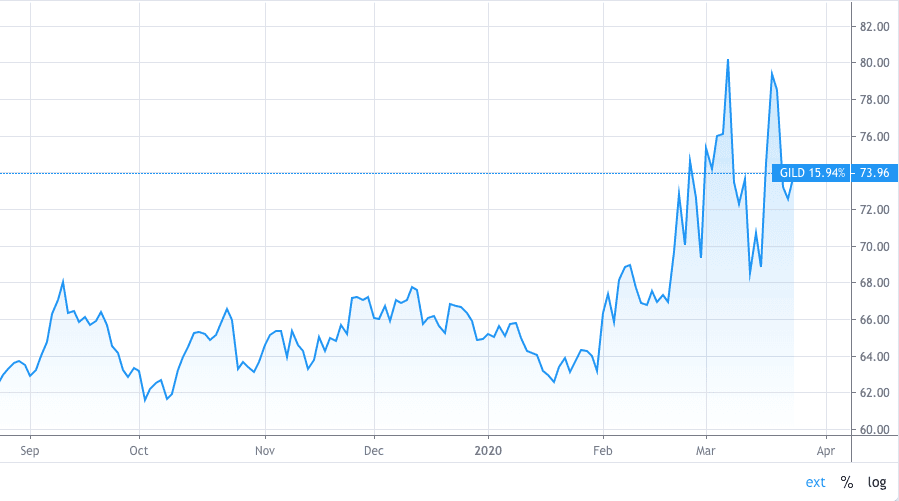 Gilead is a biopharmaceutical company listed on the NASDAQ that researches, develops and produces new medicines for life threatening illnesses.
Its stock price jumped this week after the US Food and Drug Administration (FDA) gave it the green light for funding towards one of its experimental drugs (and touted potential cure) Remdesivir. It's set to start enrolling test patients in March, with results out by May.
2. Johnson & Johnson (NYSE: JNJ)
Johnson & Johnson is well known for providing household healthcare products, but it also works in medicinal research and development.
In late January it announced it was working towards the development of a vaccine for COVID-19 through its Janssen Pharmaceutical Companies while collaborating with healthcare regulators. While the company's share price has fallen around 20% since the February peak along with other major companies, in the last week it has rebounded by more than 10%.
3. Inovio Pharmaceuticals (INO)
Inovio is a US biopharmaceutical company that develops treatments for infectious diseases and cancers.
The company announced in late January it was developing a vaccine for the new coronavirus and was awarded US$9 million for its efforts by health regulators. It has since received a further $5 million grant from the Bill & Melinda Gates Foundation and is set to start human trials of a COVID-19 vaccine in April.
4. VIR Biotechnology, Inc. (NASDAQ: VIR)
Immunology company VIR has seen its stock price jump around 60% in the last month largely on the hopes that it will be the first to find a cure.
This week it announced it was moving forward with two candidates and is due to start human trials between June to August. VIR is also working with Chinese company WuXi Biologics and if a vaccine is approved it will be commercialised in China through WuXi and marketed to the rest of the world under VIR.
5. Mesoblast (ASX: MSB)
Mesoblast Limited is an Australian medicinal company that offers treatment for inflammatory ailments and cardiovascular disease.
In early March its share price jumped around 20% in a day after it announced it was working on a treatment to aid COVID-19 patients with signs of respiratory distress. Testing is set to take place in the US, Europe, China and Australia.
6. Cynata Therapeutics (ASX:CYP)
Cynata is an Australian stem-cell research company listed on the ASX in 2013.
Similar to Mesoblast, Cynata is focused on the treatment of COVID-19 patients with severe respiratory symptoms through its stem-cell technology. Although its stock price jumped around 8% in early March, its share price is down almost 30% in the last month.
Disclaimer: This information should not be interpreted as an endorsement of futures, stocks, ETFs, options or any specific provider, service or offering. It should not be relied upon as advice or construed as providing recommendations of any kind. Futures, stocks, ETFs and options trading involves substantial risk of loss and therefore are not appropriate for all investors. Past performance is not an indication of future results. Consider your own circumstances, and obtain your own advice, before making any trades.