Why the Big Four have lost business loans market share

Smaller fintech lenders are stepping in to cover the gap.
The Big Four (ANZ, CommBank, NAB and Westpac) earned that label because they are market leaders in the finance space. However, the world is a different place since the Global Financial Crisis (GFC), and all four have been picking the baskets where their eggs will be placed much more carefully. Business lending is one notable area where CommBank, ANZ, Westpac and NAB have pulled back in recent years.
Instead of increasing their business lending market share, these four banks dropped 0.44 percentage points in the period February 2015 to February 2016. This is compared to the alternative finance market, which has been receiving more than $1.1 billion of loan applications per month according to a survey earlier this year conducted by eBroker.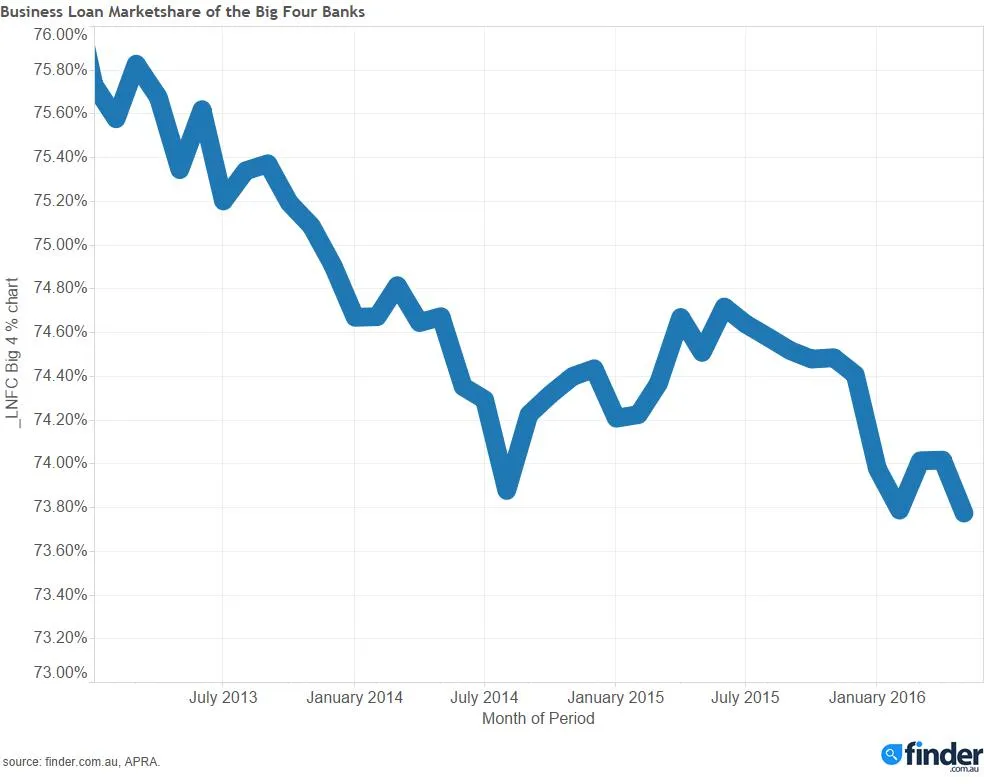 The graph above shows the decline of business loan market share by the big banks. It should be noted the fluctuations are on a tight scale, but any decrease in market share by the Big Four, as opposed to an increase, is noteworthy.
The drop in market share occurred two years before a report was released by The Productivity Commission on Business Setup, Transfer and Closure. The Commission said that "Despite the lack of appetite by some market participants, there are innovations in the debt finance market that have the potential to improve the ability of new and small businesses to source debt funding. One of these is the emergence of new lending platforms."
The report, which went on to mention PayPal, OnDeck, Moula and Prospa, analysed the Australian Prudential Authority (APRA)'s data and found that out of Authorised Deposit-taking Institutions (ADIs), almost all business lending is undertaken by banks. This is analysing data from the period 2004-2014. Lenders operating in the alternative finance market are not ADIs so their numbers are not included in data analysed by APRA.
There was a significant downturn in lending to small businesses int the years following the GFC. This is both due to fewer banks supplying business loans and less demand for those loans.
According to the Productivity Commission's report, 5% of businesses were unsuccessful in raising external finance in 2007 compared to 10% in 2011. A survey cited by report found that in 2014, 9% were not approved for the finance, while an additional 9% did not receive sufficient financing. A further 66% did not seek finance at all.
While the reasons for this can be varied, for small business owner Yesha Avsar it was because she didn't like her chances of being approved.
"The only lenders I knew were the big banks, the big lending groups like CBA and ANZ. With those guys you need to show an income, you need to show finances and tax returns, so that was really hard for me," she told finder. "In the early stages, I wasn't looking at getting money from a bank because I knew what the outcome was going to be."
Avsar owns and operates Just Pets in St.Mary's, NSW. Like the majority of those looking to start a small business, the initial capital came from family.
"My family was the biggest investor in my business. From the get-go, it was all day-to-day income. We opened the store and we were reliant on the cash flow. But my dad was the biggest help ever."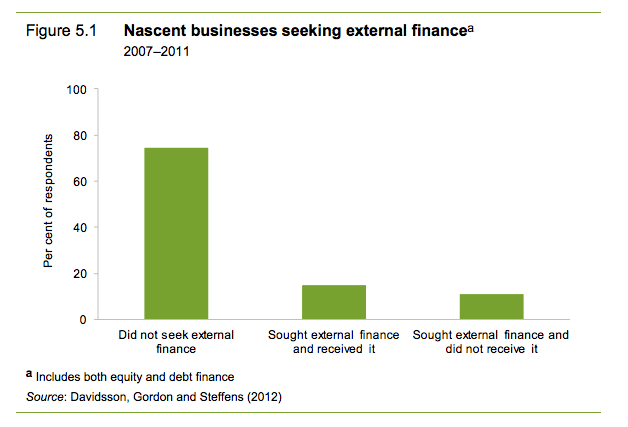 Source: Productivity Commission Inquiry Report
The Commission's report found that approximately 20% of small business startups are financed by family and friends. Some reasons for this include the uncertainty or hesitation that comes with obtaining finance and also the lack of equity and assets. About three-quarters of small business lending are secured with collateral, with around one-half to two-thirds of these are secured with housing.
Avsar has been a customer of online SME lender Prospa for three years now. After receiving marketing material in the mail, she approached Prospa for a $20,000 loan to fund a DIY dog wash. She says the lure of Prospa's business loan was in the terms, which are for between three and 12 months.
"With bank loans, I could've tried, but it didn't apply to me because the terms were so long. The last thing you want to do in a business is to sit on a loan for five years. It's just a nightmare. I don't know what's going to happen to me in five years. And for me to try and pay that finance off, it was just overwhelming."
"With Prospa and these short-term loans, it just suits my business so much better because I'm paying it off sooner. I don't have to go through that whole long period of a loan."
When the Commission's report was produced, only Westpac was offering unsecured business loans. Now, ANZ and NAB offer unsecured business loan options. Commonwealth Bank's BetterBusiness loan still requires security, but it also offers other unsecured business financing options, such as an overdraft and line of credit.
However, for Avsar, she wouldn't recommend anything else but Prospa or something similar to it for other small business owners.
"Just recently I needed funds for another project and I called them, and that night the funds were in my account. Who does that? It's amazing, they don't stuff around. As a small business owner, you're competing against these other big companies, multi-million dollar businesses, you can't sit back and just wait and hope that you're going to get approved within the week, or two weeks."
"They'll want to see finances, they want to see tax returns, they want to see all sorts of stuff, but I want the money now. If I want to be competitive in the industry – there are pet shops everywhere – I need the money now. And they know that."
With younger generations struggling to get onto the property market and therefore less likely to have security to offer banks, alternative business financing options are becoming more necessary. According to statements made in The Commission's report, "no regulatory impediments to banks" were found that would stop banks lending to businesses based on a business' prospects, that is, using model-based lending, if banks view this as commercially viable.
However, there has been a relatively small loss of market share for the Big Four and a huge growth of market share, relative to the alternative finance market. If commercially viability is the question, banks may have pulled back from business lending, or it may have been that the small business demand was so strong for a flexible, short-term, unsecured finance product that the market was able to shift.