Best Vietnam tours for 2022
Experience Vietnam the way you want by uncovering your perfect tour match here.
We're reader-supported and may be paid when you visit links to partner sites. We don't compare all products in the market, but we're working on it!
From north to south, Vietnam can offer you a cultural, historical, culinary and adventure-filled journey.
Whether you'd prefer to sail across the iconic Ha Long Bay, enjoy the street eats of Ho Chi Minh City, while away the time in the historic city of Hoi An or laze on beaches in Phu Quoc, there are opportunities galore in Vietnam.
Travelling by tour ensures you not only get to tick all the boxes, you'll also get an expert's knowledge bank at your fingertips, internal transport and accommodation sorted as well as the ability to socialise with like-minded travellers.
We outline the best tour companies and tours to see and do everything you desire in Vietnam below.
Our favourite Vietnam tour companies
An adventure and small group tour specialist, G Adventures is committed to local experiences with small carbon footprints and is ideal for an "insider's guide" to Vietnam.
Best for: Eco-tourists and adventurists
Cost: Mid-range
Our favourite itinerary: While G Adventures boasts a wide mixture of youth, family and active tours, the ones that stand out in our eye are the National Geographic journeys. Its Explore Vietnam tour is a fortnight of unique cultural experiences where you'll sleep in a traditional junk boat, trek through hill-tribe villages, cycle Hanoi and enjoy a traditional lantern experience.
---
2. Intrepid
A powerhouse in the touring world, people often view Intrepid as an adventure specialist for youths. But on closer inspection, its tours are also open to multi-generational families with many classic tours allowing for children as young as 5 and adults as old as 70.
Best for: Groups and families
Cost: Mid-range
Our favourite itinerary: The Vietnam Family Holiday tour is a tried and true favourite that soaks in all the highlights of the nation, taking you through Hanoi, Ha Long, Hue, Hoi An, Ho Chi Minh City and the Mekong Delta.
---
3. Intro Travel
With its focus on backpacker and working holiday tours through Australia and South-East Asia, Intro Travel is a budget-friendly option for the young seeking a fun and adventurous getaway with mates or soon-to-be mates.
Best for: Backpackers and budget travellers
Cost: Budget
Our favourite itinerary: If you've never set foot in Vietnam before, the Vietnam Intro tour is the way to cover everything in 12 days for a little over $100 per day.
---
4. Hoi An Express
For that local touch, Hoi An Express is 100% Vietnamese owned and prides itself on offering a diverse range of high-end tours which are fully customisable to your needs.
Best for: Families and seniors
Cost: High-end
Our favourite itinerary: If you want to make the most of your trip, this 21-day Thailand, Laos, Vietnam and Cambodia tour takes you through Vietnam's biggest cities (Hanoi, Hoi An, Ho Chi Minh City and Da Nang) as well as its surrounding countries without missing a beat.
---
5. Go Vietnam Travel
Best for: Active travellers, youths
Cost: Mid-range
Our favourite itinerary: This 12-day biking and trekking tour is mainly for travellers 18-39 years old. This is a highly active tour that sees you bike through Hanoi, trek Pu Luong National Reserve, swim around Ti Top Island and kayak Van Boi while still taking in the sights and sounds of the main cities.
---
Does your company belong in this list?
Best Vietnam tour companies for unique tour itineraries
G Adventures: Cycle backroads and discover the landscape with National Geographic Journeys
Go Vietnam Travel: Put your best foot forward with National Reserve trekking tours.
Ultimate Travel: See the city by night and stay on a private island in Halong Bay.
---
Best luxury Vietnam tour companies
Hoi An Express: Customisable tours, hotel accommodation and suitable for 1-80 year olds.
Trafalgar: Indulge in a buffet breakfasts, hotel accommodation and a myriad of optional activities.
Legend Travel Group: Chose from 90+ itineraries each with hotel accommodation. Private and custom tours are available on request.
---
Best Vietnam tours for singles
Intro Travel: Specialists in gap-year travel, Intro Travel is youthful, adventurous and friendly.
G Adventures: Expect small grounds, single supplements and time to get know each other.
Busabout: Play it your own way with a series of tours that you can link together to see as much or as little as you like in Vietnam giving solos flexibility and time on their own.
Popular Vietnam tour routes
Vietnam North to South (or reverse)
Sprint through the highlights and tick all the points off your bucket list with an itinerary that covers it all. These trips generally feature city tours of Ho Chi Minh City, Hanoi, Hoi An and an iconic cruise of Ha Long Bay.
---
Bangkok-Cambodia-Vietnam
Put aside at least three weeks to traverse and explore Vietnam and its neighbouring countries as you delve into their historical ties and cultural differences. On a shoestring budget, you can mix noodle-making demonstrations in Hoi An (Vietnam) with navigations around ancient ruins in Angkor Wat (Cambodia) and market shopping in Bangkok (Thailand).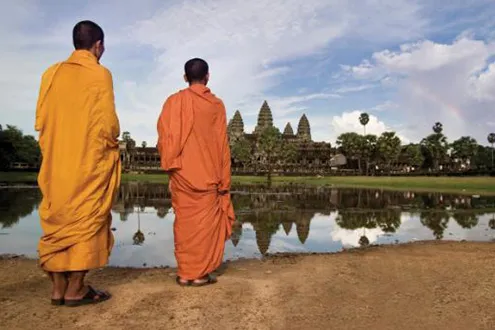 Vietnam, Laos and Thailand on a Shoestring
from G Adventures
Tour company: G Adventures
Best for: Budget travellers
Length of tour: 20 days
View details
---
Vietnam-Cambodia-Laos
Bouncing through the exotic neighbours of Vietnam, Cambodia and Laos is a journey that you need to save at least two weeks for. Both the north and south of Vietnam should always be on the itinerary, particularly if your focus is on that nation, while Cambodia's Angkor Wat is something you cannot miss. In Laos, chase the Khousansi waterfalls and drink in the sunset from Wat Siphouthabath at Luang Prabang.
How long do I need in Vietnam?
Being such a vast and diverse country, a trip to Vietnam requires a decent amount of days. Major cities such as Ho Chi Minh City and Ha Long require at least two days each to explore the city and its surrounding sights such as the Cu Chi Tunnels and Ha Long Bay, respectively.
For a more in-depth exploration of the nation, at least a week is sufficient to make your way from south to north (or the other way around). Trips to neighbouring countries will require a much longer trip. As a general rule of thumb, it's best if you set aside at least a week if you're attempting to visit numerous highlights of each country. For example Vietnam and Thailand should meet a minimum of two weeks and Vietnam, Thailand and Cambodia, at least three.
Top 5-day Vietnam tour
Top 7-day Vietnam tour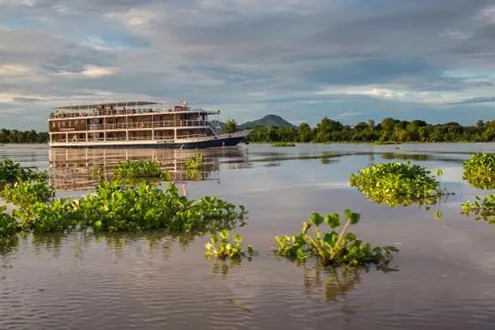 Top 7-day Vietnam tour
from G Adventures
Find yourself drifting along the Mekong tracing a path from Cambodia to Vietnam, experiencing life on the water as you stop by the picturesque cities of Phnom Penh, Sa Dec and Ho Chi Minh City.
Tour company: G Adventures
Best for: Relaxing, marine adventures
Places visited: Siem Reap, Chnok Tru, Kampong Chhnang, Kampong Tralach, Phnom Penh, Chau Doc, Sa Dec, Cai Be/Vinh Long, Thoi Son and Ho Chi Minh City.
View details
Top 10-day Vietnam tour
---
Latest deals for Vietnam tours, flights and more
---