12 of the best Vampire shows to sink your teeth into
These vampire TV shows don't suck.
We're reader-supported and may be paid when you visit links to partner sites. We don't compare all products in the market, but we're working on it!
Blood. Lust. Sex. Drama. Vampire TV shows offer all this and more. While bloodsuckers used to be regarded as grotesque creatures once upon a time, they've recently evolved into being portrayed as mysterious and sensual beings, usually ostracised and surprisingly human.
Pop culture embraced their eerie nature and TV shows about vampires became all the rage just a few years ago. The hype has died down a bit recently, but dedicated fans of the genre know that a renaissance is likely on the way. Until then, we'll patiently kick back with a classic or check out some of the more underrated vampire series available in Australia. Here are 12 of the best.
---
1. What We Do in the Shadows
---
Year: 2019
Cast: Kayvan Novak, Natasia Demetriou, Mark Proksch, Matt Berry, Harvey Guillén
---
Based on the 2014 cult movie of the same name, What We Do in the Shadows follows a group of vampires living together in a New York apartment as they deal with everyday life. This includes everything from being captured by Animal Control while in bat form to dealing with the fact that they have been roommates for hundreds of years.
Absurd and hysterical, the series is well-written and perfectly cast. Even better, it has a unique, off-kilter sense of humour that instantly sets it apart.
---
2. V Wars
---
Year: 2019
Cast: Ian Somerhalder, Adrian Holmes, Jacky Lai, Kyle Breitkopf
---
This gory vampire show stars Ian Somerhalder as Dr Luther Swann, who enters a world of untold horror when a mysterious disease transforms his best friend into a murderous predator. As the disease spreads, society fractures, building to a fight for survival between humans and vamps.
Based on the comics created by Jonathan Maberry and Alan Robinson, the series is thrilling and fun. It also offers a more sci-fi approach to vampires, which makes it appealing to viewers who aren't necessarily into the genre but enjoy action-packed shows.
WATCH NOW

RENT/BUY

Sorry, we've found no buying or renting options for this title.

CURRENT OFFERS
---
3. Buffy the Vampire Slayer
---
Year: 1996
Cast: Sarah Michelle Gellar, Alyson Hannigan, Nicholas Brendon, Anthony Stewart Head
---
It's been more than 20 years since Buffy the Vampire Slayer first aired on television and the vampire series is still regarded as one of the best TV shows of all time. Witty, action-packed, scary and truly ahead of its time, Buffy set a high bar for the genre.
Created by Joss Whedon, the show follows a teenage vampire slayer who battles against vampires and demons with a little help from her friends. It perfectly captures the spirit of the era, yet it still holds up today. The special effects may look dated, but the problems these teens face are timeless, which makes Buffy a fun binge anytime.
---
4. Angel
---
Year: 1999
Cast: David Boreanaz, Charisma Carpenter, Alexis Denisof, Glenn Quinn
---
Besides being iconic on its own, Buffy the Vampire Slayer also spawned a successful spin-off show. Angel follows the titular vampire as he relocates from Sunnydale to Los Angeles and risks his soul to battle dark forces in the City of Angels. After years of preying on the weak, Angel finally takes his first steps on the road to redemption by doing his best to help the helpless. Along the way, he is joined by some familiar faces, including the spirited Cordelia.
Angel is a fun blend of humour and horror. Initially dismissed by critics as Buffy's "poor cousin", it quickly developed into a highly entertaining series in its own right, a tad darker and broodier than the original.
---
5. The Vampire Diaries
---
Year: 2009
Cast: Nina Dobrev, Paul Wesley, Ian Somerhalder
---
The Vampire Diaries centres on Elena, a teenage girl who finds herself torn between two vampire brothers. While Stefan is doing his best to live peacefully among humans, Damon stays true to his predatory nature, causing mayhem all around. Meanwhile, Elena tries to lead a normal high school life, which isn't easy when immortal beings are always out to get you.
A compelling teen drama with captivating characters and great pacing, The Vampire Diaries is a bloody sensation. It boasts a fascinating mythology and some truly memorable twists, ensuring that viewers can't help but come back for more.
---
6. The Originals
---
Year: 2013
Cast: Joseph Morgan, Daniel Gillies, Phoebe Tonkin, Charles Michael Davis
---
A The Vampire Diaries spin-off, The Originals centres on the Mikaelson siblings, the original vampires, led by Klaus. The powerful vampire/werewolf hybrid relocates to New Orleans and finds his former protégé reigning over the supernatural community. He sets out to reclaim the city with the help of his brother Elijah, but not before receiving surprising news from a former flame.
The Originals is a sleek and atmospheric show which, just like the original, manages to deliver surprising plot twists and keep viewers on the edge of their seats. The fact that it revolves around a family only ups the stakes, making the drama that much more interesting.
---
7. Being Human
---
Year: 2011
Cast: Sam Witwer, Meaghan Rath, Sam Huntington
---
For these three, being human is harder than it looks. This underrated Nord American series follows three roommates – a vampire, a werewolf and a ghost. Their supernatural nature makes them share a special bond and they rely on each other for support as they try to blend into society and lead normal lives. Needless to say, this proves to be incredibly difficult.
Being Human is a remake of the British series of the same name. With a solid cast and interesting themes, it more that stands on its own, offering a compelling blend of comedy, drama and horror. The UK version is also a treat.
---
8. True Blood
---
Year: 2008
Cast: Anna Paquin, Stephen Moyer, Alexander Skarsgård, Nelsan Ellis
---
Gory and sexy, True Blood centres on Sookie, a telepathic waitress from a small town who falls in love with a vampire. The show takes place in the near future, a time when humans and vampires live together thanks to the invention of a synthetic blood which allows bloodsuckers to survive without preying on mortals. Vampires are fighting for equal rights and Sookie finds herself right in the middle, struggling to figure out how to navigate the complicated world of her new beau.
Well-acted and more graphic than some of the other entries on the list, True Blood provides pure escapism, dazzling viewers with steamy romances and clever social commentary.
---
9. The Strain
---
Year: 2014
Cast: Corey Stoll, Mía Maestro, David Bradley, Kevin Durand
---
When an airplane lands with almost everyone abroad dead, the CDC is called to investigate. The team soon figures out that they're dealing with a dangerous viral outbreak, similar to an ancient strain of vampirism. They have to quickly stop the virus from spreading, fearing that humanity might already be doomed.
The Strain offers an effective mix of gore and thrills, stunning visuals and exciting twists. Not recommended for the squeamish, the show rejects the idea of "brooding" vampires and makes the creatures scary again, to horror fans' delight.
WATCH NOW

SUBSCRIBE

Sorry, we've found no streaming options for this title.

CURRENT OFFERS
---
10. Van Helsing
---
Year: 2016
Cast: Kelly Overton, Jonathan Scarfe, Christopher Heyerdahl
---
This dark series follows Vanessa Van Helsing, a descendant of Abraham Van Helsing, who wakes up from a coma in a post-apocalyptic world ruled by vampires. Her unique blood composition allows her to turn vampires human, so she becomes humanity's last hope of survival. Soon, she will lead a resistance against the vampires, all of whom want her dead.
Van Helsing is a grim dystopian series, violent and gory, which tremendously benefits from a nuanced performance by Kelly Overton in the lead role. Think of it as The Walking Dead with vampires, if you must.
---
11. From Dusk till Dawn: The Series
---
Year: 2014
Cast: D. J. Cotrona, Zane Holtz, Jesse Garcia, Eiza González
---
Familiar with the movie? You'll likely love the show as well. From Dusk till Dawn centres on brothers Seth and Richie Gecko, who are hunted by the FBI following a bank robbery gone wrong. Heading for the Mexico border, they take a family hostage, but a drug lord reroutes them to a strip club where they find themselves surrounded by snake-like creatures and must fight to survive until dawn.
From Dusk till Dawn features a different breed of vampires, but that doesn't make them any less compelling than their sparkling counterparts. Plus, the characters are engaging and the dark humour is delicious, ensuring that the show will appeal to fans of the cult movie and newcomers alike.
WATCH NOW

SUBSCRIBE

Sorry, we've found no streaming options for this title.

CURRENT OFFERS
---
12. Preacher
---
Year: 2016
Cast: Dominic Cooper, Joseph Gilgun, Ruth Negga
---
This outlandish show follows a hard-drinking preacher, Jesse, who becomes infused with an extraordinary power. He embarks on a fascinating journey to understand his newfound ability and enlists the help of his ex-girlfriend and a vampire along the way. Soon, the three will find themselves on a road trip for the ages as they look for God himself.
Dark, bizarre and ridiculously entertaining, Preacher is a visually stunning series that offers more gore than the average viewer will be able to handle but balances it out with humour and wit. Although only one of the main characters is a vampire, he also happens to be one of the best to ever grace our screens. He's a wild and self-loathing beast who can be charming and crack jokes when the situation calls for it but always stays true to his murderous nature.
---
This week's streaming deals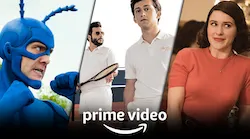 FREE TRIAL: 30 days of Prime Video's premium TV shows and movies for free
from Prime Video
Prime Video's free 30-day trial will give you instant access to thousands of premium TV shows and movies.
View details
---
---
For all the latest in TV and movie streaming, follow and subscribe below
---
More guides on Finder
Handypay Green Loan

A Green Loan from Handypay could help you make your home more energy-efficient. Handypay green loans are available up to $75,000 on terms of up to 10 years.
Stream the best and save