The best TV shows on Foxtel Now: From Thrones and Rome to The Sopranos
Iron thrones, zombies and family drama; these are the shows you'll wish never ended.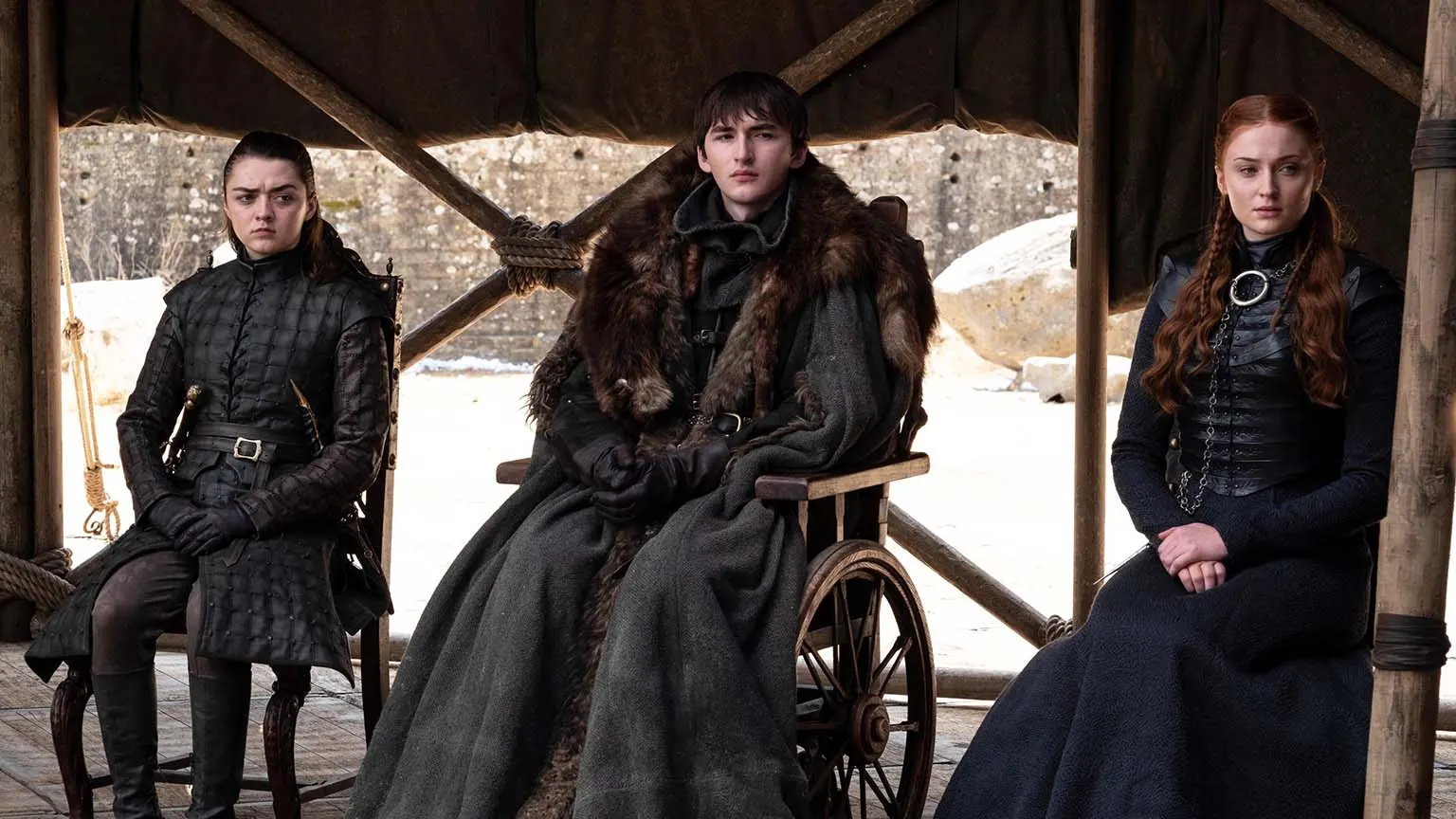 We're reader-supported and may be paid when you visit links to partner sites. We don't compare all products in the market, but we're working on it!
Though you'll sometimes pay a little more for the privilege to watch them, Foxtel Now is the current keeper of some of the greatest TV shows ever made. Drama, comedy, horror, romance – no matter what your favourite flavour is, there are hours and hours of entertainment here to greedily consume. So let's stop with the preamble and dig into the crème de le crème of binge material...
1. Genera+ion
---
Rotten Tomatoes score: 77%
Cast: Nathanya Alexander, Chloe East, Nava Mau, Lukita Maxwell, Justice Smith
A Gen Z dramedy, Genera+ion follows an ensemble cast of high school students exploring their sexuality. They deal with plenty of teen issues relating to not only sex and love but also family, social media and their conservative community.
Genera+ion is an inclusive show about the universal pains of being a teenager. The characters are interesting, the stories relatable, the writing is solid. Whether you're a teen or an adult wondering what the kids are up to these days, there's plenty here to love.
WATCH NOW

RENT/BUY

Sorry, we've found no buying or renting options for this title.

CURRENT OFFERS
2. A Teacher
---
Rotten Tomatoes score: 70%
Cast: Kate Mara, Nick Robinson, Ashley Zukerman, Rya Kihlstedt
A Teacher is a powerful miniseries that chronicles an affair between a young teacher and one of her high school students. The series shows how the two become closer and how the relationship eventually implodes, affecting the boy in a profound way.
The show is honest and well-acted, with both Kate Mara and Nick Robinson offering excellent performances. It's also best enjoyed binged, so we recommend you set aside a few hours before tuning in.
3. The End
---
Rotten Tomatoes score: 75%
Cast: Frances O'Connor, Harriet Walter, Ingrid Torelli
A Foxtel original, The End follows a multi-generational family as they deal with life, death and everything in between.
When a suicide attempt reunites mother and daughter, the mother is installed in a luxury retirement village. As the show progresses, we learn more about the family and the issues each member is dealing with.
The End is provocative, subtle and thought-provoking. It's also tremendously acted and occasionally funny. All in all, it's must-see TV.
WATCH NOW

RENT/BUY

Sorry, we've found no buying or renting options for this title.

CURRENT OFFERS
4. Superman & Lois
---
Rotten Tomatoes score: 85%
Cast: Tyler Hoechlin, Elizabeth Tulloch, Alex Garfin, Jordan Elsass
Action and family drama come together in Superman & Lois, a show that follows the Man of Steel and his journalist wife. This time around, however, the two struggle with raising a family, while also dealing with the usual saving the world stuff.
Compelling and intriguing, Superman & Lois seems more interested in telling a relatable tale of juggling work and parenthood. Yet, it offers plenty of action as well, so superhero fans won't be disappointed. It's a show that the whole family will enjoy, so we strongly advise adding this one to your watchlist.
WATCH NOW

RENT/BUY

Sorry, we've found no buying or renting options for this title.

CURRENT OFFERS
5. Industry
---
Rotten Tomatoes score: 75%
Cast: Myha'la Herrold, Marisa Abela, David Jonsson
Industry revolves around a group of young graduates who start working for a prestigious financial institution in London. They need to be cunning to get ahead and score longtime positions, but that doesn't stop them from engaging in nefarious after-work affairs.
The show has an excellent ensemble cast and is highly entertaining, offering the perfect escape from the real world. The only downside is that season one only consists of eight episodes.
6. Devils
---
Rotten Tomatoes score: 50%
Cast: Alessandro Borghi, Laia Costa, Kasia Smutniak
Devils is an intriguing international thriller set in the world of high finance. The plot follows Massimo, charming yet ruthless Head of Trading at one of the world's most important investment banks. We also meet his mentor Dominic, the company's CEO, portrayed by the beloved Patrick Dempsey.
After Massimo loses a battle for a promotion, he also finds himself the prime suspect in a murder investigation. As he fights to clear his name, the trader becomes involved in a financial war for the ages. Will he support his long-time mentor or choose another route? Tune in to find out.
WATCH NOW

RENT/BUY

Sorry, we've found no buying or renting options for this title.

CURRENT OFFERS
7. The Third Day
---
Rotten Tomatoes score: 78%
Cast: Jude Law, John Dagleish, Mark Lewis Jones, Naomie Harris
The Third Day is an unusual series, to say the least. The first three episodes follow a man who ends up on a mysterious island and encounters all sorts of weird stuff as he struggles to distinguish between fantasy and reality. Then, a woman is introduced as she arrives on the same island after a few months went by, looking for answers.
Ambitious and atmospheric, the series will keep you glued to the screen, curious to find out what is going on with that piece of land and the troubled man who stumbles upon it. A mix between horror and thrills, The Third Day is captivating enough to keep you coming back for more.
8. The Flight Attendant
---
Rotten Tomatoes score: 98%
Cast: Kaley Cuoco, Michiel Huisman, Zosia Mamet
A flight attendant wakes up in the wrong hotel, in the wrong bed, with a dead man next to her. Even worse, she has no idea what happened. Could she actually be a killer? That's the bonkers premise behind this engaging comedy thriller, which stars Kaley Cuoco in excellent form.
Addictive, dark and humorous, The Flight Attendant doesn't take itself too seriously, which only works in the show's favour. Calling it entertaining would be an understatement.
9. The Undoing
---
Rotten Tomatoes score: 77%
Cast: Nicole Kidman, Hugh Grant, Noah Jupe, Donald Sutherland
Grace and Jonathan make a great couple, at least from the outside. She's a therapist, he's a doctor. Together, they live among New York's elite. But when a murder rocks the community and Jonathan disappears, Grace is left wondering just how much of her marriage is really a lie.
Beautifully shot and well-acted, The Undoing is a thrilling and polished miniseries that pulls you in from the first twist. You won't be able to look away.
10. Raised by Wolves
---
Rotten Tomatoes score: 77%
Cast: Travis Fimmel, Amanda Collin, Abubakar Salim
A sci-fi drama executive produced by Ridley Scott, Raised by Wolves centres on two androids tasked with raising human children on a mysterious virgin planet. However, as the human colony threatens to be torn apart, the androids learn that controlling the beliefs of humans is a treacherous and difficult task.
Featuring gorgeous imagery, this is the kind of series that stimulates the eye as well as the mind. The story is complex, the themes are thought-provoking, the performances effective. If you're into sci-fi, stream it immediately.
11. Lovecraft Country
---
Rotten Tomatoes score: 96%
Cast: Jonathan Majors, Jurnee Smollett, Courtney B. Vance
This haunting series follows a young Black man, Atticus, as he sets out on a road trip across a racially segregated America in the '50s to look for his missing father. He is joined by his friend Letitia and his Uncle George. Together, they will have to overcome multiple challenges along the way – including dealing with terrifying monsters that could be ripped from a H.P. Lovecraft paperback.
Based on the 2016 novel by Matt Ruff, Lovecraft Country is wild and exciting. Featuring monsters both real and imaginary, it's a series that elegantly subverts expectations at nearly every turn, keeping viewers on the edge of the seat. That's must-watch TV in our book.
12. I'll Be Gone in the Dark
---
Rotten Tomatoes score: 95%
Cast: Patton Oswalt, Paul Haynes, Lauren Orlando, Amy Ryan
I'll Be Gone in the Dark is a six-part documentary series based on the book of the same name, which follows writer Michelle McNamara's investigation into the world of the violent predator she dubbed The Golden State Killer. Back in the '70s and '80s, the man committed 50 sexual assaults and 10 murders, which prompted McNamara's obsessive quest to find justice on behalf of his victims.
Gripping and moving, the docu-series might not have all the answers, but the questions it poses are definitely worth your time. Plus, it's a story of crime and obsession. Once you tune in, you'll find it hard to look away.
13. Wentworth
---
Rotten Tomatoes score: N/A
Cast: Kate Atkinson, Robbie Magasiva, Katrina Milosevic
A reimagining of classic show Prisoner, this iconic Aussie drama revolves around inmates struggling to survive in the violent environment of a contemporary women's prison. Season 8 episodes are now streaming.
Violent, honest and riveting, Wentworth is the kind of show that hooks you from the very first episode. If you like complex characters and intricate storylines, this one's definitely for you.
14. Perry Mason
---
Rotten Tomatoes score: 76%
Cast: Matthew Rhys, Juliet Rylance, Tatiana Maslany, Rachel Boulware
In booming 1932 Los Angeles, defense attorney Perry Mason takes on the case of a lifetime - a sensational child kidnapping trial. Turns out, the investigation will have major consequences for Mason, his client, and the city itself.
A series with style to spare, Perry Mason offers a compelling mystery and brilliant performances, making it a must-see for fans of period shows. Matthew Rhys is a delight as the lead, so rest assured – he does the legendary fictional character justice.
15. Run
---
Rotten Tomatoes score: 82%
Cast: Merritt Wever, Domhnall Gleeson, Rich Sommer, Archie Panjabi
A woman turns her life upside down when she receives a text from her college sweetheart. She decides to drop everything and meet him in New York to carry out a pact they made 17 years earlier.
That's the simple premise behind Run, a polished comedy thriller that shines thanks to great performances by Merritt Wever and Domhnall Gleeson. The story is also highly addictive, so you might be tempted to binge the whole thing in one go.
16. Belgravia
---
Rotten Tomatoes score: 73%
Cast: Philip Glenister, Tamsin Greig, Harriet Walter, Saskia Reeves
A story of scandals, Belgravia kicks off at the Duchess of Richmond's ball, which was held in Brussels for the Duke of Wellington on the eve of the Battle of Quatre Bras, just before the Battle of Waterloo. The night sets in motion events that will have consequences for decades as secrets unravel behind the doors of London's grandest neighbourhood.
Belgravia is a stylish and soapy period drama, featuring gorgeous costumes and tales of romance and revenge. If you loved Downton Abbey, this one will be right up your alley.
17. Mrs. America
---
Rotten Tomatoes score: 95%
Cast: Cate Blanchett, Rose Byrne, Elizabeth Banks, Uzo Aduba
Mrs. America tells the story of conservative woman Phyllis Schlafly, who leads an unexpected fight against the Equal Rights Amendment back in '70s America. Boasting a phenomenal ensemble cast, the series manages to explore the complicated nuance of a movement that went on to earn a prominent spot in US history.
The show has style to spare, capturing the essence of the era with exquisite attention to detail. More important, Mrs. America is bold and thought-provoking, making the audience ponder upon both the past and the future of women's rights.
18. The Plot against America
---
Rotten Tomatoes score: 87%
Cast: Winona Ryder, Anthony Boyle, Zoe Kazan, Morgan Spector
In an alternative universe, Charles Lindbergh defeats Franklin D. Roosevelt in the 1940 United States presidential election, turning the nation toward fascism. What happens next? You'll need to tune in to find out.
Based on the Philip Roth novel, this miniseries is a treat for history buffs. That being said, it's also essential viewing for everyone else, showcasing exactly how politics affects personal life. That alone makes it disturbingly relevant to the present.
19. Devs
---
Rotten Tomatoes score: 82%
Cast: Sonoya Mizuno, Nick Offerman, Jin Ha, Zach Grenier
A mesmerising limited series, Devs follows a young computer engineer who investigates the secretive development division of her employer, a cutting-edge tech company. More than that, she suspects the company is behind the disappearance of her boyfriend.
Devs may test your patience, as it's an atmospheric and philosophical show. That's also what makes it worthwhile. It's far from your typical thriller, but it's gripping nonetheless. More importantly, it will make you ask yourself several though questions about how much freedom we really have in a world ruled by algorithms.
20. Katy Keene
---
Rotten Tomatoes score: 90%
Cast: Lucy Hale, Ashleigh Murray, Julia Chan, Jonny Beauchamp
A Riverdale spin-off, the show follows four friends who are trying to make their dreams come true in New York. They're all artists, so the struggle is real - a fashion designer, a musician, an influencer, and a Broadway performer.
The best thing about Katy Keene is that it's full of joy. Whether these four friends succeed or fail, they have each other to rely on. In a TV landscape oversaturated with gritty teen TV, Katy Keene shines thanks to its colourful fashion, exciting musical numbers, and soapy melodrama. It's pure escapism. Feel free to indulge.
21. The Outsider
---
Rotten Tomatoes score: 79%
Cast: Ben Mendelsohn, Bill Camp, Jeremy Bobb, Cynthia Erivo
The Outsider is a miniseries based on the popular novel of the same name by Stephen King. The action revolves around the investigation of the gruesome murder of a boy in the Georgia woods and the mysterious force surrounding the case. Trust us: the less you know about the premise, the better.
Besides the intriguing plot, the series offers tremendous performances and an eerie atmosphere. It's the kind of show that takes the time to make you care about the characters before unleashing the thrills, which makes viewers that much more invested. If you're into creepy thrillers, you can't miss this one.
22. Avenue 5
---
Rotten Tomatoes score: 63%
Cast: Hugh Laurie, Zach Woods, Suzy Nakamura, Josh Gad
Created by Armando Iannucci, Avenue 5 is a sci-fi comedy following the passengers and crew onboard a space cruise ship that experiences technical difficulties during its eight-week journey around Saturn. As a result, the road back home will be much longer than expected.
The show is snarky and ambitious, featuring a great cast and enough jokes to ensure you'll breeze through it. Iannucci is also responsible for Veep, which was an international hit. You might want to check out his follow-up.
23. Upright
---
Rotten Tomatoes score: N/A
Cast: Tim Minchin, Milly Alcock, Rebecca Massey
A Foxtel original series, Upright follows two misfits, Lucky and Meg, who are thrown together by chance in the middle of the Australian desert and forge the unlikeliest of bonds in their quest to get a precious upright piano from one side of the country to the other.
Upright is a clever and entertaining road-trip series. In fact, following the two main characters scamming their way across the scorching desert continent is a delight thanks to the intriguing script and pleasing visuals. The show is an interesting mix of melancholy and comedy, with the odd couple dynamic an absolute treat.
24. Mrs. Fletcher
---
Rotten Tomatoes score: 83%
Cast: Kathryn Hahn, Jackson White, Owen Teague
On the lookout for a sexy new show? You're in the right place. Mrs. Fletcher revolves around a mid-40s single mom who drops her only child off at college and returns home to a very empty house. At the same time, son Brendan finds college a little more challenging than he expected. As a result, they both embark on unlikely coming-of-age adventures.
Mrs. Fletcher is a complex show that touches on a variety of themes, from sexuality to toxic masculinity. The series shines, however, thanks to its dual coming-of-age elements, making for a rewarding viewing experience. Even better, Kathryn Hahn is on top of her game, offering a performance that deserves all the accolades.
WATCH NOW

RENT/BUY

Sorry, we've found no buying or renting options for this title.

CURRENT OFFERS
25. His Dark Materials
---
Rotten Tomatoes score: 80%
Cast: Dafne Keen, Ruth Wilson, Lin-Manuel Miranda, James McAvoy, Anne-Marie Duff
An adaptation of Philip Pullman's acclaimed fantasy trilogy, His Dark Materials follows a young orphan girl from another world searching for a missing friend. In her quest, she discovers a series of kidnappings and makes it her aim to understand a mysterious phenomenon.
Visually stunning and filled with wonderful performances, this magical series can be tough to follow for viewers unfamiliar with the novels. However, it compensates with memorable twists and fantastic daemons. The show might not be the next Game of Thrones, but it's a fun watch nonetheless.
26. Watchmen
---
Rotten Tomatoes score: 98%
Cast: Regina King, Don Johnson, Tim Blake Nelson, Yahya Abdul-Mateen II
One of the most highly-anticipated shows of the year, Watchmen lives up to the hype thanks to its thrilling visuals, complex characters, and unexpected twists. The superhero drama is a modern-day re-imagining of Alan Moore's groundbreaking graphic novel. The action takes place in an alternate reality where masked vigilantes work alongside the police.
Dark and intricate, Watchmen has all the required ingredients to keep fans glued to the screen - and so far, it more than managed to do so. Add in the fact that the show is created by Damon Lindelof, who was also responsible for Lost and The Leftovers, and you just know that this ambitious series will be worthy of its inclusion in the Watchmen universe.
27. The Righteous Gemstones
---
Rotten Tomatoes score: 81%
Cast: Danny McBride, John Goodman, Edi Patterson, Adam DeVine, Cassidy Freeman
Created by Danny McBride, this offbeat comedy centres on a world-famous televangelist family, the Gemstones, who are as dysfunctional as they are fascinating. When a threat that jeopardizes the reputation of a family member surfaces, faith and followers may not be enough to keep their religious empire growing.
While watching a series that tackles American megachurch culture may not seem particularly appealing, The Righteous Gemstones is definitely worth a stream thanks to its great cast and darkly hilarious craziness. A successful blend of comedy, drama, and silliness, the show is kind of bonkers. If you're into that sort of thing, it will be right up your alley.
28. Lambs of God
---
Rotten Tomatoes score: N/A
Cast: Essie Davis, Ann Dowd, Jessica Barden, Sam Reid
Based on the Australian novel by Marele Day, Lambs of God follows three nuns, each a generation apart, who live on a secluded and remote island. When Father Ignatius, a priest, unwittingly finds them, they are forced to defend both their beliefs and their lives.
A tale of faith, love, and redemption, the series features electric performances and stunning cinematography, which are likely to appeal to prestige TV junkies. Lambs of God is also a quick binge, clocking in at only four episodes. If you want a show that will subvert expectations, you can't go wrong with giving this one a stream.
WATCH NOW

RENT/BUY

Sorry, we've found no buying or renting options for this title.

CURRENT OFFERS
29. Big Little Lies
---
Rotten Tomatoes score: 94%
Cast: Reese Witherspoon, Nicole Kidman, Laura Dern, Shailene Woodley, Meryl Streep
Based on the novel of the same name by Liane Moriarty, Big Little Lies follows a group of emotionally troubled women who unexpectedly get caught in a murder investigation. The first season received universal acclaim and the second installment is following suit, with Meryl Streep joining the cast in a brilliant villain role.
If you find rich people living miserable lives fascinating, you'll fall deeply in love with this one. Darkly humorous and wonderfully written, the show is worth binging for the cast alone. And yet, the story will grip you from the very first scene, offering plenty of juicy drama and meme-able scenes you can discuss around the watercooler.
30. Euphoria
---
Rotten Tomatoes score: 81%
Cast: Zendaya, Maude Apatow, Angus Cloud, Eric Dane
An adaptation of the Israeli show of the same name, Euphoria centres on Rue, a troubled teen with a substance abuse problem. Fresh out of rehab, she has no plans to change her wildly ways; and the series excels as showcasing a teenage landscape brimming with day to day anxiety and substance-enhanced parties.
While the drama can be hard to watch every now and then due to its brutal honesty and graphic scenes depicting sex, violence, and substance abuse, it's also an illuminating look at how some teens navigate modern life. Visually beautiful, the show also benefits from a great performance from Zendaya, who gets a chance to fully showcase her tremendous acting chops.
31. Chernobyl
---
Rotten Tomatoes score: 95%
Cast: Jared Harris, Stellan Skarsgård, Emily Watson, Paul Ritter
The event miniseries everyone seems to be talking about, Chernobyl is a five-part historical drama which depicts the nuclear disaster of April 1986, one of the worst man-made catastrophes in history. The show also features the cleanup efforts that followed, highlighting the brave men and women who sacrificed to save Europe from unimaginable consequences.
Chernobyl is a bleak show, but that's not surprising given the true events it's based on. However, the series shines as it manages to also be riveting, suspenseful, and atmospheric. Chernobyl is currently the highest-rated TV series of all time on IMDb, so you might want to give it a stream to see what all the fuss is about.
32. What We Do in the Shadows
---
Rotten Tomatoes score: 95%
Cast: Kayvan Novak, Matt Berry, Natasia Demetriou, Harvey Guillen, Mark Proksch
Based on the movie of the same name, this new series is a mockumentary-style look at the nocturnal endeavours of four vampires who live together in Staten Island. When they are reminded of their original purpose - complete domination of the world, they set out to achieve this goal, in hilarious fashion.
Absurd and charming, What We Do in the Shadows is clever, original, and funny, qualities worthy of granting it a spot at the top of your watch list, especially if you're into dry humor. Moreover, the cast is excellent, which is reason enough to forgive the show's occasional forays into excessive silliness.
33. Veep
---
Rotten Tomatoes score: 93%
Cast: Julia Louis-Dreyfus, Anna Chlumsky, Tony Hale, Reid Scott, Timothy Simons
em>Veep is a comedy that follows Selina Meyer, the vice-president of the US, who struggles to juggle her public schedule and private life, with a little help from her staff. As the years go by her political aspirations grow, while her personal life also goes through changes - we see her interact with her daughter, ex-husband, and a series of significant others.
The show does a great job at satirizing the political activities and inner workings of the US government, with flair and humor. As expected, Julia Louis-Dreyfus is excellent, but the supporting characters get their chance to shine in the spotlight as well, to the audience's delight. If you've somehow missed out on Veep so far, now is the perfect time to catch up.
34. Barry
---
Rotten Tomatoes score: 99%
Cast: Bill Hader, Stephen Root, Henry Windler, Sarah Goldberg
One of the best new comedies to come out last year, Barry gets even better in its second season. The series follows a low-level hitman who follows one of his targets into an acting class and becomes instantly drawn into the community - so much so that he contemplates starting a new life as an actor. Too bad that his handler isn't particularly supportive.
Barry perfectly balances darkness and humor, making it the perfect binge for cynics in need of a few laughs. As for the cast, Bill Hader is amazing in the lead role, with Henry Winkler delivering a top-notch performance as well. All in all, Barry is an unexpected treat with an intriguing premise. If you're not watching it, you're definitely missing out.
35. Pretty Little Liars: The Perfectionists
---
Rotten Tomatoes score: 88%
Cast: Sasha Pieterse, Janel Parrish, Sofia Carson, Sydney Park, Eli Brown
Set a few years after Pretty Little Liars, The Perfectionists revolves around three college friends who struggle with the stress of being overachievers in the picturesque town of Beacon Heights. Meanwhile, Alison DiLaurentis and Mona Vanderwaal have relocated to Beacon Heights for a fresh start with their careers and families. Too bad that a murder occurs, which puts everyone on edge. The seemingly perfect town may not be so perfect after all.
Glossy and soapy, The Perfectionists is darker than its predecessor, but equally addictive. Whether you're a veteran fan or a newbie, you'll find plenty to love in this twisty universe.
36. Better Things
---
Rotten Tomatoes score: 97%
Cast: Pamela Adlon, Mikey Madison, Hannah Alligood, Olivia Edward, Celia Imrie
Hilarious, yet often bittersweet, Better Things is all about the highs and lows of being a single mother. The show follows Sam Fox, an actor who is raising three daughters and also caring for her mother, who has questionable mental faculties. Sam is just trying to earn a living and survive her family, while also hopefully enjoying some private time every now and then.
Although a comedy, the series doesn't shy away from tough issues. Quite the contrary. At its core a show about 'having it all,' Better Things manages to come across as memorable and original, with a perfectly cast Pamela Adlon in the lead role. If you were looking for a refreshing and insightful sitcom, you're in the right place.
37. High Maintenance
---
Rotten Tomatoes score: 97%
Cast: Ben Sinclair, Jemima Kirke, Margaret Cho
High Maintenance follows a weed dealer who gets to interact with a whole lot of people as he delivers his goods via bicycle to stressed-out clients across New York. His job allows him to get a glimpse at his clients' daily routines, allowing viewers to explore the existences of intriguing, colorful individuals from all walks of life.
Bittersweet and insightful, this HBO show gets better with each episode. A comedy of human interaction, High Maintenance is the perfect binge for a lazy afternoon when you want something both funny and thought-provoking. The seasons are short, so there's no risk you'll overdose.
38. The Walking Dead
---
Rotten Tomatoes score: 80%
Cast: Andrew Lincoln, Norman Reedus, Melissa McBride, Lauren Cohan, Jeffrey Dean Morgan, Steven Yeun
A bonafide hit, The Walking Dead follows a group of survivors as they navigate life during a zombie apocalypse. Not only do they have to stay safe from the walkers that roam the country, but also from other communities, each with their own sets of laws and morals.
For long-time fans, The Walking Dead feels more alive than ever, despite occasional stumbles in the past. With Lincoln leaving the show in Season 9, it will be interesting to see how conflicts progress from now on. One thing's for sure: the riveting pace and compelling characters that made the show so popular will keep us coming back for more. If you haven't watched it yet, what are you waiting for?
39. Future Man
---
Rotten Tomatoes score: 91%
Cast: Josh Hutcherson, Glenne Headly, Eliza Coupe, Ed Begley Jr., Derek Wilson, Haley Joel Osment
This bonkers Hulu original centers on janitor Josh Futturman, who leads a pretty boring life, mainly playing video games. Things change, however, when he beats a difficult game and mysterious visitors from the future appear, putting the world in danger. As expected, Josh is the only one who can stop them. He sets out to assemble a team ready to travel with him through time and engage in various missions.
The show is highly entertaining, offering plenty of surprises and even more laughs. It often veers into ridiculous territory, which makes it even more of a treat. If you're looking for a welcome distraction to keep you busy for hours on end, look no more.
40. Succession
---
Rotten Tomatoes score: 86%
Cast: Brian Cox, Kieran Culkin, Hiam Abbass, Nicholas Braun
This clever HBO show follows the Roy family, who controls one of the biggest media and entertainment conglomerates in the world. When the head of the family announces on his 80th birthday that he has no intention to step down as CEO, his heirs are caught by surprise and struggle to gain as much power within the company as they can, hoping they will be able to come out on top when the time is right.
This is a series about rich people behaving badly, which is never boring to watch. These people would not make for great friends in real life, but they're extremely fun to watch on TV. Sharp and exciting, Succession draws you in from episode one, promising a thrilling ride. Thankfully, it delivers.
41. A Discovery of Witches
---
Rotten Tomatoes score: 100%
Cast: Matthew Goode, Teresa Palmer, Valarie Pettiford, Valarie Pettiford, Malin Buska
Based on the All Souls trilogy by Deborah Harkness, A Discovery of Witches follows a witch who starts working with a vampire in order to discover the secrets hidden in an ancient manuscript. Despite a long-held mistrust between witches and vampires, the two develop a strong bond as they struggle to dodge multiple threats coming from the creature world.
Creepy and fun, A Discovery of Witches has an amazing cast and a plot that will keep viewers on the edge of the seat. As long as you're willing to suspend disbelief, you'll have a great time binge-watching this one. Plus, Goode and Palmer have great chemistry, so get ready to furiously ship them from the first time they share the screen.
42. My Brilliant Friend
---
Rotten Tomatoes score: 94%
Cast: Gaia Girace, Margherita Mazzucco, Anna Rita Vitolo, Luca Gallone
An adaptation of the first of four novels in the Neapolitan Novels by Elena Ferrante, My Brilliant Friend is an Italian-American miniseries that chronicles the friendship between two young girls in the '50s, a friendship that will eventually span more than 60 years.
Brilliantly produced and perfectly cast, the series perfectly captures the complex relationship between the girls - it's intimate and educative, but can also get complicated and competitive at times. My Brilliant Friend is an exquisite adaptation, one that manages to completely immerse the viewer in the narrative. Needless to say, the show raises to the high bar set by the enchanting novels that serve as source material.
43. Castle Rock
---
Rotten Tomatoes score: 86%
Cast: André Holland, Melanie Lynskey, Bill Skarsgård, Jane Levy, and Sissy Spacek
Set in the Stephen King multiverse, Castle Rock is a psychological-horror series that intertwines characters and themes from the fictional town of Castle Rock, Maine. It all starts when an anonymous phone call lures death-row lawyer Henry Deaver back to his hometown, where a Kid has been found locked in an underground cage at Shawshank State Penitentiary.
Recommended for both King fans and newbies, Castle Rock is brimming with supernatural secrets waiting to be uncovered, which makes for a particularly entertaining binge. Gorgeously shot and suspenseful, the show has a stellar cast and immediately pulls in viewers as its shapes its complex and mysterious universe. As a bonus, the show offers plenty of Easter Eggs any King enthusiast will appreciate.
44. True Detective
---
Rotten Tomatoes score: 74%
Cast: Vince Vaughn, Colin Farrell, Matthew McConaughey
Real talk before we begin: watch and love the first season of True Detective, more or less ignore the second, which is a complete departure in terms of setting, characters and writing quality. Admittedly, the follow-up isn't as bad as the widespread panning would have you believe, but it's a total downshift compared to the existential buddy-cop pairing of Rust Cohle (Matthew McConaughey) and Marty Hart (Woody Harrelson), two Louisianan homicide detectives on the trail of a murder mystery that spans 17 years.
Hart is a play-it-loose Texan good ol' boy who has fatherhood and marital problems aplenty. Cohle is a brooding professional with a dark past and an even darker outlook on the human race (his pessimistic monologues are real standouts). This mismatched duo starts their partnership with a befuddling investigation centred on the gruesome, ritualistic killing of a young woman, posed by a tree with deer antlers on her head and accompanied by strange symbols. To make matters worse, when the case isn't adequately closed, and the crime is repeated decades later, our heroes transition from true detectives to possible suspects.
45. The Leftovers
---
Rotten Tomatoes score: 91%
Cast: Justin Theroux, Amy Brenneman, Carrie Coon
They call it "The Sudden Departure", a global cataclysm where a whopping 140 million people – roughly 2% of us – vanished without a trace. Set three years after this mysterious disaster, the world hasn't been able to move on due to a complete lack of answers. As a result, the small community of Mapleton, NY, is a tinderbox of confusion and anger. A decent subsection of folks have been driven to extreme paranoia or outright madness, conspiracy nuts are having a field day and cult leaders are capitalising on the faith vacuum.
Kevin Garvey (Justin Theroux) is a police chief up against the wall, desperately trying to prevent a civil war from triggering between the sketchy zealots of "The Guilty Remnant" and the citizenry who just want to forget and move on with their lives. Prepare to become hooked on an ensemble cast, sharply-written characters and just the irresistible lure of getting to the bottom of a confounding event that seemingly cannot be explained by cosmology or philosophy.
46. Rome
---
Rotten Tomatoes score: 86%
Cast: Ciaran Hinds, Zuleikha Robinson, Kevin Mckidd
While this is one of the early standout successes in HBO's bigger budget programming, it had some behind-the-scenes production issues. Long story short (literally), Rome has an excellent, lavishly-funded first season and then some foolish hand-wringing by the suits caused it to have a truncated second outing, and an abrupt end. Let none of that dissuade you from watching what is a wonderful upstairs-downstairs tale that neatly interweaves the plight of the plebeian soldiery and Roman elite both.
In one thread you have the political machinations of Julius Caesar, a conquering hero who breaks the rules by returning to the capital with his army in tow, and a number of powerful Roman houses who would stop him. In Caesar's rank and file is the focus of the second thread: the unlikely partnership of dour, by-the-book Captain Lucius Vorenus (Kevin McKidd) and the hedonistic and insubordinate Titus Pullo (Ray Stevenson). Well worth a watch, even if you're not a history buff.
47. Game of Thrones
---
Rotten Tomatoes score: 95%
Cast: Peter Dinklage, Lena Headey, Emilia Clarke
Musical chairs, played to the death – except, plot twist: there's only one chair and everybody playing has a sword. This is the basic elevator pitch for George R. R. Martin's fantasy book series, a sprawling epic that has been well translated to the small screen by the deep-pocketed HBO. The action centres on the land of Westeros, a Kingdom divided into seven fiefs that are a veritable tinderbox for civil war (largely thanks to some iffy decisions made in the previous one fought 17 years ago). That said, and unbeknownst to the many belligerents in the south, beyond a Great Wall monument that borders the arctic region of this continent waits a supernatural threat.
However, the latter is a (literal) glacial problem so you can expect few fantasy elements in the opening seasons. They are primarily about backstabbing medieval politics and the shock offing of major characters in brutal ways. Essentially, none of your favourites is ever truly safe here, and Game of Thrones is all the more riveting because of it.
48. The Sopranos
---
Rotten Tomatoes score: 95%
Cast: James Gandolfini, Ron Leibman, Lorraine Bracco
Sadly, this show isn't what it first appears to be: a hard-mode version of The Voice that challenges ordinary people to sing pop songs in the highest vocal range. Happily, it is, in fact, a dark drama about Tony Soprano, the patriarch of a mid-level New Jersey crime family who is somewhat obsessed with the ducks that frequent his swimming pool. No wonder Tone seeks therapy to cope with mob and family pressures, not to mention the merciless creep of modernity that's slowly eroding his old-school gangster life.
Addictive as all hell, David Chase's stunningly original drama offers detailed character work and riveting suspense while displaying a flair for both black comedy and unpredictable twists. Throw in powerhouse acting by the show's lead, James Gandolfini, and you've got a TV series that is nothing short of essential viewing.
49. The Wire
---
Rotten Tomatoes score: 97%
Cast: Dominic West, Sonja Sohn, Wendell Pierce
It's been almost two decades since it first aired, but nobody has beaten David Simon's The Wire and taken away its crown as the best TV show ever made. Though it starts as a police procedural that pits a misfit group of "5-0" against the rat-like cunning of a ruthless drug lord, The Wire expands its scope in subsequent seasons to cover the dysfunction of the wider city of Baltimore. Via some impressive, novel-esque world-building we're made privy to the back alley dealings of many flawed institutions, be it city hall, the unions, schools or the local media to name but a few. The one thing they all have in common: corruption.
What we have here is a sprawling tale and an incredibly memorable cast filled with accomplished actors and bonafide Baltimoreans sourced straight from the mean streets. Take a toe-dip and you'll soon become addicted to a riveting series where almost every character becomes a favourite (despite their questionable morals). Honestly, just typing this synopsis makes me want to rewatch it all over again. For, like, the sixth time.
50. Curb Your Enthusiasm
---
Rotten Tomatoes score: 93%
Cast: Larry David, Cheryl Hines, Jeff Garlin
Here's a worrying realisation: Larry David, co-creator of Seinfeld, is more or less the real-life version of Jerry's stocky, bespectacled best friend. Costanza, aka "Art Vandelay" aka "Buck Naked" exists, and Curb Your Enthusiasm is basically one big endless summer of George. Each incredibly well-written episode sees our socially-clueless (or often purposefully difficult) protagonist navigate the pretension and uber-politically-correctness of Los Angeles with all the subtlety of a sledgehammer.
No matter where he is or who he's dealing with, Lar' will find a way to get himself into yet another cringe-worthy situation. The worst/best part of this series: the number of times you'll find yourself agreeing with his logic, if not his hilariously heavy-handed approaches. Throw in a slew of playing-themselves cameos from local Hollywood residents – like Ben Stiller, Martin Scorsese, Ted Danson and Michael J. Fox to name but a few – and Curb Your Enthusiasm rivals even the mighty Seinfeld for consistent laugh factor.
51. In Treatment
---
Rotten Tomatoes score: 84%
Cast: Gabriel Byrne, Dane DeHaan, Josh Charles
In Treatment centres on Paul Weston (Gabriel Byrne) a fifty-something psychologist questioning his ability to heal while confronting uneasy truths about his own life in therapy sessions with his patients. Interestingly, the format alternates between sessions where Paul is leading the questioning and other times he's the one in the hot seat, spilling his guts to his own psychotherapist, Gina (Diane West). The latter is a fascinating dynamic that highlights how your average shrink benefits from, or can be handicapped by, their own traumatic life experiences.
Paul is very much a wounded healer. He's seen the worst of life from the inside, and while this grants him incredible empathy and the ability to speak from experience, as your binge-watch continues you'll start to wonder when his past will overwhelm him. Featuring knockout performances and a script that deftly reveals and withholds crucial information, In Treatment becomes hypnotic in no time.
---
Hungry for even more TV? Then check out these free streaming trials
Store
Discount

Kayo Sports

Stream Kayo Sports for 14 days FREE and no lock-in contract

Take Kayo Sports' Basic or Premium plan for a spin and stream new sports content daily plus 15,000+ hours of on-demand archives.

Last verified

Disney+

Sign up to Disney+ to stream hundreds of movies and shows

Watch new and classic TV and movies from Disney, Pixar, Star Wars, Marvel, National Geographic and 21st Century Fox from one streaming service.

Last verified

Prime Video

30 DAYS FREE: Sign up to Amazon Prime Video's free trial today

Prime Video's free 30-day trial will give you instant access to thousands of premium TV shows and movies. T&Cs apply.

Last verified
---
More guides on Finder
Stream the best and save