The best treadmills in Australia 2020
Our expert team read hundreds of user reviews to find the 6 best treadmills for any budget and experience level.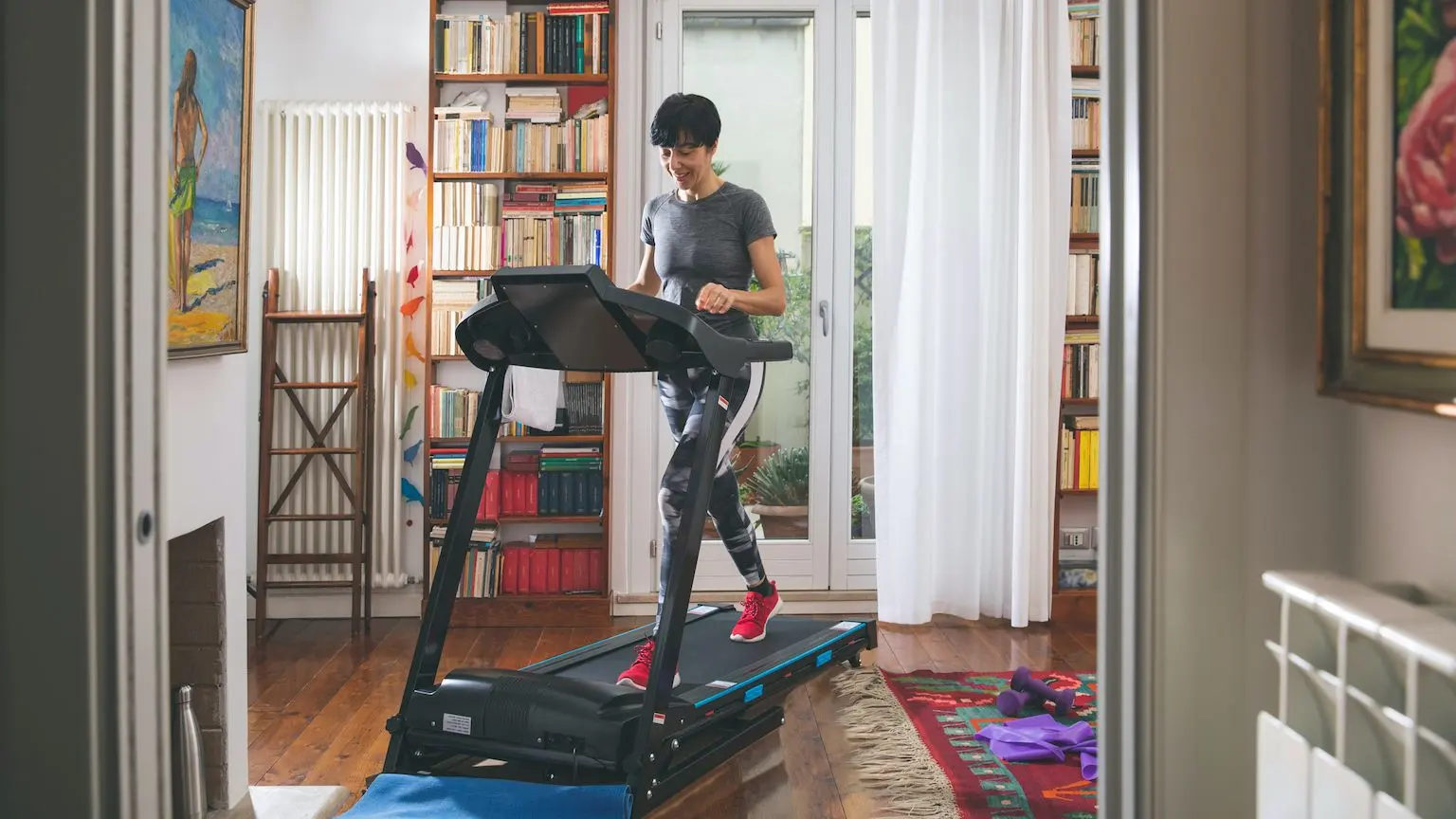 We're reader-supported and may be paid when you visit links to partner sites. We don't compare all products in the market, but we're working on it!
The best treadmills in Australia
How did we pick this list?
Our editorial team selected the products on this list based on actual customer reviews. For each category, we carefully selected parameters based on our research and identified the products with the highest review score within those parameters.
Best treadmill for small spaces: Proform Performance 600i Treadmill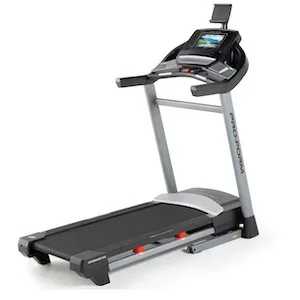 Why we chose it
The Proform Performance 600i isn't only a great treadmill for small spaces, it's a great treadmill full stop. Holding a 4.5 rating on Google from 80 reviews, users cite its cushioned running track, excellent 10-inch screen, inbuilt fitness programs and its portability as highlights.
Proform boasts about its custom "SpaceSaver Design" technology. What that means is that the treadmill folds up vertically against a wall with the help of a powerful weight-assisted shock lift system, and unfolds slowly (and safely) assisted by hydraulics – which are necessary given that the treadmill weighs nearly 100kgs.
---
Best treadmill for running: FreeForm F2000 Commercial Treadmill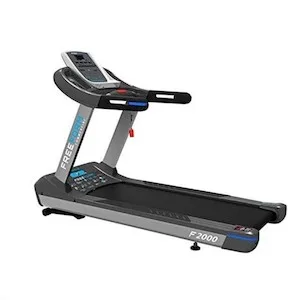 Extremely powerful motor
Huge running surface
Heavy
Large footprint of 215cm x 86cm x 150cm
Average online price: $3,999
Check availability at Amazon
Why we chose it
Serious runners will want a serious gym-grade treadmill and our pick is the FreeForm F2000 Commercial Treadmill. It holds a 5-star rating from Gym And Fitness customers.
The beastly 6.0 CHP motor makes it more than twice as powerful as any other on this list. That abundance of horsepower, along with the ultra-generous 160cm x 57cm running surface, will give you peace of mind to hit top speed for as long as your body can handle it.
It has built-in self-lubrication systems, so maintenance is painless, and with 18 levels of motorised incline, you'll be able to keep your workouts nice and varied. It also comes with a lifetime warranty for peace of mind.
---
Best treadmill for walking: Proform 105 CST Treadmill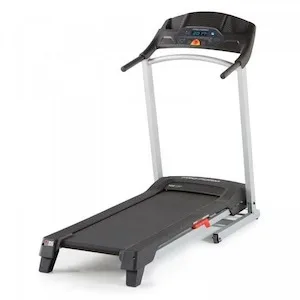 Why we chose it
Proform's entry-level PETL38817 105 CST Treadmill is ideal for exercise walkers. Sitting on a score of 4.5 stars on Google from more than 25 reviews, it's also the highest rated treadmill cheaper than $1,000.
Many of the bells and whistles usually reserved for pricier models are present here. It has a heart rate monitor, and the 5-inch colour LCD screen helps with tracking speed, elapsed time and distance travelled.
It's designed to be folded away and stored vertically when not in use, so it's a good option for people living in smaller apartments too.
---
Best treadmill under $500: Fortis 360mm Belt Adjustable Incline Electric Treadmill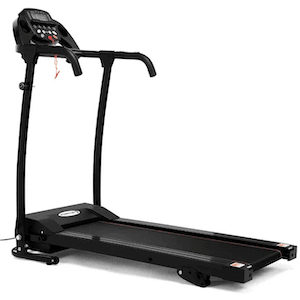 Low price
Feature-rich for the budget
Weaker motor means you can only run up to 12km/h
Can only support a max weight of 100kgs
Average online price: $319
Check availability at eBay
Why we chose it
Our pick for the best budget treadmill is the Fortis 360mm Belt Adjustable Incline Electric Treadmill. It's the highest rated treadmill available in Australia for less than $500, holding a 4.3-star rating on Dick Smith's website from 32 customer reviews and the same score on Google from 17 reviews.
Even though it's a budget treadmill, it has plenty of appealing features. It comes with an LCD screen that displays time, speed, heart rate and calories burnt. It has 12 training programs and three different levels of incline for ratcheting up your training. It also folds away neatly after use.
The motor powering it isn't designed for sprinting at full pace – it's only rated up to 12km/h – but for most other purposes, you'll find a solid, compact, well-made home treadmill for a fraction of the cost of the other models on this list.
---
Best mid-range treadmill: Proform Power 525i Treadmill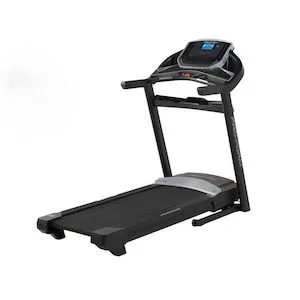 Why we chose it
The best mid-range option is the Proform's Power 525i Treadmill. It has a 4.6-star rating from 70 reviewers on the rebel website and a 4.2-rating on Google from more than 200 reviews. It's a popular, affordable piece of equipment suited for just about any level of commitment.
The powerful, high quality 2.6 Continuous Horsepower (CHP) motor allows you to safely hit speeds of up to 18km/h, and with 20 preset workout apps, you won't be short of exercise variety. The incline level can also be adjusted up to 10 degrees for tougher workouts. It even comes with in-built speakers for your phone to connect to.
It can handle users weighing up to 125kgs, which is heavier than a lot of similarly priced models, but at 46cm wide, the running track is on the narrower side. If you're tall and have an especially wide gait, consider trying before you buy.
---
Best high-end treadmill: NordicTrack S25 Treadmill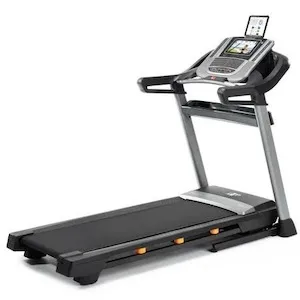 Large running surface
Customers say it has excellent cushioning
Optional built-in iFit app requires a subscription
At 91kg, it's quite heavy
Average online price: $2,499
Check availability at eBay
Why we chose it
The NordicTrack S25 Treadmill is a feature-rich high-end machine that, despite not not being cheap, still costs far less than many other premium options. It holds a user rating of 4.5 stars on rebel's website from over 60 reviews and 4.6 stars on Google, making it the most popular treadmill above $2,000.
At 51cm x 140cm, the running surface is generously sized. The belt also comes with proprietary "RunnersFlex" cushioning that softens the impact on joints and muscles.
With a fairly powerful 2.75 CHP rapid response motor, you can hit speeds of up to 20km/h without straining the machine, and the 6-inch colour screen has a bunch of pre-loaded workout routines for people that need more guidance.
---
Methodology
Our editorial team compared treadmills found at major retailers and online stores across Australia.
We examined hundreds of customer reviews and ratings and cross referenced our selections with expert reviews.
Where consumer sentiment was similar, the option representing the best value was given the honours.
The products on this list were chosen by our editorial team and were not selected based on commercial relationships.
How to compare treadmills
When looking for a treadmill, consider the following factors:
Running surface size
If the treadmill surface is too narrow or short for your natural running stride, you'll feel cramped and impeded, and you won't work out as effectively.
Power
Treadmill motors are measured in Continuous Horsepower (CHP). The higher the number, the faster you'll be able to run without straining the treadmill. If you only want a treadmill for walking, you'll be able to save money with a less powerful motor.
Size and portability
Most treadmills are heavy and unwieldy. If you've got a dedicated garage space or similar, that's not much of a problem. But if you want to set up in a living room that's also going to be used by other people for other purposes, you should consider models designed to be folded away.
Features
Remember, all you really need is something to run on… but bells and whistles are always nice. If you want live guided training sessions, digital incline adjustment and/or full-colour displays that depict outdoor running tracks, you're going to have to pay extra.
Where to buy treadmills online
More guides on Finder