When is the best time to travel to Europe?
For those of us who aren't making the trip for a festival or a white Christmas, these dates will give you great weather for a fraction of the cost.
We're reader-supported and may be paid when you visit links to partner sites. We don't compare all products in the market, but we're working on it!
Holidaymakers with a penchant for warm, sunny days and streets that aren't packed to the hilt with tourists, take note: these months will give you all that and more when you travel to Europe.
Best time to travel to Europe
We recommend visiting between March to June and September to October.
Why should I go then?
Spring and autumn offer warm to hot days and are just outside of the peak holiday periods, ie, the European summer and Christmas break. Being shoulder months, they offer less crowds and less expensive flights and accommodation.
Latest Europe travel deals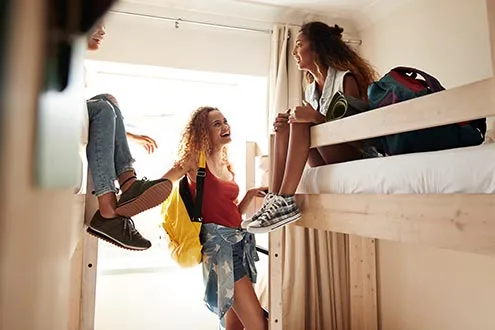 Compare hostel prices in 170+ countries around the world for the best rate
from Hostelworld
Find the perfect hostel in destinations across Europe including London, Paris, Rome, Barcelona, Amsterdam and more. Why use Hostelworld?
Choose from more than 36,000 properties worldwide
Free cancellation within 7 days or arrival
24/7 customer service available
View details
---
Overview
Europe experiences four seasons. Summers are warm to hot with countries such as Spain, Greece and Italy enjoying some of the highest temperatures of 30℃+. Winters are cold and can be harsh in some of the northernmost countries such as Russia, Belarus and the Baltics.Europe is a popular destination for holidaymakers worldwide, especially during the summer, so unless you're attending a summer festival, it's best to steer clear during July and August.
Weather and prices
The best time to visit, weatherwise: July and August provide the best weather, however, to avoid the summer breakers, travel during the shoulder months of May and June and September and October.
The cheapest time to visit: Search for flight deals during the low-season months of March to June and September to October.
---
The best time to visit Europe for…
To avoid crowds: Summer and winter are the busiest months of the year for Europe so you'll find travelling in spring or autumn less crowded.
On a budget: Search for flights and hotel deals at the end of season, from August to September or during winter (excluding the Christmas and New Year's holiday week).
Eastern Europe: Eastern Europe can be visited all year round as it has warm to hot summers and snow-filled winters. As winters can be harsh, you might like to travel in shoulder months when outdoor activities such as hiking are open.
Central Europe: Central Europe can be visited all year round and, similar to Eastern Europe, it has hot summers and snow-filled winters. Spring and autumn are ideal months to visit as they offer pleasant weather.
Mediterranean: Peak season is when the resorts in the Mediterranean open their doors to visitors. To avoid paying peak prices, travel during the beginning or end of season.
Northern Europe: The best time to visit Europe's north depends on your travel intent. During summer, you'll enjoy long days and the midnight sun in certain destinations. During winter, you'll have a few short hours of daylight each day but you'll also likely have a white Christmas and may even see the Northern Lights in certain locations. For general sightseeing, spring and autumn feature mild to warm temperatures and are best for outdoor activities.
---