Best Thailand tours for 2022
We've cherry-picked the top tour companies and itineraries to take you around Thailand.
We're reader-supported and may be paid when you visit links to partner sites. We don't compare all products in the market, but we're working on it!
The list of sights and experiences to enjoy in Thailand is a long as the Mekong. In the north there are floating markets and glinting temples while the south holds castaway beaches and bays dotted with longtail boats.
Want to see and do it all? We've whittled down the list of tour companies and itineraries so we can provide you with a succinct guide to some of the best options for your Thailand adventure.
Our top 5 Thailand tour companies
"No regrets" is the sentiment behind Contiki's tours for 18-35 year olds. In Thailand it themes its itineraries around discovery, in-depth exploring, and sailing, cruise and beach trips.
Best for: Backpackers and tight budgets
Cost: Budget to mid-range
Our favourite itinerary: See Thailand's lesser-explored north with its jungles, night markets and historical sites on Contiki's Northern Thai Highlights trip.
Browse Contiki Thailand tours
---
G Adventures also offers Thailand itineraries for 18-35s, but in addition has options that are tailored to families and more mature travellers, as well as people who have a particular interest in nature.
Best for: Backpackers, small group tours
Cost: Mid-range
Our favourite itinerary: Thailand on a Shoestring gives you 15 days worth of sightseeing for less than $1,500.
Browse G Adventures Thailand tours
---
3. Gate1 Travel
Hop onto a wide range of classic, small group and luxury tours for as little as $109 a day. There's also the option to package your tour with flights, so you can organise your whole trip in one go.
Best for: Families and small groups
Cost: Low to mid-range
Our favourite itinerary: The 15-day Classic Tour with Phuket visits all the major hotspots, including Bangkok, Chiang Mai and Phuket.
---
4. Wendy Wu Tours
Wendy Wu combines expertise with excellence to provide in-depth tours of specific sites, including the Bridge Over The River Kwai and Chiang Rai. It also has a highlights package for the time-poor wanting to tick all the boxes.
Best for: Short, immersive tours
Cost: High end
Our favourite itinerary: The Chiang Rai with Hilltribe Stay is a unique glance into the life of the native H'mong people.
---
Here's a different way to experience Thailand: Enduro Tours' idea of seeing the sights is to hop on a dirt bike and scream down dirt bike tracks in rural areas. It's the perfect option for the more extreme type of traveller.
Best for: Active tours
Cost: High-end. Includes bike hire, insurance, petrol, accommodation and guide.
Our favourite itinerary: The Enduro 6 Day Tour is a classic trip open to riders of mixed skills and fitness levels. It starts and ends in Chiang Mai and zooms through areas such as Mae Chaem, Pai and Chiang Dao.
Other companies that tour Thailand
Geckos Adventures
Intro Travel
The Tuk Tuk Club
Peregrine Adventures
Spice Roads Cycling
Does your company belong in this list?
Top tour companies for Thailand by style:
Top 3 Thailand tour companies for: Cycling
Intrepid: Cycle tours organised by Intrepid include Cycle Southern Thailand, which includes nine days exploring by bike.
G Adventures: Select from a range of bike-based itineraries such as Thailand Hike, Bike & Kayak.
Spice Roads Cycling: Take your pick from trips like Cycling Coastal Thailand and Cycling Chiang Mai to Bangkok.
---
Top 3 Thailand tour companies for: Sailing
G Adventures: Scour the marine itineraries for a choice of sailing trips that take you around the Thai islands.
Intrepid: Live on the ocean with 8 cruising tour options, ranging from 7 to 15 days.
Peregrine Adventures: Take your sailing trip up a notch with sailings that as well as exploring Thai islands, continue further afield to Malaysia.
---
Top 3 Thailand tour companies for: Ecotours
G Adventures: G Adventures offers thousands of excursions worldwide designed to support and help local communities.
Intrepid: With its commitment to working responsibly, Intrepid aims to make as small a footprint as possible on the destinations it visits.
Starfish Volunteers: Spend anything from 8 to 29 days volunteering in local communities, teaching, providing medical assistance and caring for local wildlife.
---
Top 3 Thailand tour companies for: Over 50s
Trafalgar: Five-star hotels, and feast-style meals with a good glass of wine are included in Trafalgar's itineraries.
Wendy Wu: Asia specialist Wendy Wu creates tours with comfort and good cuisine in mind.
Gate1 Travel: Gate 1's Signature Collection trips feature nights in plush hotels and include most meals.
---
Top 3 Thailand tour companies for: Solo travellers
Geckos Adventures: Geckos' itineraries are designed to allow you to go solo and find your own way.
Wendy Wu: Wendy Wu Tours offers a "Willing To Share" option that can reduce your single supplement to zero.
Popular Thailand tour routes
Thai beaches (Phuket - Krabi - Phi Phi Islands)
Bake and bronze your way around southern Thailand, visiting the good-time resort of Phuket, slightly more laid-back Krabi, and dead ringers for paradise, the Phi Phi Islands.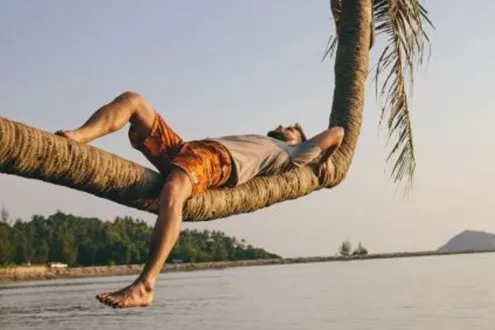 Thai Islands Ko Conut Hopper
from Topdeck
Sip coconut water right from the husks, take sail boat trips, and kayak your way through the days on the Thai Islands Ko-Conut Hopper trip.
Tour company: Topdeck
Best for: Sun worshippers
Length of tour: 7 days
View details
---
Bangkok - Chiang Mai
Base yourself in two of the country's most popular cities, Bangkok and Chiang Mai, and tick off Thailand's capital, the ancient capital of Ayuthaya, the temples of Chiang Mai and the moving Kanchanaburi, home to the Bridge over the River Kwai.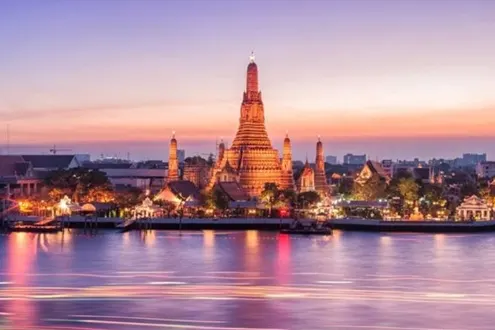 Essential Thailand
from Travel Talk
Dose up on Thai culture on an Essential Thailand itinerary that showcases palaces, great buddha statues and local villages.
Tour company: Travel Talk
Best for: Sightseeing
Length of tour: 7 days
View details
---
The Full Moon route (Bangkok - Koh Pha-Ngan)
"Play hard and pamper" is the mantra of tours that follow the full moon route from Bangkok to Koh Pha-Ngan, where travellers get to take part in one of Thailand's famous Full Moon parties.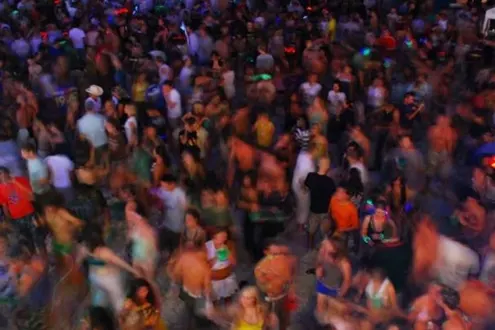 Thailand on a Shoestring Full Moon Party
from G Adventures
Thai massages, street food crawls and hammock time are all part of G Adventure's Thailand Full Moon Party tour, that culminates in an all-nighter on the beach.
Tour company: G Adventures
Best for: Night owls
Length of tour: 8 days
View details
How long do I need in Thailand?
If you're pushed for time, you can get a taste for Thailand in five days.
Ideally, you need 8 to 12 days in the country, especially if you want to pick and mix the sights of the north and south in the same trip.
| | Bangkok | River Kwai | Ayutthaya | Chiang Mai | Chiang Rai | Phuket | Phi Phi Islands | Koh Pha-Ngan | Koh Tao | Khao Sok |
| --- | --- | --- | --- | --- | --- | --- | --- | --- | --- | --- |
| 5 days | x | x | x | | | | | | | |
| 5 days | | | | x | x | | | | | |
| 7–8 days | x | x | x | x | | | | | | |
| 7–8 days | x | | | | | | | x | x | |
| 10–14 days | x | | | | | x | x | x | | x |
---
Top 5-day tour:
Top 8-day tour: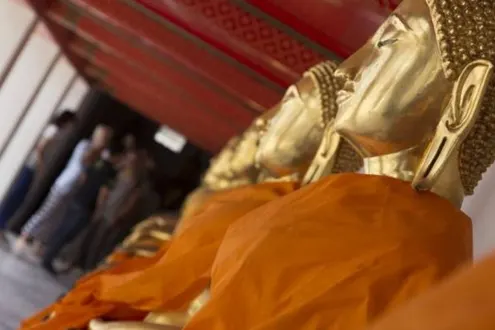 Southern Thailand Sojourn
from G Adventures
This southern Thailand tour lets you experience the best of both Thailand worlds, taking you to bustling Bangkok as well as the southern beaches.
Tour company: G Adventures
Best for: Small groups, solos, couples
Places visited: Bangkok, Surat Thani, Khao Sok, Koh Pha-Ngan, Koh Tao
View details
Top 12-day tour
Latest deals for Thailand, including tours and flights