The best stick vacuum cleaners for 2020
We've compared customer ratings to see which models are consistently getting glowing reviews.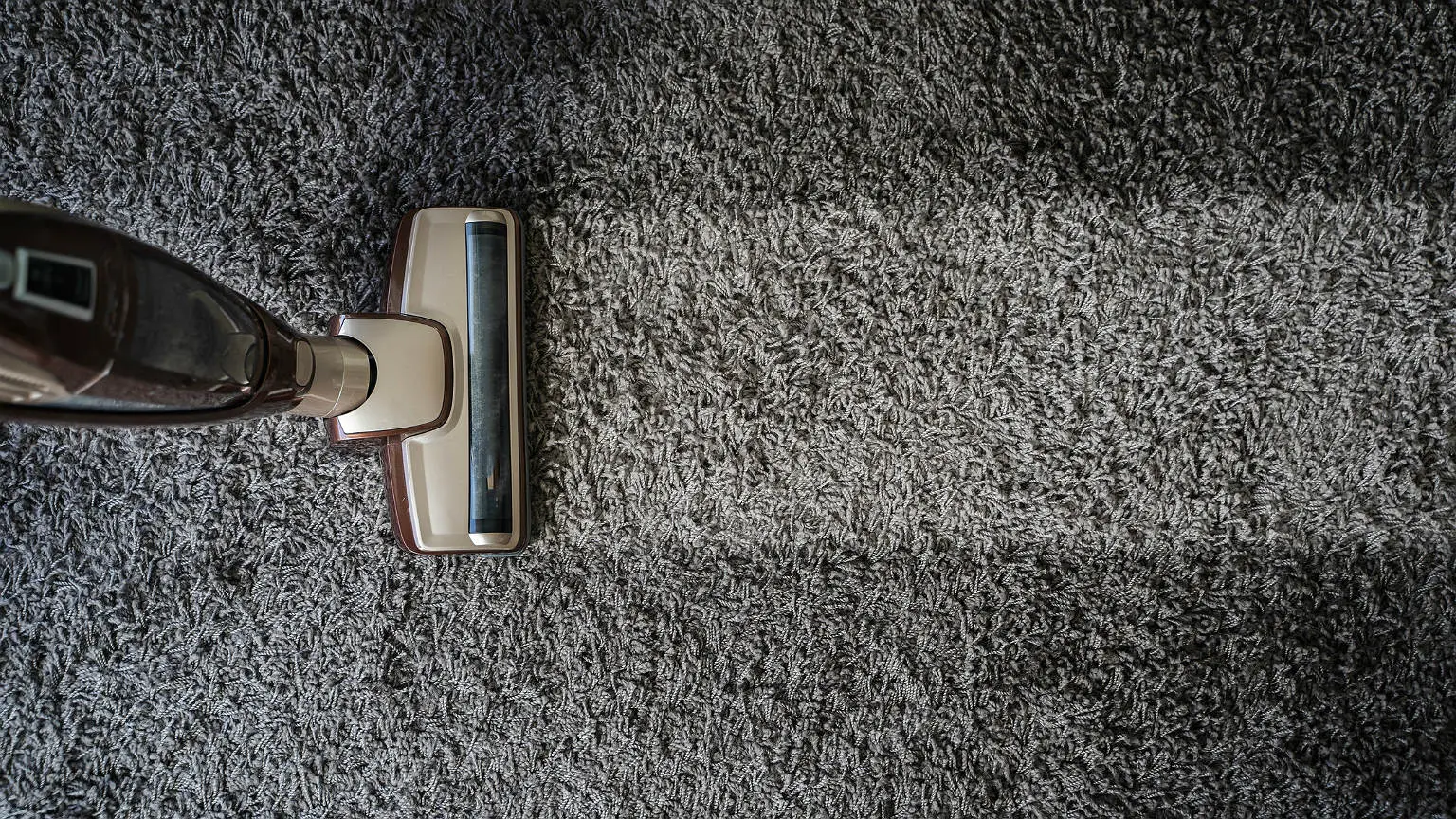 Doing away with all need for cords, stick vacuums make it simple to move from room to room and clean hard-to-reach spots. They also take up less room than traditional models, making them an all-round convenient cleaning option. As they can be quite expensive though, it's important to find one that's worth the investment.
To help you out, we've compared the customer ratings across high-volume small appliance sites JB Hi-Fi, Appliances Online and Harvey Norman. We found the models available across all three stores and aggregated the scores to find out which models are leaving customers satisfied. Here are the ones that came out on top: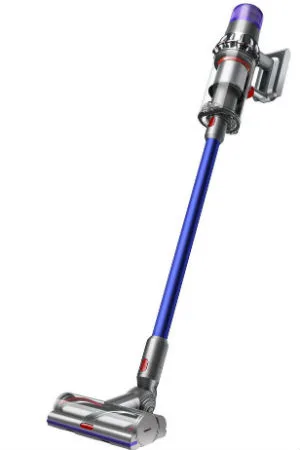 Overall rating: 5/5
Price: $1,199
Great for: Cleaning all flooring types
When it comes to stick vacuum cleaners, Dyson is hard to beat thanks to its innovative technology. One of its latest launches, the V11 Absolute, has already raked up consistently high customer ratings and comes out on top across all three stores. Its smart motorhead can be used on both hard surfaces and carpeting alike, as it senses the flooring type as you vacuum and automatically adjusts its suction accordingly. It also comes with an LCD screen that displays the remaining cleaning time, so you know exactly how much time you have before it needs to be charged again. While firmly in the more luxurious price range, this model does everything you could possibly ask from a stick vacuum and then some, making it worth the investment. We've even tried and tested the V11 Absolute for ourselves, so you can take our word for it.
Three cleaning modes give you more options as you vacuum. Switch between an Auto mode (which offers up to 60 minutes of cleaning time), a Boost turbo mode for deep cleaning of carpets or an Eco power-saving mode.
Powered by the new V11 motor, the model offers 20% more suction than its predecessor, the V10.
Comes with a range of tools including combination, crevice, mini soft dusting brush, mini motorised tool, stubborn dirt brush and wand storage clip.
---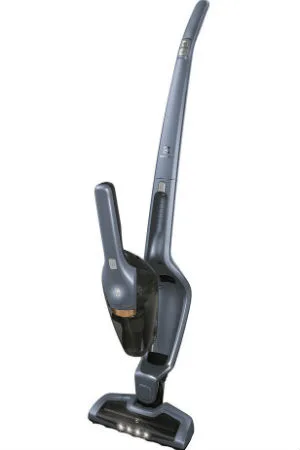 Overall rating: 4.7/5
Price: $299
Great for: Those on a budget
The Electrolux Ergorapido Allergy Vacuum is not only one of the most well rated vacuums across the stores we looked at, it is also one of the most budget-friendly. As well as doing a great job at cleaning your flooring, this clever 2-in-1 vacuum also contains a detachable handheld unit that you can use to vacuum up crumbs on other surfaces such as kitchen benches and sofas. The 180 degree swivel nozzle also makes cleaning simple as you can manoeuvre the motorhead with ease to get into hard to reach places.
BrushRollClean technology saves you the unpleasant task of having to remove trapped hair with your bare hands. With the push of a button, an internal blade removes fibres and tangled hair and sucks them into the dust cup with the other debris.
The Lithium HD TurboPower battery offers a run time of up to 48 minutes.
Allergy filter captures up to 99.99% of micro dust particles.
---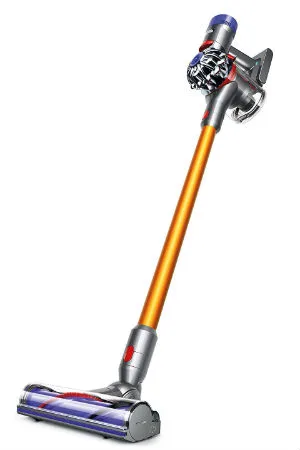 Overall rating: 4.7/5
Price: $729
Great for: Cleaning hard flooring
As the V8 Absolute is an older Dyson model, it is not quite as technologically advanced as the V11 upgrade. With a lightweight design, a highly efficient filtration system and interchangeable extension tools, though, it has the same core design principles as the later versions. In truth, the suction power and run time don't quite compare to the newer models, but it is still a great option if you want to get your hands on a Dyson but can't afford the price tags on the latest models. It's worth noting that the Dyson V8 Animal also received the same score as the V8 Absolute across all three stores. As the models are essentially the same, we focused on the Absolute for this guide.
Up to 40 minutes of fade-free power.
Offers the same easy conversion to a handheld cleaner as the later models.
Direct-Drive motorhead helps to remove ground-in dirt and pet hair from carpeting.
---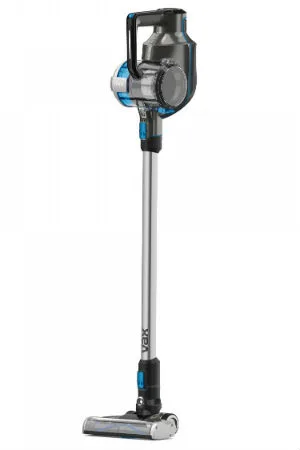 Overall rating: 4.6/5
Price: $249
Great for: Those with pets
If your main concern when it comes to vacuuming is pet hair, you may want to consider the Blade Pet Pro Cordless Handstick by Vax. The vacuum comes with a special Pet/Stair Tool to clean up after your furry friends and also offers a Boost mode to increase suction power, helping you to suck up every last strand. The Blade Pet Pro offers a run time of 45 minutes and is powered by a 28V lithium battery to give you strong suction the entire time.
A screen on top of the vacuum tells you the percentage of battery life remaining as you clean.
Comes with a range of tools including Crevice Tool, Dusting Brush and Pet/Stair Tool.
Direct Helix Technology intersects the cleaning wand to clear a direct air path from the floor to the cyclone, ensuring maximum suction for the duration of the clean.
---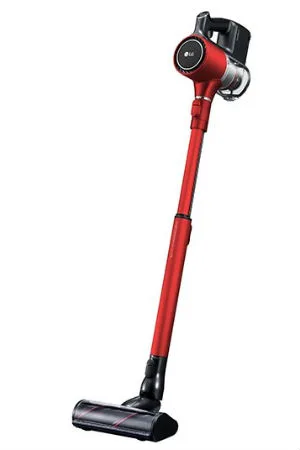 Overall rating: 4.5/5
Price: $699
Great for: Larger houses or apartments
While stick vacuums offer an easy, unplugged cleaning experience, the downside is that they often do not have a long run time. For those with apartments or smaller houses, this may not be an issue, but for those with more ground to cover (literally), it can pose a problem. Enter the LG CordZero A9 Multi. Containing a Dual PowerPack, the vacuum offers a whopping 80 minutes of battery life, giving you ample time to clean. The vacuum also contains a 5 Step Filtration System that can remove the majority of dust particles from household surfaces down to 2.5 microns in size, helping to keep your home clean and allergen-free.
The telescopic pipe is adjustable to four different lengths to suit the height of the user, while the Opti-balanced handle has been ergonomically designed to help reduce muscle strain.
Push-button release allows the bin to be emptied quickly and easily, without re-releasing debris back into the air.
Three different storage modes are available, including wall mount, floor standing and compact.
---
Honourable mentions:
While we focused on stick vacuum models that were available across all three stores, there were a few models only available from two stores each that had too many high customer ratings to ignore. Those that deserve a mention include the following: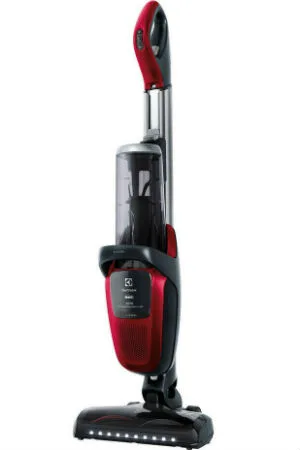 Overall rating: 5/5
Price: $899
The Electrolux Pure F9 Animal Vacuum has a unique sliding body that allows you to clean underneath low furniture with ease. It features a pull out hose and 3-in-1 smart tool to help you clean every nook and cranny in your home. The vacuum is also adjustable to your height and has a run time of 60 minutes.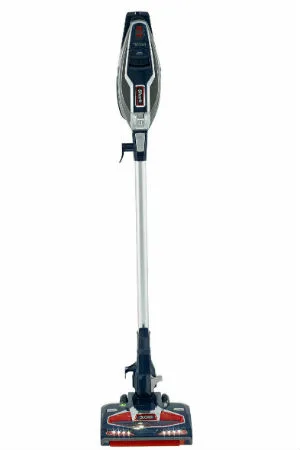 Overall rating: 4.7/5
Price: $350
Featuring two unique brush rolls, the Shark Rocket Vacuum Cleaner makes it easy to clean up debris from both carpeted and hard flooring. It also comes with a detachable handheld unit and LED lighting to ensure that you don't miss a spot as you're cleaning.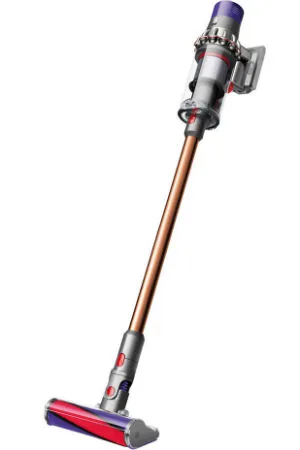 Overall rating: 4.7/5
Price: $948
The predecessor to the V11 range, the Dyson V10 Absolute+ is more or less the same design as the V11 Absolute model at a slightly cheaper price range. While not quite as powerful as the V11, the V10 still offers incredible suction power and the option of a Boost mode. The vacuum comes with two cleaner heads for hard flooring and carpeting and comes with all the same accessories as the V11 bar the wand storage clip.
---
What are stick vacuums?
Handstick vacuums are a sleeker and more modern version of original vacuum models. Designed with convenience in mind, they operate on a battery instead of needing to be plugged into a powerpoint. They are also quite light, usually weighing under 5kgs, which makes them easy to manoeuvre. The slim designs and flat motorheads make it possible to vacuum under furniture and get into other hard-to-reach places and many also come with a range of accessories designed to help you clean other areas of your home.
---
What to consider when choosing a stick vacuum
Some stick vacuums have now progressed to the point of being every bit as powerful as their plug-in counterparts. Add to that the ease of use and a handstick is a pretty solid investment. However, there are now quite a number available on the market and not all of them have been created equal. Here are a few points to consider before making a purchase:
Battery life. Stick vacuums are battery-operated, which means that you'll only have a certain amount of time to clean before the unit needs recharging. The run time of handsticks tends to vary, so make sure to take a look at the size of your home and consider how long a proper vacuum will take and find a model with a run time to suit.
Surface type. Though many stick vacuums will claim to work on all flooring, some will work better than others. For instance, a model that doesn't have a powerful battery will ultimately have less suction. Therefore, it will not be as efficient at cleaning surfaces like carpets that require a lot more suction to properly clean out dirt and debris.
Price. While there are some stick vacuums on the market worth the $1000+ price tag, you don't have to spend a fortune to get your hands on a good model. Take the time to research stick vacuums and come up with a list of the features that you would like your vacuum to have. From there, you can compare reputable brands to find a unit that suits your budget.
Related Posts