The best slow cookers 2020
Our favourite slow cooker models and tips for using them to get the best meals with little fuss.
We're committed to our readers and editorial independence. We don't compare all products in the market and may receive compensation when we refer you to our partners, but this does not influence our opinions or reviews. Learn more about Finder .
Slow cookers, also called crock pots, are one of the few kitchen appliances that get rave reviews from across the board. They are simple yet versatile, and can be used to simmer stews, soups, casseroles or any other food that requires a lengthy cooking time.
Top 5 best slow cookers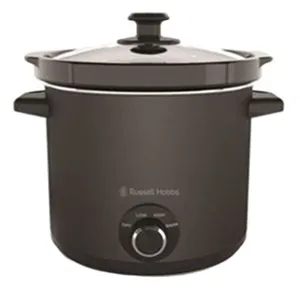 Cost: $49.95
What makes it so great?
This Russell Hobbs slow cooker is a perfect size – not too big, not too small – and a heavy-duty, high-quality choice for less than $50. Plus it's stylish in matte black.
Back to top
---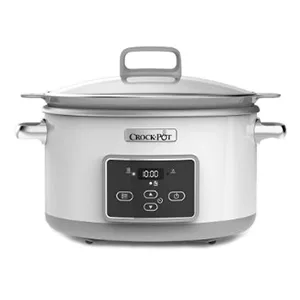 Cost: $159
What makes it so great?
This pot cooks 6.5 litres at once, which is large enough to feed a crowd (and have leftovers) but still small enough that you will get an evenly-heated cooking area. It has a 20-hour long program, ideal if you are really slow-cooking meat or making a conserve like jam.
Back to top
---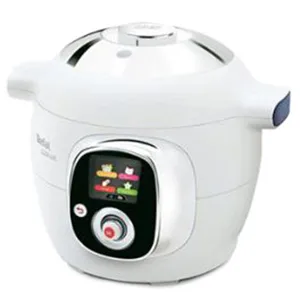 Cost: $249
What makes it so great?
The shape of the pot really makes this product stand out. It's the circular shape and rounded edge helps steam circulate faster and at a higher temperature cutting down cook times. Plus it's quite compact for such a high-performance appliance.
Back to top
---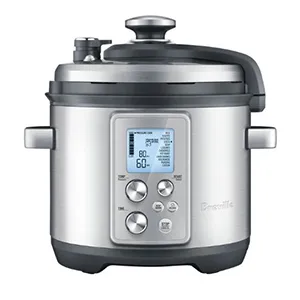 Cost: $279
What makes it so great?
This is a stylish and high-performance appliance with a range of pre-set programs and manual settings, an interactive LCD screen, dual sensors, a hands-free steam release and more. It comes with an additional steaming insert.
Back to top
---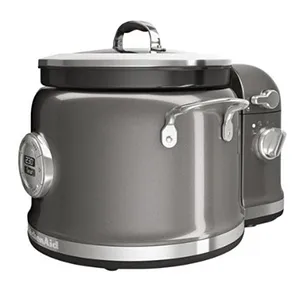 Cost: $699
What makes it so great?
It has ten pre-programmed functions, plus many more on manual settings and can sauté, sear, bake, and is great for soups, yoghurt and more.
This article does not include every slow cooker or brand available but rather is a general summary of some of the most popular and efficient brands and products. These prices and details were checked on the 09/07/18 and may have changed since.
Back to top
Why should you buy a slow cooker?
Slow cookers are the essential small appliance for any cook worth their salt. They are ideal for meaty stews or flavoursome curries because they lock in all the great taste, sealing in the food's without drying anything out.
It might seem counterintuitive that an appliance that takes a really long time to cook a meal would be a time saver, but this appliance is ideal for busy people. Fill your slow cooker the night before or in the morning, set a program and come home to a hot, healthy meal already prepared in the evening.
They come in a range of different sizes, prices and are manufactured by most quality kitchen appliance brands.
If you have yet to buy a slow cooker but are in the market for one, we hope this guide will help you pick out the right model for you.
Back to top
What is the best slow cooker brand?
Since a slow cooker is a fundamental part of any decent kitchen appliance line, shoppers are spoiled for choice. Breville, Tefal, Russell Hobbs and Crock-pot are a few popular brands that make high-quality products.
How to buy the best slow cooker
At the end of the day, your slow cooker decision will come down to your personal preference. However, there are at least three features we think are indispensable for any self-respecting crock-pot.
Heat distribution: This is probably the most important consideration when looking for a slow cooker. The general consensus is that smaller-sized pots have more even heat distribution, even among the higher-end models. Since there is no way to tell until you test it out, we suggest sticking to the smaller- and medium-sized pots for a perfect result every time.
Transparent lid: A feature like a transparent lid is so simple, it can be easy to overlook. However, a lid that you can see through to monitor your dish's progress will speed up your cooking time, make sure the flavour stays in so you get a tastier result and will avoid mid-cooking mishaps like burns.
Back to top
6 tips for using a slow cooker
This is how to get the most out of your slow cooker:
1. Slower is better
It sounds obvious, but slow cookers are designed for slow-cooked meals. They work best when set to long programme. When you are busy, set your program in the morning and arrive home to a warm meal in the evening.
2. Don't open the lid.
Slow cooker meals are meant to be low maintenance and hands-off. If you can't help but check the progress, make sure your lid is transparent.
3. Remember the liquid doesn't reduce
So, you will need less liquid than if you were frying or baking. If you are cooking with wine, remember that the alcohol won't evaporate like you might be used to with other cooking methods. A simple splash goes a long way.
4. Go easy on the fat and oil
You don't need it. This is one of the beauties of using a slow cooker. Your meal will slowly marinate in its own juices and added spices and herbs. That means you will need less oil and fat to make your meal tasty and juicy.
5. Care for your appliance.
This should go without saying, but you should keep your pot clean, especially the ceramic plate for the stove pot.
6. Avoid overcrowding.
Consult your manual and don't fill your pot more than is recommended.
Back to top
What are the best slow cooker recipes?
The best thing about making meals with a slow cooker is that all the recipe involves collecting and preparing delicious ingredients, and leaving them in the slow cooker to marinate in their own juices. It's easy, delicious, and requires no extra oils to cook, except for what the recipe requires.
These are our favourite ideas:
Classic lamb shanks with mashed potatoes
---
Pulled pork – a slow-cooked alternative to smoked pulled pork
---
Thai-style chicken curry with coconut milk
---
Back to top
Latest deals & coupons
Popular House Appliances coupon codes
| Last checked | Code description | Code |
| --- | --- | --- |
| 8 Nov 2017 | Maxwell & Williams Cashmere Mansion Dinner Set 16 Piece + FREE Set of 6 Wine Glasses | **** |
| 28 Jul 2020 | $20 off orders over $400 + 2 or more items | BIN**** |
| 27 Oct 2020 | Up to $200 off selected products | ******** |
| 27 Oct 2020 | Bonus up to $300 woolworths egift card with selected products | ******** |
| 20 Oct 2020 | Up to 45% off | ******** |
More guides on Finder