Best serums for all skin concerns 2021
We've done the research and tried the products. Here's our list of the best and hardest-working serums on the market.
We're reader-supported and may be paid when you visit links to partner sites. We don't compare all products in the market, but we're working on it!

With terms like "cellular renewal", "ultimate radiance" and "antioxidant repair" thrown around in product descriptions, promises of ageless skin spouted in ads, and stores lined with bright bottles and white boxes all claiming to save your skin, finding the right serum to spend your cash on isn't always a clear task.
Here at finder, our shopping team did the research for you and pulled together a list of the best of the best serums. We tried and tested a whole bunch, got some recommendations from friends and checked the product ratings at the major stores and came up with this list.
Read on to see which serums we think are the best. We've also included some helpful information about serums and some deals and discounts too.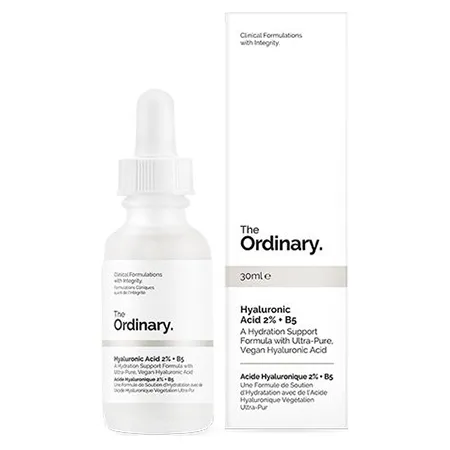 This is my everyday serum. It's cheap and it works really hard.
Working in a large office all day with the air conditioner blasting truly does dry out your skin. And when your skin is dry and lacks water, it looks dull, saggy and your lines are more prominent. Hyaluronic acid (HA) serums are an answer to all these woes. HA molecules attract 1000 times their weight in water and draw this moisture into the skin, keeping it plump and hydrated.
This particular serum absorbs quickly, it's lightweight and it sits beautifully under moisturiser and makeup. It works just as well as products that I've paid $80 for. This is a great serum for all skin types and helps your complexion look healthier.
---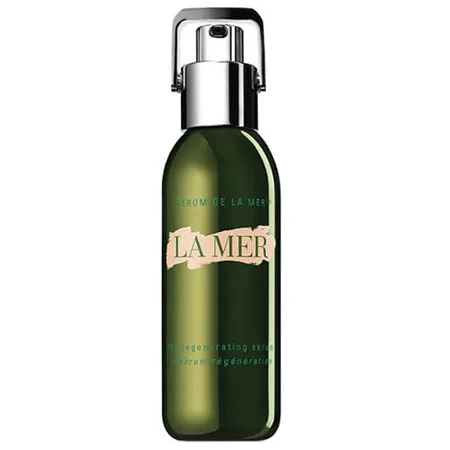 Full disclosure, when I decided to try this serum I was almost hoping it wouldn't work. At $485 for just 30mL of this product, it's not exactly an affordable option.
But it does work – very well. The product description claims that you'll see results in just a day and I definitely did. I used it at night, and after the first application, I woke up and my skin was visibly smoother and my pores were smaller. In the long term, this product helped me regain a lot of the fullness under my eyes so I look less tired and sunken. I don't have too many lines to speak of, but this serum did help repair the small ones I do have.
Mercifully, you don't need too much product to get the benefits of this serum. Just a little half-pea size was enough for my whole face. Also consider investing in one of those Japanese metal moisturiser applicators so you're not wasting any of this serum on your fingers.
Price: $485 for 30mL
Where to buy: Amazon, David Jones
Suitable for all skin, particularly ageing skin
---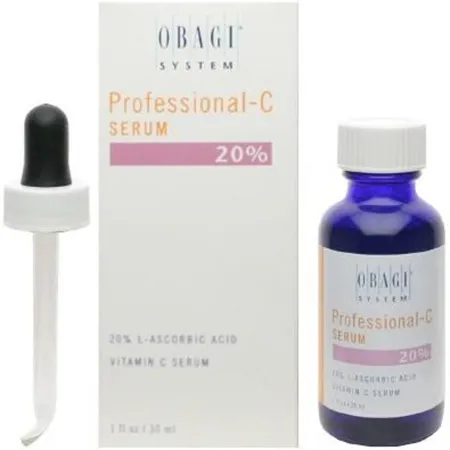 This is a very strong serum, so it's probably not the best for sensitive skin. There are 15% and 10% options if you prefer, but the 20% delivers the strongest results.
Not only does vitamin C offer antioxidant-style, preventative, anti-ageing benefits, but it also brightens your complexion. If your skin is dull from lack of sleep or environmental aggressors, this goes a long way to getting a glow back into your skin. In addition, high concentrations of vitamin C trigger "collagen synthesis". In layman's terms, your body makes more collagen which is the stuff that keeps your skin young, plump and free of wrinkles!
Use this one at night because sunlight makes it less effective. You should also store it away from the sun. And make sure you wash your hands after you apply the serum because it is quite orange. I once put sticky orange fingerprints all over my white sheets.
Price: $136.40
Where to buy: eBay
Not suitable for sensitive skin
---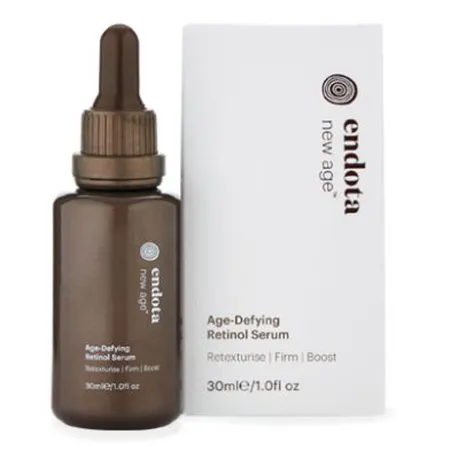 I was initially bothered by the fact that this particular serum doesn't disclose the percentage of retinol that it contains. Retinol can be drying and irritating to the skin, so if you're not used to it, you need to start on a lower percentage. But whatever is in this serum, it works and it didn't irritate my skin.
This serum made my list because it's had the most significant effect on my frown lines. After two months of using this serum nightly, I noticed that the line between my brows was a lot less deep. On the Endota website, the results of clinical tests claim "wrinkles & fine lines reduced by 50% in some participants" and I definitely believe that these are the results I saw.
It didn't do too much to help brighten my skin or reduce my pore size. But when a serum works that well at combating deep wrinkles, does it really need to do anything else?
Price: $140
Where to buy: Endota Spa
May not be suitable for dry or sensitive skin
---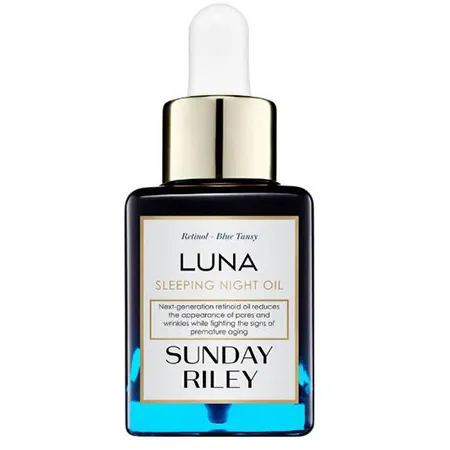 I personally have not tried this serum, but it makes it into our top list based on the reviews from other members of the team. Based on what I've heard, no "best serum" list should exist without this product.
The list of ingredients shows exactly why so many people love this product. The active ingredient is a trans-retinoic acid, which is what retinol is turned into when processed by our skin. Using trans-retinoic acid instead of retinol is like skipping a step, and means that the serum is much more effective. So why don't all serums just use trans-retinoic acid? Because it's very drying and irritating to the skin. But Sunday Riley seems to have found a solution to that issue by blending the trans-retinoic acid with oils. It uses grape-seed oil, which is an oil that very closely mimics the natural oil in our skin, as well as chia and avocado oils. This blend of antioxidant-rich oils moisturises deeply without interfering with the skin-renewal benefits of the trans-retinoic acid.
This serum is also commonly used to help acne! Once I've finished up with my La Mer, this is the next one I will be trying.
Price: $144-$154 depending on where you shop
Where to buy: eBay
Suitable for most skin types. May not be suitable for very sensitive skin.
---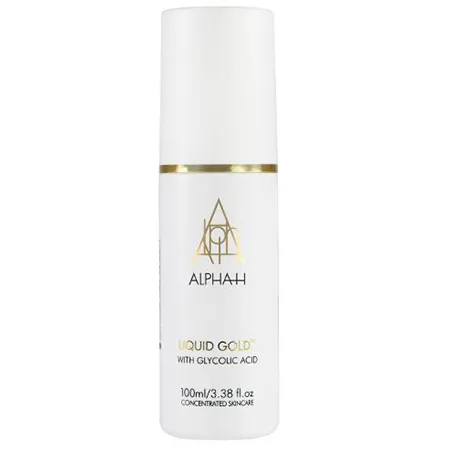 This serum is a bit different from the rest. Most serums are designed to nourish, protect and repair. This one is a resurfacer. And if you're not getting the results you want from your skincare routine, this is probably what you're missing.
Alpha-H's Liquid Gold uses glycolic acid and a blend of other ingredients to resurface and exfoliate the skin. If your skin is dull and congested, you likely have dirt, oil, dead skin and left-over makeup sitting in your pores and on your face. This serum helps your skin shed all of this, leaving just bright and new skin behind. This process also helps increase the rate of cell turnover, meaning your body makes new skin faster.
This product won beauty awards from both Harper's Bazaar and BeautyHeaven in 2017. Give it a try and you'll see why.
Price: $59.95
Where to buy: Sephora,
Not suitable for sensitive skin
---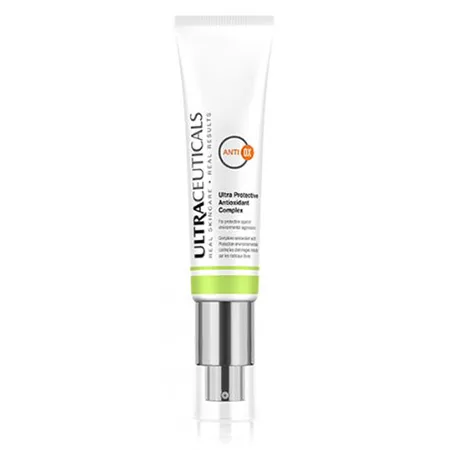 Since many active ingredients like retinoids, retinols and vitamin C can be compromised by sunlight, many serums are designed to be applied at night – especially since this is the time when your skin is renewing.
But this serum has been designed for day use, so you can protect and nourish your skin during the daylight hours as well. In fact, that is the purpose of this serum – to protect your skin from daytime environmental aggressors that age your skin. It has a potent blend of antioxidant ingredients that can stop and slow the damage caused by the sun. When used in tandem with an SPF moisturiser, this is the ultimate protection against photo-ageing.
I never leave the house without using this in the summertime. I also use a generous layer under my sunscreen if I'm heading to the beach. If you're concerned about UV damage, this is the serum for you!
Price: $89
Where to buy: eBay
May not be suitable for acne-prone skin
---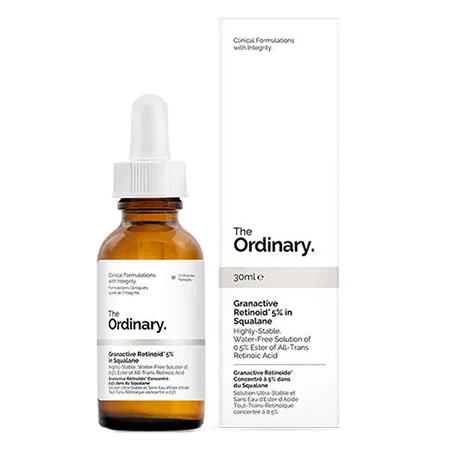 According to The Ordinary, Granactive Retinoid's formula supposedly works even better than the retinol formula. The brand even goes as far as recommending this over its own retinols. The reason being that retinols can cause skin irritation and for most people, you actually need to build up to using a high dose since it takes your skin a while to get used to it.
But this formulation supposedly causes very little irritation and is still considered by the brand to be a high-strength formula. While I don't think this product necessarily works better than other high-strength retinoids/retinol products I've tried, it's on this list because it's a lot cheaper. My partner and I use this particular product and we've both had very good results. This serum gives us the same results as products that are 10 times the price – this one is under $20.
This is a very high-quality product that is accessible and affordable.
Price: $19.80
Where to buy: Adore Beauty
May not be suitable for sensitive or dry skin
---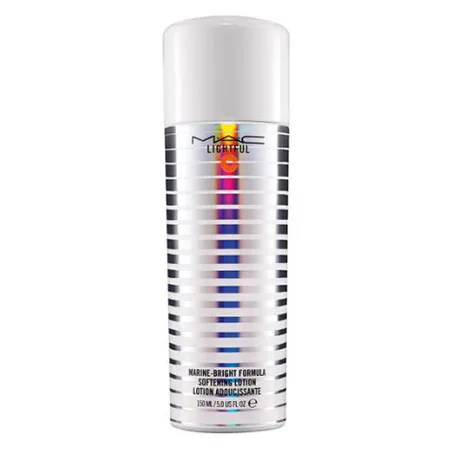 The bottle says it's a lotion but it has the consistency of a toner, so I think a serum is the best way to describe this product. Part of the MAC Lightful C range, this product uses vitamin C to help brighten and renew the skin.
What I really like about this formula is that it hydrates and moisturises beyond regular moisturiser. The whole reason serums and oils are ideally applied before and in addition to moisturisers is because the molecules in a serum are smaller, so they sink deeper into the skin than moisturisers.
This product is a bit like putting a moisturiser on under a moisturiser. I use it during periods when my skin is really dry and irritated to add an extra boost of hydration and freshness to my skin without making it look oily or shiny. This particular product also sits really well under makeup.
And as promised in the product name, it really does make your skin feel baby soft.
---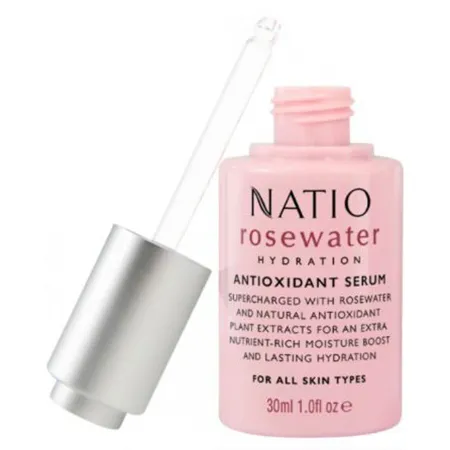 This serum makes my list because of its simplicity. Although serums exist to be hard workers with impressive active ingredients, sometimes these targeted and specialised additives can be aggressive on the skin. Especially if you have sensitive, congested or dry skin. These skin types often do not react well to retinols, vitamin A, glycolic acids and rich oils.
This particular product is free from harsh ingredients. The main ingredient is rosewater which is balancing and acts as a gentle anti-inflammatory aid that calms spots and irritations. It also has a small amount of thinner oils like rose oil, almond oil and sesame seed oil. These oils gently nourish the skin and seal in all the hydration benefits of the rosewater.
If you're looking for a serum that can give you that extra hit of hydration without irritating your skin, this is it. I used it when I was trying to get used to strong retinol. It's what I recommend for sensitive skin that can't tolerate anything fancy.
---
Real girl favourites
Sukin Purely Ageless Hydration Elixir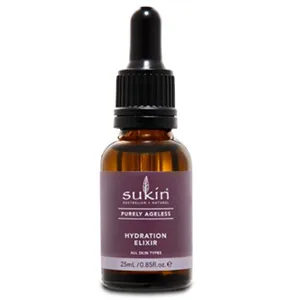 The Mario Badescu Vitamin C is seriously a lifesaver when I'm breaking out. I use it almost every day, even though they say a couple of times a week. - Zahra
I like this serum for an everyday, reasonably priced option. It feels and smells nice and doesn't leave my skin feeling oily. I also like it because it's vegan. - Sally
For me, this has actually worked to combat my bad skin. It's an extra barrier to fight break outs outside my normal moisturiser. It also acts as a primer. - Caitlin
---
What is a serum?
You can usually identify a serum from the consistency. They're typically the consistency of a light oil, gel or liquid lotion. They often contain specialised or targeted ingredients to address specific skin concerns.
You can get both daytime and night-time serums. You typically apply any serum before you apply a moisturiser. And while some serums contain face oils, face oils themselves are not considered serums.
---
Why should I use a serum? How is a serum different from a moisturiser?
While a serum isn't essential to a good skincare routine, serums are a great way of boosting the efficacy of your skincare routine or addressing a specific concern.
Serums have a lighter and runnier consistency than moisturisers so they can sink more deeply into the skin than moisturisers, which may only reach the top layer or two. Serums can penetrate the deep layers of skin and deliver high-performance ingredients to the areas moisturisers can't reach.
If you're concerned about ageing, dark spots, acne, wrinkles, dull skin, dry skin, rough skin or any other specific concern, adding a specialised serum into your routine can help your moisturiser perform and get you much better results from your existing products.
---
How do I choose the best serum for me?
Choosing the right serum is all about working out what concerns you have about your skin. Most serums have the active ingredients used in the serum listed on the bottle. So it's easy to work out what will be good for your skin as long as you know what active ingredients you need.
The exception would be brands that have secret or patented technologies and may not necessarily divulge what's in their products. I generally stay away from these since you don't even know what you're spending your money on. There are plenty of high-performance products with a full list of ingredients, and this is where I would personally choose to spend my cash.
For dryness - Look for hyaluronic acid, which draws water into the skin, or ingredients like rosewater. Oils such as rosehip, grape seed and camellia can be very nourishing. If your skin is really dry, try an argan oil serum.
For ageing reversal - Try a retinoid, retinol or vitamin A serum. These ingredients have been proven to make new skin grow faster and repair lines, spots and other signs of ageing. Peptides are another ingredient that has been said to have ageing reversal effects, although there's been a lot less research into these for skincare use. Also, high doses of vitamin C can trigger an increased production of collagen which can help to fight ageing.
For ageing prevention - Look for antioxidants. These are things that stop oxidisation, which is the chemical reaction that causes your skin to age. These won't reverse any existing signs of ageing, but they'll work real hard to stop more signs of ageing from appearing. Vitamin E, vitamin C, lycopene, green tea and resveratrol are just a few.
For pigmentation, spots or discolouration - Try a retinoid, retinol or vitamin A serum, which will help fade spots by helping your skin make new fresh skin. Or try an acid like glycolic or lactic acid which can help your skin shed the dead top layers and help reduce pigmentation and spots.
For acne - A specialised form of vitamin A, like trans-retinoic acid, can help keep acne at bay. You can also try a gentle lactic-acid serum to help bring blemishes to the surface. Non-comedogenic oils like grape seed can help keep your skin healthy without making it more oily.
For brighter skin - Acids such as glycolic or lactic acid are your best bet. They can clear off all the old dull skin. Vitamin C and hyaluronic acid can also lead to a brighter complexion.
Feature image: Shutterstock
Popular Health & Beauty coupon codes
| Last checked | Code description | Code |
| --- | --- | --- |
| 5 Oct 2020 | 10% off orders over $75 | FIN**** |
| 24 Feb 2020 | 5% off your orders | FIN**** |
| 12 Jan 2021 | Get 10% off your first order | APP**** |
| 26 Dec 2020 | 15% off 2 or more frames | LUC**** |
| 22 Dec 2020 | 30% off sale | FIN**** |
More guides on Finder
Even more shopping deals