The best robot vacuums for 2020
Find the right house-cleaning companion with this handy guide.
Automated robots have been the premise of many a sci-fi flick, but while we're busy envisioning a Matrix-type scenario, we forget just how easy one little drone can make our lives. Robot vacuums are both time-savers and effective little cleaners that can make your life a breeze and your floor dust-free. Vacuuming is an essential, yet snooze-worthy chore, so when your new little friend so happily takes care of it for you, why wouldn't you want one around?
Just like regular vacuums, robot vacuums can vary in capacity and dexterity, so it's important to choose the right one for your household. We've done our research and rounded up the most highly-rated robot vacuums to help you find the droid you're looking for.
---
How to decide which robot vacuum best suits your needs
There are now a range of robot vacuums up for offer on the electronics market, which can make it difficult to decide which one to choose. The best place to start when shopping for any new household item is to first consider what you need from the product. You should ask yourself the following before purchasing your nifty new floor servant:
What kind of flooring do you have?
How often will you be using it?
Will it need to be able to clean pet hair?
Do you have reliable Bluetooth and Wi-Fi connectivity?
What's your budget?
By knowing what you need your gadget to do and working out how much you're willing to spend, the process of selecting a robotic pal will be much quicker and simpler.
---
Best robot vacuum by category
Now that you've decided what exactly you're looking for, let us help you find a reliable robot to suit your needs. Here are our top picks for each category:
Best robot vacuum cleaner for convenience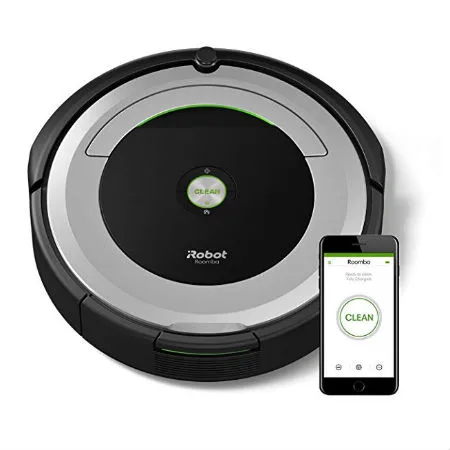 Robot vacuums should be all about convenience and the iRobot Roomba 690 knocks it out of the park in that regard. Unlike some robot vacuums on the market, this little Roomba never seems to struggle to make it back to its home base. This means you don't have to waste time searching for where it's got to, nor do you have to deal with the inconvenience of it not being charged up and ready to go when you need it most. It is also much quieter than some other models available, meaning you can set it to work while you sleep and wake up with one less chore on your to-do list. At $849, the Roomba is somewhere in the middle of the price range for robot vacuums, making it a great buy for all the convenience it brings. We've tried and tested this one ourselves so you can take our word for it.
Compatible with both the Google Assistant and Amazon Alexa, you can use the iRobot HOME app to program cleaning times.
All-terrain wheels help the vacuum to climb well, so going from tiles to rugs doesn't cause it confusion.
It's "dirt detection" technology means that this drone works hard to remove a bunch of dust and grime you didn't even know was there and stores it away in an internal compartment ready for you to clean out at your leisure.
Auto-Adjust Cleaning Head automatically changes height to clean carpets and hard flooring efficiently.
---
Best robot vacuum cleaner for hardwood flooring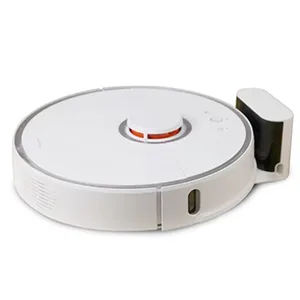 If you're the proud owner of a hardwood floor, you're in luck. Hardwood floors are the easiest surface for your robot butler to clean, giving you fewer chores in the long run. The XIAOMI Mi Robot Vacuum Cleaner 2 is currently one of the most highly-rated robot vacuums on the market with good reason. After it's collected up the stray hairs and popcorn kernels littering your floorboards, this nifty little gadget also has the ability to mop them for you too, making sure they stay spotless. It can also climb objects up to 20mm high, ensuring it can breeze from room to room with ease. At $699, it's roughly mid-range for a quality vacuum cleaner. With two functions in one though, it's a pretty good bargain for what has become one of the most popular models you can currently get your hands on.
Equipped with 13 smart sensors, the robot vacuum has a Laser Distance System which allows it to move around easily without knocking into your furniture or getting stuck.
Sync it with the Mi Home App on your smartphone for real-time monitoring and control. The app also allows you to view cleaning progress, change cleaning modes or set automatic schedules, even if you're not home.
With Z-form brushes on the side, a main brush with V-type bristles and an all-around close mopping pad, this little robot won't miss a spot.
Works with minimal noise without compromising efficiency.
---
Best robot vacuum cleaner for carpet flooring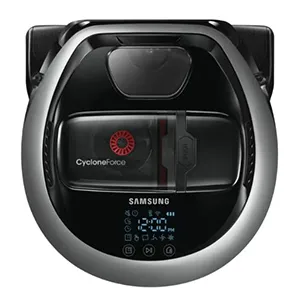 Cleaning carpeted floors can be a bit of a challenge for robot vacuums, as they often lack the suction required to adequately dust deep within the carpet fibres. Having said that, if the right robot vacuum is used, they are ideal to lengthen the time between manual deep cleans. The Samsung Robot POWERbot Plus Black is capable of cleaning all manner of flooring types and its inbuilt CycloneForce technology enables it to work effectively on thicker carpets. The POWERbot retails for $999, placing it at the higher end of the market, but it's also packed with useful features to justify the cost.
Intelligent Power Control detects the type of surface being cleaned and adjusts the suction accordingly, meaning that carpets and rugs will receive more suction to get rid of embedded dust.
The unique self-cleaning brush significantly reduces the amount of hair that gets tangled on the bristles, resulting in a more efficient overall clean.

Edge Clean Master allows the POWERbot to detect room corners and clean them three times over to ensure every inch of your floor is spotless.

The remote control connection allows you to spot clean. Just point the light beam at a particular area and your robot will scurry after it, cleaning as it goes.
---
Best robot vacuum cleaner on a budget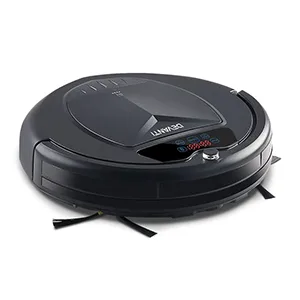 Robot vacuum cleaners have a reputation for being on the pricier side, but they don't have to break the bank in order to be beneficial. Retailing at only $182.95, the Devanti Robot Vacuum Cleaner is easily the cheapest option on our list, but that certainly doesn't mean it isn't efficient. Equipped with an LED display panel, self-charging base (with return-to-base functionality) and anti-collision sensors, this robot vacuum has everything it needs to give you a helping hand.
With multi-floor cleaning functions, the Devanti is perfect for cleaning hardwood, linoleum or tile floors as well as carpets.
The built-in filter captures up to 99% of allergens, such as pollen and tiny particles, eliminating most second-hand air pollution.
The scrapper height auto-adjusts to ensure thorough cleaning of uneven floors.
The anti-falling sensor detects stairs and avoids them.
---
Best robot vacuum cleaner for pet hair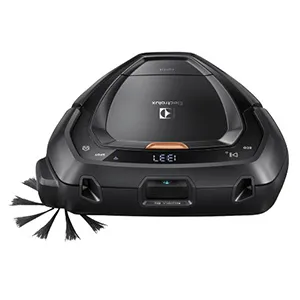 No doubt your pet is one of the greatest joys in your life, but there's no denying their hair can be a nightmare to clean. The longer and thicker the hair, the harder it is to eradicate from your home. Robot vacuum cleaners with more power are the way to go if you have a pet that sheds a lot, so that they can effectively clean without getting stuck or overloaded. We recommend the Electrolux Pure i9 Robot Vacuum. It's powerful enough to clean up your pet's shedding and its 3D Vision technology enables it to map out your room for effective navigation even when you're not home. At $1,699, it's the most expensive option on the list, but the added features make it a solid investment piece. We've tried and tested it so you can read all about it.
The smart charging system can signal the vacuum when it needs to return to the charging base, before resuming where it left off once charged.
The triangular Trinity Shape and PowerBrush make sure no corner or edge is missed.
ClimbForceDrive technology allows the PUREi9 to climb up to 2.2cm in order to clear door thresholds without getting stuck.
Quiet suction means you can set it to work after the family have gone to bed without waking anyone up.
---
Do robot vacuum cleaners actually work?
Robot vacuum cleaners may not be as powerful or comprehensive in their cleans as their handheld manual counterparts, but they are useful little devices that have a knack for making it easier to spread out your deeper cleaning times.
For the most part, they use infrared sensors to measure the distance between the machine and the floor as well as surrounding walls, in order to gauge the size of the room to be cleaned. Some models also have a sensor that returns it directly to a charging base when it runs low, allowing you to leave it running during the day while you're out. Nowadays most models also have smartphone compatibility, allowing you to initiate a clean wherever you are as long as you have a data connection.
---
Are robot vacuum cleaners worth the cost?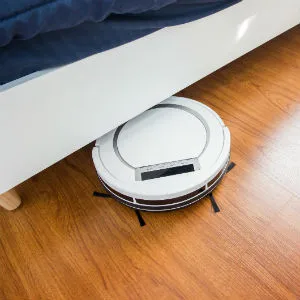 Despite their best efforts, a good manual sweep or vacuum is always going to be a superior cleaning method to your robot friend. However, robot vacuums are not meant to replace your regular vacuum, they're designed to supplement them. This means they're still worth investing in, especially for those without a lot of spare time.
If you're the type of person who obsesses over the tiniest scrap of dust, robot vacuum cleaners can help ease your mind by continuing to clean even when you're out of the house.
If you'd just like an extra hand around the house each day for regular maintenance – not to mention to stretch out the time between deeper cleans – a robot vacuum might just be your new best pal.
---
How do robot vacuums navigate?
Robot vacuums appear like they're roaming your house aimlessly sometimes, cleaning away the dust they stumble upon. But in actuality, the technology behind the roaming is quite refined – the machine does have an understanding of where it is and where it's been.
With systems varying between cliff sensors, bump sensors, wall sensors and optical encoders, the technology has the capacity to recognise walls and edges. Most robot vacuum cleaners can also determine how far they've travelled, which direction they've travelled and how long they can clean for before returning to the base to charge.
---
How do robot vacuums work with stairs?
There are countless videos on YouTube of robot vacuum cleaners taking a fall down a flight of stairs, not having detected the edge of the floor until the last moment. While amusing to watch, it's entirely inconvenient and can cost you a fair bit if they break.
Thankfully, most robot vacuum cleaners now come equipped with edge detection technology and infra-red sensors that prevent your new friend from taking a tumble. These sensors bounce off the floor, measuring the distance between the unit and the surface, enabling the vacuum to recognise when it's nearing a fall so it can adjust its course.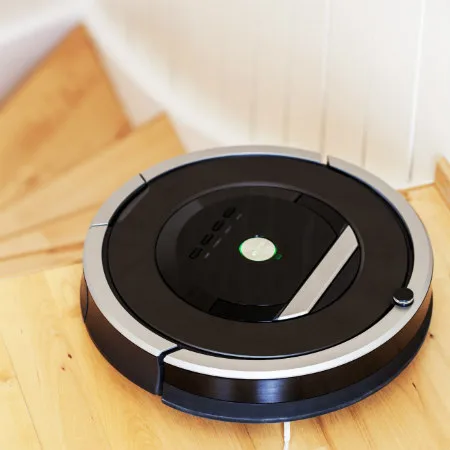 ---
Top-rated sites to buy
---
Related Posts