Understanding refrigerated and non-refrigerated probiotics
We take a look at probiotic types to help you decide which one is best for you.
We're committed to our readers and editorial independence. We don't compare all products in the market and may receive compensation when we refer you to our partners, but this does not influence our opinions or reviews. Learn more about Finder.
Probiotics have seen a huge popularity surge in recent years thanks to claims of their health benefits. This means that there are now countless probiotic products on the market, making it pretty confusing to figure out what's what.
To make things easier, we've taken a look at what exactly probiotics are, the various forms they can come in and whether or not you should take them, so that you can make a fully informed buying decision.
What are probiotics?
You've probably seen probiotics touted by chemists and health experts in a number of television ads, but what exactly are they? In short, probiotics are live bacteria and yeasts which, when ingested, are said to provide a bunch of health benefits.
While we often associate bacteria with illness, there are actually both "good" and "bad" types. "Good" bacteria play an essential role in digestion and immune system development. They also help to keep the "bad" bacteria in line. Your body does this automatically but, in some situations, your "good" bacteria may require a helping hand.
Those with a poor diet, digestive problems or those suffering from illness, for instance, may have an imbalanced gut flora (microorganisms in the gut). According to the US National Library of Medicine, when this happens, you can be at risk of conditions such as cardiovascular disease, obesity and type 2 diabetes.
Probiotics are made to help prevent this by delivering more "good" bacteria to the gut to help balance out the "bad", keeping your digestive and immune systems working properly.
---
Probiotics vs prebiotics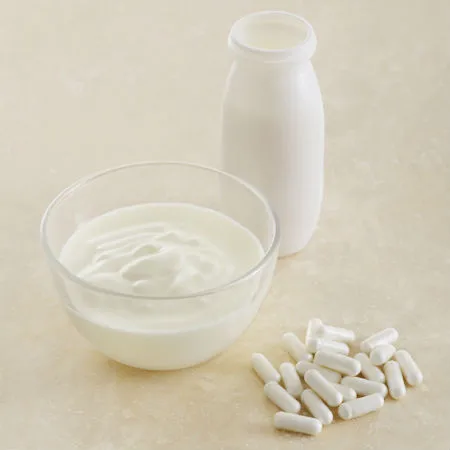 While probiotics and prebiotics both work to maintain gut balance, they achieve this in different ways. In simple terms, probiotics contain "good" bacteria while prebiotics act as food for good bacterial strains. If you would like to learn more about the differences between the two, we've broken them down below:
Probiotics
Probiotics are live bacteria that are created naturally in the fermentation process of food products like yoghurt and kimchi. You can also now get probiotics in pill supplement forms. Probiotics work to deliver the live organisms straight to your digestive system to balance the gut flora and keep bad bacteria in check.
Prebiotics
Prebiotics are a type of fiber that is unable to be digested and is naturally found in foods like bananas, onions, garlic and wholegrains. This means that it can pass through the small intestine undigested and is fermented when it reaches the large colon. From there, it serves as food for the probiotics, helping to increase the number of good bacteria in the digestive system.
There are also now synbiotic supplements available, which are products that contain both probiotics and prebiotics.
---
What's the difference between refrigerated and non-refrigerated probiotics?
As probiotics contain live bacteria, their overall effectiveness relies on the condition of that bacteria. Keeping track of probiotics in foods such as yoghurt is pretty simple as the food will spoil when it's no longer any good. Refrigerated probiotic supplements are a little more difficult.
Refrigerated probiotics
Proper refrigeration is essential for most probiotics both before and after you purchase them as some bacteria strains will die at room temperature. However, the bacterial content actually declines over time even when the supplements are kept cold. To keep refrigerated probiotics as potent as possible, try to limit the amount of time between shopping them and getting them in the fridge. You will also need to keep an eye on the expiration date as refrigerated probiotics have quite a short shelf life.
Non-refrigerated probiotics
To avoid the hassle of trying to keep your probiotics fresh, you can opt instead for non-refrigerated probiotics. These supplements contain freeze-dried organisms which will not perish due to changes in temperature. They often come in tablet or capsule form and can stay potent for much longer than refrigerated versions.
---
Who should take probiotics?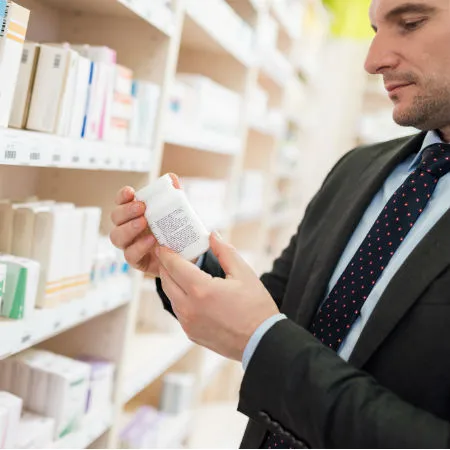 While some clinical studies have shown positive results when it comes to the effectiveness of probiotic supplements, infectious disease specialist Dr. Patricia Hibberd warns that there is currently not enough scientific research to confirm this for sure. To make matters even more complicated, different probiotic supplements will contain different bacteria strains and will therefore have different effects on the body.
If you do suffer from conditions such as obesity, type 2 diabetes, constipation, irritable bowel syndrome, acid reflux or cardiovascular disease, probiotics may help. As with all supplements, though, you should always consult your doctor before you start taking them. They will be able to determine whether or not they can aid your condition and can help you to pick one that contains the bacteria strains you need. Harvard Medical notes that it is especially important that those undergoing cancer treatment or suffering from an immune deficiency seek medical advice before taking a probiotic supplement.
As for already healthy people, there is currently no research to suggest that taking probiotics will make you any healthier. However, consuming fermented food sources that may contain probiotics such as yoghurt, kimchi, kefir and sauerkraut has been linked to numerous health benefits. While there isn't currently enough research to confirm this either, they are also a good source of nutrients, so consuming them regularly will be beneficial either way.
In short, if you are suffering from digestive problems or other health issues and think that a probiotic supplement could help, be sure to schedule an appointment with your doctor before you shop. For those who are already healthy, it may be best just to stick to a good old fashioned Greek yoghurt.
---
How safe are probiotics?
As probiotics naturally exist within the body, they are generally considered safe for consumption. Foods like yoghurt that may contain probiotics, for instance, pose no health risk. Supplements, on the other hand, may present some risk to those who are ill or suffering from a weakened immune system, making it essential to consult your doctor before taking them.
According to Cleveland Clinic, probiotics may also cause mild stomach upset, diarrhoea and bloating for the first few days after you start to take them. If you experience any of these side effects for longer than a few days, it is recommended that you make an appointment with your doctor or discontinue use.
---
Labelling and regulation
The Australian Government's website states that probiotic sources that can be considered functional foods, such as yoghurt and yoghurt-based drinks, are regulated according to the usual food standard. Meanwhile, products with a therapeutic claim, statement or instructions for use will often be regulated as complementary medicines.
While complementary medicines are required to disclose the number of active ingredients in the product, functional foods are not bound by the same restrictions. This means that food sources claiming to contain probiotics don't actually have to state the number of bacteria that they contain, which can make it difficult for buyers to make an informed purchase. As stated earlier, though, there isn't really any evidence yet that foods containing probiotics have any health benefits. Therefore, you may be better off sticking to ordinary yoghurts and fermented foods rather than looking to products like specially formulated yoghurt drinks anyway.
---
Common probiotics brands
In case you are considering speaking to your doctor about taking a probiotic supplement, we've rounded up some of the most popular options on the Australian market to discuss with them. Note that these are all non-refrigerated probiotics as refrigerated supplements can only be purchased in-store.
Images: Getty
More guides on Finder