Best prams in Australia 2021
Getting around with a baby or two doesn't have to be a struggle. Allow us to help you make the right choice with our guide to the best prams in Australia.
We're reader-supported and may be paid when you visit links to partner sites. We don't compare all products in the market, but we're working on it!
Whether you're a new parent or just in the market for an upgrade, choosing the right pram for your family can be a tough decision. Thankfully, all Australian prams need to meet safety standards so you can concentrate on choosing a pram that suits your lifestyle. Do you need something that is easy to travel with and take on the go, or do you require something a little more sturdy to get you from A to B?
But don't fret because here at Finder, we have done the hard work for you. We read customer reviews, examined the top-rated prams and asked the mothers in our lives to pick out some of the best prams in Australia. There is also a handy guide on who they are best suited for – whether you may be looking for one to last you from newborn to later or something to assist you with your morning jog.
---
Best prams
Best all-rounder
Savvi Stroller
Our pick for the best all-rounder is the Savvi Stroller because it can be transformed into over eight configurations. This means your child can lie flat in the bassinet or sit up and enjoy the day with you once they are a little older. The pram adapts to suit your needs as a parent which is the ideal situation for us all. Its frame is lightweight and sits at 5.8kg but goes up to 9kg if you include the seat, which is Britax Unity Baby Capsule compatible. The Savvi Stroller folds down into a compact item that can easily be transported. It has lockable front swivel wheels, meaning it's easy to manoeuvre on any type of surface.
The pram is suitable for newborns and children up to 20kg. There is a shopping basket with a 12kg capacity, and it also comes with an additional boot cover, bassinet liner and window panel.
Back to top
---
Best for travel
Silver Cross Jet Stroller
If you are travelling with a pram, there is nothing worse than having to carry a bulky item that is difficult to make compact. The Silver Cross Jet Stroller is one-of-a-kind as it weighs in at just 5.9kg. It can be folded down to the size of carry-on luggage and wheeled around like a small suitcase which is ideal for parents on the go. Even if you aren't a frequent flyer, this pram is a compact travel system that can be taken anywhere with ease and no stress. Safety is not compromised in this lightweight pram – it still has a five-point safety harness and conforms to Australian safety standards. We also love that it's suitable for anyone from newborn up to 15kg.
---
Best on a budget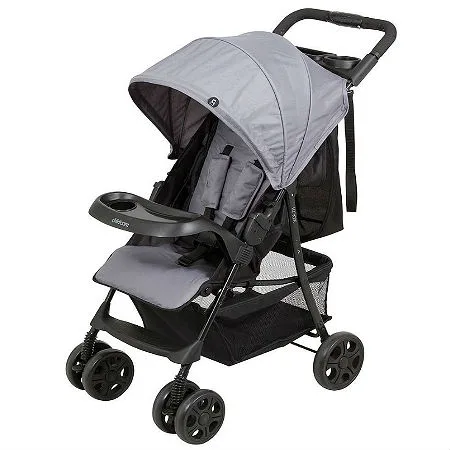 Image source: Target
Childcare Knox Stroller
If your budget is a little limited, the good news is that you can still find affordable prams where quality is not compromised.
Our budget pick is the Childcare Knox Stroller. It's compact, lightweight, has a fully reclining seat and five-point safety harness. However, it isn't baby seat compatible so you won't be able to move your child from the pram and straight into the car without getting them out. But it does come with some handy features that can make you appreciate the little things. This pram has a cup holder, a front snack tray and a shopping basket, so you can run your errands without a worry.
---
Best high-end option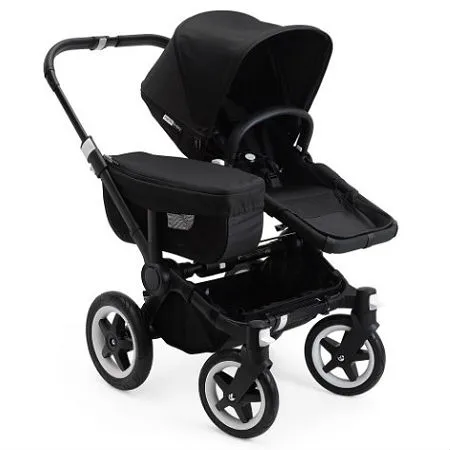 Image source: David Jones
Bugaboo Donkey2
If you want to spoil yourself and buy something more on the fancy side, we have the pram for you. The Bugaboo Donkey2 pram is one of the most expensive prams we have seen by far, but it gets the job done with ease and looks pretty stylish too. This pram is easy to push and manoeuvre around thanks to the big wheels that are filled with foam, and all-wheel suspension. This means that no matter how much you are carrying, it will still be easy to push around. It transforms from a single to double pram in just three clicks (when you purchase an additional extension set), which means it suits growing families perfectly. And better yet, there is heaps of room for you to stow your personal belongings and shopping.
Back to top
---
Best for twins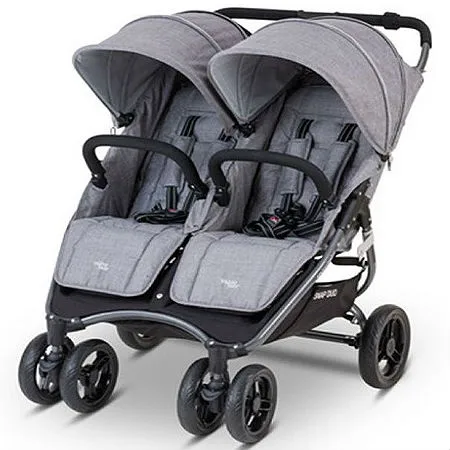 Image source: Catch
Valco Baby Snap Duo
If you're looking for a pram for twins, we recommend a side by side pram. You can see both children far more easily and, despite popular belief, most side by side prams nowadays aren't as bulky as they used to be. The Valco Baby Snap Duo weighs in at just 10kg which is extremely light considering its size. Both seats have separate reclining systems, so both children don't have to try and fall asleep at the same time. It also comes with a carry strap and handle so travelling with this pram will be a breeze.
---
Best for joggers
If you're always on the go and you want to take your kids with you, a jogging pram or stroller is your best bet. While these aren't designed for flat-out running, they are suitable for a light jog or a power walk. The main purpose is that they are designed for a high level of maneuverability so that you can get around with ease – with minimal disruption to other pedestrians and your littlest passenger. For this, a three-wheel pram is perfect, and our pick is the Baby Jogger City Elite pram. This pram is a little on the heavier side, but that's what makes it ideal for people on the move. The wheels have sealed ball bearings and swivel front-wheel suspension, so there is a large focus on the way this pram moves. Despite the weight, it's still easy to travel with and take on the go, thanks to its quick-fold system.
---
Where to buy prams:
Back to top
---
How to choose a pram
Apart from transporting your baby, a pram's purpose can differ and there really isn't one that can do everything. Before you decide to buy, you'll really need to think about your lifestyle and what you'll be doing with your little one, once they arrive.
For example, you'll need to decide on whether you want three wheels or four. Three-wheel prams are good for bumpier terrain, long walks or runs "off-road" on grass and even sand. Four wheels are not as easy to manoeuvre off-road but generally are more stable and better suited to city sidewalks and footpaths
Do you need something that's travel-friendly, light and easy to pack up and carry? Here are our top things to consider when buying a pram:
Safety rating. Ensure all prams meet the Safety Standard AS/NZS 2088.
Size. Do you need a single or double pram? How old is your child?
Weight. Do you need something that is lightweight and easy to carry?
Harness. Safety harnesses and straps are vital and you should definitely be aiming for a five-point harness.
Reclining capacity. Babies need to lie flat for approximately the first six months of life. For older children, the option to recline and nap is important.
Special features. This is dependent on your lifestyle. Do you need a travel bag, a storage basket, a rain cover or possibly some cupholders?
---
What is the difference between a pram and a stroller?
Prams and strollers are often referred to interchangeably, but there's a discernible difference between the two: strollers generally come in one piece, are easy to collapse and are largely designed for children to sit upright, whereas prams generally come in two pieces (frame and seat) and have reclining features that allow them to be used as a bassinet or allow your baby to lie back and sleep. Having said that, a number of stroller models also have a reclining feature so it's a question of whichever model suits your lifestyle best.
Here's a buying guide on how to find the best double stroller for your bubs.
---
How to clean a pram
Prams can get dirty very easily, whether it be from extraneous dirt after a stroll or from your little munchkin spilling food (or producing other questionable substances) from within. It's a good idea to give your pram a regular clean so you can maximise its lifespan, not to mention keep your little one clean and healthy.
To give your pram a thorough clean, first remove any fabric, canopies, clip-ons or padded extras that are easily disassembled and machine wash where possible. Brush or vacuum any food or debris from the seat, pockets and storage areas. For non-detachable seat and canopy materials, give them a wipe down with soapy warm water, and wipe down handles and the frame too.
The external surfaces of the pram such as the wheels and chassis can generally be hosed down to remove any dirt or debris, so take your pram outside and give it a good spray. The seat and canopy can also be hosed to remove any soapy residue, although any leatherette fabrics will need a lighter touch.
Check for any tougher stains, mould or grime, especially along the harnesses, and scrub these with a smaller brush and some water and vinegar before rinsing off again.
Hang any detachable pieces up to dry and wipe off any excess moisture with a towel. Then air dry your pram in direct sunlight on a nice warm day to ensure all the moisture is gone by the time you need to use it again.
---
Three-wheel prams vs four-wheel prams
Three-wheel prams are generally easier to manoeuvre as the single front wheel allows for maximum turning capability. They also tend to have larger wheels for extra stability. This is why they are popular amongst active mothers, who use their pram while exercising. In comparison, four wheelers are generally more compact and can be considered more stable than their three-wheel counterparts (the equal distribution of the wheels makes them harder to tip over). This is a great option for new mothers who are still getting the hang of manoeuvring a pram.
---
How to ensure your pram is safe
There are three key aspects to consider when making sure your pram is safe for your child. As long as all three of these are ticked off, your pram should be suitable. But as with all things, consider your lifestyle and family as well.
The most important step is to simply check the certification and ensure that the pram complies with Safety Standard AS/NZS 2088.
We also recommend checking whether the pram has a child-proof lock. This means that your child will not be able to lock or unlock the belt and keep them safely inside the pram.
Check the stability of the pram. This is essential, especially if you have an active child who likes to move around. Ensure that the pram won't tip over easily, which is why you may want to consider the difference between a three- or four-wheel pram.Back to top
---
Baby accessories coupons and deals
Image source: Getty
More guides on Finder