Best portable solar panels in Australia 2020
We found the best portable solar panels in Australia by searching through customer and professional reviews.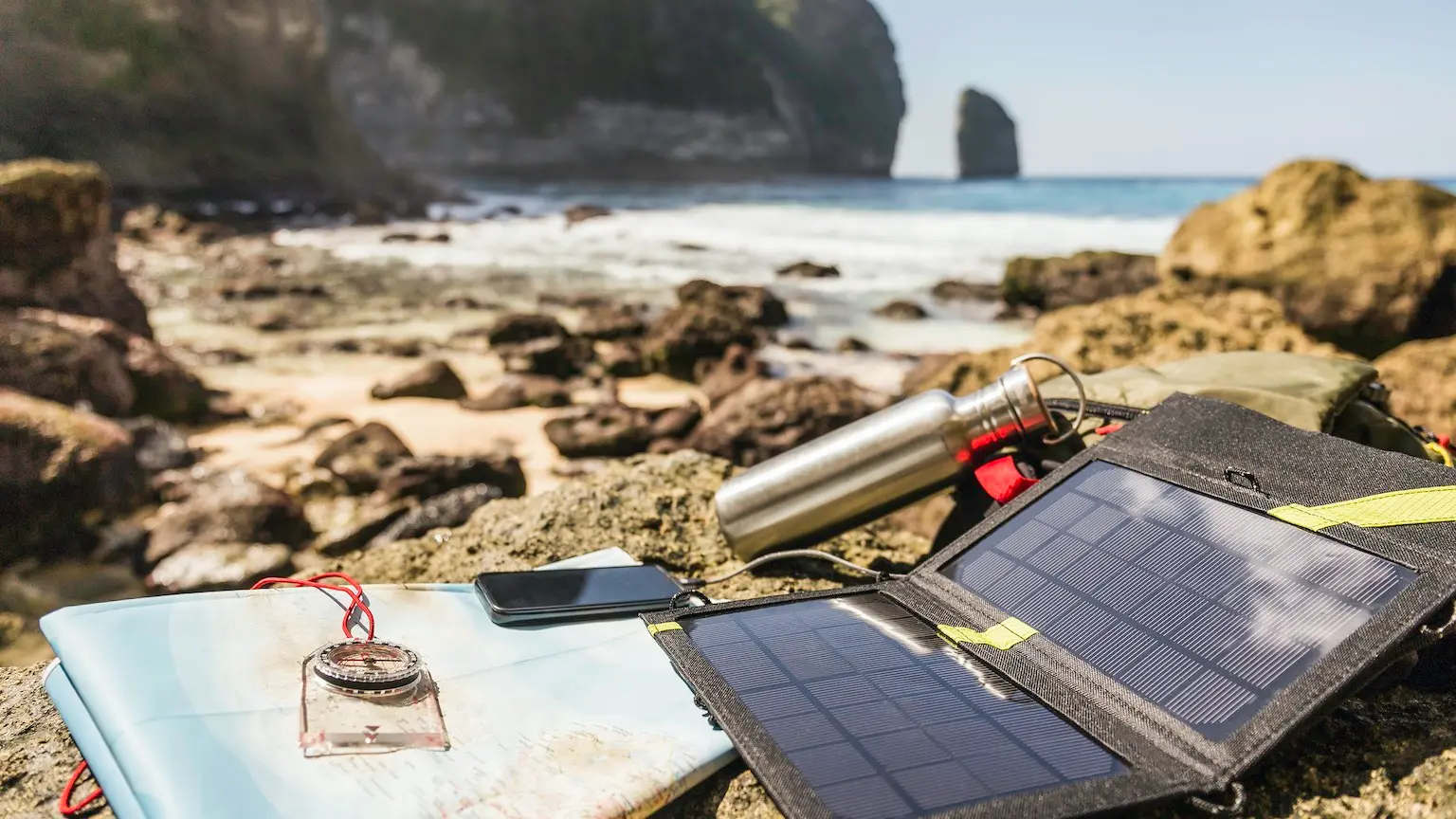 We're reader-supported and may be paid when you visit links to partner sites. We don't compare all products in the market, but we're working on it!
The best portable solar panels in Australia
How did we pick this list?
Our editorial team selected the products in this list based on our own reviews, customer reviews and professional reviews weighted against each other. This accumulated data was used to determine our overall winners for each different category or type of portable solar panels. For each category, we carefully selected parameters based on our research and identified the products with the highest review score within those parameters.
Pros
Foldable
Good in weak light
Cons
Flimsy latches
Some concerns about customer support
Specs| Dimensions: 175.5 x 15.5 x 128.3cm; 5.8kg | Output: 500Wh daily | Operates in temperatures between 4ºC and 85ºC
Price (RRP): $177
Buy at Amazon
Why we chose it
In such a diverse category, choosing the one portable solar panel to rule them all is tough but one brand keeps coming up near the top of all the user and reviewer rankings: Renogy. The company's Renogy 100W 12V Monocrystalline Off Grid Portable Foldable set-up is highly scored by owners, and professional reviewers give it high praise as well. Over 1,000 purchasers give it an average score of 4.6/5.
Renogy's portable solar rig delivers excellent performance in low-light environments. The adjustable corrosion-resistant aluminium stand has a heavy duty handle on the protective case. It can also be expanded with extra panels to boost the rated maximum output of 500 Watt-hours per day
The main criticisms for the Renogy 100W 12V Monocrystalline Off Grid Portable Foldable are that the cables leading from the unit are too short and that the latches that keep the case closed aren't very robust.
What users say
"Great bit of kit, works well and has a great carry case." Read reviews.
---
Pros
Lightweight
Highly durable
Cons
Lower efficiency than expected
Slow recovery from interruption
Specs| Dimensions: 16.5 x 22.23 x 1.9cm (folded), 459g (with kickstand) | Output: 7W | monocrystalline
Price (RRP): $160
Buy at Amazon
Why we chose it
Owners and independent reviewers agree that the Goal Zero Nomad 7 Plus is a robust and attractive solar panel system that's well suited for campers and hikers without breaking the bank. With owners giving it a solid score of 4.2 out of 5 it represents good bang for buck.
The Nomad 7 Plus is quite easy to set up. The detachable kickstand allows you to orient the panel so that it's facing the sun with an easy-to-read LED indicator letting you know when it's getting the best possible exposure to the sun. It can charge smartphones and USB devices directly and features a dynamic auto-restart in case the sun disappears behind a cloud or someone throws shade over the panels, although some reviewers found the auto-restart to be a little unreliable.
The unit is weatherproof so you can lay it on the snow or in inclement weather without worrying about its survival.
What users say
"Well made and it works. It hasn't let me down on my adventures yet." Read reviews.
---
Pros
Powerful output
Exceptional build quality
Cons
Specs| Dimensions: 82.3 x 54.61 x 7.87cm; 18.03kg | Output: 140W | works with 6V and 12V battery systems
Price (RRP): $1,679
Buy at Amazon
Why we chose it
Zamp has a reputation for making great solar panels and that's backed by an impressive score of 4.8/5 from owners and similarly high ratings from reviewers at camping and outdoors publications. The Zamp Solar USP1002 delivers enough power to charge batteries and run camping appliances such as small refrigerators easily – assuming there's plenty of sun.
The device can generate an impressive amount of power up to 30 - 40 amps of power per day to keep the battery in an RV or other external power source running. It's foldable and won't take up heaps of room in your camper, the back of the car or in your camping trailer.
The main criticisms of the Zamp Solar USP1002 are the price and weight. But both are part of the compromise that comes from a high-powered and well-made piece of kit that's guaranteed by the maker for 25 years.
What users say
"Was very apprehensive about purchase after seeing other panels for hundreds less. No longer apprehensive as was extremely happy with the quality of the Zamp panel. Well worth the extra money. The case, frame, legs, handle, closure, wiring, and components are all top quality." Read reviews.
---
Pros
Integrated torch and compass
Dual USB ports
Cons
Takes a day of sun to recharge
Chunky
Specs| LED torch and integrated compass | 10,000mAH capacity | 2 USB charging outputs
Price (RRP): $45
Buy at Amazon
Buy at Catch
Buy at Kogan
Why we chose it
A solar charging battery pack delivers power when the sun is up and when it's down giving you the ability to stay charged up 24/7. With strong ratings in excess of 4/5 this solar-powered battery bank is a great option for campers, hikers and anyone who needs to ensure they can keep their smartphone powered up but won't be near a power outlet.
The first charge, according to owners and reviewers, should be done from a power outlet using a micro USB connection. Then you can take it and use the sun to replenish it. Fully charging this pack from the sun takes about 24 hours of sunlight, which could be two or three days when you're away from the electricity grid.
This power bank also boasts an inbuilt torch and a compass for those late night treks when nature calls or for reading a map in the dark.
What users say
"Outstanding if you need a charge and you have sun this is great. I'm using on location to keep my phone charged up while I accept credit cards taking orders for my business." Read reviews.
---
Pros
Supports laptops with supplied adapter kit
Foldable
Cons
Needs to be perfectly aligned to the sun for maximum output
No chargers for Apple portable computers
Specs| Dimensions: 29 x 16 x 6cm; 1.35kg | USB and DC outputs | 60W output
Price (RRP): $240
Buy at Amazon
Why we chose it
With an average 4.6/5 and 80% of reviewers giving the AIMTOM SolarPal 60 Folding Solar Panel a perfect score, it's easy to see why this is a solar panel system that is so well liked. It can supply up to 60W of output which is enough to recharge a laptop as well as smartphones, cameras and other batteries.
AIMTOM supplies the SolarPal 60 with a set of 10 power adaptors to suit many popular laptop brands although Apple's portable PCs are left out. It can also be used to recharge battery-powered generators. You could use a generator to power camping gear such as a fridge and then top up that battery using the panels. There's even a cable for delivering a trickle charge to a car battery should that be a problem when you're away from civilisation.
The AIMTOM SolarPal 60 Folding Solar Panel is a great solar panel for campers that will keep the electrons flowing no matter where you are.
What users say
"What I love about this solar panel is the portability (how well it folds into a "small folder"), the convenience of all of the tips & cables it comes with, and how easily it sits on the car's dashboard when using it." Read reviews.
---
Pros
All you need to get started
Easy to expand capacity
Cons
Installation documentation
Charge controller lacks digital readout of the battery voltage
Specs| Dimensions: 119 x 3.8 x 53cm; 9kg | 100W output
Price (RRP): $210
Buy at Amazon
Why we chose it
The Renogy 100W Solar Power Starter Kit is a favourite with campers and off-roaders. With an average score of 4.7/5 from owners as well as very favourable comments from reviewers, this is a great kit for people wanting to get a start in solar.
The Starter Kit boasts quiet power production and grid independence. With a combination of monocrystalline and polycrystalline panels, it can deliver power even in suboptimal conditions. And, as a starter kit, you can add more panels later if you need to give it more power. The starter kit comes with a 100W 12V panel, a charge controller to protect against overcharging, overloads, short-circuits and reversed polarity, and all the cables, adapters and brackets you need.
The frame is made from corrosion-resistant aluminium and the unit is sealed to protect it from the weather making this a great investment for those taking their RV into the great outdoors.
What users say
"I've now installed 5 of these systems on mine and all my friends' RVs. These things are the BEST. Build quality and fit/finish are excellent." Read reviews.
---
Methodology
10+
Brands considered
40+
Products compared
6
Best portable solar panels chosen
Our editorial team compared more than 40 portable solar panels from several brands sold by Australian retailers and reputable online stores.
We based our findings on real customer reviews across multiple websites, including Amazon, eBay, Google and Kogan.
We also consulted reviews from independent reviewers and consumer choice publications.
The products on this list are chosen by our editorial team and are not selected based on commercial relationships.
Do I need portable solar panels?
If you're planning to keep electrical devices running and will be away from a regular power source, then portable solar panels are a great investment.
Depending on your use, you can choose from completely portable panels that have their own stands and can be placed almost anywhere, or fixed panels. For example, if you have a caravan or RV, you can have panels permanently installed. But if you prefer camping with a tent, then portable panels might be better.
Even if you go out on a day hike, a portable panel can be handy for topping up the charge on your phone, GPS-enabled watch or other small gadgets that you rely on.
Are solar panels a good idea in Sydney?
Solar panels might be a great idea in Sydney if your property fits the criteria and you are willing to make the investment. Learn more and get a solar panel quote.
How to compare portable solar panels
Choosing the right solar panel isn't simply a matter of dividing how much power you need and the maximum number of panels you can handle. There are three main types of solar panel and the best type of panel will depend on how you plan to use it.
Monocrystalline or single-crystalline solar cells are very efficient so smaller solar panels can deliver more power than other types. But these panels work best when they are oriented on a 90-degree angle to the sun and when the weather is clear and sunny. Shade, dirt and dust on the solar panels can cause the circuit to break down, so in other words, when conditions are perfect these are a great option.
Polycrystalline solar cells use multiple crystals which results in some internal losses of energy. But, they don't rely on facing the sun perfectly as the crystals aren't all facing the same way. They perform well in lower light conditions and warmer climates (great for Aussie road trips). They are generally less expensive than monocrystalline panels but they're also larger to make up for those internal losses.
Amorphous crystalline panels are the least efficient of the solar panels but they are well suited to low light situations and when there is partial shading and they also work well in high temperatures. Amorphous solar film is often used in solar blankets and is great for keeping a 12V system charged, although they're not well suited to be your primary solar input.
In terms of capacity, it really boils down to what you plan to do. If you're looking to run a large appliance such as a camping fridge, then running it from a battery that is charged from your solar panel is probably the best way to do things. If you're just trying to keep a smartphone and small speaker juiced up then a smaller panel that keeps delivering a charge over a longer period of time is the way to go.
More guides on Finder