Best portable air conditioners Australia
From cooling strength to energy efficiency (and everything in between), we've got you covered.
We're committed to our readers and editorial independence. We don't compare all products in the market and may receive compensation when we refer you to our partners, but this does not influence our opinions or reviews. Learn more about Finder .
Deciding which portable air conditioner is right for you can be tough when you don't know what you're looking for, especially when summer is rapidly approaching. We've narrowed down our top picks so you can select the best model for your needs.
Which portable air conditioners are best for you?
Here are a few criteria to choose from that may suit your personal needs
Best portable air conditioner for fast cooling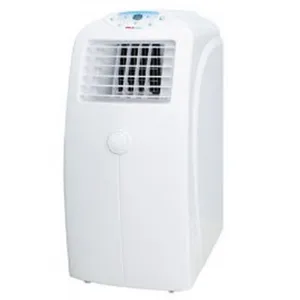 When you're shopping for a portable air conditioner, you're looking for something that will not only cool you down but also do it as quickly as possible. Make sure you keep an eye out for the energy output of a prospective appliance – the higher the output, the faster the cooling system. It may mean spending a little more, but it's worth the extra cash.
Our top pick for best cooling strength and capacity is the Polocool 6.0kW Portable Air Conditioner. With one of the highest energy output numbers on the market, this model will cool you down incredibly quickly. It functions best in rooms between 20 and 42 square metres, but it is more than capable of providing a quick cooldown in smaller areas.
At 45kgs, it's slightly heavier than many models to handle the increase in power, but it's easily set up and good to go once installed. The Polocool model comes with a window slider kit that allows you to position the exhaust hose outside the home, minimising the presence of ventilated hot air inside. On top of that, it features an LCD screen, remote controller and automatic operation.
Buy the Polocool 6.0kW at eBay
Most energy efficient portable air conditioner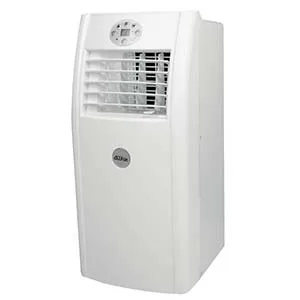 Electricity costs are often a big turn off for anyone looking to purchase an air conditioner, so it's important to be aware of how to maximise efficiency without going overboard on the bills – we're all about those savings.
We recommend water-to-air portable air conditioners, which will reduce costs significantly. While air-to-air cooling systems use fans to maintain a safe temperature for the internal compressor to run efficiently, water-to-air systems use water systems to cool down the compressor. This uses less electricity to generate and spread the cool air throughout the room.
Our pick for most energy efficient portable air conditioner is the Omega Altise 10000 BTU 2.9kW Portable Air Conditioner. With an energy output of 2.9kW, this model has everything that you're after without being too unkind to your electricity bill. It features Aqua Chill Technology, which functions to recycle condensed air surrounding the model to cool down the area, as well as a dehumidifying function, a remote control and directional louvres. With two speed settings, you'll also be able to adjust the air conditioner's performance. In terms of price, the Omega Altise 10000 BTU 2.9kW Portable Air Conditioner is a mid-range air conditioner.
Buy the Omega Altise OAPC29 2.9kW at eBay
Best portable air conditioner that's also quiet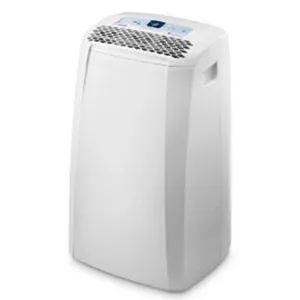 It can be hard enough getting to sleep in summer with the endless heat, so it's even more important that an appliance be extra quiet if you're buying it for your bedroom. The average decibel level of a portable air conditioner varies between approximately 55-70 dBs, which is roughly the equivalent of background music or restaurant conversation.
Our top pick for best noise control is the DeLonghi Pinguino Air-to-Air Portable Air Conditioner PAC CN86 Silent. It's all in the name: silent. This model features a honeycomb-shaped grid that streamlines the airflow, in combination with a double speed condenser fan. As a result, on silent mode it operates at only 47 decibels – much lower than average. You'll get all a cooling capacity of 2.5kW, a dehumidifier function, three fan speeds and a 24-hour timer.
The Pinguino is also one of the easier models to manoeuvre, with built-in handles and castors to help carry it around – and at only 27.6kgs, it's much lighter than a lot of the alternatives. It's mid- to high-range in price, but staying cool and quiet at bedtime is definitely worth it.
Buy the DeLonghi Pinguino Air-to-Air at eBay
Easiest to use portable air conditioner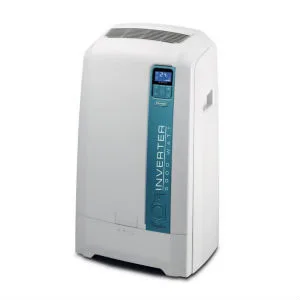 If you're hot and bothered in the middle of summer, the last thing you want to do is muck around with complex instructions, so finding a model that's really easy to use can take a big load off your shoulders. Straightforward installation instructions and easy-to-use remote controls should be at the top of your must-have list, but don't underestimate the value of a higher quality screen (especially at night time).
Our top pick for best user-friendly model is the DeLonghi Inverter Water-to-Air Portable Air Conditioner (PACWE18INV). This portable air conditioner not only knows the ideal temperature for your home, but it also maintains it over time by increasing or decreasing power according to your room's natural temperature.
It also features automatic and sleep functions, a dehumidifier setting and a 24-hour digital timer. One of the best features of this model is its water-to-air transition. Once you've filled the 10L water tank, it will run for approximately six hours in water mode before automatically switching to air mode. This model is definitely on the higher end in terms of price, but the user experience is definitely reflective of that.
Buy the DeLonghi Inverter Water-to-Air at eBay
Best portable air conditioner that works as a heater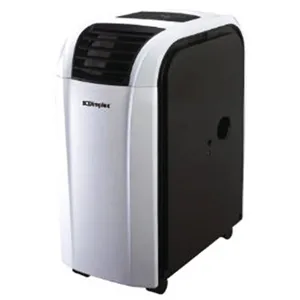 Though summer is the most popular time of year for air conditioner usage, it's also important to consider whether you can make use of your appliance during the cooler months as well. Portable air conditioners with reverse-cycle functionality are the answer as they can also function as an effective heater.
Our top pick is the Dimplex 4.4kW Reverse Cycle Portable Air Conditioner with Dehumidifier. With 4.4kW of both cooling and heating capacity, this model is ideal for those who want to maintain year-round use of their portable air conditioner. It features a built-in dehumidifier, which would be especially useful in any areas of Australia that experience significant humidity levels, as well as a self-evaporative system to avoid the need for a drip tray or hose (on cooling mode only).
With a noise level of 56 decibels, it's roughly equivalent to a small refrigerator and would definitely be suitable for at-home use. A remote control and an easy touch panel make it one of the simpler user interfaces in our guide. There's even a 24-hour timer with sleep mode, so you can select your desired temperature and relax.
Buy the Dimplex 4.4kW Reverse Cycle at eBay
Best portable air conditioner for your desk or office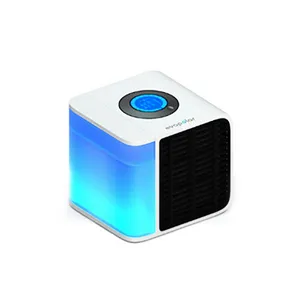 Do you ever feel like you lose focus when you're working in the heat? Having the right portable air conditioner for your working space is vital, particularly if you're operating out of a cubicle or from a desk and don't want to intrude on your colleagues' personal space.
Our top pick is the Evapolar, an eco-friendly personal air conditioner that functions similar to a standard evaporator without all the bulk and humidity. Simply fill the removable water tank, and the Evapolar will evaporate the water and spread cooled air around your station (up to four metres) via an in-built fan.
You can plug it in via a USB cord, and as a result of its size and processing system, it needs significantly less power than conventional split-system models. The device, originally conceived as a crowdfunding initiative, has three colours to choose from, and you can customise it to suit the correct plug type for your country – so not only will you be cool, you'll be stylish and effective too.
Buy the Evapolar at eBay
Best portable air conditioner for a small room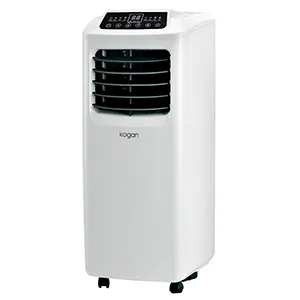 If you've only got a small room or office, it's important to make sure you choose a portable air conditioner that doesn't go overboard on cooling or you'll end up freezing – and having to pay higher electricity costs than you might like.
Our top pick is the Kogan 10,000 BTU Portable Air Conditioner, a smaller model that caters to rooms up to 20m2. Ideal for bedrooms, this Kogan also has a sleep mode which increases the temperature by one degree Celsius per hour for two hours before going into fan mode, making it a comfortable and gradual temperature for you to sleep.
Its compact design makes it easy to fit into smaller rooms without getting in the way. Combine that with its self-evaporative function and capacity for continuous draining, and you've got yourself an effective model without breaking the bank – or taking up too much space.
Buy the Kogan 10,000 BTU at eBay
Best portable air conditioner for a large room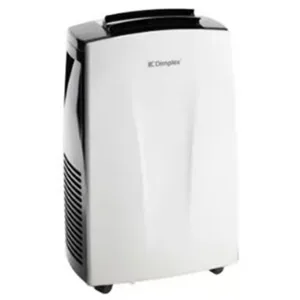 As portable air conditioners go, bigger spaces require higher levels of output. If you've got a large area that needs cooling, spending a little extra can mean the difference between patchy cooling and complete temperature regulation.
Our top pick is the Dimplex 5.3kW 18,000 BTU Portable Air Conditioner with Dehumidifier. With a high cooling-output level, this model can cool a 35m2 room easily and effectively. It also has guaranteed cooling in temperatures up to 43 degrees Celsius. It has a built-in dehumidifier and a self-evaporative system, so your large room will also have reduced humidity and less clean-up.
This Dimplex model has side exhaust hoses, which makes it easier to tuck into a room without taking up too much space and includes a window kit to make it even easier to set up. Then once you've finished setting up, you can use the LED remote control to set the 24-hour timer and relax.
Buy the Dimplex 5.3kW with Dehumidifier at eBay
Frequently Asked Questions
Are portable air conditioners quiet?
One of the biggest things that turns people against portable air conditioners is the idea that they'll be noise machines, keeping you awake at all hours of the night. Thankfully, technology has gotten us past this hurdle, and portable air conditioners are quieter than ever. The way around the noise is simple: purchase a model that either has a designated "silent mode" or has internal damping and insulation structures. The noise comes from its compressor, so having more insulation will limit the noise that escapes through the louvres or exhausts. Portable air conditioners get a bad reputation because the closer you are to them, the louder they seem) but as a general rule, most portable air conditioners have the same decibel level as a quiet conversation or your refrigerator.
Do portable air conditioners use a lot of electricity?
Electricity usage varies from model to model, so it depends on your needs. There are two acronyms to keep an eye out for if you want to reduce the strain on your electricity bill: BTU and kW. BTU stands for British thermal unit and it's a measurement of thermal energy. When it comes to air conditioners, this refers to how many thermal units the model can remove from the air per hour. As a general rule, it's the biggest indicator of how much electricity you'll need to power the model effectively. While energy input is measured in BTU, energy output levels are measured in kilowatts (kW), which indicate the amount of cooled air the model can safely produce. If you're in a larger room that requires a larger output, you'll need a higher kW and BTU rating. The higher both measurements are, the more electricity it will use.
---
Where to buy Portable Air Conditioners with a discount?
It looks like we don't have any coupons at the moment. Take a look at our most recent deals
More shopping inspiration
More guides on Finder