Best places to visit in Victoria for culture, relaxation and adventure
Adventure to the best places in Victoria from world-class cities to the nature spots that will blow you away.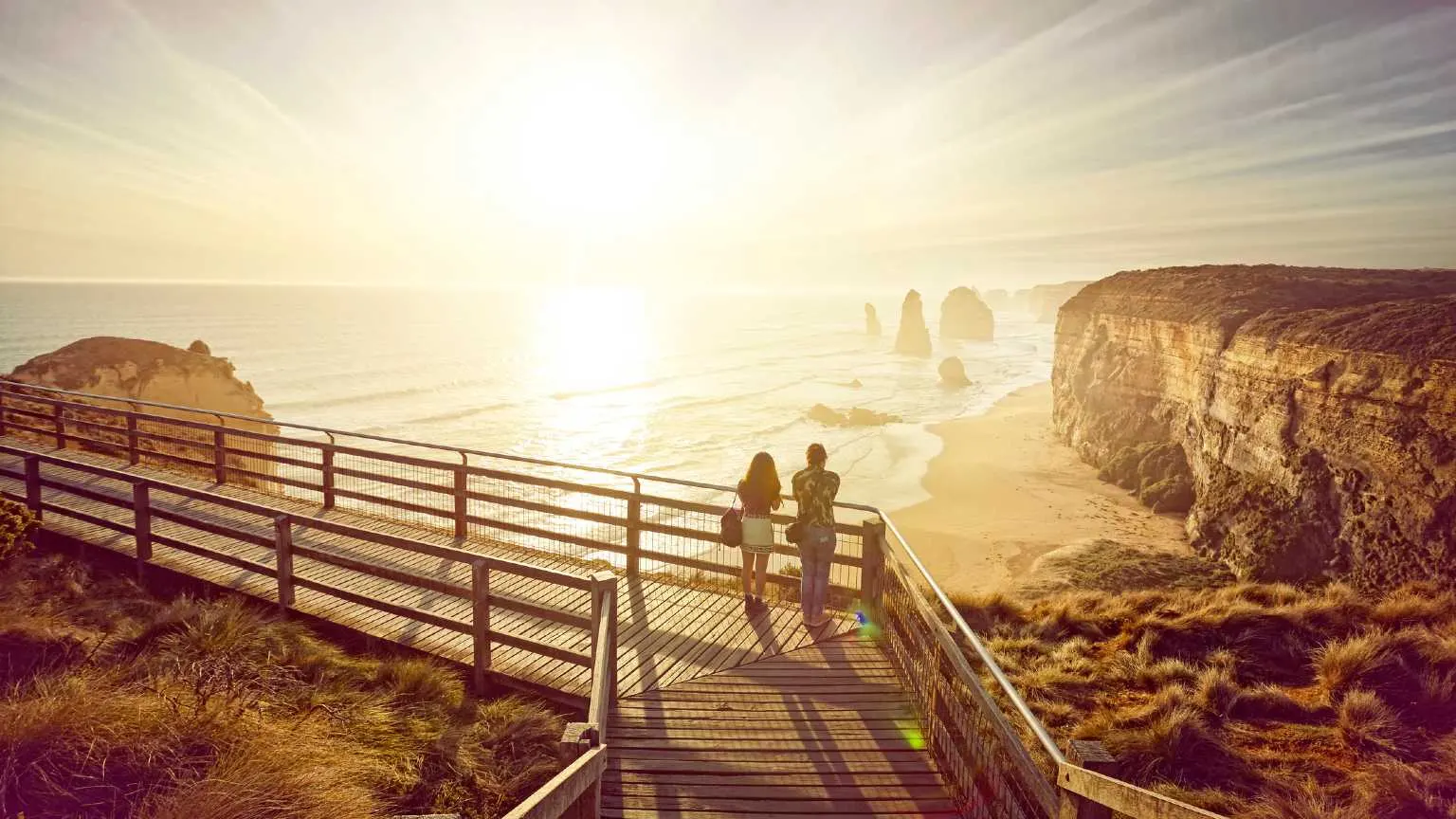 We're reader-supported and may be paid when you visit links to partner sites. We don't compare all products in the market, but we're working on it!
Without a doubt, Melbourne is one of the biggest drawcards for visitors to Victoria. It's got incredible coffee, art and atmosphere.
But if you've been before or are wondering where else can you go in Victoria, landmarks such as the Great Ocean Road, the Yarra Valley, Mount Buller and the Grampians should be on your travel itinerary.
And then some.
Best places to visit in Victoria (and why)
---
---
---
---
---
---
---
---
---
---
Best beaches in Victoria
This southern state has beaches by the buckets full to bask on in the summer months and wander down in the winter.
Betka Beach, Quarry Beach and Secret Beach, Mallacoota: Home to Victoria's warmest winter waters, Mallacoota is a bit of a hidden gem. Its beaches almost tumble over one another and serve up soft sand, spectacular sunsets and rock exploration.
Ninety Mile Beach, Gippsland: The sand stays underfoot for a generous 90 miles (144km) along this incredible stretch of coastline. Activities are plenty with fishing, swimming, snorkelling, hiking and dolphin spotting all popular options.
Refuge Cove, Wilsons Promontory: Secluded is one way to describe Refuge Cove. It sits on the eastern coast of Wilsons Promontory and is dotted with quiet sheltered beaches you'll likely have all to yourself.
Point King Beach, Portsea: Regarded by Australian Traveller as one of the best secret beaches in Victoria, we're inclined to agree. Point King is nestled between Sorrento and Portsea and shares this stretch of coast with the million-dollar mansions of the rich and famous.
Half Moon Bay, Black Rock: Skip the over touristic beaches of St Kilda and Brighton and discover Half Moon Bay instead. It shares the same stretch of coastline as the aforementioned but is less crowded. Its dramatic cliff face makes for exceptionally picturesque coastal walking, and the beach itself has soft sand and romantic sunset views.
Sorrento Back Beach, Mornington Peninsula: Popular with the locals, particularly over summer, Sorrento is for the beachgoers who love to relax, work on their tans and go for a quick dip. Its waters are shallow and some of its rockpools are deep enough to dip in.
Shelley Beach, Brighton: Made famous by its colourful bathing boxes, Brighton is one of the most accessible beaches from Melbourne. Though heavily touristic, it makes the cut as one of the best beaches in the state as the beach is wide and inviting and the water is friendly for all ages.
Lorne Beach, Lorne: You'd be a fool to skip out on Lorne when driving along the Great Ocean Road. This coastal town has loads of atmosphere and the beach is spacious, kid-friendly and has excellent waves for surfing. If you have time, walk up to Teddy's Lookout for that Insta-worthy shot.
Squeaky Beach, Wilsons Promontory: Granite boulders abound and specks of quartz fill the sand, causing it to squeak underneath your feet. But don't let that dissuade you – the sand is still soft and the exploration enjoyable. On one side you have turquoise waters while on the other are cliffs, scrub and colourful rocks. This one is an experience not to be missed.
---
Best surf beaches in Victoria
Bells Beach, Torquay: One of the most famous beaches along the Great Ocean Road, Bells Beach is praised for its idyllic surfing conditions. It hosts the Rip Curl Pro Surfing Competition annually and is home to a slew of surfing schools.
Bridgewater Bay, Portland: This hidden gem has breaks and waves for budding surfers looking for soft swells to pros seeking the ultimate challenge. Its beaches include Bridgewater Bay, The Hole, Quarry Gates and Murrells which are best for beginners, and Blacks Beach, Whites Beach, Yellow Rock and Crumpets for experienced surfers.
Thirteenth Beach, Barwon Heads: Owing its name to its proximity to the 13th hole of The Barwon Heads Golf Club, golf isn't the only sport you can tuck into in the area. It's also popular for its surfing pursuits with conditions to suit everyone from beginners to experienced surfers.
Portsea Surf Beach, Mornington Peninsula: They don't call this a surf beach for nothing. This immense stretch of sand is arguably the best spot for surfing on the Mornington Peninsula. It's also popular for swimming and fishing.
Woolamai Surf Beach, Phillip Island: You won't find too many swimmers or sunbakers at this surfing hotspot. Here, it's all surfers on their boards catching waves to the backdrop of a pink granite beach.
---
Where to go gold panning in Victoria
Looking to strike it rich? First off, you'll need to purchase a Miner's Right permit while prospecting alone. Otherwise you can join an organised group to pan for gold.
If you're panning for fun, Soverign Hill in Ballarat lets you experience gold panning in its museum setting.
These are a few popular prospecting areas in the state for serious prospectors:
Castlemaine Diggings National Heritage Park
Greater Bendigo National Park
Bendigo Regional Park
Heathcote-Graytown National Park
Kara Kara National Park
Kooyoora State Park
Paddys Ranges State Park
Wychitella Nature Conservation Area
Eldorado, Reedy Creek
Steiglitz Historic Park
Beechworth Historic Park
Reef Hills State Park
Endfield State Park
Greater Bendigo National Park
Chiltern-Mt Pilot National Park
---
Top travel deals in Victoria
---
More guides on Finder