The top 5 places to visit in April for flowers, beaches and events

April flowers with traditions, dry seasons and a healthy dose of public holidays.
While now may not be the right time to travel, these destinations can inspire your 2021 travel plans.
Easter (4 April) and ANZAC Day (25 April) are both in April 2021 so giving you two public holidays in the month to play with.
Liking the sound of that? Then you'll need somewhere to go. Or two places to go (one for each public holiday, geddit?).
Here are a few suggestions we prepared earlier. Because it's not too late to book. No, really.
---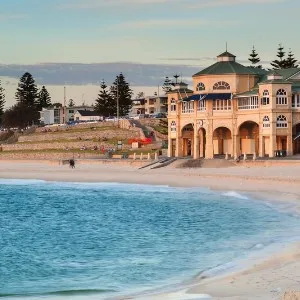 1. Best city to visit: Perth
Perth is trumping Sydney and Melbourne for clear skies and warm-hot temperatures this April.
While wild and unpredictable weather is raging across Australia's eastern coast, one of the few major cities in Australia that's being bathed in perpetual sunshine is Perth.
Being autumn, the temperatures in Perth have dropped considerably, rarely peaking over 28℃ and with low humidity. If you're bringing the family for the Easter break, there are plenty of Easter egg hunts to join in as well as free flicks in the park.
April weather: 23–29℃, dry with low humidity.
Top April events: Taste Great Southern, Buddha's Birthday and Multicultural Festival, Joondalup Festival, Secret Harbour Easter Fair, Open Gardens Family Fun Day in the Garden.
Best for: City breaks, exploration.
Search for cheap flights to Perth
---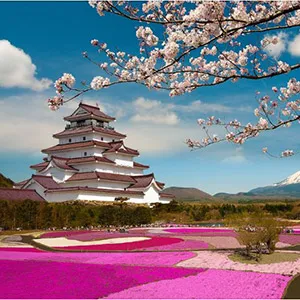 2. Best for relaxation: Japan
Witness magic happen as Japan is bathed in the brilliant pink glow of the sakura tree.
Fondly known as cherry blossoms, the blooming of the sakura trees is one of the most breathtaking moments in Japan's calendar. The first blooms occur in late March with full blooms starting in early April. Throughout the month there are also plenty of celebrations including an annual geisha performance and a phallic festival. Yes, a phallic festival.
April weather: -4–24℃ depending on which part of the country you are visiting, spring.
Top April events: Miyako Odori, the opening of the Tateyama Kurobe Alpine Route, Inuyama Festival, Takayama Spring Festival, Kanamara Matsuri and Earth Day Tokyo.
Best for: Romance, unwinding.
Search for cheap flights to Japan
---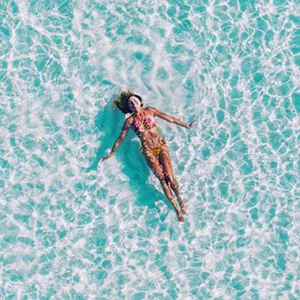 3. Best budget destination: Maldives
Kiss heaven when you take your budget to the beautiful islands of Maldives.
In the past you would have to pay through the nose to travel to the luxurious island destination of the Maldives but ever since budget airline AirAsia started taking to its shores fares have plummeted. These days it's possible to find flights for $449 return. If you're seeking to relax on a budget, April is an optimal time for it as it's shoulder season so the resorts won't be overpriced and the fares, well, you just need to catch a good sale and away you go.
April weather: 29℃, dry season.
Top April events: None.
Best for: Relaxation, water sports, romance.
Search for cheap flights to Maldives
---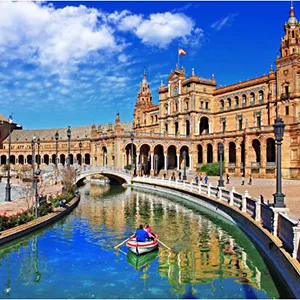 4. Best events: Semana Santa and Feria de Abril in Seville
Turn to the Spanish city of Seville for a different kind of Easter celebration.
Buckets of sunshine and an addictively sweet smell of oranges isn't Seville's only drawcard. During Easter it hosts one of the most unusual Christian celebrations in the world. Called Semana Santa, revellers dress in Nazareno robes, sandals and cone-shaped capirote hats and march alongside elaborate floats decorated with 17th century icons.
Stay an extra fortnight and you can dance, sing, drink and party at the annual Feria de Abril Seville Fair, too.
April weather: 18℃, spring.
Top April events: Semana Santa and Feria de Abril.
Best for: Culture, unwinding, exploration.
Search for cheap flights to Seville
---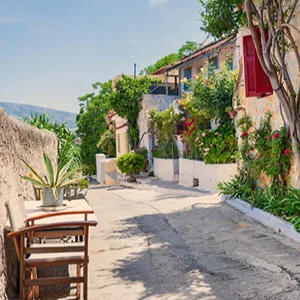 5. Best surprise destination: Greece
Bask under the Mediterranean sun as it emerges from the depths of winter.
When you think of the Mediterranean, summer might be the first season on your mind but from March onward the sleepy islands rub their eyes and open their doors to early visitors. Being in the Mediterranean, Greece welcomes warmth fairly early and with less tourists to push through you won't feel the sticky sweat of the bustling streets this month.
April weather: 12-20℃, spring.
Best for: Relaxation, water sports, culture.
Search for cheap flights to Greece
---
Follow the festival: Top April events to attend
Easter: Practically every Christian-based nation will be celebrating Easter in some way, shape or form this month. If you'd prefer to avoid the masses (and the venue closures) choose a country that doesn't celebrate Easter such as Japan, South Korea or Morocco.
New Year: Some countries and religions celebrate their new year in April. These include Nepal, Thailand, Assyria, Bangladesh and many Indian states such as Manipuri and Bengal. As to be expected, celebrations are rife during this time.
---
When is the best time in April to take a holiday?
As April is the turn of a season, many countries enjoy either spring or autumn at the time so it's a beautiful time of year to visit them.
Easter holidays fall between 1-4 April 2021, which means you won't be alone on your travels if you choose this weekend to go on holiday. It also means prices soar around these dates. Are you on a budget or prefer to avoid the crowds? Choose to holiday on the first week of April instead.
On the flipside, many cities host incredible festivities at Easter, which could be exactly what you're after.
---
Where else is popular to visit in April?
April sees Aussie travellers heading for some familiar holiday spots with local destinations featuring heavily this month.
London, Fiji and Bali all make an appearance in Skyscanner's top 10 for April, however local favourites Sydney, Melbourne and Brisbane are in there, too.
Bangkok, Manila and Gold Coast are popular for travellers looking for some warmer climates. Auckland makes an appearance for those ready to embrace the winter season - or visit family over the Easter break.
Top destinations Aussies booked for April
Sydney
Melbourne
London
Brisbane
Nadi
6. Auckland
7. Bali
8. Bangkok
9. Manila
10. Gold Coast
---