Best places to travel to in January 2021

Start the new year off on the right foot with a well-deserved holiday in one of these hot locations.
Still on a high from your Christmas break? Wish it could last longer? Got some spare January days you can tap into for a getaway? Yeah, you know where we're going with this.
If this year you've resolved to get out, see the world and cash in on more "me" time then it's never too early to start pampering yourself with a getaway. January is one of the best months to hop on a plane as people are still on a post-Christmas wind-down and the school holiday breakers are beginning to return.
Plus, there's the Australia Day public holiday at the end of the month so you can make a long-weekend of it without dipping into your annual leave. Much.
Feeling inspired? Here's are our hit picks for January destinations that won't be flooded with school kids.
---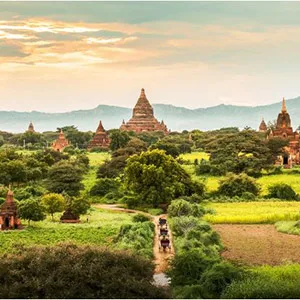 1. Best budget destination: Myanmar/Burma
Beautifully exotic and utterly irresistible, it's time to cross Myanmar off your bucket list.
November to March are peak months for Myanmar. As it's dry season, the weather is spot-on to hike mountains, bake on beaches or explore temple ruins without a downpour to dampen your spirits.
Being peak, flight prices aren't the cheapest, but by travelling in January you'll be avoiding the over inflated prices of the holiday period.
January weather: 28-34℃, dry season.
Top January events: Naga New Year Festival, Kachin Manaw-Fest and Independence Day.
Best for: Adventure, exploration, culture.
---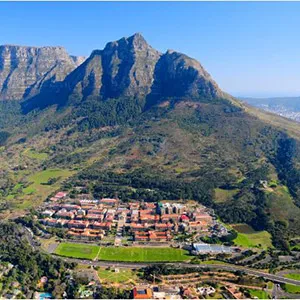 2. Best city to go to: Cape Town
Let the natural wonders of Cape Town captivate you this summer.
The port town of Cape Town is as picturesque as they come.
It blends the natural beauty of the Table Mountains with the architectural wonders and the multicultural Creole nation of the city below.
Pop by in January ready to party as this is when the joyous Kaapse Klopse carnival takes over the streets.
January weather: 22-30℃, summer.
January events: Kaapse Klopse carnival, Galileo Open Air Cinema, Falke Full Moon Hike, Cape Town Street Parade, Kirstenbosch Summer Concerts.
Best for: History, culture, festivals.
---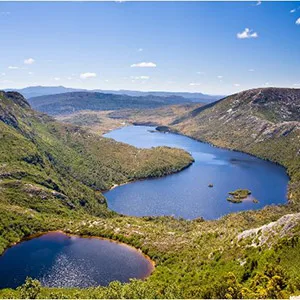 3. Best for relaxation: Tasmania
An underrated contender to cure those January blues.
While sun worshippers will be flocking to the Gold Coast or Central Coast to get their tans, for a quieter break with a view, look to Tasmania.
The island swells with outdoor activities such as hikes, beachcombing and wine tasting and in January the weather is ideal as it's not blistering hot.
January weather: 22-34℃, summer.
Top January events: Taste of Tasmania, Sydney to Hobart Yacht Race, KFC T20 Big Bash, Hobart International, MONA FOMA (Festival of Music and Art) and Tamar Valley Folk Festival.
---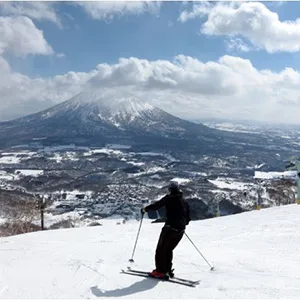 4. Best activity: Skiing in Hokkaido
Push the powder in one of the most unique countries in the world.
The nation that brought us geishas, sumo wrestlers, ninjas and Harajuku girls also brings us some of the best snowfields within reach. When the Aussie snow season seems too far away, Hokkaido has the answer. Sure, January's peak season but isn't the chance to snowboard or ski quality fresh powder worth it?
January weather: -5-0℃, winter.
Top January events: Chitose and Lake Shikotsu Hyoto Festival and Abashiri drift ice sightseeing.
---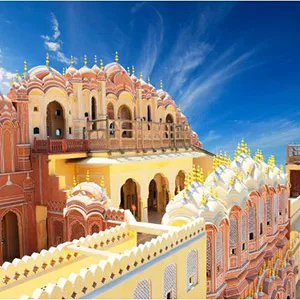 5. Best surprise destination: Jaipur
Why trek to Europe for palaces and forts, when Jaipur is just on your doorstep?
Famous for its "pink city" (due to the colour of its buildings), Jaipur once housed the royal family of its region. Remnants of their seat can be found in its old fort and city palace, part of which is still a royal residence.
The city is popular in January due to its mild climate, low rainfall and long daylight hours and is typically visited alongside Delhi and Agra in what is known as the "Golden Triangle".
January weather: 21-24℃, winter.
Top January events: Kite Festival, Jaipur Literature Fest, Camel Fair Bikaner.
Best for: Exploration, adventure, history, culture.
Check the price of flights to Jaipur
---
The best of the rest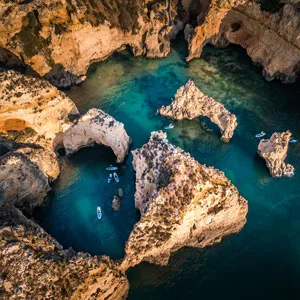 Best places to visit in January in Europe
Greece. The Mediterranean stays relatively warm throughout the year - even during winter. Some islands will be closed but you can still explore the mainland's beauties including Athens and Meterora.
Algarve. One of the more off-the-beaten track destinations, The Algarve region of Portugal is blessed with beach bliss and hot-dry weather that peaks at 16°C.
Iceland. The Christmas crowds have moved on but the spectacular Northern Lights have not. What more could you as for?
Check the price of flights to Europe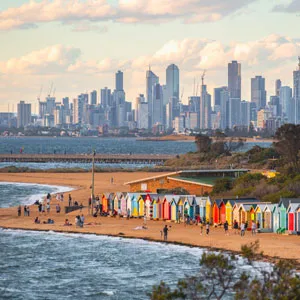 Best places to visit in Australia in January
Melbourne. Tennis addict? Every year Melbourne host the Australian Open, bringing with it the biggest and brightest stars of the tennis world. Definitely one not to miss.
Sydney. If you've come in for the famous New Year's Eve fireworks, it's worth sticking around Sydney for a bit. January is a hotbed of festival entertainment including the Sydney Festival which runs from 8-26 January 2020.
The Clare Valley. Unwind and cool down in The Clare Valley, sipping on its best wines and experiencing slightly cooler weather in January than the rest of the state.
Check the price of flights to Australia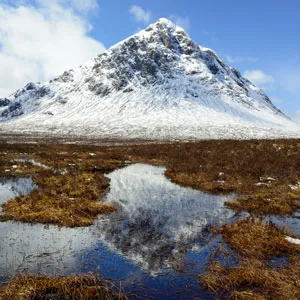 Best places to visit in the UK in January
Longleat Safari Park. The sun might not be out quite as much as you'd like but to make the most of the darkness Longleat hosts a Festival of Light. Similar to Vivid Sydney's Taronga Zoo the park welcomes animal shaped lanterns in one magical experience.
London. Christmas might be over but the festivities run into January in London. Head to Southbank for its markets or if you're quick head to Hyde Park to catch Winter Wonderland. It generally ends after the first week of January.
Glencoe, Scotland. After a bit of powder? Scotland has heaps dressed on its peaks. Glencoe is the place to hit the slopes with 20 runs waiting for you and your boards/skis.
Check the price of flights to UK
Warm places to visit in January in the USA
Florida. When the call for warm weather arises the place to be is sunny Florida. While you're there don't forget to pay a visit to Disney World and the Kennedy Space Center.
Hawaii. If you're searching for summer outside of Australian shores, Hawaii is always a good idea. It's also the closest American destination to get to so you won't have to spend too long in transit.
San Diego. Generally the further south you go down the mainland the warmer it's going to be. If you've exhausted Los Angeles and San Francisco, try San Diego for size. It's got incredible Mexican food, a world-famous zoo and temperatures that peak at 20°C in January.
Check the price of flights to USA
---
Other recommended destinations to visit in January
Auckland
Cambodia
Canada (Ski + Northern Lights)
Caribbean
Dubai
Hobart
Malaysia
New Zealand
Phuket
Patagonia
Sri Lanka
---
Follow the festival: Top 4 January events to attend
Harbin Ice and Snow Festival: China's snow sculpture festival is an impressive display of sky high ice and sculptures, winter sports and music. Throughout December-January, Harbin.
World Buskers Festival: Buskers from around the world take over the streets of New Zealand to entertain and delight over 10 fun-filled days. Christchurch, 23 January - 16 February 2020.
Australia Day: For anyone staying closer to home this month, our national celebrates the its discovery by the western world on 26 January. Events will be held throughout the country. Wear your colours with pride. Australia, 26 January.
---
When is the best time in January to take a holiday?
The later in the month, the better. At the beginning of the month, Christmas and New Year's holidaymakers are still around and prices are still high. Families will still be around too, so if you want to avoid, get wind of when the school terms begins again and fly out around then.
Travelling around the Australia Day public holiday can mean you won't have to use up annual leave, but others will likely be thinking the same. Weigh out your odds, but if you want to avoid peak prices and crowds, choose the weekend before to get away.
Need more inspiration? Visit our Flight Deals page for the best flights you can book right now.
---