The best phones for 2020, tested by our expert editors
We've ranked the top 10 smartphones you can buy in Australia right now, based on hundreds of hours of hands-on testing.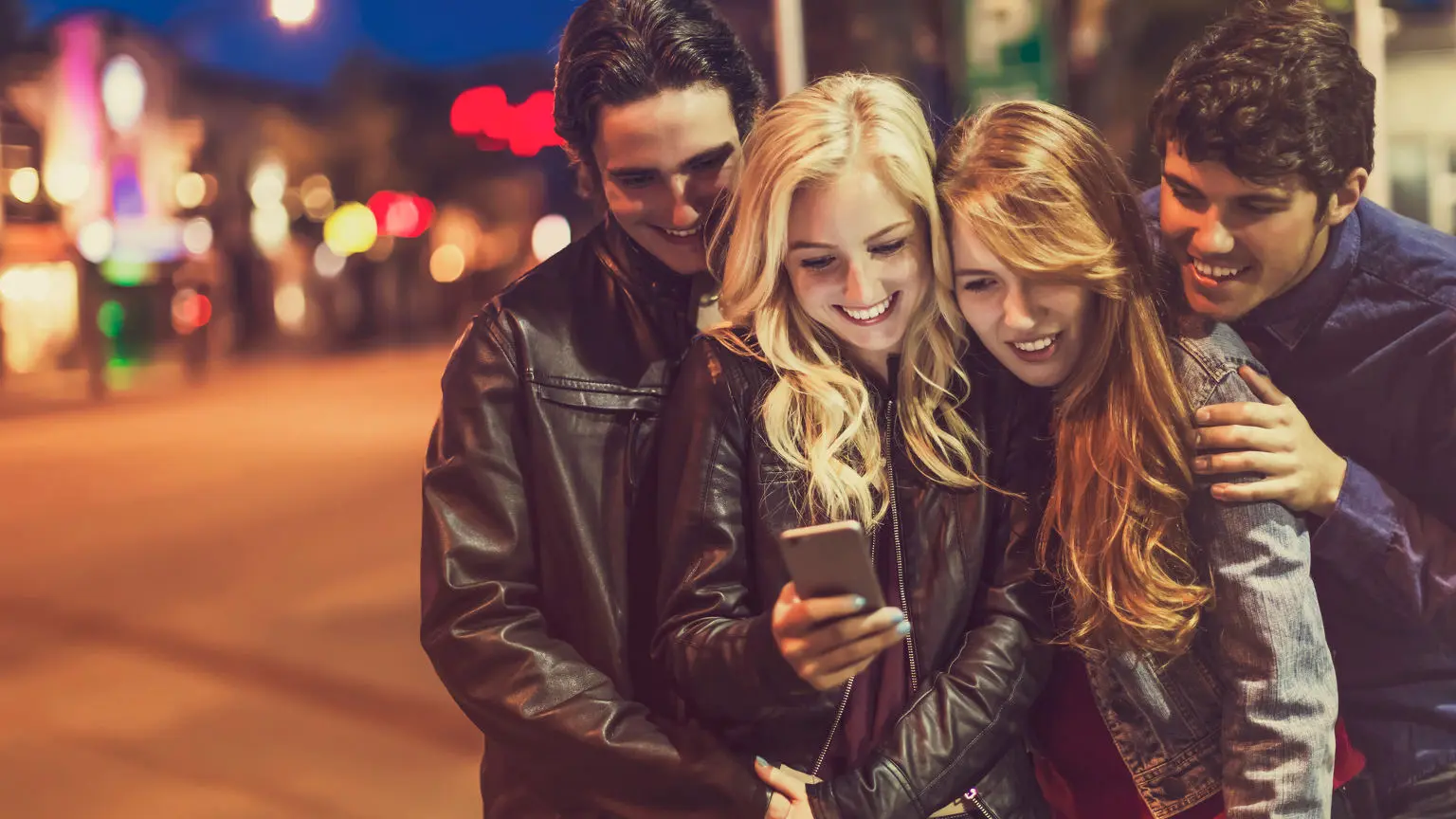 We're committed to our readers and editorial independence. We don't compare all products in the market and may receive compensation when we refer you to our partners, but this does not influence our opinions or reviews. Learn more about Finder.
The best mobile phones for 2020, ranked
How did we pick this list?
Finder's team of experts have tested and reviewed every phone on this list. For each phone, we consider the design, cameras, performance, battery life and overall value for money.
Our editorial team selected the phones on this list based on their overall quality and value compared to other phones on the market. The selection and order is not based on review scores. More detail on methodology below.
Compare the best phones of 2020
---
A great all-rounder that's brilliant in almost all situations.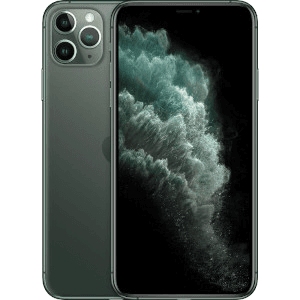 6.5-inch display | 64GB, 256GB, 512GB storage options | 12MP + 12MP + 12MP rear camera
Best battery life in an iPhone to date
Triple camera gives plenty of photographic flexibility
Improved low light photography
Expensive
No onboard 5G
Low light shooting is better on several Android handsets
RRP From $1,899
Why we chose it
Apple sits at the top of our best phone list despite being one of the most pricey phones you can buy. Getting to that spot at that price point means it has to go further and do more than other phones, and this is where Apple's heavy control over the whole iOS experience, from software to hardware really pays off.
It's astonishingly easy to get two days of battery life from the iPhone 11 Pro Max, so it's also in stark contrast to the woeful battery life we used to see from older iPhones. Apple's triple camera array isn't market leading at a technical level, but that rarely matters when its output is so very good across both still and video shooting.
Apple has continually released updates to iOS that have only made the iPhone 11 Pro Max's camera better. The one slight downside here is that its 2x Optical Zoom isn't particularly strong when compared to other premium phones. Apple is also still biding its time when it comes to 5G compatibility, and its absence is missed here when you consider the high asking price of the Apple iPhone 11 Pro Max.
Read our full review of the Apple iPhone 11 Pro Max.
---
Samsung's mid-range flagship is its most impressive phone.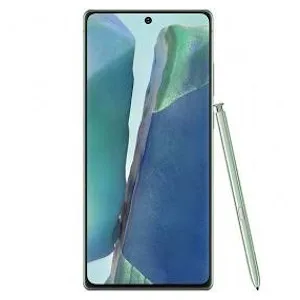 6.7-inch display | 256GB, 128MB storage options | 64MP + 12MP + 12MP rear camera
Good camera quality
As fast as the pricier Note 20 Ultra
S-Pen is good for productivity and artistic endeavours
Average battery life
Space zoom remains a gimmick
Ultra model gets the better display
RRP From $1,499
Why we chose it
Typically the lower cost version of a flagship is rife with compromises in cameras, displays and battery capacity. On paper, that's true of the Galaxy Note 20, a smaller version of the Galaxy Note 20 Ultra, but they're compromises that really make little difference in your day to day usage of Samsung's latest flagship phone. In return you save hundreds of dollars while still gaining a great camera, easy to use S-Pen and 5G compatibility. The Note 20 Ultra is technically a "better" phone – but the Galaxy Note 20 is the better phone for most consumers.
Read our full review of the Samsung Galaxy Note 20.
---
The Samsung phone to buy if you want all the trimmings.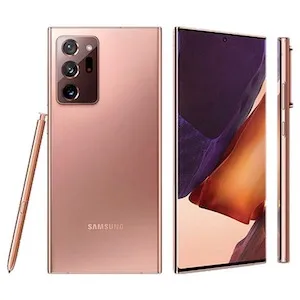 6.9-inch display | 256GB, 512GB storage options | 12MP + 108MP + 12MP rear camera
Great low light performance
Slick high refresh rate display
S-Pen compatibility works well on a large display
120Hz display is a battery hog
Chunky camera bump
50x 'Space Zoom' delivers woeful results
RRP From $1,849
Why we chose it
If you're a fan of Samsung's phone approach, the Galaxy Note 20 Ultra is still a highly impressive phone, albeit at a predictably high price, which is why we rate the regular model Galaxy Note 20 ahead of it. Still, if you wallet can stand it, you get a huge screened phone with a very nice 120Hz display, the creative and productivity benefits of the S-Pen and the best camera we've seen in a Samsung phone to date. Yes, the "Space Zoom" feature is still overblown nonsense, but for everyday shooting the Note 20 Ultra is highly capable. On the downside, that 120Hz 6.9 inch Dynamic AMOLED display is a thirsty beast when it comes to chewing up battery power.
Read our full review of the Samsung Galaxy Note 20 Ultra.
---
Great performance at a good price.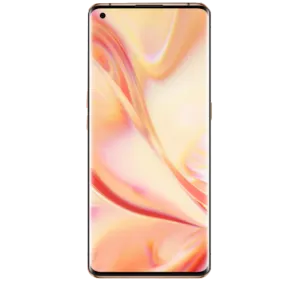 6.7-inch display | 512GB storage options | 48MP + 48MP + 13MP rear camera
Fast processor with 5G
Great array of cameras
Vegan Leather option
ColorOS wants weird permissions
Lacks wireless charging
Fingerprint sensor is fussy
RRP From $1,599
Why we chose it
Oppo has gone from strength to strength in the premium phone space, and the Oppo Find X2 Pro effectively replaces 2019's Oppo Reno 5G in our best phones roundup, by way of upgrading just about everything that made that phone stand out. You get the choice of a more traditional Ceramic Black phone or the fancier looking "Vegan Orange Leather" finish to suit your style, 5G compatibility, a powerful Snapdragon 865 processor with 12GB of RAM and some really fun and varied cameras to boot, although like most premium phones with a "super" zoom capability, the Find X2 Pro's 60x zoom isn't really worth using.
What makes the Oppo Find X2 Pro really stand out is the asking price; where so many flagship phones now nestle up closely to the $2,000 price point, the Find X2 Pro can be yours for hundreds of dollars less.
Read our full review of the Oppo Find X2 Pro.
---
The most premium phone money can buy.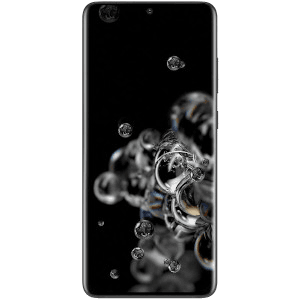 6.9-inch display | 128GB, 256GB, 512GB storage options | 48MP + 108MP + 12MP rear camera
Amazing display
Lots of camera flexibility
5G ready with dual-band built in
Big and heavy
Camera output can be inconsistent
Expensive
RRP From $1,999
Why we chose it
Samsung's early 2020 flagship phone, the Samsung Galaxy S20 Ultra certainly earns that suffix, as it's one of the very largest phones you can buy. That means you get a lot of screen for your money, and it's simply the most gorgeous Super AMOLED display Samsung has put into a phone to date, with support for 120Hz refresh rates giving you silky smooth screen animations.
It's 5G capable by default, and the first phone to land in the market with dual-band 5G in mind too. Samsung's put everything it can into its camera, which includes neat features like Single Take, which fires off every one of its 3 primary rear lenses to capture an array of video and still shots of your target, meaning it's easy to get that elusive "best" shot. It's also very capable of zooming, although its heavily hyped 100x "Space Zoom" really is just a gimmick.
Camera output was a little inconsistent in our tests, and we're hoping that Samsung copies Apple's approach here and delivers updates that improve the camera experience. The hardware is there, but the software just needs a little tweaking.
Other considerations that are worth bringing up are its size, because this is a huge smartphone, so may not be your best bet if you want a smaller device. Like the 11 Pro Max, it's also a pricey option by default, with even the lowest spec model coming in at $1999 at launch.
Read our full review of the Samsung Galaxy S20 Ultra.
---
Low cost and insanely powerful.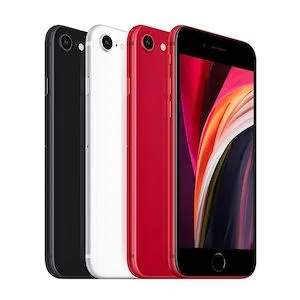 4.7-inch display | 64GB, 128GB, 256GB storage options | 12MP rear camera
Best processor at this price
iOS upgrades delivered automatically
The most powerful small phone you can buy
Battery life is sub-par
Single lens camera only
Poor low light performance
RRP From $749
Why we chose it
Apple's iPhone crop for 2020 is reportedly delayed due to COVID-19, but it managed to sneak out a new lower-cost iPhone before the pandemic hit, in the form of the iPhone SE 2020. While it's built on the frame of the iPhone 6, this is one seriously powerful phone, because it's running the same Apple A13 Bionic processor found in the considerably more powerful iPhone 11 Pro and iPhone 11 Pro Max handsets. There's simply nothing like it at the iPhone SE 2020's price point, and it's not even close.
It might be low cost by Apple's standards, but all that power comes with a cost. Battery life is not great, and while it does feature wireless charging, you're still most likely going to need to top it up before the day is done. It's use of the iPhone 6 body also means that you only score a single lens on each side of the phone, and while Apple's camera software can make up for that to an extent, it's still not a strong performer, especially in low light.
Read our full review of the Apple iPhone SE 2020.
---
Google's low-cost Pixel is its best phone.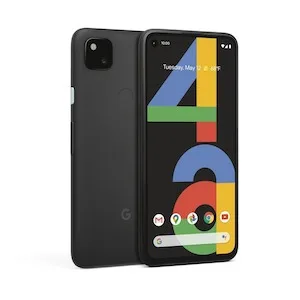 5.8-inch display | 128GB storage options | 12.2MP rear camera
Single lens shoots very well
Guaranteed Android Updates
Great low light performance
Battery life could be better
Fixed storage
Better 5G option coming soon
RRP From $599
Why we chose it
Google's Pixel line used to be purely about premium performance, but with 2019's Google Pixel 3a, the search giant turned its attention to more affordable fare. With the Pixel 4a, they've delivered just about everything you might want in a simple to use phone, especially if you're a fan of clean Android UI and guaranteed software upgrades for at least three years. Like the Apple iPhone SE 2020, you're limited to a single lens on the Pixel 4a, but this is less of an issue once Google's superlative camera AI kicks in, delivering best-in-class low light performance, including the ability to take astrophotographs if you've got a tripod handy.
Where the Pixel 4a falters a tad is in battery life and the fact that like other Pixel models, you're stuck with just its fixed storage allocation, although at least Google's bumped that up to a more pleasing 128GB this time around. Google is also promising a 5G-capable Pixel 4a later in the year, which may be worth waiting for if 5G compatibility is important to you.
Read our full review of the Google Pixel 4a.
---
The camera features of a flagship at a mid-range price.
6.6-inch display | 128GB, 256GB storage options | 64MP + 8MP + 8MP rear camera
120Hz Display
Zoom cameras work well
Plenty of processing power
No wireless charging
Middling battery life
Fixed storage
RRP From $699
Why we chose it
Chinese brand realme is best known for playing in the super budget space, but its first big flagship phone, the realme X3 Superzoom is a genuine challenger in the best phones arena. It combines good processing power with a fun array of cameras in a nicely designed handset that costs well under $1000 even if you buy the premium 12GB/256GB version.
The "SuperZoom" suffix is there because it'll do 60x combined digital zoom, and honestly that's awful as it is with everyone's extended zoom cameras this year. The 5x Optical or 10x hybrid zoom is considerably better, however, offering a suite of features on phones that typically cost double the realme X3 SuperZoom's asking price.
Read our full review of the realme X3 SuperZoom.
---
The cleanest Android experience on the market.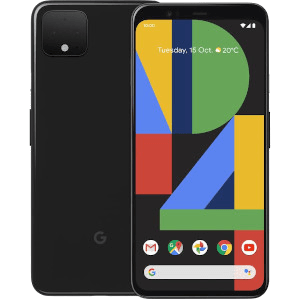 6.3-inch display | 64GB, 128GB storage options | 12.2MP + 16MP rear camera
Guaranteed OS upgrades
Easy to use cameras that see regular updates
Clean Android experience that you can make your own
Motion Sense is a pure gimmick
Battery life could be better
No storage expansion
RRP From $1,279
Why we chose it
The largest and most recent update to Google's in-house Android phone family, the Google Pixel 4XL expands on what has made its own phone line so popular with the Android faithful. You get guaranteed Android updates to the operating system, something that's not true of all that many flagships.
Google's also consistently tweaked the Pixel 4XL software experience since launch, which means that they're phones that are about as close as you're going to get to iPhones in terms of added features appearing months after they're actually "new" phones. Google's Pixel 4XL camera has some neat features, including a superb astrophotography mode that can even cut through the heavy light of cities to get pleasing shots.
Not everything is a hit on the Pixel 4XL however. For a larger phone its battery life is only ordinary, and like every other Pixel phone you can't bump up the storage with cheap microSD cards. It's the first phone to feature Google's technically smart Motion Sense radar, but to date it's only been used for simple features like music playback control, and it's not even very accurate for that.
The Pixel 4XL's position as the best Google flagship is living on borrowed time, with the Google Pixel 5 expected later this year with full 5G support. However given the Pixel 4a's later-than-expected launch, that might not be until the very end of the year.
Read our full review of the Google Pixel 4 XL.
---
Best phone for gaming.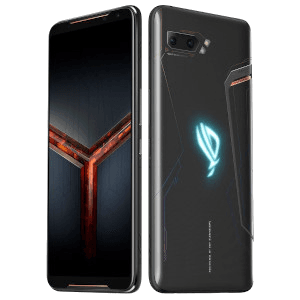 6.59-inch display | 128GB, 512GB, 1TB storage options | 48MP + 13MP rear camera
Great 120Hz display
Gaming accessories add appeal
Immense battery
It's HUGE
Ordinary cameras
Lacks wireless charging
RRP From $1,699
Why we chose it
Asus as a brand is more closely associated with PC parts and gaming laptops, and it's the latter market that Asus taps for the ROG Phone II. ROG, in this case, is Repubic of Gamers, Asus' gaming-centric brand. In the ROG Phone II, it throws a very PC-centric approach to mobile phones, which starts with its immense 6.59 inch AMOLED display, and continues with a range of bolt-on accessories that can turn the ROG Phone II into a near-clone of Nintendo's Switch console visually. If you're a keen mobile gamer it's an easy recommendation on that basis alone, helped along by a 6,000mAh battery.
As a more regular everday phone the ROG Phone II is a harder recommendation. Its size won't suit every hand, and while it sports multiple rear lenses, it shoots well below the competition in more challenging light environments, which is not what you'd typically expect out of a flagship phone.
Read our full review of the ASUS Rog Phone II.
---
Compare the best phones of 2020
Compare the display size, battery, overall rating and purchasing options of each phone in the table below. (Click on 'View Details' for more product specifications.)
---
Methodology

150+
Mobile phones reviewed

10,000+
Hours spent testing

10
Best phones ranked
We've spent thousands of hours testing and reviewing mobile phones.
Our editorial team has a combined 60+ years of experience writing about tech and reviewing the latest devices.
The phones on this list are chosen by our editorial team and are not based on commercial relationships.
More guides on Finder