Best pens in Australia
We read hundreds of customer reviews to find the 7 best pens available in Australia right now.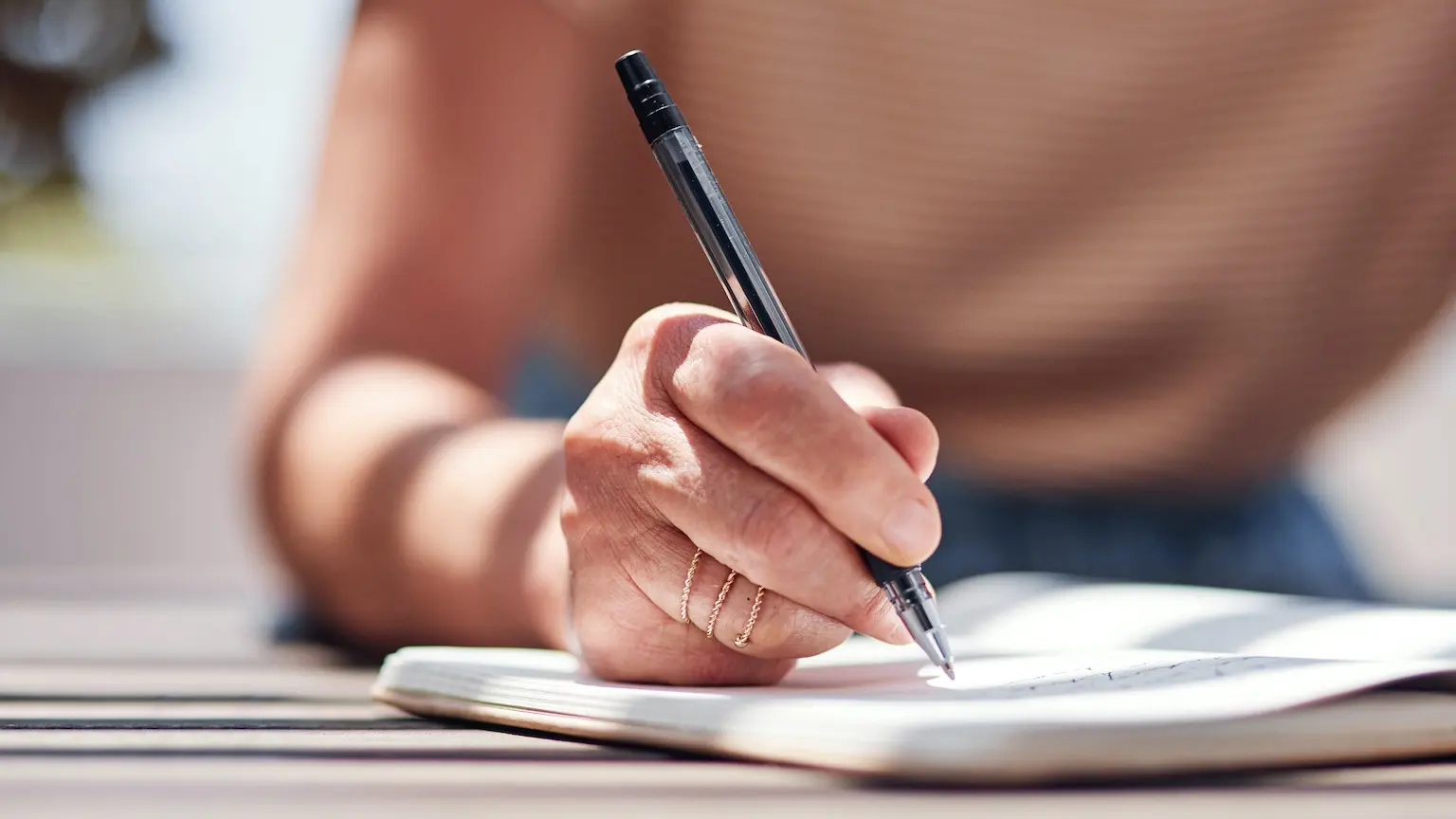 We're reader-supported and may be paid when you visit links to partner sites. We don't compare all products in the market, but we're working on it!
The best pens in Australia
How did we pick this list?
There's more to a good pen purchase than meets the eye. We selected the products on this list based on actual customer reviews and researched product features within each category to identify the pens with the highest review scores.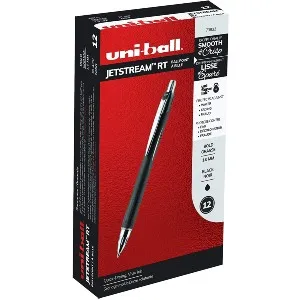 Pros
Good value for money
Easy flow ink
Cons
Made from plastic
Critics say ink comes out unevenly towards the end of use
Price (RRP): $55.17 for a pack of 12
Buy at Amazon
Why we chose it
With an average rating of 4.8 out of 5 from 1,470 Amazon reviews, the best overall pen available in Australia right now is the UniBall Jetstream Standard Pen.
Perfectly balanced, these pens offer a really smooth writing experience which many customers enjoy. The design is a classic which has all the features you'd expect.
The ink flows really easily, dries quickly and produces vibrant colour. The fact that these pens dry so quickly makes them a great choice for left-handed writers as it minimises smudging and allows for crisp lines.
Despite being made of plastic this pen is still durable and stylish, with an overall sleek design and a rubber grip for added comfort.
---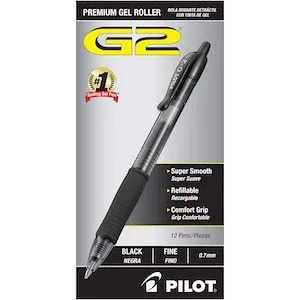 Pros
Comfy to hold
Classic style
Cons
Critics say the fine tipped version can scratch paper
Ink takes a while to dry
Price (RRP): $3.50
Buy at Amazon
Why we chose it
With an average rating of 4.8 out of 5 from 5,127 Amazon reviews, the best gel pen available is the Pilot G2 Retractable Gel Ink Pen.
This classic design is well known and liked, with a cushioned ergonomic grip that many customers say is comfortable to hold thanks to its good positioning.
This pen features a retractable nib, which has a solid click feel and sound when used, as well as a sturdy clip. Many customers say this pen feels good in their hands and helps them to write smoothly and easily. The fact that you can see the ink levels through the smooth plastic body is a bonus as you can tell when you need a refill.
---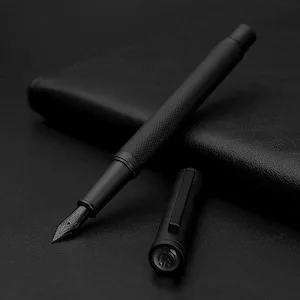 Pros
Built to last
Good mid price point for a fountain pen
Cons
Ink sold separately
One reviewer commented that the fine nib option writes more like a medium
Price (RRP): $24.78
Buy at Amazon
Buy at Etsy
Why we chose it
The best fountain pen available in Australia right now is the Hongdian Black Forest Matte Fountain pen, which boasts an average rating of 4.4 out of 5 from 4,891 reviews on Amazon.
Whether you choose a fountain pen as a timeless piece of stationery, or because you're thinking more about sustainability, there are a few factors that make the Hongdian the pick of the classic bunch.
The weight of the pen is carefully designed to be suitable for writing for longer periods of time. One review said the sleek matte black pen felt surprisingly sturdy in their hand given how slimline it is. Many customers noted how smooth this product is to write with.
This product comes with a converter for bottled ink, cartridges are not included. While not the cheapest option to purchase initially, these pens are built to last and many customers have noted that this is good value for money. It also arrives in a metal pen case which reviewers noted makes it ideal for gifting.
---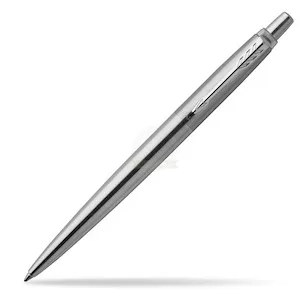 Pros
Stylish and durable
No plastic parts
Cons
A more costly option
Some critics think older editions of this pen are better quality than the newer offerings
Price (RRP): $26.99
Buy at Amazon
Buy at David Jones
Why we chose it
With an average rating of 4.6 out of 5 from over 12,300 Amazon reviews, the best ballpoint pen available right now is the Parker Jotter Stainless Steel Ballpoint Pen. A classic design from the well-known brand, this product gets reviews that live up to the high end price point.
This pen is made with stainless steel and is sturdy and durable; many customers comment on how long lasting it is. This product is known for being durable and reliable.
In terms of how it writes, this pen has a tungsten carbide ball tip with a unique geometric structure, ensuring a quick and comfortable writing experience with high colour intensity. As one customer put it, "they don't write, they glide".
Parker's signature retractable design opens and closes with a click and this product is also compatible with Parker's gel refills.
---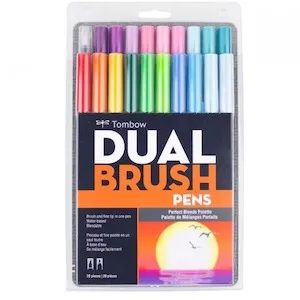 Pros
Wide range of well pigmented colours
Allows for a variety of creative uses
Cons
One critic said the pens were slightly too long for their tastes
Can dry out quickly if the lids are left off
Price (RRP): $55
Buy at Amazon
Why we chose it
The best pens for calligraphy are the Tombow Dual Brush Markers, with an average rating of 4.8 out of 5 from across 4,609 global reviews on Amazon. These pens straddle the line between home crafting use and professional fine art quality.
This product comes as a pack of 10 in a variety of colourways and they are ideal for illustrations, journalling, hand lettering and more.
The Dual Brush Markers have two tips: the fine tip is perfect for consistent lines and tight drawing and the second is highly flexible like a brush making it ideal for large area colour application. The single ink reservoir also makes this product a more economical choice.
The caps are colour coded and the pens come in a wide range of 108 colours. In addition to this, they are blendable to create your own shades, and you can add water to create more subtle blends. The ink is acid-free, non-bleed water-based and odourless which many customers comment is a nice touch, especially if they're writing or drawing for longer periods of time.
---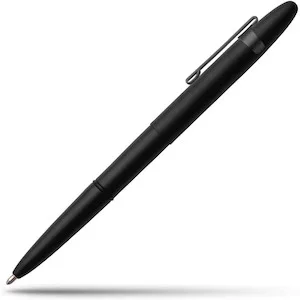 Pros
Can write in any conditions
Long lasting ink
Cons
A more costly option
Some customers don't like the friction fit lid
Price (RRP): $60
Buy at Amazon
Why we chose it
The best pen for writing is the Fisher Matte Black Space Pen, which has an average rating of 4.7 out of 5 from 4,621 reviews on Amazon. This product writes smoothly at any angle, and even in zero gravity (hence the name)!
One of the most versatile pens there is out there, the Fisher Space Pen can write in extreme temperatures from -34ºC to 121ºC. You can write upside down, under water and even over grease with ease. Fisher is so confident with how durable this pen is, it even comes with a lifetime guarantee against manufacturing defects.
The pen has a brass body with a matte black finish and customers like how comfortable it is to write with for long periods of time. Thanks to its pressurised ink, the Space Pen refill also lasts up to three times longer than a standard ballpoint refill.
---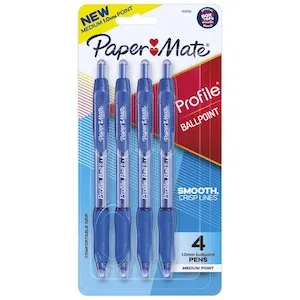 Pros
Many customers say these pens glide easily
Doesn't blot much for a thick tip pen
Cons
Not as durable as more costly options
Critics think they run out of ink quickly
Price (RRP): $2.60
Buy at Amazon
Why we chose it
The best ballpoint pen if you're on a tight budget is the Paper Mate Profile Ballpoint pen. It boasts an average rating of 4.7 out of 5 from over 2,000 Amazon reviews and is available as a single item or to purchase in bulk.
This pen has a bold 1.4mm point which writes with ease, and customers like the soft grip which allows them to write for long periods of time in comfort.
The ink itself is vivid and the pen comes in multiple colours so whether you're journalling or studying you can colour code your notes.
The retractable design is convenient and user friendly, and customers find this product to be good value for money.
---
Methodology

18
Brands considered

32
Products compared

7
Best products chosen
We've compared over 18 pen brands and more than 32 individual pen products.
We took into consideration real customer experience from reviews and factors including cost, comfort and how smoothly the pens write.
The products on this list are chosen by our editorial team and are not selected based on commercial relationships.
More guides on Finder