Guide to shopping Boxing Day sales online 2020
It's the biggest sale day in Australia, Boxing Day. Here's how to bag a bargain online.
We're committed to our readers and editorial independence. We don't compare all products in the market and may receive compensation when we refer you to our partners, but this does not influence our opinions or reviews. Learn more about Finder .
Boxing Day sales are a great way to pick up discounted products and gifts. But the massive crowds can make taking full advantage of the deals a total pain. And sometimes it's easy to give up on snagging a bargain just to avoid the hoards of other shoppers. If you want the sales minus the crowds and cramped car parks, you might want to turn to online retailers this year. Here's how to make the most of your Boxing Day, even if you're just shopping from your couch.
Tips for shopping online
1. Make a list, check it twice - actually though
Even if you just form a vague plan in your head, it's a good idea to know what you want to buy.
If you know that you need a new computer and a new lounge, keep this in mind when you start shopping. It sounds simple, but many people browse aimlessly before heading to snap up the things they definitely need first. Know what you want, make a list and buy these pieces first. Because some pieces sell out very quickly online.
Last year, I had a spreadsheet with links to every piece I wanted to buy. That way it was really easy for me to add to cart and get everything that I wanted before anything had a chance to sell out.
2. Know where you want to shop

If you don't have a specific idea of what you want, make sure you at least know where you want to shop. If you're not sure, try Googling the items you're after to see which stores have them. This will give you an idea of which stores to hit first.
This step is important because if you're planning on shopping at a popular online store like Sephora or Princess Polly, be aware that many other people can have the same idea as you. This means that the popular pieces sell out extremely quickly and the sites themselves have been known to crash due to the high levels of traffic. It's particularly common to see these issues at beauty stores and tech retailers.
If you want to shop at a top store, you better do it first thing. If you wait too long, it might be too late.
3. Use a comprehensive list of sales
Whether you have a plan of attack or not, using a comprehensive list of Boxing Day sales can help you find the best prices. Finder has an easy-to-use list of hundreds of deals from the top retailers with Boxing Day sales. You can use it to search for your favourite store or just scroll to compare offers.
I use this list every year to make sure that I'm getting the best price. With the huge number of retailers participating in the Boxing Day sales, you just can't check every store for a deal. But scrolling through a list is quick and easy. Last year, I was about to buy a vacuum but a quick scroll through the Boxing Day sales list showed me that eBay had an even better price than the one I found. It saved me $120.
You'll find about 400 sales on this list. So it's the perfect starting point for any shoppers new to the online experience.
4. Don't buy things you don't need - and especially that you don't want
I am very guilty of being completely blinded by a cheap price tag. But just because a $600 dress is down to $50, doesn't mean that you need it or will actually wear it. Use the sales to buy things that you ordinarily couldn't afford, don't buy things just because they're cheap.
It's totally fine to pick up a few extra treats if you see them at a good price. But don't let a 70% off deal make you believe that you like something when you really don't like it - or need it.
If you're in doubt, try asking a friend, sibling or even your mum or dad. I have two friends I always consult before I commit to an impulse buy. Sometimes you need someone else to put in perspective that you already have six pairs of red shoes and you don't need a seventh.
5. Know the return policy
I like to always check the return policy of a store before I shop. This will help you make more effective purchasing decisions. If you're not 100% sure about an item, shopping at a store with cashback returns and free postage can take the pressure off. If you change your mind, you can send it back for free!
There's nothing worse than buying something, deciding to return it and realising that you can only get store credit and the return is going to cost you $15.
You can check out a list of stores with both free delivery and free returns here. And if you're not fussy about free delivery and free returns, at least check that the store offers returns at all. Because some just don't.
6. Hit up the deal sites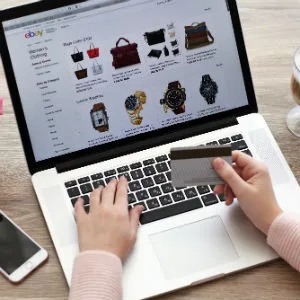 If you're not sure where to start, I suggest you try the big deal sites. Stores like Catch, Amazon, eBay and Kogan have cheap prices ordinarily. But these stores, have even cheaper prices on Boxing Day.
Not only can you find gifts, furniture, electronics and beauty but these stores have everyday essentials too - like shampoo or knives. You can find some of the best bargains on these sites for sure.
What to buy on Boxing Day
In the mood to shop but not sure where to start? Here are some tips.
Trending gifts of 2020
Why not buy one of the trending items from this year? These have been some of the most sought after pieces on the market.
Fitbit Charge 3 to Fitbit Versa, change UE Boom for a JBL speaker like this charge 4, change the google home to the google home hub, get rid of Anki vector and add airpods
Fitbit Versa
Dyson Airwrap
Anything from Jeffree Star Cosmetics
JBL speaker
Linen bed sheets
Google Home Hub
Succulents
Monogrammed pieces like a pouch or phone case
Apple AirPods
Anything from ColourPop cosmetics
Playstation Classic
Polly Pocket - recently relaunched!
Silk pillow cases
Indoor plants like a fiddle leaf fig
Osmo genius kit for kids
DJI Mavic drone
---
Things we can expect to see on sale
Every year at Boxing Day there are a few standard items we always see on sale.
Beauty gift packs always make their way to the sale shelves. You know those pretty boxes of hand cream sets and lipstick packs you always see in department stores in the lead up to Christmas? These inevitably end up in the bargain bin on 26 December. If you're in need of some new beauty products, you can find great deals by looking at the discounted gift packs.
You can usually find game console bundles on sale on Boxing Day too. Many stores will bundle up a bunch of games with a console to entice Christmas shoppers. Once Christmas shopping is done though, these bundles hit the sale section.
Other pieces with slashed prices include the laptops and TVs released in 2019. These are discounted to clear the way for the new models arriving in the new year. Also, seasonal furniture also ends up on sale so stores can clear the floor and introduce the new season stock.
---
See a snapshot of the sales
Scroll through to see some of the current offers you can shop
Popular AU Top Merchant Shopping Deals coupon codes
| Last checked | Code description | Code |
| --- | --- | --- |
| 20 Oct 2020 | $80 off your first four HelloFresh boxes | HFF**** |
| 20 Oct 2020 | 15% off full-price items | MID**** |
| 19 Oct 2020 | 2 sunnies for just $75 | SET**** |
| 19 Oct 2020 | Choose your 4-piece goodie bag with over $115 spend | GOO**** |
| 19 Oct 2020 | 100% off The Complete Microsoft Excel Pivot Tables and Pivot Charts | PIV**** |
---
Image source: Getty
Related Posts