The best Nintendo Switch games of all time
If you own or are buying a Nintendo Switch, these are the games you must have in your collection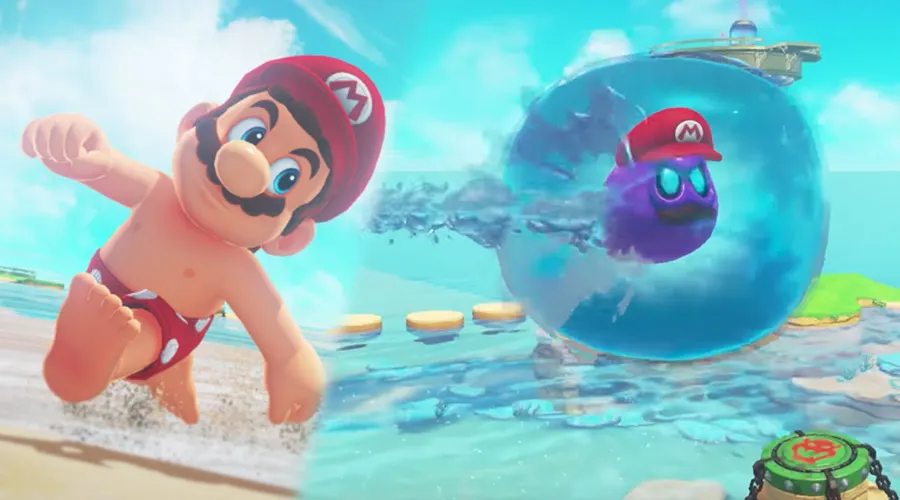 We're reader-supported and may be paid when you visit links to partner sites. We don't compare all products in the market, but we're working on it!
The best Nintendo Switch games
I've had my Nintendo Switch since launch and like a proud father, my love has only grown as it gets older. The Switch came into the world with one invaluable asset, The Legend of Zelda: Breath of the Wild, and went on to rally a small army of instant classics over the course of the past few years.
The following list of games is the best you can (currently) get on Nintendo's portable powerhouse.
How did we pick this list?
Our editorial team selected the games on this list based on over 60 combined years of gaming experience. We chose each game based on its overall quality, impact, originality and value compared to other games in the same genre. Find more detail on our methodology below
---
In an age of gaming where we're constantly nickeled and dimed with micro-transactions and DLCs that should have been on the disc for free in the first place, Super Mario Maker 2 makes an incredibly generous proposition to players.
It says, hey, here is a powerful bunch of level creation tools, a blank canvas and a bunch of content from five or so Mario games – go make anything you want! Oh, and you can play competitively with three of your mates, too.
As if that isn't enough, you're handed an addictive single-player campaign that has you earning coins to rebuild a mushroom kingdom castle, wing by wing, mission by mission. And any levels you (or the sadistic people who live on the Internet) make can be uploaded and shared with the world. There's no two ways about it; this game is ludicrous value for your hard earned coins.
---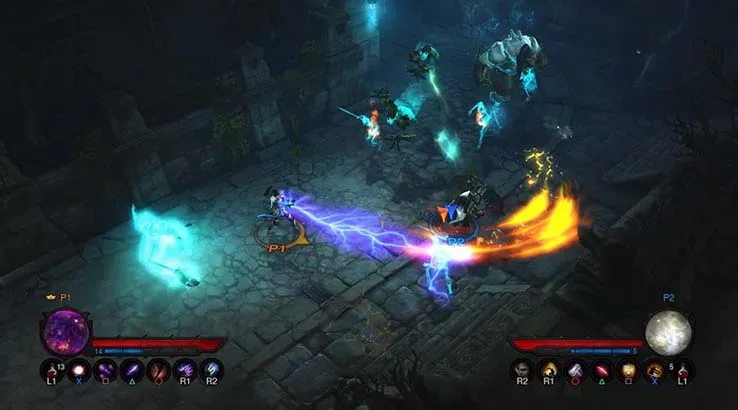 A quick warning to any newbie who's considering a purchase of Diablo III: you stand upon the precipice of a great and all-consuming addiction. Once you pick a class of evil slayer, you'll be sucked into a vicious fantasy cycle of hewing through horrors, blasting bosses with magic, and looting. So much looting. There'll always be a fancier chunk of armour to fashion-flex with, or a new Excalibur-like weapon to equip.
This potent formula has been perfected by Blizzard over the course of years and years of updates. Now that it has been more or less perfected and pushed out onto Nintendo's supremely capable portable, well, it's basically irresistible. This is a disrupter of lives. A destroyer of commutes. You need it (and a lot of spare time). Today.
---
If you're a fan of OG roleplaying games from the SNES era, Octopath Traveler is a delicious fusion of classic imagery and battle systems mixed with cool new ideas. This turn-based RPG from genre luminaries Square Enix centres on eight playable heroes undertaking eight very unique adventures to meet one another. Expect a bunch of eureka moments here. Because repeated replays will reward you with fascinating behind the scenes insights that have been shaping your previous travails into this fantasy world.
Beyond guiding the fortunes of eight main characters (four male and four female) there's a ton of gameplay variation in terms of classes, conversational responses and field commands. Ocotopath is also a joy to behold, thanks to its medieval European aesthetics and a throughly unique "HD 2D" art style. Basically, come for the OG battle system and nostalgia-inducing soundtrack, stay for the hours and hours of adventuring and serpentine plot twists.
---
L.A. Noire
It might seem a little unfair that Skyrim was ousted from this list when L.A. Noire remains, but hear me out. When I was playing L.A. Noire on Nintendo Switch, there were two things running through my mind: a) It's insane that I'm playing this gritty detective story that deals with intense themes like murder, abuse and racial tensions on my adorable Nintendo Switch console with fluro-yellow Joy-Cons, and b) holy hell, I'm playing a Rockstar game on a Nintendo console again.
After GTA: Chinatown Wars on the DS and the Wii version of Bully, I wasn't sure I'd ever see the day a game from the rudest, crudest AAA video game developer would appear on another console by the family-friendly Ninty but here we are.
Cole Phelps' rise up the ranks doesn't benefit much from the switch to Nintendo's handheld, but it does get a lick of new paint, a simplified interrogation system, touch controls and a weird motion-based walking feature. But that's all beside the point. What I love about L.A. Noire is the same as what I've always loved about it: the 1940s period drama, the incredibly detailed (if not a little flawed) facial animations and the occasional shootout with the mob.
If you never had the chance to suss out this portable perp when it was available on PlayStation 3 and Xbox 360, do so at your earliest convenience.
---
2017 reintroduced an entirely new generation of Squid Kids to the pleasures of a competitive Splatfest, turning mayo and ketchup fans against each other in brutal squid warfare. Splatoon was a game that never really had the opportunity to net the player base it deserved on the ill-fated Wii U, but with the Switch came a second chance for this cephalopodic shooter.
While Splatoon 2 barely deserves to be called a sequel, it does bring with it the beloved wave-based co-op mode Salmon Run and a selection of new maps and weapons. Its colourful, upbeat tone and relentlessly sunny outlook made it impossible to wipe the smile from my face, and like some of the best games the Switch has to offer, there's always a new reason to dive back in.
Mario Kart 8 is a game I've played maybe more than any other over the last few years (with Super Smash and Overwatch coming in a close second and third) and that's thanks mostly to its outstanding quality and legacy. And the shelf-life of Mario Kart 8 has extended well past its expiry thanks to a timely Switch upgrade with Mario Kart 8 Deluxe.
Like Splatoon 2, Mario Kart 8's Switch redux is a little light on new content, offering but a handful of new racers and a new and improved battle mode. With that said, it does include all the DLC racers and tracks from the previous generation and tells it like it is on the box. This is the Deluxe edition of Mario Kart 8, the very best version of an already stellar game.
Mario Kart 8: Deluxe offers the accessible family-friendly racing that the series is known for, creating heated lounge room bouts wherever it goes, but a little under the surface you'll find more nuanced techniques to karting, optimising your ride, and knowing the best shortcuts like the back of your white-knuckled hand.
---
Ubi's little game that could. The unholy union between blockbuster peddler Ubisoft and the flawless Nintendo, between the regal Mario clan and the offbeat potty-humoured Rabbids. "What the hell were they thinking?" we screamed when images of this Cronenberg-esque transmutation first leaked online.
Then, in a shocking twist that nobody saw coming, this turn-based XCOM-lite strategy game actually fared pretty well when journos first got their hands on it. Next came the most adorable scene to ever grace E3 history when game director and Mario megafan, Davide Soliani, burst into tears when his idol Shigeru Miyamoto presented his game on stage. Just like that, the world was sold on what could potentially have been one of the biggest disasters in Mario history.
Mario + Rabbids isn't just a beautiful chimera of two previously unrelated franchises but also a stand-up strategy game that takes its time acclimating players before stacking the odds against them in challenging maps where every move matters. It doesn't hurt that Grant Kirkhope's (Yooka Laylee, Banjo Kazooie) jaunty original soundtrack helps set the playful tone for this dialled back take on the turn-based tactics genre.
---
Golf Story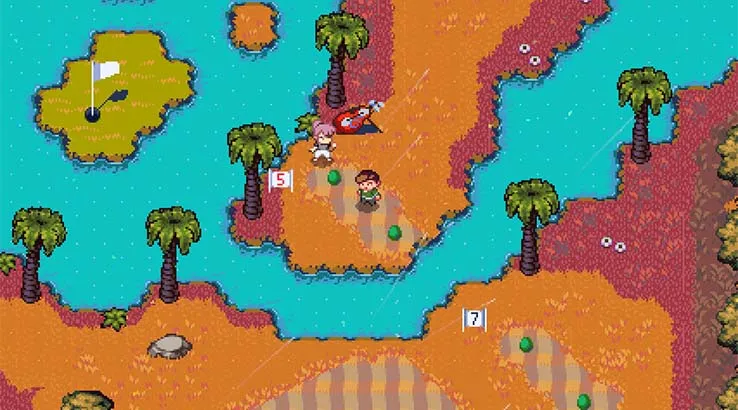 RELEASE DATE:28/09/17
DEVELOPER: Sidebar Games
PUBLISHER: Sidebar Games
I can't really call myself a golfer or even a golf fan for that matter. After a public shaming in a junior golf tournament where I sliced the ball and narrowly avoided a manslaughter charge, smashing the ball into the crowd, I never returned to the green. But the simplicity of early golf games like Golf for NES and later Mario Golf often devoured hours of my time with simple controls, simpler physics and the satisfying "clock" of a ball entering the hole. I lost touch with these meditative and accessible experiences over the years as my friends and family picked up increasingly complex Tiger Woods PGA Tour titles and never returned (despite being recommended Everybody's Golf a number of times).
Then, around the time I finished up with my last addition Mario + Rabbids, I took a swing at a little game from an unknown Australian developer called Golf Story and immediately all those feelings came rushing back.
What makes Golf Story so good is that it's not necessarily a game about the intricacies of the game of golf but rather all the curious things you can do with a set of clubs and a ball; a light open-world RPG where treasures are dug up with a sand wedge, fish are fed with golf balls and armies of the undead are taken on with a barrage of well-placed chips.
The entire island is a wonderfully tongue-in-cheek homage to the land Down Under too, where sustenance is a microwaved meat pie and everyone calls you mate (despite every NPC treating the main character like a piece of dirt).
Golf Story is a hole-in-one that completely took me by surprise and has become my go-to game for when I need to unwind after a day at work or worse, a few tense rounds of PUBG.
---
Because The Legend of Zelda: Breath of the Wild was originally developed for the Nintendo Wii U, Nintendo had the task of transitioning the title to the Switch platform while covering up the seams. This included stripping back gamepad support to make the experience identical across both consoles. The end result was a near-flawless launch where both versions were up to snuff.
With that said, you can still see vague fingerprints of last gen's chunky console in Breath of the Wild and it's easy to imagine all the ways we would have used the gamepad in an alternate timeline. However, Super Mario Odyssey is a game built from the ground up for the Nintendo Switch and it shows – for better and occasionally worse.
Super Mario Odyssey has a tendency to push you towards motion controls, and while the Joy-Cons offer some of the most impressive motion controls we've seen, the very act of swinging your arms around like a couchbound flamenco dancer is a little uncomfortable for some.
I digress but I feel the need to outline why Super Mario Odyssey isn't number one on my list because that complaint is but a speck on the flying hat-load of fun there is to be had in your latest mission to the Mushroom Kingdom (and beyond).
Odyssey's most unique feature is its capture mechanic. Using Mario's new broad-brimmed bud Cappy, Mario can possess a ludicrous amount of objects (living or otherwise) around the globe: from the suave businessmen of New Donk City to an enormous hunk of meat atop a candy-coloured mountain (Odyssey doesn't shy away from getting weird). The vast amount of captures available in Odyssey offer endless styles of play and new and inventive ways to solve puzzles in each world.
For every new and fresh feature Odyssey bring to the iconic Super Mario series, it pays it back with a heartfelt nod to the past and other games. The Legend of Zelda: A Link Between Worlds' 2D to 3D transitions have made their way to Odyssey with nostalgic 2D bouts (and some of the game's most difficult sections). Iconic Mario villains are brought up to speed with a Switch sheen (and mostly playable via capture) and the whole thing ends with one glorious payoff: a kaleidoscope of memories dashing past you as you race towards the last figurative finish pole.
Then, as the credits come to a close, you realise that you've barely touched the surface and that some of Odyssey's most challenging puzzles and biggest surprises are post-game afters. A decadent dessert after a hearty meal.
---
Divinity: Original Sin II
Don't let the long-winded name put you off: Divinity: Original Sin II is one of the best role playing games ever created and the Nintendo Switch port is every bit as accomplished as the other console versions. Everything you could possibly want from an RPG is present and accounted for, including an in-depth custom character creator, nuanced and believable NPCs, complex tactical combat that rewards experimentation and an open world brimming with intriguing role-playing opportunities. (It even has plenty of romance, for people who like that sort of thing.)
The game is set many centuries after the first game and can therefore be enjoyed by newcomers and Divinity veterans alike. While the graphics are slightly less polished compared to the PS4 and Xbox One versions, this in no way hampers gameplay which has been perfectly translated - whether you're playing on a TV or handheld.
---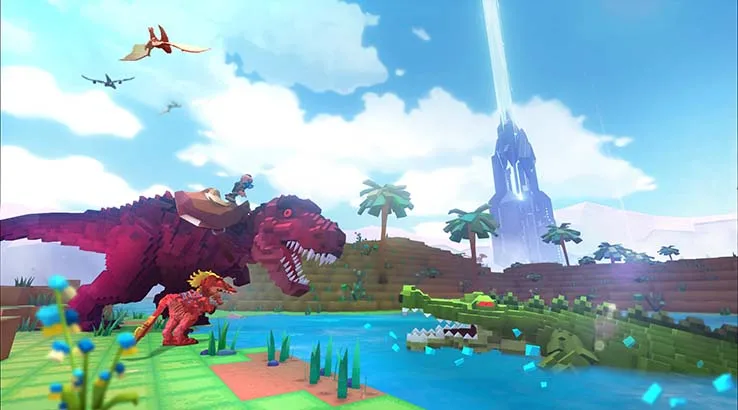 Yes, yes. Everyone from here to Hyrule has sung their praises for the stunning The Legend of Zelda: Breath of the Wild and that's because there's nary a negative thing to say about Link's long-awaited return. I had one small gripe in my review regarding the game's ending, but aside from that and a few more insignificant criticisms, Breath of the Wild is an unmistakable masterpiece.
Breath of the Wild discards many of the series' most iconic traits (Link's green getup is just the tip) and throws them to Farore's Wind, replacing them with an entirely new world to get yourself lost in. Long, multifaceted temples have been replaced by shrines – single-puzzle caves to plunder – and Divine Beasts – colossal structures that are puzzles in their own right and also home to the game's bosses, Calamity Ganon's troublesome blights.
Reclaiming all four Divine Beasts and dredging up memories of the old crew is Breath of the Wild's core mission and story, but it's such a small portion of how you'll actually spend your time in this sprawling rendition of Hyrule. This is a game where the sidequests and open-world distractions take the reins, devouring the players' time like a hungry Molduga.
Every moment spent exploring the lush Faron Grasslands, the sweltering Death Mountain or the frosty tips of Mount Lanayru is bliss. There's no grinding or hunting down a scourge of boring collectables. Every action you take either moves the story forward or helps you balance your constantly shifting bank of survival supplies and weaponry.
As gorgeous and serene as the landscape of Azero – I mean Hyrule – is, this world is not your friend. It's the antithesis of Ocarina of Time's wise owl Kaepora Gaebora – a character renowned for giving the player too much information. Rather than hold the player's hand with lengthy and repetitive tutorials, Breath of the Wild lets the player loose on a dangerous map and takes a backseat while they make do with the tools and mechanics at their disposal. That's when Breath of the Wild is at its most rewarding – not when you've taken all the logical steps to solving a puzzle, but when you craft a slapdash solution to create the path of least resistance. It's a game that begs the player to exploit the vast treasure trove of mechanics, from the obvious combat and movement mechanics to the not-so-obvious object and environment interactions, like daisy-chaining electrified metal weapons to create a power supply.
There's enough packed into the core game to keep you occupied for months on end, but Nintendo has committed to at least two DLC add-ons (The Master Trials and Champion's Ballad, both available now) that add at least 10 hours of playtime and more ways to explore this magnificent map.
Not that you'll need a reason to jump back in – the world's magnesis will pull you back time and time again. It will play on your mind when it's not in your hands and totally envelope you when it is.
Every video I see of creative folks trying things I'd never thought of pulls me back in to try out my own stunts. Just writing about it has me itching to take the rest of the day off and spend this sunny Sydney afternoon in Hyrule. Is that a healthy love for a game? Maybe not.
But the beauty of it is, I don't have to confine myself to the couch to spend some time with Link and Zelda. I can head to Hyde Park and play from a park bench, or sit seaside at Darling Harbour, the sun beating down on me while a Lynel does the same. I can play a core title in The Legend of Zelda series whenever and wherever I please. That fact still amazes me every time I slide the Joy-cons and hear that satisfying "click".
Methodology
Our editorial team considered hundreds of Nintendo Switch games released since 2013.
We based our findings on our own gaming experiences, as well as the average score from other professional reviewing sites. (Metacritic)
The products on this list are chosen by our editorial team and are not selected based on commercial relationships.
More guides on Finder