The best Nintendo Switch accessories in 2018
Get switched on to the extras that shouldn't be optional.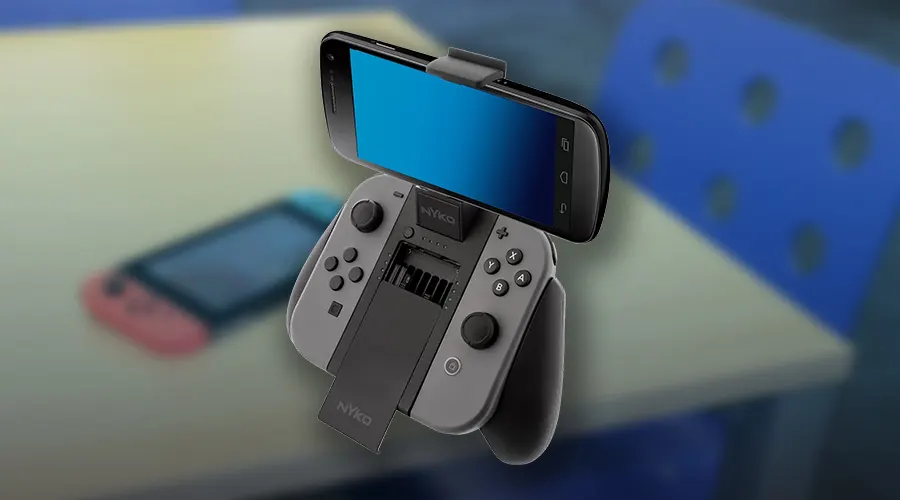 We're reader-supported and may be paid when you visit links to partner sites. We don't compare all products in the market, but we're working on it!
With the launch of every new console comes the same set of pitfalls to navigate. I know, you've just dropped a ridiculous amount of money buying into the platform, and now you have a limited amount of side funds with which to secure the essentials – games, obviously, but also some quality-of-life bits and bobs. Identifying quality games is pretty easy, thanks to Metacritic and our array of helpful Finder "best of" guides.
That said, the accessories market is swamped with companies trying to sell you must-have items that, well, really aren't. There's also the question of varying quality and prices to consider.
Fortunately, I've done all the research and fallen down most of the pitfalls for you.
Admittedly, the Nintendo Switch is an extremely well-designed handheld/TV console hybrid that requires few accoutrements in the early days and weeks of ownership, but that depends on how you plan to use it. Left attached to your TV and confined to a living room, the Switch will be more or less fine as is – take it out into the world of trains, planes and automobiles and you're going to need some protection.
Game cards are small and easily lost. You'll also marvel at how suddenly your screen becomes a magnet for dust and sharp items. Last but not least, the Joy-Cons attached to either side of said screen are snapable weak points. I pray you don't find this out the hard way.
Outside of safety and care, ergonomics can enhance your Nintendo Switch nicely. Any game device designed to be portable will always come with the downside that is tiny controls. The good news: you needn't suffer early-onset arthritis if you know which alternate controllers are worth investing in. And so without further ado, let's get right into the Nintendo Switch accessories you ought to buy first (right after you purchase Super Mario Odyssey and The Legend of Zelda Breath of the Wild, obviously).
1. Tempered glass screen protector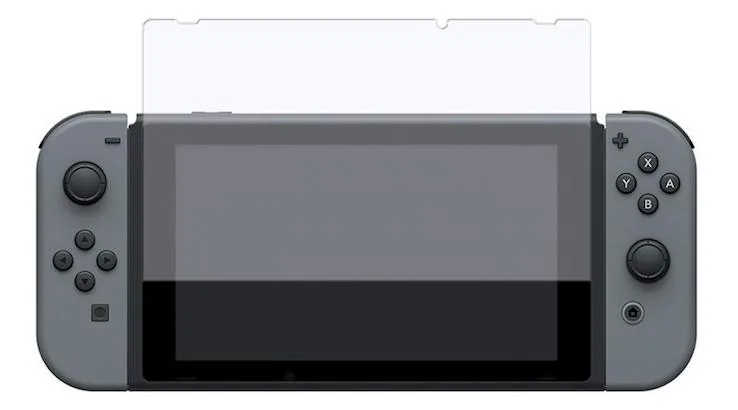 I cannot stress how important this seemingly innocuous, low-priority purchase is.
A screen protector is the absolute first thing every Nintendo Switch owner ought to buy. It should be right there, waiting in your hand to be applied from the very instant you ease that brand new baby Switch out of the placenta that is its protective packing sleeve. Yes, even before your screen unit makes the maiden voyage to that docking station to get its first charge – especially before you do that, actually – because improper slotting into said dock might scuff the buggery out of the screen.
I know you're very excited about your recent Switch purchase, but take a minute to sit down in a dust-free environment to slowly, carefully apply one of these. Don't be me – the guy who hastily slapped one on like a "Nuke the Whales" bumper sticker on a POS Datsun I intended to drive into the ground. If you do, you'll spend the next year going slowly insane, watching a handful of air bubbles mar every gaming experience that plays out.
Take your time to do it right, or you'll want to uppercut yourself later.
2. SanDisk Ultra 64GB microSDXC
This would be the absolute second thing you need to get, no excuses. The Nintendo Switch, being a handheld/TV hybrid, has a small physical footprint.
That's great in terms of portability, but the obvious down-shot is that its svelte design leaves no room to accommodate the sort of 500GB/1 TB hard drive you see in a PS4 or Xbox One. All you're getting standard is a very modest 32GB of internal storage and some of that space is nibbled up by the system itself.
The good news is you can expand your horizons with microSDHC or microSDXC cards up to 2TB in size. Why will you need all of that space? Three reasons: the Nintendo Store has a bunch of excellent download-only indie titles that you're going to want to own, plus the future of AAA gaming is moving away from physical media too.
Last of all, even the card-based games you do buy from a brick-and-mortar store will have large update downloads and DLC content that'll munch up your 32 gigs in no time.
3. Nyko Clip Grip Power for Nintendo
Take it from a guy who regularly (tries to) use his Switch on 14-hour international flights: you need something to expand the piddly five-hour battery life of the Nintendo Switch. Do not make the same mistake I did in thinking that the power outlets on your (economy) seat will have enough juice to keep you going – plane seat outlets are an electrical joke, or are caked over in somebody's chewing gum.
Enter the Nyko Clip Grip Power, a multi-purpose device whose 3000 mAh internal battery will provide you with extra play time for your Joy-Cons (you can even use it to charge your phone as well). Other benefits include an ergonomic design, a mount to let you attach your Joy-Cons in the much more comfortable "pro controller" configuration, and it has storage space for 7 Switch game cards and 2 microSD cards (which, admittedly, is a bit superfluous).
Honestly, it's been an absolute godsend for me when I've been in transit – the Rolls Royce of Switch accessories so far.
4. Nintendo Switch seat mount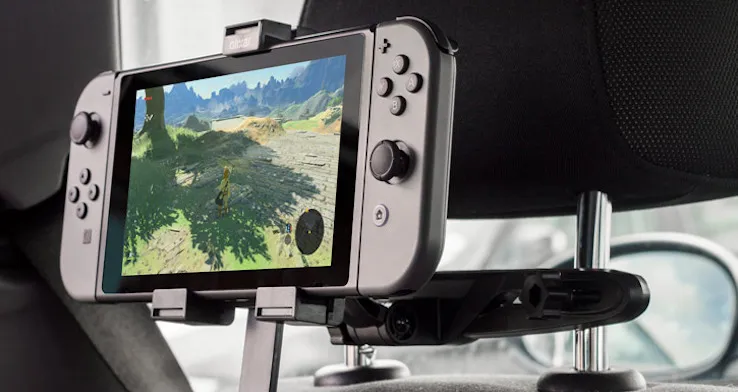 Picture this nightmare scenario: you're a parent. Worse, you're a parent with two children, young ones who both want to play the Nintendo Switch, but cannot share control of that single piece of equipment. A tug of war ensues, resulting in the destruction of your Switch, or driver distraction that wraps everybody around a tree.
Bleak, I know. But there's a solution here in the form of the Nintendo Switch seat mount – a handy clip that affixes the screen unit to the back of a headrest, ensuring no desperate sibling power struggle need ever take place.
It's also perfect for just one kid, in the sense that some games ask the user to control the game via flailing motion controls (something that's difficult to achieve when the Joy-Cons are locked onto either side of the screen). Last but not least, the seat mount has practical applications for grown-ups as well. Try quickly affixing it to the headrest of your next Uber lift. Short of pretending to be hard-of-hearing, there's no better way to wordlessly indicate to your driver that you're not into inane chit-chat.
It's a smooth move that's in every way socially-acceptable.
5. Universal flexible lazy bracket long arm clip
It's Friday night and you're in the club, looking fly and on the prowl for a fellow player. You lock eyes with a prospective pick-up, slide on over and lead with a deal-closer: "nobody switches it up like me in the bedroom".
One scene-change later, you fling open the door to your boudoir and there it is – the apparatus of the evening, hanging over the headboard of your king-sized bed. It's the universal flexible lazy bracket long arm clip, an adjustable arm originally designed to hold and facilitate the hands-free use of a phone or tablet and cunningly repurposed to hold your Nintendo Switch instead.
Your partner is speechless. Possibly with desire; envy is just as likely. You have not wasted time trying to gauge which specific emotion it is.
Still wearing your shoes, you've dived across your Mario-themed sheets, detached the Joy-Cons and are now star-fishing on your back underneath that sexy 6.2-inch screen.
Mario Kart Deluxe 8 battle mode loads and you ask your guest if they're one of those competitive shrieker types. Thin walls, you know. Neighbours complain.
6. Whiteoak Joy-Con grip
Nintendo's latest console is advertised as a multiplayer powerhouse and surely you've seen the lifestyle videos that tout this feature.
At a moment's notice – and with the disembodied sound of somebody clicking their fingers loud enough to snap cartilage – your Switch will become the perfect party-starter that lures in any nearby group of racially diverse and attractive young millennials. But don't let all the phosphorescent smiles of your new friends fool you – deep down inside, every single one of them detests the feel of that tiny little Joy-Con you've dropped into their hands. These models secretly resent you and are internally shrieking one thing: "What is this?! A controller for ants!"
Even if you have been born with modest-sized hands, these half-controllers will still feel awkwardly diminutive. The solution: get some packing around them with a stylishly-designed chunk of plastic that mimics the supremely grippable proportions of a DualShock controller.
Sensibly-priced and durable, these bad boys snap on and off with little effort and will ensure you won't arrive into middle-age with two arthritic claws where your hands used to be.
7. Pro Controller
No matter how you enhance the size of your Joy-Con controllers with additional pieces of plastic, they're still going to have a few shortcomings.
For one thing, the thumbstick size and positioning leave a lot to be desired. The stick on the left Joy-Con is okay enough (when the unit is detached it sits to the left) but the right Joy-Con doesn't fare as well (its thumbstick sits more centrally and requires a bit of a thumb stretch to access).
Basically, if you're playing two-player anything, the competition is always going to be uneven. Some poor schmuck is going to have "the bad Joy-Con".
None of this will be a problem if you pick up two Pro Controllers. Suddenly everybody will be on a level playing field, and their familiar, twin-stick form-factor is reminiscent of an Xbox One controller. A Pro Controller should also be sought out if you plan on playing remakes of yesteryear titles.
Using the Joy-Con buttons to platform hop or flick out a Hadouken in Street Fighter II is not an ideal experience when compared to the dedicated cross d-pad of a Pro Controller.
8. Joy-Con straps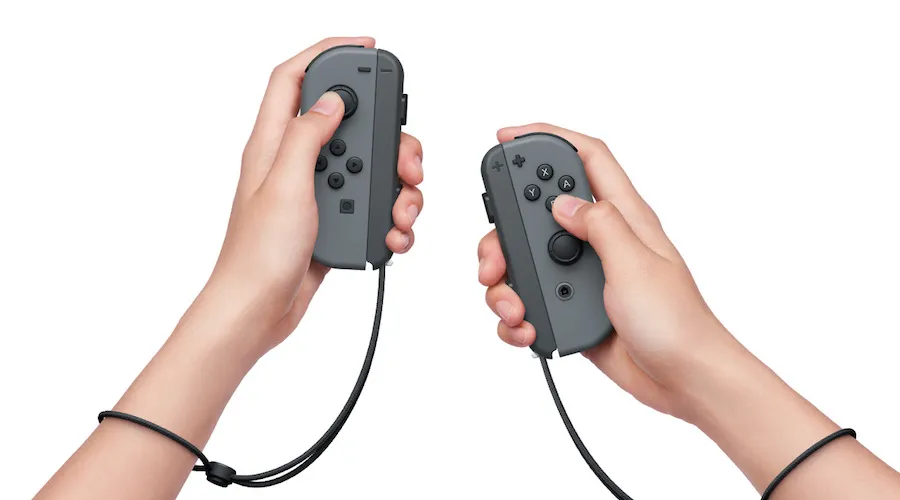 These babies won't cost you much, but never underestimate their importance.
Think back to when the Nintendo Wii first came out. Do you recall a spate of news stories centred around smashed televisions and "Wii injuries"? That all came about because people are sweaty-handed simpletons who lack spatial awareness and cannot maintain a grip on an object in the heat of the moment.
Granted, the Joy-Cons of the Switch are much less formidable than the mace-remotes of the Wii console, but you're still not out of the woods. 4K and HDTVs have come a long way since 2006, but they're still remarkably weak against fast-moving chunks of plastic. Take the tip from the guy who recently had to replace his 60-inch Samsung smart TV due to a minuscule screen impact caused by a flung Lego man.
Get the straps. If only to avoid the awkward, friendship-wrecking conversation that is "get out your wallet, because you're not leaving until you pay for the expensive thing that you just broke".
9. ButterFox Deluxe Travel Carrying Case
Say hello to your complete on-the-go Switch carry solution.
The ButterFox hard case may cost a little extra than the official variants out there, but it'll hold your Switch, a USB-A-to-C cable, a pocket wall charger, two extra Joy-Cons and four wrist straps in a compact and stylish fashion. You also get 19 snug and safe little slots for game cards and two micro SD cards, typically the most lost items in any Switch owner's collection. Speaking of snug, even those of you who have thrown caution to the wind by not getting a screen protector will be worry-free here, thanks to the micro-fibre-lined innards that won't defile the face of your Switch.
Even better, the talented craftspeople at ButterFox are constantly updating the design of this case. Though I can detect no mentionable downsides to the product, the team listens to the niggling feedback of OCD and pedantic Amazon reviewers. Honestly, I think it's perfect as is.
Go out and buy with confidence in your choice of black, red, blue, green or pink.
10. HORI LAN Adapter
Many people forget this fact, but we live in a world that's cluttered by invisible Wi-Fi signals and interference. Trust me, I'm the guy who loses Internet connection every time the neighbour upstairs turns on the microwave.
If you frequent highly-competitive online games like Splatoon 2 and Mario Kart 8 Deluxe, the only way you're ever going to get the most optimal Internet speed is via a wired connection. You can achieve this in a cost-effective manner with the officially-licensed Wired Internet LAN Adapter by HORI.
Set up is a cinch: just plug one cable into your Nintendo Switch dock and hook up the other end direct to your router via a garden-variety LAN cable (stingily not included). Now that you're enjoying the speed and stability of a high-speed wired Internet connection, nothing can stop your online reign of terror. Downside: you can also no longer blame lag for your subpar hand-eye coordination.
---
---
---
For all the latest in TV and movie streaming, follow and subscribe below
---
More guides on Finder